Base Camp Green River
A peculiar little town combines rich heritage and relaxing moments with rugged landscapes and adventures.
So you want to get into the Utah desert, but looking for a new perspective? Maybe you've done The Mighty Five but find yourself longing for the red rock and rivers of the Colorado Plateau. It's a familiar call and we won't question you.
Let's continue down this path of thought. Maybe you're looking for a hub-and-spokes couples or family vacation that offers adventurous days but nights in comfortable accommodations — a base camp in Southern Utah, but somewhere different.
Look no further than Green River, a small and peculiar little town with a dynamite location central to some of southeastern Utah's greatest outdoor attractions and undiscovered gems. Think you've seen everything Utah has to offer? Think again.
It's time to leave the city and the suburbs behind and drive through the mountains and canyons into the Utah desert. True, Green River is barely an hour away from Arches and Canyonlands national parks, so those are options to extend your 3-day trip. But for this itinerary, we're focusing on the local secrets: the hidden labyrinth of slot canyons and whimsical hoodoos of the San Rafael Swell and the dining and heritage that are part of the unique fabric of Green River.
Feel that? That new perspective is already beginning to form. Read through this helpful itinerary to find the top activities in and of Utah's favorite adventure towns.
Content supported by Epicenter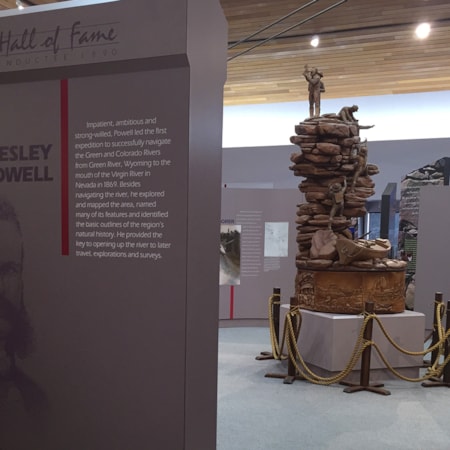 Western Heritage and Green River Dining
150 Miles
Take a break on the road to Green River to learn something new at the Western Mining and Railroad Museum in Helper, about two hours south of Salt Lake. Snap a photo with Utah's tallest coal miner in front of the library and grab a coffee at Happiness Within. In Green River, stop by the John Wesley Powell River History Museum to learn the history of the grand Green and Colorado rivers and the river runners who explored them. If you're interested in more local history, head downstairs and browse the John Wesley Powell Research Center and Archives to hear about the town's first residents. Once you've gotten your fill of history, head across the street for an amazing dinner at the Tamarisk Restaurant, set against the scenic Green River.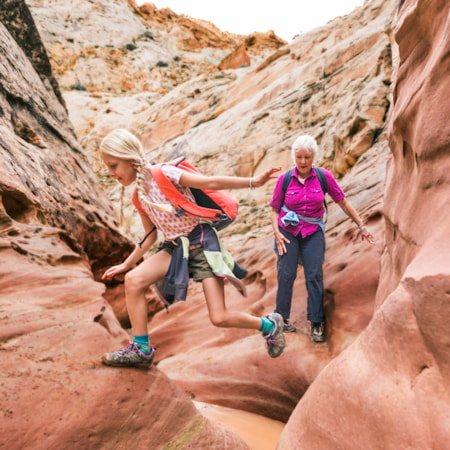 San Rafael Swell and Goblin Valley
110 Miles
Time for some outdoor adventure! Make sure the car has plenty of gas and stop by the Melon Vine Food Store on Broadway to grab snacks and lunch for your day out. Admire the San Rafael Swell and its magnificent, otherworldly rock formations that reach hundreds of feet into the sky as you take Highway 24 south for some excellent canyoneering.
Little Wild Horse Canyon is one of the most spectacular and easily accessible slot canyons in Utah. A mile further are Ding and Dang Canyons. This 5-mile loop provides some more intense scrambling and climbing than Little Wild Horse, but doesn't require technical skills or gear. For a true canyoneering experience, get in touch with Get in the Wild Adventures, who host technical canyoneering trips and tours in Goblin Valley's Chamber of the Basilisk and Robbers Roost. Learn how to rappel and access otherwise forbidden canyon treasures.
Then head for the ghoulish and goofy natural sculptures of Goblin Valley State Park for some exploration before the return trip to Green River and a stop at Ray's Tavern, crowned "best pit stop on I-70" by Salt Lake Magazine and one of Utah's favorite road-food eats by The Salt Lake Tribune.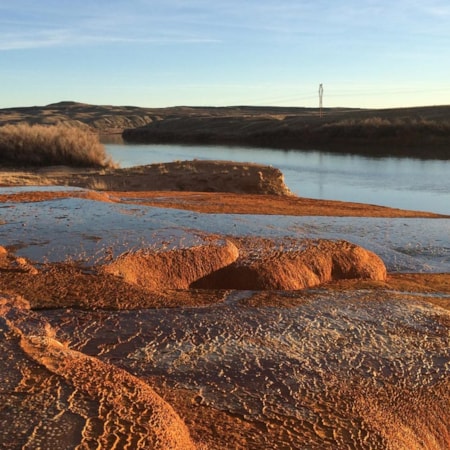 Green River Relaxation
50 Miles
You're probably a little tired and maybe a bit sore from all your adventuring yesterday. Take it easy all day today. Stop by the Green River Coffee Company for your fix of fresh-roasted coffee or choice of other extensive menu items.
First, check out the Crystal Geyser, a truly unique geologic marvel. One of a handful of cold-water geysers in the entire world, the Crystal Geyser draws sightseers for its vigorous eruptions and for the brilliant orange travertine formations the mineral-rich water creates. Pick up lunch at the Chow Hound, which has been at the center of social life in Green River since 1973. Consider taking your order to-go, because the next stop is the beach — Swasey's Beach. Shallow water gives children plenty of opportunity to frolic, and bighorn sheep frequent the water's edge. Rapids upstream from the campground provide a kayaking playground. Think about renting a kayak or paddleboard at the Green River Adventure Center. Other options are rafting or floating the Green River in a canoe. You can put-in further up-river at Nefertiti (a rock formation in the cliff walls resembles the Egyptian Queen's famous profile) and ride the rapids down to the beach boat ramp. Or spread out a blanket and get lost in a good book, browse a magazine or nap. Don't forget the sunscreen though.
What better way to end an amazing, lazy day than breakfast — for dinner! Check out the West Winds Restaurant which serves breakfast or plenty of other excellent entrees all day. Peek behind the register at the liquor closet, the only place in town to buy alcohol over 4 percent ABV.
Start planning your trip to one of the best adventure towns in the United States!