Start 'em Early
A first overnight backpacking trip in Red Cliffs Desert Reserve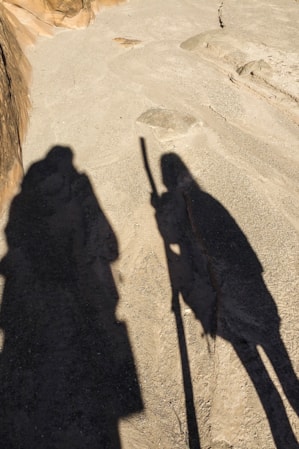 Blue sky peeks through the clouds as I zoom down Utah's Interstate 15 off the edge of the high country. Juliet looks up from her book to take in the bright red landscape spreading below.
But my mind is still stormy. I had planned a trip to the Uinta Mountains, to be my seven-year-old daughter's first backpacking experience. When the forecast called for freezing temperatures and snow in the mountains, I turned south. I scanned the state for a sunny forecast, as well as a reasonable drive, a short trail and a rewarding destination. This specific combination required a little research. Capitol Reef National Park was too cold. The trails I was eyeing in Canyonlands National Park were too far for our limited time. The southwest bit of the state was a fast drive and showed sun and 70 degrees, but Zion National Park's reservable backcountry permits were all taken.
Then I thought of Red Cliffs Desert Reserve, a vast conservation and recreation area that encompasses the canyons above the St. George metro area. It was a place I had passed by dozens of times and not thought much about. But it seemed to be the perfect solution. I found a short, accessible canyon in a quiet corner of the reserve. And on this day, when the early fall blizzard had rendered most of our drive along I-15 a bleak gray, Utah's Southwestern region proved to be dependably blue.
Yet recent dad fails are pulsing through my head. I pictured the time I had taken Juliet on her first double black diamond powder run at Solitude Mountain Resort, resulting in a head-first fall and lots of tears. Then there was the ill-fated boogie boarding session where a freak wave crashed on her head and drilled her into the ground. This trip needed to be not long, not cold and definitely not boring.
So the stakes are high. We are hiking two-and-a-half miles, and they had better be magic. (Big Hollow trail guide below the article)
We exit I-15 at Leeds, turn past the Silver Reef ghost town, and rally down a Dixie National Forest road along the base of the Pine Valley Mountains to our destination, a pullout where the road curves around the head of the Big Hollow drainage in the upper reaches of Red Cliffs.
There's no formal trailhead here, not even a sign. No other cars. We hadn't seen a vehicle since turning off I-15. Juliet is confused. This is it? I tell her there's not always a parking lot, map, kiosk, people. Is this really a good idea? I am thinking.
Even though I have most of our camping gear, Juliet will carry her own backpack, which she had meticulously packed. She went heavy on stuffed animals and books. The stuffed animals are fine as they compress nicely, I tell her, but you might want to rethink all the books, as they weigh a lot.
Backpacks on, I point out a cairn and we duck under some pine trees.
The canyon is shallow to start and we work our way down a slope of boulders. Big Hollow is an upper tributary of the larger Cottonwood Canyon system that spreads in wilderness through the core of the reserve. We can see Big Hollow deepen further down into sheer sandstone walls. The landscape here is a little different than other parts of red rock country due to the influence of the Hurricane Fault, which exposed the masses of bright sedimentary layers and led to cinder cones producing the igneous rocks scattered in the canyon.
"It's one of the lessons I want to impart to Juliet on this trip, that if you go slowly and spend a night in a place, every landscape has its own value and presents opportunities to explore. Especially in Utah."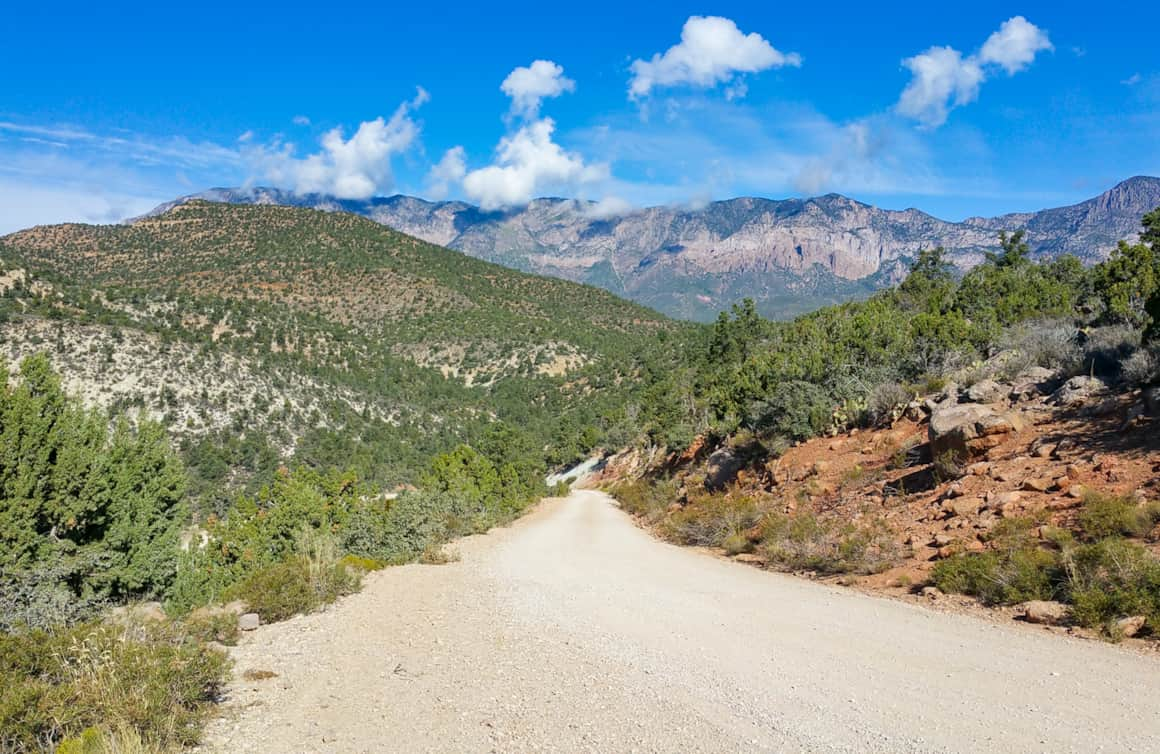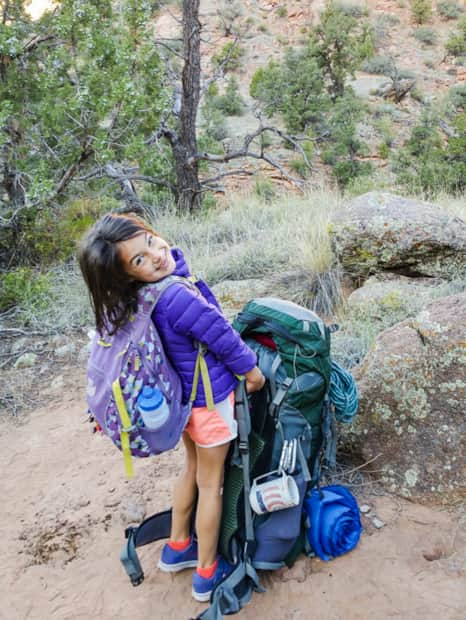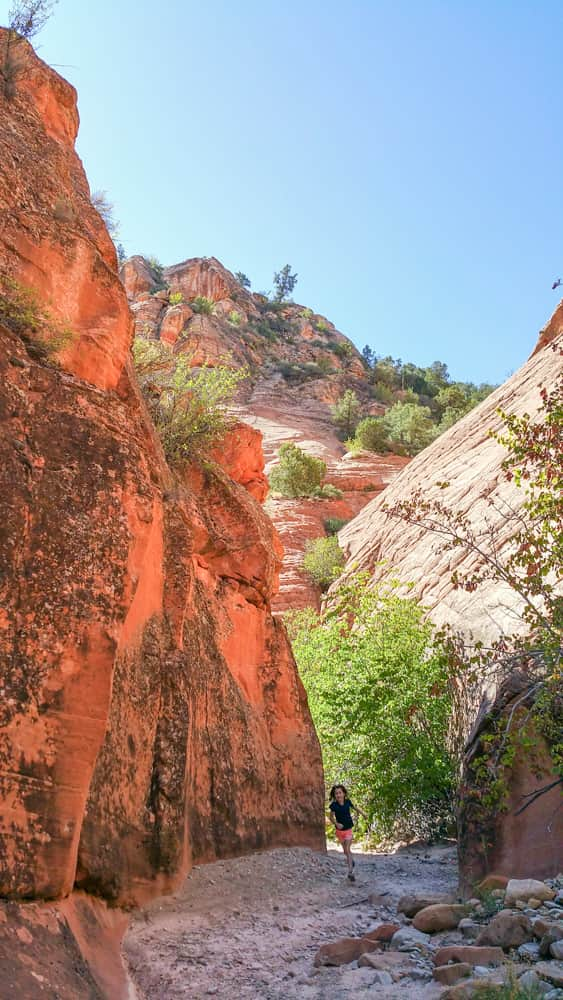 As we stumble down to the canyon bottom, Juliet slips on some loose rocks. But I manage to catch her. She presses on, and in the wash she picks up walking sticks for us both.
Even only hiking a little over a mile in, a solitary place like this is an adventure, with nothing certain about what we'll encounter. When you're backpacking, you always walk the line of the uneasiness and sublimity of solitude. This sense conflicts with my desire as a parent to be in control. At least until a certain age, our kids tend to think we as parents are omniscient. But I explain to Juliet what an adventure is, that I've never been here before. I don't know what will happen.
Indeed, I find remnants of flash flooding — debris hugging the upstream side of the willows in the wash. And as we walk I see fresh tracks in the mud.
Juliet is now quite happy and engaging me in what she calls the "animal game," wherein one of us thinks of an animal and the other asks "yes" or "no" questions to home in on and guess the animal.
"Daddy, are you thinking of an animal?" Juliet says.
The tracks become clear as pawed feet.
"Daddy?" she says when I don't respond.
"Uh huh," I say, scanning the canyon around us for any movement.
"Is it a mammal?"
The walls are sheer, no escape.
"Daddy!"
After a few distracted rounds of the animal game, we arrive at the junction of Yankee Doodle, a relatively popular technical slot canyon. We decide to run up, until the canyon narrows and a muddy pool blocks our path, and Juliet wants to get to camp.
The cat tracks have tailed off, and the canyon wall shadows have lengthened. After another half hour of walking down canyon, we arrive at the junction where Big Hollow meets Heath Wash. This is where we plan to camp.
Juliet wants to know if we're camping right in the wash. She hopes so, because she likes the sand and mud. I tell her we don't really want to get washed away by a flood. In fact, finding a good spot to camp is tricky. You have to look for a lot of things: level ground and safety are vital but so are avoiding cryptobiotic soil, finding big rocks for furniture, and above else getting yourself a nice view.
We explore all parts of the canyon confluence, scampering up the loose rock of each escarpment before deciding on a spot. It's at the nose of the plateau between Big Hollow and Heath Wash, on a flat area in a garden of lichen-covered boulders, juniper and manzanita. We have views both down the canyon and up, through the folding layers of sandstone.
The area is beautiful, and part of the beauty is that it's new to us and there's no one else here. I-15 is just three miles away but the place feels remote. It's one of the lessons I want to impart to Juliet on this trip, that if you go slowly and spend a night in a place, every landscape has its own value and presents opportunities to explore. Especially in Utah. (Read: Why Your Kids Need a Utah Trip)

But what do you do with a 7-year-old during the down time of backpacking? There's plenty of daylight left in the long September day. Not to worry — Juliet goes right in the tent and gets comfy in her sleeping bag with her stuffed moose. This was her vision of the trip.
What the heck, I follow suit. One of the things she has in her backpack is a Bunco dice game we had bought on the way out of town. We play a few rounds of Bunco in the tent before we emerge to kick a soccer ball in an open field. She jumps some rope. Dinner is bean and cheese quesadillas. Juliet marvels that this entire place seems to be ours.
When the stars come out, it's unlike anything she's seen. Despite the snow up north there is no rain in the forecast here so we leave the rainfly off, and the glittering black sky seems right on top of us as we drift off to sleep.
The morning brings the simple directive to finish the journey. A different light shines on the trail we walked the afternoon before. I feel good. I realize that after Juliet had taken her licks on the double black diamond and in the ocean, it wasn't long before she was asking to go back. This time, we've barely returned to the car before she's talking about the next backpacking trip.
Trail Guide
Big Hollow and Heath Wash are two drainages in the Cottonwood Canyon area of the Red Cliffs Desert Reserve. This Upland Zone is a wilderness-focused part of the reserve where off-trail canyon and plateau hiking and backcountry camping are allowed. The key philosophy of this area is to use your judgment — for route-finding, safety and preservation of the environment.
Difficulty: Moderate — relatively flat but some route-finding, a lack of amenities, and an overall wilderness experience. For a more challenging hike, consider longer and cross-country, off-trail routes.
Route, distance and elevation gain: Hiking from the head of Big Hollow at Danish Ranch Road (Forest Road 31) to its confluence with Heath Wash is about 1.2 miles. In another 2.4 miles is the confluence with Cottonwood Canyon, and then another 3.2 miles to the Cottonwood Canyon trailhead along I-15. Loops could be made by returning to Danish Ranch Road up Heath Wash, Cottonwood Canyon or cross country on Yant Flat. Also consider exploring Yankee Doodle, a technical slot canyon that is also accessed via Danish Ranch Road and joins Big Hollow.
Trail type: Unimproved washes and cross-country route-finding in and out of the canyons.
Multi-use: In the Upland Zone of the reserve, where the Cottonwood Canyon area is located, hikers and equestrians can use trails or travel cross-country where the terrain permits.
Dogs: All pets must be on a leash to prevent wildlife disturbance, protect the pets from predators and to avoid conflicts with other people. Hunting dogs are allowed to travel off-leash with a licensed hunter in the act of hunting during the official hunting seasons.
Fees: None, for this part of the reserve.
Seasonality: Year-round; hot in summer.
Bathroom: None; nearest restrooms are at the White Reef trailhead near Harrisburg.
Access: Turn north off Interstate 15 at Exit 23 onto Silver Reef Road; Turn left on Forest Road 32; Turn left on Forest Road 31; take Forest Road 31 to where the road wraps around Big Hollow.