U.S. Federal Shutdown Information
At this time, all of Utah's national parks, monuments and recreation areas remain open.
Learn more.
Trail Guide
Overview: An out-and back day hike located in the lower section of famous Zion Canyon Narrows, where the North Fork Virgin River runs beneath thousand-foot walls of Navajo sandstone that centuries of erosion have sculpted into into some of the most beautiful rock forms in all of the American Southwest.
Distance: 5 to 9.4 miles (8 to 15.1 km) round-trip, depending on how far you go.
Hiking time: 3 to 7+ hours
Best seasons: June–July, September–October
Difficulty: Moderately strenuous
Hazards: Flash flood danger; near constant wading in water
Recommended equipment: Hiking shoes (not river sandals) that can get wet and drain well – you can find an outfitter in Springdale that provides waterproof socks and hiking boots; clothing that can get wet and still provide insulation (NOT cotton); wading staff or hiking pole; dry bag; headlamp just in case you get stuck somewhere in the Narrows.
Topo maps: USGS Temple of Sinawava; Trails Illustrated Zion National Park
Finding the trailhead: The trail begins at the Temple of Sinawava parking area at the end of Zion Canyon Road, accessed via the tram.
Shuttle stop: Temple of Sinawava
Trailhead GPS: 37.285178, -112.947518
This hike follows the North Fork of the Virgin River up the lower half of the spectacular Narrows of Zion Canyon to Orderville Canyon or Big Springs (although you have the option of turning around earlier). This is the most famous backcountry area of Zion, and for good reason: stunning thousand-foot walls of Navajo sandstone rise on both sides, and centuries of erosion have sculpted the rock into surreal fluted and whorled forms. While a hike (from the bottom up) or canyoneering adventure (with a permit or guide from the top down) through the Narrows in Zion National Park is one you will never forget, hiking in a river comes with inherent risks. Check conditions locally and see "recommended equipment" below to learn more.
Safety is paramount. Travelers should expect nearly constant wading on this hike. Be ready for slippery cobbles in water that may be waist deep and quite cold. Overnight camping is not allowed in this section of the canyon, but no special permit is required to undertake the trek. You will need to check the river flow rates, however, because the National Park Service closes the canyon to hikers coming up from the bottom when river flows surpass 150 cubic feet per second. Check for flash flood warnings at park headquarters before starting out to make sure the trail is open and safe. There is little in the way of escape terrain should a cloudburst high in the headwaters send a wall of water down the canyon.
The hike begins on a paved walkway that departs from the Temple of Sinawava parking area. At the end of the paved path, the river hike begins. Follow the trails along riverside gravel bars and cross the river at shallow spots when sheer walls block progress on land. A trickle of cool water cascades down the east wall of the canyon, marking the elevated mouth of Mystery Canyon. The Narrows begin just beyond this point, as immense walls constrict around the watercourse. The wading is virtually constant from this point onward, but the longer you stick with it, the greater the rewards.
The river has undercut the thousand-foot walls of The Narrows, and centuries of erosion have sculpted the walls into some pretty spectacular forms. The zebra striping that adorns the cliffs can be attributed to mineral deposits left behind by seeping water.
Orderville Canyon is the first major cleft that joins the canyon from the right. Its lower reaches can be explored without special equipment and offer spectacular slot canyon scenery, but travel beyond those lower reaches is prohibited as the canyon is accessed by permit and requires some special equipment. Continuing about 2 miles up the Virgin River past the Orderville Canyon junction, hikers will arrive at Big Springs. It's five miles to this point, and five miles back, which means 10 miles of very strenuous, but incredibly scenic, hiking.
As you progress down The Narrows, Zion Canyon soon closes in again, and grand streaked walls tower ahead. After an overall distance of 0.4 mile from the Virgin River, a 5-foot waterfall blocks any further access. If you've come this far, this is the logical turnaround point; the slippery headwall cannot be negotiated safely without climbing aids.
Responsible Travel Tips
We all share the responsibility to protect this place. Please practice Forever Mighty and Leave No Trace principles. This includes not leaving any marks behind on the canyon walls. Even muddy handprints can last a long time in a region that gets little rain. Leaving anything behind is not appropriate.

Restrooms are located at most shuttle stops and we recommend using them before starting a trail. Once you leave the trailhead, there are no services. You are required to carry out solid human waste from all canyons in Zion, including the Narrows. Human waste disposal bags are available at the park bookstore and local outfitters. (Read: "How to Poop in the Outdoors")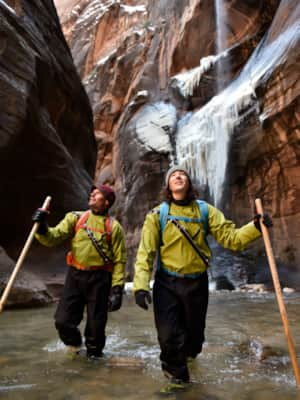 Ice and rock, snow and splendor: Winter in Southern Utah
For an extraordinary adventure, plan winter hikes in Utah's Zion National Park. Winter rewards hikers with stunning sights of stalactites and snow covered mountains.