Red Fleet State Park to Close for Construction
Beginning in June 2022, extensive construction will be closing Red Fleet State Park to visitors for the majority of the 2022 season. Access to the Dinosaur Trackway trailhead will remain open.
Learn more at stateparks.utah.gov.
Flood Safety
Due to record snowpack and high amounts of spring runoff, please be advised of potential flooding that could impact travel plans.
Learn more

What Makes It Great
The campground is located on the western shores and gives a panoramic view of the reservoir. The 31 sites can accommodate both RVs and tents, though only a handful offer standard water and electric hookups. Starting mid-May, Red Fleet begins accepting reservations, which are a good idea, especially for weekends. They even have two sites that come with in-situ, large teepees — make your reservation for these well in advance. Each campsite contains a fire ring, barbecue grill, and covered picnic table. There is potable water available close to each campsite and the clean and convenient restrooms have flush toilets. The boat launch is paved and they offer courtesy docks and a swimming platform near a sandy beach.
Located in the heart of Dinosaur Land, Red Fleet is home to numerous dinosaur tracks of its own (Read: Hiking Red Fleet's Dinosaur Trackway). Almost 200 million years old, these tracks were discovered near its eastern shores and have become an attraction all their own. The excellent Red Fleet Dinosaur Trackway trail (see article below) is located on the north side of the park and its easy accessibility draws in many visitors. Heading north on U.S. Highway 191 from the park's main entrance travel about one mile before making a right hand turn at the Dinosaur Trackway sign. Follow this road for 2.5 miles to the trailhead. The trail is a 1.5 mile course through a forest of junipers that travels over uneven surfaces of dirt and stone. It is passable for those with any small amount of fitness and ability, and is great for families with children of all ages — though hike with care over slanted slickrock and rocky outcroppings. Once you reach the water's edge, search through the slabs of red rock for up to forty footprints ranging from three to seventeen inches in length. You could also take a shortcut and boat across the reservoir to the tracksite, but at the expense of missing a terrific hike.
Paleontologists have surmised that three-toed, tridactyl, dinosaurs that were bipedal, walking on two legs, left these prints. This area also makes a perfect place for swimming and a picnic. A short paddle across the reservoir from the western shore of the campground is an alternate approach that's a lot of fun.
If you brought your mountain bike, the north side of Red Fleet holds a handful of short and fun single-track trails that range from intermediate to expert level riding. Check out the Jass-Chrome Molly and Three Amigos for a couple of moderate six-mile rides through the sage and junipers. For a brutal sandstone climb of 800 feet in 2.5 miles check out the Handsome Cabin Boy trail. If you are more in for the descents, check out the one-mile expert downhill course of Jumps and Ladders, A.K.A Dinotrax. This fun course holds a series of man-made obstacles along a fast and technical desert trail. Buckskin Hills Recreation Complex in nearby Vernal also offers free trails from April to October. Add Red Fleet State Park to your list of must-ride spots in the region!
What You'll Remember
Red Fleet State Park is a tidy, well-maintained campground and day-use area suitable for use in any season. Camping families, hikers, mountain bikers, boaters and anglers will all find a scenic landscape for their activity. Perched on the southern slopes of the Uinta Mountains, set within sculpted sandstone waves, the calm, clear and green water of Red Fleet State Park and its surroundings offer a destination all on their own.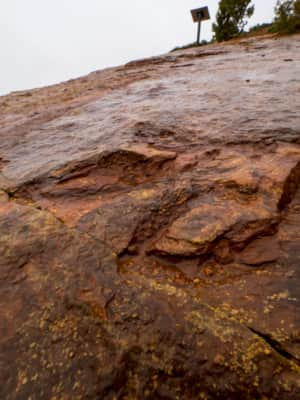 Following the Dinosaur Tracks of Red Fleet
Explore Red Fleet State Park's cleverly built trail that crosses sandy washes, ribs of exposed stone and a dinosaur trackway.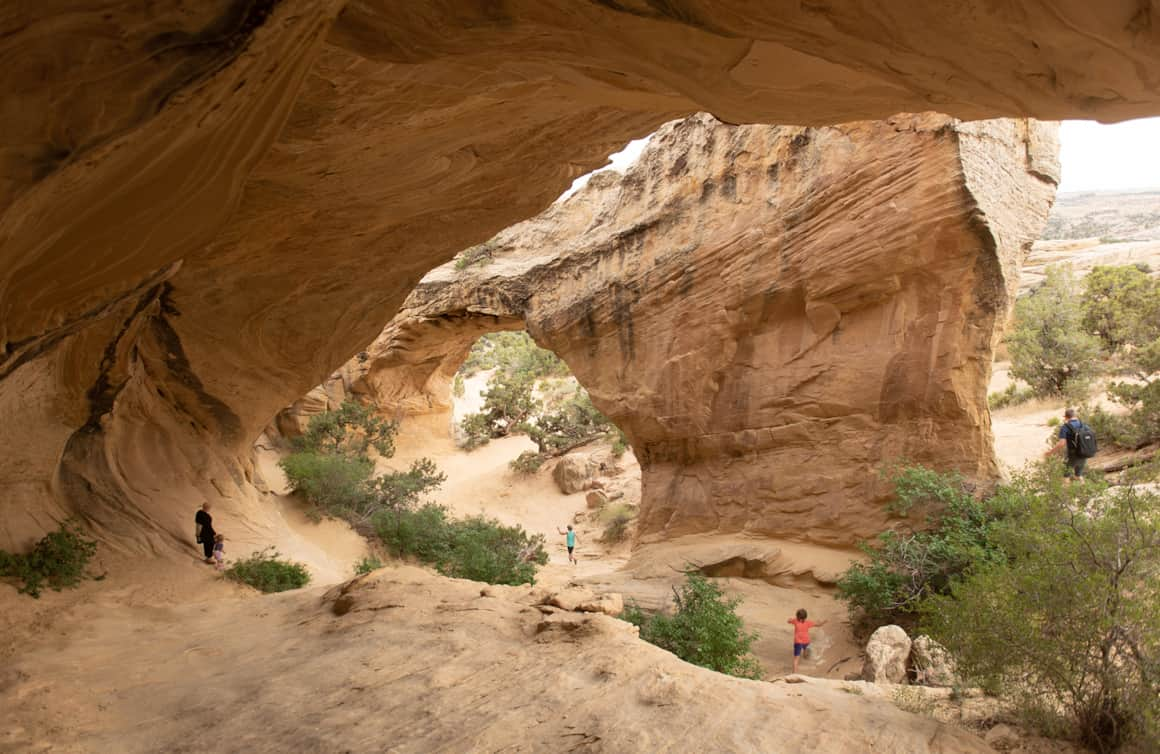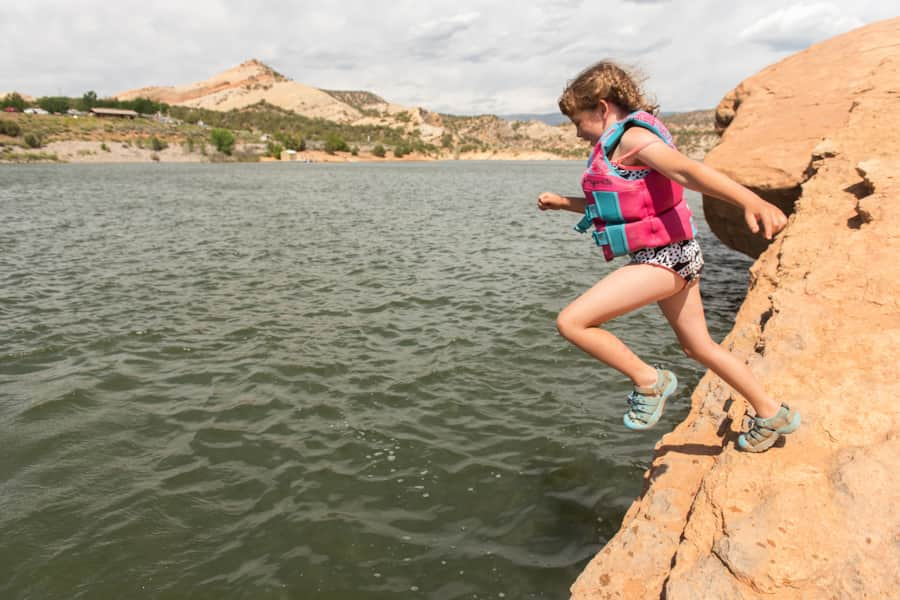 Resources
Park Information and GPS Coordinates
Open 6 a.m. to 10 p.m. in the summer and 8 a.m. to 5 p.m. during the winter.
Day-use entry fee required, purchase in-person or online. The Annual Utah State Park Pass is accepted for park entry. Advance camping reservations are recommended. Camping rates vary depending on the type of set-up you are looking for, such as RV, tent, or teepee. See fees and information.
GPS Coordinates:
(40.586, -109.445)
Located along US Hwy 191, about 13 miles north of the town of Vernal
8750 N. Highway 191
Vernal, UT
Pro Tips
Have exact cash on-hand in case the "Iron Ranger" unmanned fee collection station is on duty when you arrive (or simply allow excess funds to go toward park improvements). The park does have firewood and ice for sale at the entrance booth.
Dogs are permitted on-leash throughout the park except on the developed beach near the boat ramp.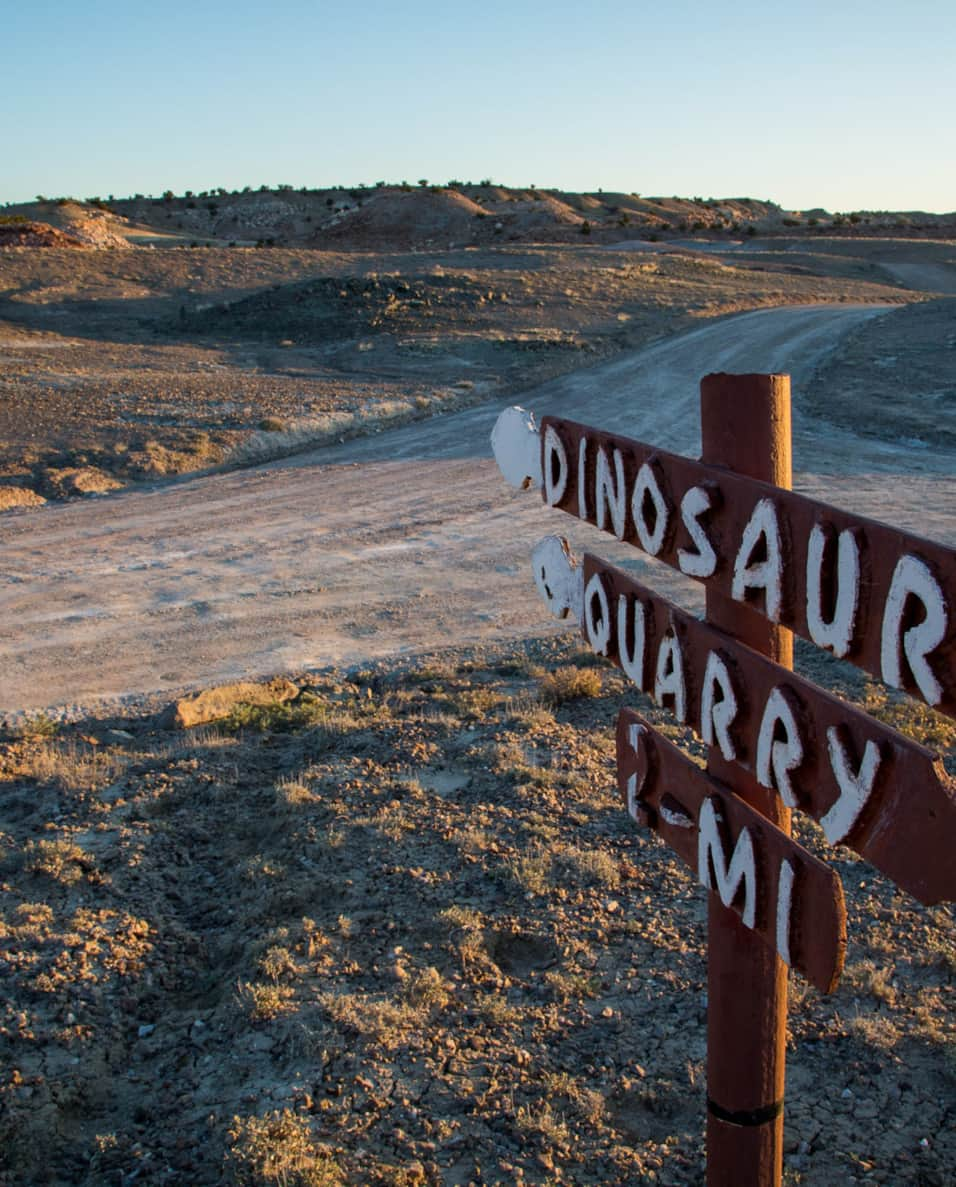 Trekking Along the Dinosaur Diamond Highway
Utah's Dinosaur Diamond Highway is the perfect guide to experience ancient history, millions of years in the making.
Highlights
Dinosaur National Monument
Jurassic National Monument
San Rafael Swell
Dead Horse Point State Park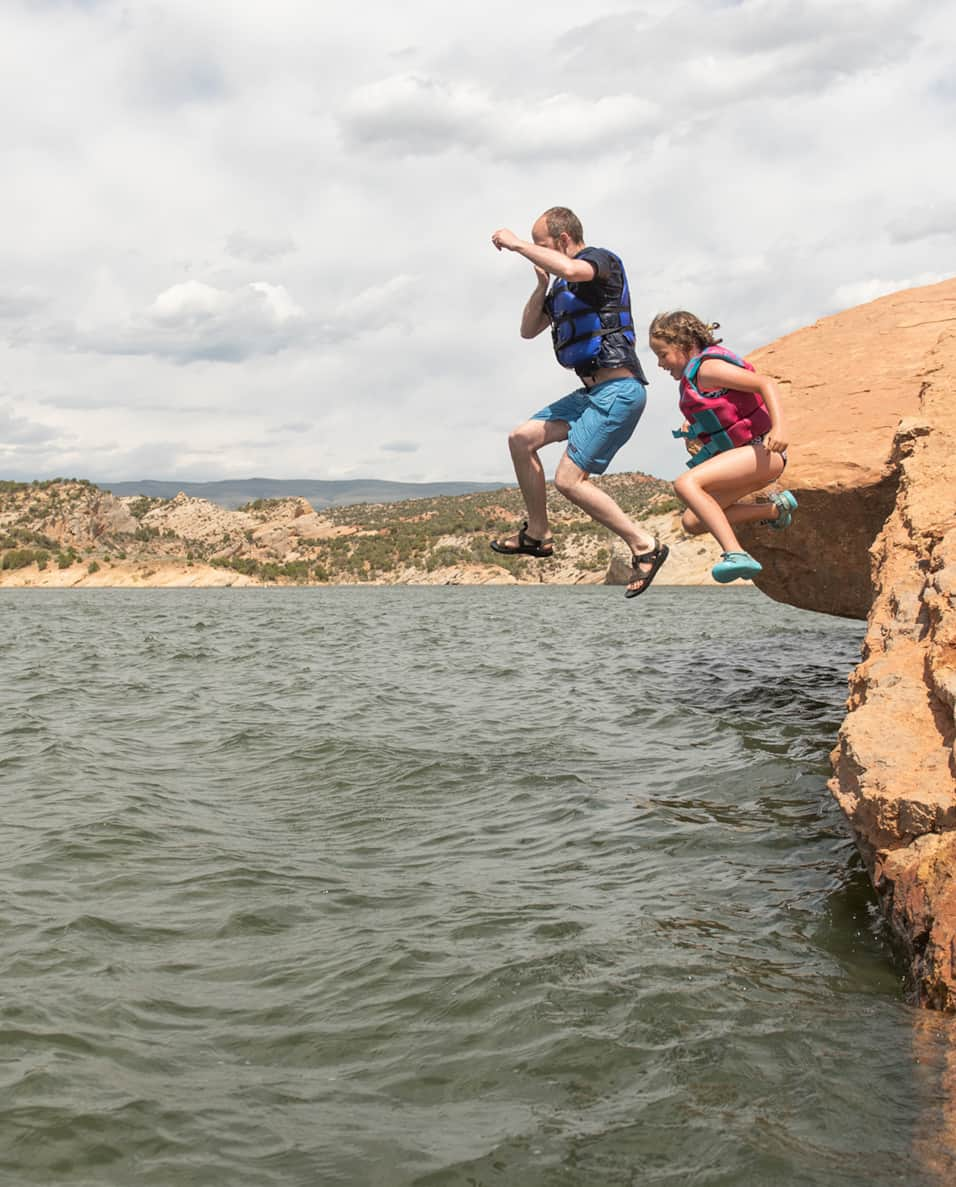 Sandstone Spires & Swimming Holes
Walk the paths of dinosaurs and descend through 200 million years of geologic history in this six-day road trip from Vernal to Kodachrome Basin. It's a kid-friendly desert drive in search of dino tracks, slot canyons and swimming,
Highlights
Dinosaur Tracks in Vernal
Crystal Geyser in Green River
Hoodoos & Slots of Goblin Valley
The Red Cliffs of Capitol Reef
The White Cliffs of Grand Staircase
Sandstone Spires in Kodachrome Basin