Flood Safety
Due to record snowpack and high amounts of spring runoff, please be advised of potential flooding that could impact travel plans.
Learn more
The Underrated Trails Within the San Rafael Swell
Utah's San Rafael Swell features a vast landscape of winding gorges carved deep by rivers, and you'll find multi-colored sandstone mountains and mysterious slot canyons. Here's a quick guide to some of the best trails to explore the region.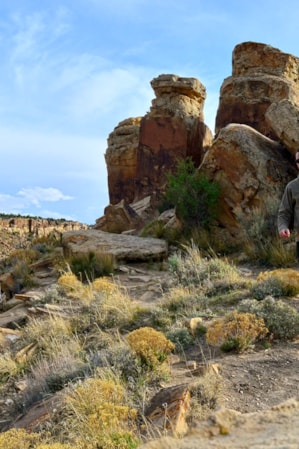 A vast landscape of winding gorges carved deep by rivers, multi-colored sandstone mountains and mysterious slot canyons might just be one of the state's best (yet least known) places to explore. The San Rafael Swell extends nearly 3,000 square miles across south-central Utah, where it is crossed by only one interstate. This massive geologic feature is the result of a fold in the earth's crust formed 60 to 40 million years ago by compression forces pushing up layers of rock.
Hundreds of miles of dirt roads and off-highway-vehicle trails crisscross the region, providing access to the remote canyons, waterways and ancient petroglyph sites found in the Swell. It's a lot to take in. And early in 2019, S.47, the John D. Dingell, Jr. Conservation, Management, and Recreation Act public lands bill designated the area San Rafael Swell Recreation Area, inclusive of multiple new wilderness designations and an upgrade of Cleveland-Lloyd Dinosaur Quarry to Jurassic National Monument.
Explore this landscape by foot on designated hiking trails, dirt roads or excursions through slot canyons or along canyon rims for a true sense of the isolated beauty that epitomizes the Swell. Here are some of the area's top destinations to get you started on your next Utah trip.
The Goblin's Lair
Tucked behind the cliffs off Highway 24 between the towns of Green River and Hanksville lies the beautifully bizarre landscape of Goblin Valley State Park. Minerals deposited 170 million years ago by an ancient inland sea have been sculpted by nature over time, creating a valley of eroded rock formations resembling animals or gnomes and earning their nickname from locals: goblins.
Hiking around the valley offers an up-close-and-personal look at these other-worldly stone creatures. At the eastern edge of the park, an adventurous three-mile hike leads to The Goblin's Lair — a unique cavern-like formation with rock walls reaching up to 100 feet. From the Observation Point Trailhead, start on the Carmel Canyon Loop Trail. After making your way up and down a series of short sand dunes for about a half a mile, a marked trail for The Goblin's Lair veers off to the right.
Another mile brings you around to the backside of Goblin Valley's cliff walls and the mouth of the lair. Some fun scrambling through the boulders strewn about the lair's entrance takes you inside the chamber. At midday, light streams brilliantly through small openings in the cavern ceiling. After exploring the lair, follow the same trail back to the start. Goblin Valley State Park charges a day-use fee to enter and also has reservable campsites and yurts available.
Little Wild Horse Canyon & Bell Canyon Loop
Little Wild Horse and Bell Canyons offer slot canyon exploring at its finest. Venturing through the canyons brings you into a labyrinth of curving sandstone walls — at times narrow enough to fit only one person — peppered with small grottoes and pockets in the layers of stone. Linking up the two canyons makes a loop of about eight miles and provides the uncommon opportunity to explore such long and narrow chasms without canyoneering equipment or technical skills.
"Hundreds of miles of dirt roads and off-highway-vehicle trails crisscross the region, providing access to the remote canyons, waterways and ancient petroglyph sites."
From the trailhead six miles outside the current entrance to Goblin Valley State Park, the hike starts in a broad, sandy wash before reaching the mouths of Bell and Little Wild Horse Canyons at the half-mile mark. Most hikers head first into the 3.6-mile Little Wild Horse Canyon. The canyon gets narrower as you travel farther down the wash, increasing your chances of running into water-filled sections that you may have to wade through if rain has recently hit the area.
Once you come out the other side, turn left onto Behind the Reef Road, a four-wheel-drive road, for 1.6 miles before reaching the mouth of Bell Canyon. Traveling 1.8 miles through the equally scenic Bell Canyon brings hikers back to the junction with Little Wild Horse Canyon; from there, repeat the half-mile trek through the large wash back to the trailhead.
Since this area is subject to flash flooding, be sure to check the weather forecast ahead of time. Never enter the canyons if there's a chance of thunderstorms or rain.
The Wedge Overlook
If you only have time to explore one area of San Rafael Swell, let this be it. Near the northwest boundary of the Swell, the Wedge Overlook offers sweeping views over the intricate network of canyons and peaks that typify this vast formation. Most notably, the overlook gives a bird's-eye view of the San Rafael River as it winds its way through layer upon layer of red, tan and orange sandstone, carving the 14-mile-long Little Grand Canyon.
While there aren't any designated hiking trails at the overlook, this spot makes a great base camp for exploring on your own terms. For ever-changing views of the expansive canyons below, hike along the rim on the dirt roads stretching east and west from the overlook.
Mountain biking on the dirt roads around the Wedge provides an ideal option for exploring the area. Those looking for singletrack will find it on the Good Water Rim Trail, a 15-mile intermediate trail that twists and turns along the canyon rim offering up incredible views with plenty of fun dips and no sustained climbing.
Rochester Petroglyph Panel
To fully experience the cultural landscape of the San Rafael Swell, hiking to an ancient panel site is a must. Several examples of Native American panels can be found within the Swell, such as Buckhorn Wash Pictograph Panel, Head of Sinbad Pictograph and Lone Warrior Pictograph Site, though none are quite as unique as the Rochester Rock Petroglyphs Panel.
These panels feature hundreds of images etched into the stone (called petroglyphs) primarily left behind by people of the Fremont Indian culture. Depictions of animals, human-like figures and an iconic rainbow shape cover this sheer sandstone wall and invite questions about their meaning and purpose.
You can easily access the trailhead via the Moore Cutoff Road a few miles north of Emery, Utah, just off Highway 10. From here, it's an easy half-mile hike along the ridge to the main petroglyph panel. Keep an eye out for other petroglyphs on the surrounding cliffs and boulders.
Head of Sinbad Pictograph Trail
One of the most well-preserved pictographs in the world lies hidden in a set of cliff bands just beside Interstate 70. Striking for their rich red color and impressive size, these pictographs exemplify the Barrier Canyon Style of panel that dates back thousands of years.
The length of a hike to see these magnificent panels depends on the accessibility of the dirt roads leading to it from the highway. Recent storms can render these roads impassable, and sections of deep sand can pose a challenge for two-wheel-drive vehicles. Be prepared to walk anywhere between a half-mile and 3.5 miles out-and-back to the pictographs.
To make the most of this off-the-beaten-path excursion, combine it with the nearby hiking trail to Dutchman Arch, a visit to historic Swasey Cabin and the Lone Warrior Panel Site. You'll find all of these points of interest are about 35 miles west of Green River, Utah, via a series of dirt roads along Interstate 70.
Protecting Petroglyph Panels
Always Respect and Protect panels and archeological sites. Petroglyphs are an important part of our human and national heritage and can be fragile. Follow Leave No Trace principles so future hikers have the same experience and sense of discovery that you do.
The Petroglyph Code
Follow these guidelines from the Petroglyph Code to protect and preserve these amazing petroglyph panels:
Don't touch the panels. Oil from your hands degrades the rock surface.
Don't disturb panel sites or nearby ruins. Picking up pieces of pottery or digging in soil disturbs the area and leads to erosion.
Don't make fires near panel sites.
Don't enhance the petroglyphs with chalk, liquid, or paint.
Don't make rubbings, molds or castings of petroglyphs.
Don't carve, chisel, scratch, engrave, spray paint or write on the panels. This not only mars the petroglyphs but is a federal crime.
Don't try to remove or take anything from cliffs or boulders. It is vandalism and a federal crime, with stiff penalties including fines and imprisonment.
Do enjoy the ancient petroglyphs, take lots of photos, act responsibly and help preserve our prehistoric legacy and heritage.
The San Rafael Swell may not be the easiest place to get to, but you'll be glad you put in the effort to explore this unique section of Utah.