Flood Safety
Due to record snowpack and high amounts of spring runoff, please be advised of potential flooding that could impact travel plans.
Learn more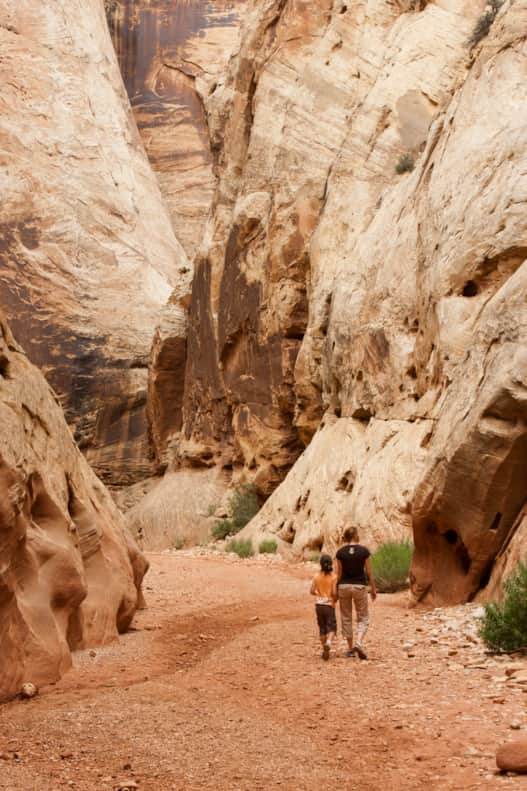 Family-Friendly Hikes & Overlooks
Goosenecks Overlook | .1 mile
A short, easy hike off Scenic Byway 24 with amazing canyon views.
Sunset Point | .4 mile
One of the most popular viewpoints in the park, this short hike ends with panoramic photo opportunities you can't miss.
Capitol Gorge | 1 mile
A quick hike through a beautiful, deep canyon that leads hikers to historic inscriptions from pioneers and miners.
Grand Wash | 2.2 miles
A trailhead at the end of The Grand Wash Scenic Drive leads hikers down a deep canyon with spectacular narrows.
Cohab Canyon Trail | 1.7 miles
A popular trailhead near Fruita Campground that rewards hikers with hidden canyons and views of Fruita.
Fremont River Trail | 1 mile
While not too long, this hike starts out easy, but gets relatively steep. Expect impressive views of the Fremont River with every step.
Hickman Natural Bridge Trail | .9 mile
One of the park's most popular trails, hikers will see artifacts of the Fremont people and an impressive 133 foot long natural arch.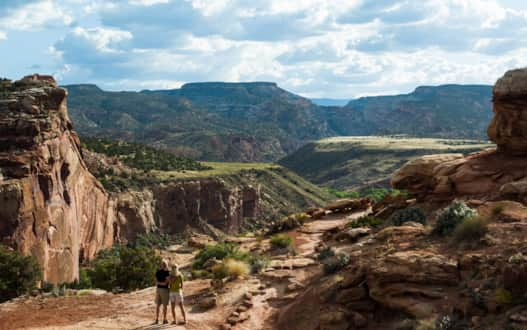 Moderate Day Hikes
Cassidy Arch Trail | 1.7 miles
Take a hike into the canyon Butch Cassidy and the Sundance Kid once hid in to find a natural arch named after the outlaw.
Chimney Rock Loop Trail | 3.6 miles
A trail with excellent views of Waterpocket Fold cliffs and the 400 foot tall Chimney Rock.
Fremont Gorge Overlook Trail | 2.3 miles
A hike that climbs to a mesa top and culminates at a viewpoint of the Fremont Gorge.
Frying Pan Trail | 2.9 miles
A beautiful trail connecting the Cassidy Arch Trail with the Cohab Canyon Trail.
Golden Throne Trail | 2 miles
A relatively short hike where hikers will find views of the Golden Throne and Capitol Gorge.
Old Wagon Trail Loop | 3.8 miles
A great trail for history buffs that was once a wagon road used by miners. Reflect on the park's heritage while you gaze over impressive Waterpocket Fold views.
Rim Overlook Trail | 2.3 miles
While most trails will have hikers looking upward, this trail delivers broad vistas looking down into Capitol Reef.
Hickman Bridge & Navajo Knobs Trail | 1.8 to 9.4 miles
Hikers can continue past the previously mentioned Hickman Natural Bridge Trail to the Navajo Knobs, where you'll find an unforgettable 360-degree view.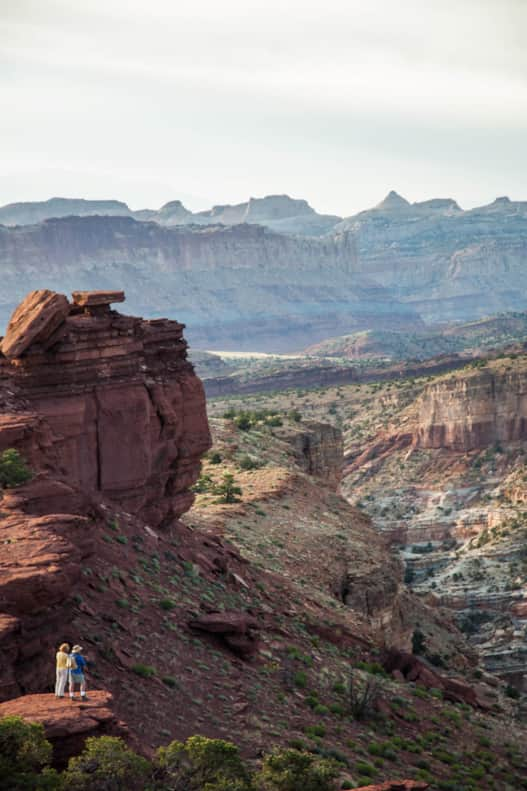 Slot Canyon Hikes
Burro Wash Slot Canyon | 3.4 miles
The most popular slot canyon in the park starts as an open wash and eventually narrows to a stunning shoulder-width passage.
Cottonwood Wash Slot Canyon | 3.3 miles
A similar slot canyon to Burro Wash, you'll wander through a narrow passage to encounter chockstones, and possibly pools of water.
Sheets Gulch Slot Canyon | 6.7 miles
The least trafficked slot canyon in the park, this hike will lead you through a canyon that narrows and opens up as you progress.
Before entering any slot canyon, remember to research the canyons and check the weather forecast. See these tips for canyoneering for a local guide to get started safely.
Backpacking
Slickrock Trail | 25 miles
Accessed from Highway 12, west of the park, the Slickrock Trail presents a lesser-known but spectacular option, following the original wagon road that once connected Grover to Boulder Town, taking hikers across areas of slickrock Navajo sandstone, old-growth ponderosa pine, and piñon-juniper forests.
Things to Know
Pack Your Daypack
Before hitting the trails in Capitol Reef it's important you pack a daypack. These trails can be demanding, so make sure you've got adequate hiking gear, plenty of sun protection and snacks, and more than enough water for everyone in your group.
Know The Weather Forecast
In canyon country, knowing the weather forecast is more of a requirement than a suggestion. Sudden rain storms pass over the desert without warning, often causing flash floods through narrow canyons. Before you lower yourself into a canyoneering route or head into a slot canyon, be safe and check the weather forecast.
Connect Capitol Reef's Trails
With a majority of the park's most popular trailheads found along Scenic Byway 24, it's easy to connect hikes and cover more ground. For a perfect day, decide which hikes you'd like to take, then spend your time cruising Capitol Reef's scenic byways from one trailhead to the next.
Take a Rest in Fruita
Capitol Reef National Park has a natural sense of slowing down; stopping to smell the flowers, or in this case, stopping to pick some fruit. After you've had a hike or two to start your day, stop by Fruita to roam the U-Pick orchards, or grab a baked pie from the Gifford Homestead.
Explore The Capitol Reef Region
Countless new adventures lie just outside the borders of Capitol Reef National Park. Add some time to your trip to explore Goblin Valley, discover a rich Native American culture at the Fremont Indian State Park, or visit Utah's dinosaur country at Jurassic National Monument. To get started, see this complete Capitol Reef Region itinerary.