The 5 Best Hikes in Zion
Each trail in the park has its own appeal, which makes it difficult to select just five to call "the best". But, based on trail popularity, here are the five best hikes in Zion:
Angels Landing (permit required beginning April 1, 2022)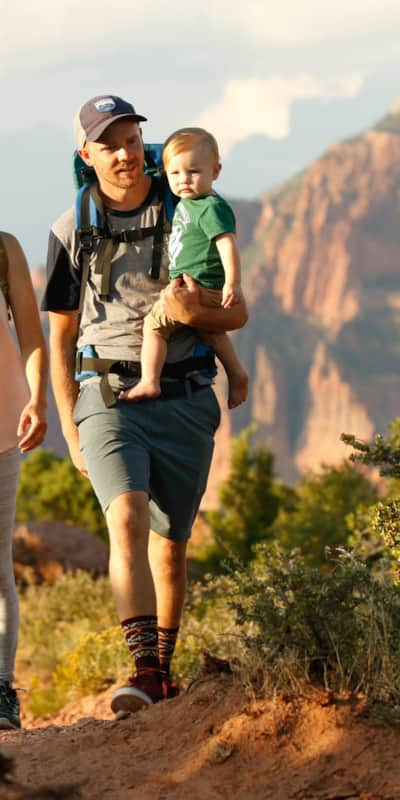 Family-Friendly Hikes
Emerald Pools Trail (Lower) | 1.2 to 2.5 miles
A network of trails to the lush and picturesque Lower, Middle, and/or Upper Emerald Pools.
Northgate Peaks Trail | 4.2 miles roundtrip
This family-friendly hike offers expansive views of Zion and makes for an excellent summer route due to its high elevation.
Pa'rus Trail | 3.5 miles
This easy out-and-back is not only one of the park's most pleasant strolls, the paved trail is open to dogs on-leash, cyclists, and is wheelchair accessible.
Riverside Walk/Gateway to The Narrows | 2.2 miles
A short, paved stroll along the Virgin River to the stunning mouth of Zion's iconic slot canyon.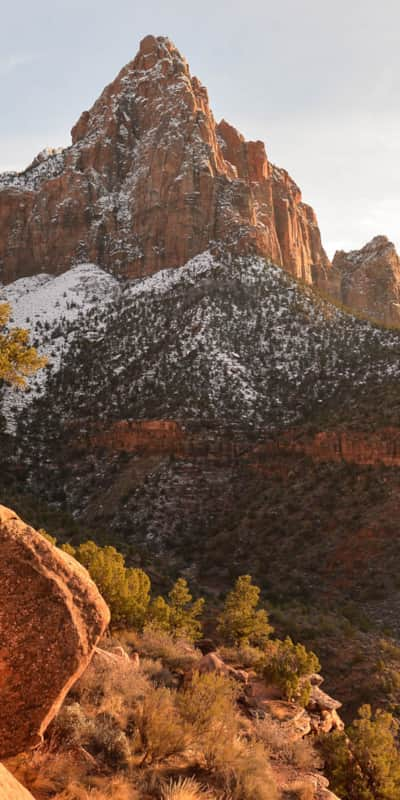 Moderate Trails
Canyon Overlook Trail | 1 mile
A short out-and-back day hike to an inspiring overlook of lower Zion Canyon. Accessed near the east entrance to the Mt. Carmel Tunnel.
Chinle Trail | 8 miles one way
This less-traveled Zion trail offering expansive views makes a great alternative to the more crowded and steeper hikes in the park.
Emerald Pools Trail (Middle–Upper) | 1.2 to 2.5 miles
A network of trails to the lush and picturesque Lower, Middle, and/or Upper Emerald Pools.
Kolob Arch (Kolob Canyons) | 14 miles
A long day hike or short overnight backpack up La Verkin Creek to Kolob Arch, one of the largest freestanding arches in the world. Moderately strenuous primarily due to length.
Taylor Creek Trail (Kolob Canyons) | 5 miles
A trail along the Middle Fork of Taylor Creek that passes two historic homesteads and ends at Double Arch Alcove.
The Watchman | 2.7 miles
An out-and-back hike that passes overhanging cliffs and stratified rock layers as it leads into the foothills below The Watchman and Bridge Mountain.
Strenuous Trails
Angels Landing | 5.4 miles round-trip
A spectacular out-and-back day hike and scramble to the summit of Angels Landing, suitable for well-conditioned hikers who have no fear of heights. (Beginning April 1, 2022, Angels Landing will require a hiking permit.)
The Narrows | 9.6 miles
An out-and back day hike up the lower section of famous Zion Canyon Narrows, where the North Fork Virgin River runs beneath thousand-foot walls of Navajo sandstone that centuries of erosion have sculpted into fluted and whorled forms.
Technical Canyoneering
Orderville Canyon | 12.3 miles Permit required. Canyoneers love this technical one-way day hike through a desert slot canyon that takes you into the heart of Zion National Park.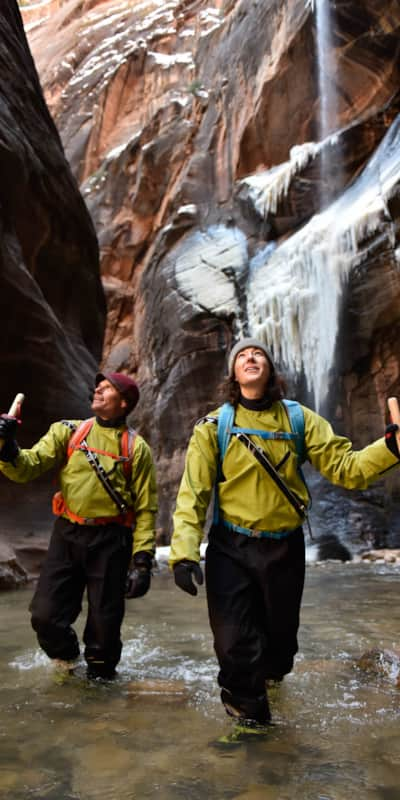 Hikes Near Zion
Gooseberry Mesa |. Varied distances
A beautiful slickrock playground known for its mountain biking, but with views of Zion, Eagle Crags, and the Virgin River Valley best admired by foot so you have time to take them all in.
Grafton Trail | 6.6 miles round-trip
Discover and explore the ghost town of Grafton along this easy out-and-back hike through open country with beautiful views of cliffs, pastures, and orchards.
Eagle Crags Trail | 5.7 miles round trip
Stunning views of Zion National Park can be had along this beautiful out-and-back hike.
Red Cliffs Desert Reserve
Located about an hour from Zion National Park, just north of St. George, the sprawling 60,000-acre Red Cliffs Desert Reserve (which includes the designated Red Cliffs National Conservation Area) contains a one-of-a-kind convergence of multiple different desert ecosystems, jaw-dropping scenery and protected species seldom seen elsewhere.
Things to Know
Bring Your Boots
It is okay to pack flip flops for a trip to Zion National Park — as long as you leave them, and other open–toed shoes, at your hotel for the walk to the pool. They are not for hiking Angels Landing. Foot injuries are one of the most common calls for park ranger assistance. Sprained ankles, blisters, and stubbed toes can make walking back to the trailhead and can put a real damper on plans for other hikes in the park.
Pack Plenty of Water and Food
Park officials suggest visitors drink one gallon of water per person, per day. Water is available at the visitor centers, campgrounds, the Zion Lodge, and at some shuttle stops. If you see a faucet while out and about, fill up your water bottle even if it is almost full. However, don't drink water from any natural sources in the park; untreated water can be unsafe.
Dogs May Not Hike With You
To protect Zion's natural landscape, dogs are not allowed on the park's hiking trails, with exception of the Pa'rus Trail (where they may join you if leashed). Dogs are allowed in some areas of the park, but must be leashed at all times and are only permitted in established campgrounds, public picnic areas, and along public roads.
Zion Trails Can Be Difficult
Some of Zion's hiking trails can be very challenging. While some are paved and relatively easy, others can be very strenuous and require specialized skills. Before starting down any trail be sure to research its length, difficulty, and uncommon features.
Pack Everything Out
Restrooms are located at most shuttle stops and we recommend using them before starting a trail. Once you leave the trailhead, there are no services. You are required to carry out solid human waste from all canyons in Zion, including the Narrows. Human waste disposal bags are available at the park bookstore and local outfitters. (Read: "How to Poop in the Outdoors")
Read these additional resources to learn how to travel thoughtfully and experience Zion National Park most fully.