Devil's Garden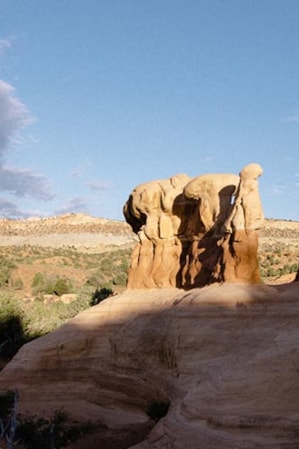 A colorful formation in contrast to the gray cliffs that follow the
Hole-in-the-Rock Road,
Devil's Garden is a unique, easily-accessible natural play park. After driving 12 miles down the graded road, there is a signed pullout for this spot designated as an "Outstanding Natural Area."
As part of the Grand Staircase–Escalante National Monument, this desert destination features hoodoos, natural arches, and various sandstone formations—some are reminiscent, on a smaller scale, to areas such as Goblin Valley. The scenic hike is about a half-mile long, as the park is relatively small, and could conceivably be explored in less than an hour. But feel free to stick around and enjoy the views and formations, and utilize one of the numerous picnics areas.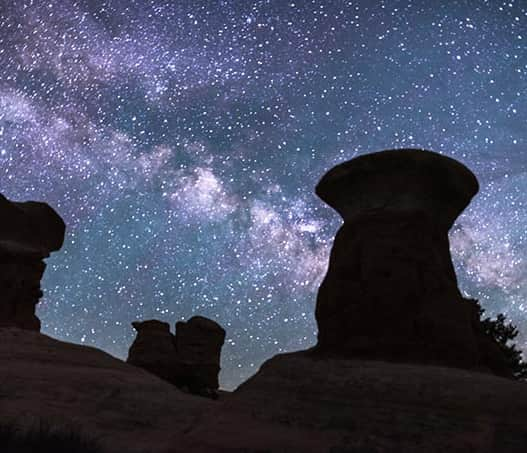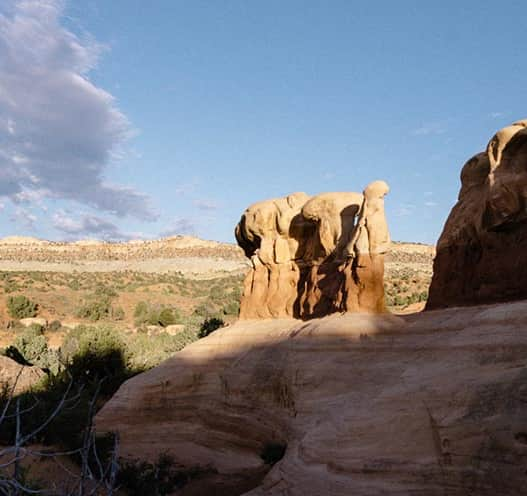 What Makes it Great
Devil's Garden is a maze of sandstone formations formed by, and continuously shaped by, erosion. Nature's hand has been at work since the Jurassic Period more than 166 million years ago. Presently, Devil's Garden boasts hoodoos, arches, and other rock protrusions from the sandy, desert landscape.

Because the trail is a mere half-mile long, and relatively flat, all people can enjoy exploring and discovering these rocks. Walk around the four hoodoos located at the parking lot and travel south to the incredibly scenic Metate and Mano arches. Feel free to climb on the rocks and amongst the hoodoos—that's what this area is all about, really.

Devil's Garden is also a photographer's dream in the early morning and late afternoon as the long shadows and soft light simply make for a stunning picture. The Milky Way and night skies are pretty incredible here as well, and you will most likely have the spot to yourself for astrophotography. During the day, this a popular stop as families and travelers piece together a fun-filled day of activities along Hole-in-the-Rock Road.
Who is Going to Love It
Big kids who want to play like little kids. Also little kids who want to play like, well, little kids. Because of the short hike, the abundance of natural features, and shade with picnic benches, Devil's Garden appeals to everyone. Even the adrenalin-junkie en route to more daring and technical slot canyons will enjoy a brief respite here.
GPS Coordinates, Parking and Regulations
GPS Coordinates: (37.585671, -111.414701)

Permits are not needed to enjoy Devil's Garden for day use. Camping and overnight use is not permitted. Dogs are allowed and need not be leashed.

Park at the main lot in front of the park. There are bathrooms and picnic tables located there. Devil's Garden can be visited year-round, but note that the Hole-in-the-Rock Road has a high clay consistency and can be difficult to access after rains even with 4x4 vehicles. An ideal time is at sunrise, sunset, and during a new moon, as it is extremely picturesque.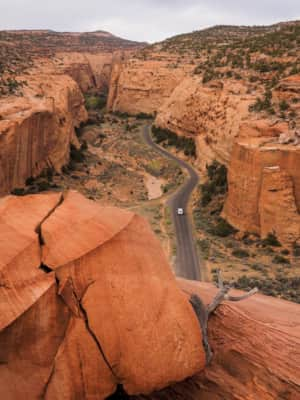 Grand Staircase-Escalante
The allure of the Grand Staircase region — the bulk of which is contained in the Grand Staircase–Escalante National Monument — is phenomenal. Sun-drenched Utah backcountry spreads out well beyond the visible horizon from the road, whether you're traveling along the The All-American Road: Scenic Byway 12, or on Highway 89.