Capturing the Milky Way: Tips for Astrophotography
Need tips on how to take pictures of stars? Utah is the perfect location to put tips from an award-winning photographer into action.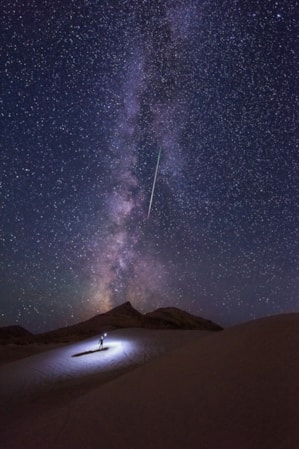 Tips on how to take pictures of stars:
Preparation is key: For professional and amateur photographers like Prajit Ravindran, preparation for a night time photography session begins with an understanding of the earth's revolution, the moon cycles (see tips for when to go stargazing) and a constellation map in hand. And don't forget the outdoor basics — remember to pack some warm clothes, tell someone where you are going and when you plan to return and to check the weather forecast.
Scout your location: The hours leading up to sunset consist of scoping out unique formations, imagining the moon's rising path and preparing a basecamp. As the sun descends, the discovery continues. New locations and angles reveal themselves as the evening sky begins its transformative traverse across the landscape.
Know your camera settings: Any DSLR will work for shooting night sky photography. You'll want to shoot with a long shutter speed and a wide aperture, and a tripod is essential for holding a still shot.
Be ready for the darkness: Another component, perhaps the most important, is darkness. Not just any type of night sky darkness, but the blackest-of-black kind you only find far away from the world's oft-consuming light pollution in one of Utah's certified dark sky parks. To preserve your night vision, use a red headlamp and turn your camera's LCD display brightness down.
Know the rules: Land management agencies such as the Bureau of Land Management, National Park Service, U.S. Forest Service, tribal lands, as well as state and local agencies all have different rules and regulations. Be sure to review the restrictions of any dark sky area you plan to photograph. In some parks, using artificial light sources to light up landscapes, rock formations, or other park features is prohibited. Even small amounts of stray light can affect wildlife or other visitors in the area.
"The night skies over here are some of the best I've seen."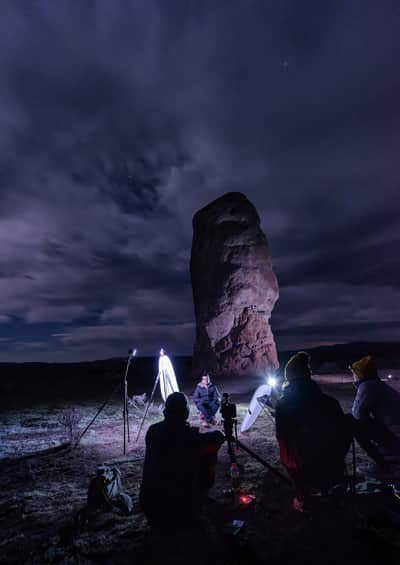 With a growing number of certified International Dark Sky Parks across the state — currently the most of anywhere in the world — Ravindran identified Utah as the ideal place to test the creative passion for astrophotography he discovered seven years ago.
"The night skies over here are some of the best I've seen," he says (Read: Utah After Dark).
On a recent trip to Kodachrome Basin State Park, he described the park as an ideal location, crowdless and full of "unique shots nobody has seen before."
Now a resident of Utah, Ravindran often travels around Utah — from Capitol Reef and Bryce Canyon national parks to the Coral Pink Sand Dunes State Park and the Spiral Jetty — to share an intimate creative experience with close friends, or to enjoy an evening of solitude with only the transportive experience of photographing a star-filled sky to keep him company.
For Ravindran, part of the excitement is putting his own spin on night photography. A camera set to a long, slow exposure is essential for capturing the Milky Way in all its detail, but a burst of inspiration might cause him to pull out a bright flash, the immediacy of which reminds him that, for a quick moment, he is capturing a spectacle that is as old as time itself.
Contemplating the celestial sphere gives Ravindran a cherished escape from the world's pressures and "the daily stress of life." Under the night skies, time passes as slowly as the shutter click on a drawn out exposure. Night photography challenges you to slow down, to unwind (unless you're winding up an old case of Kodachrome film) and, most importantly, to look up.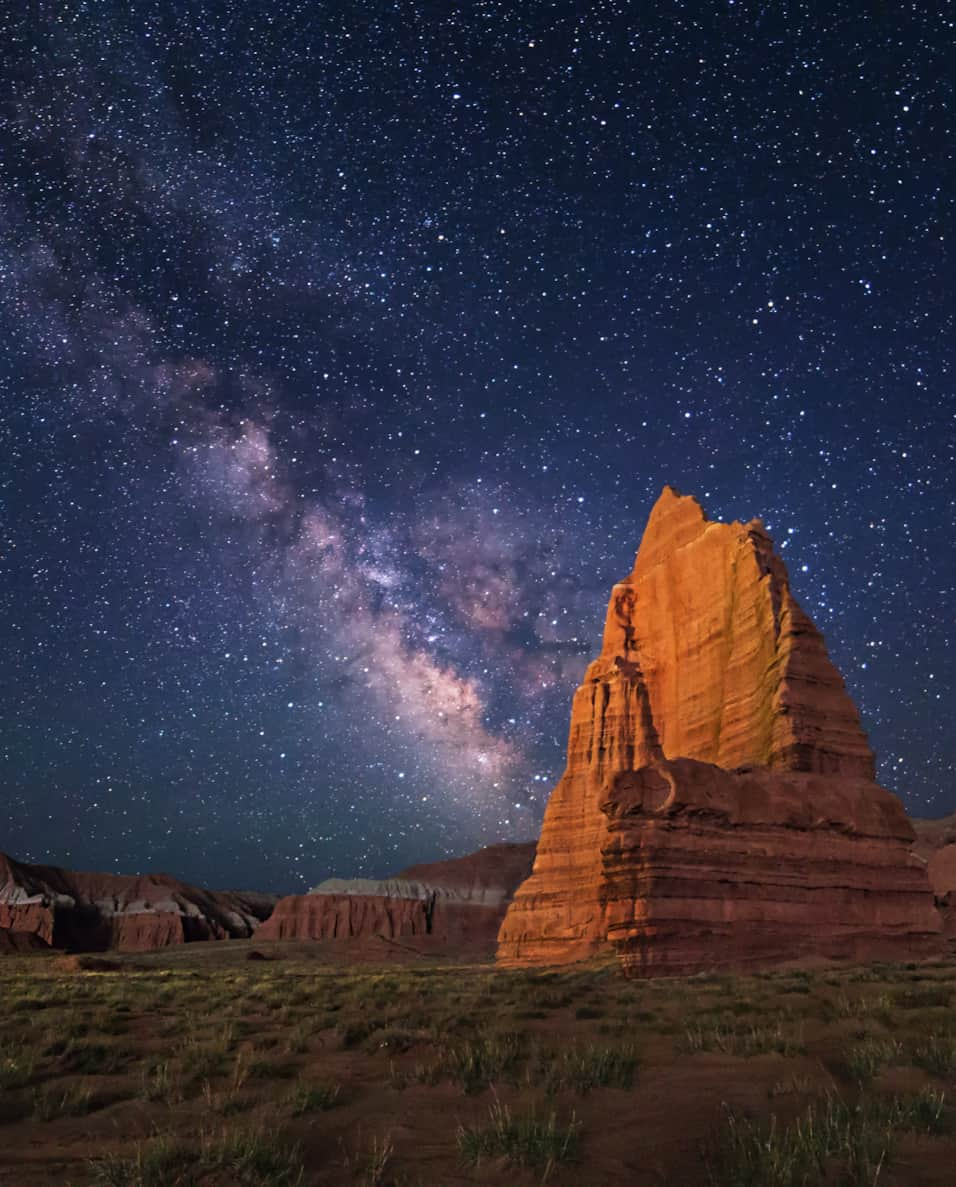 Red Rock & Dark Skies: Stargazing the National Parks
This road trip through southwest Utah takes you to four of Utah's best places to see the Milky Way — Capitol Reef National Park, Kodachrome Basin State Park, Bryce Canyon National Park and Cedar Breaks National Monument.
Highlights
Hell's Backbone Grill
Bryce Canyon Lodge
Ranger-led Star Programs
Road Trip Southwest Utah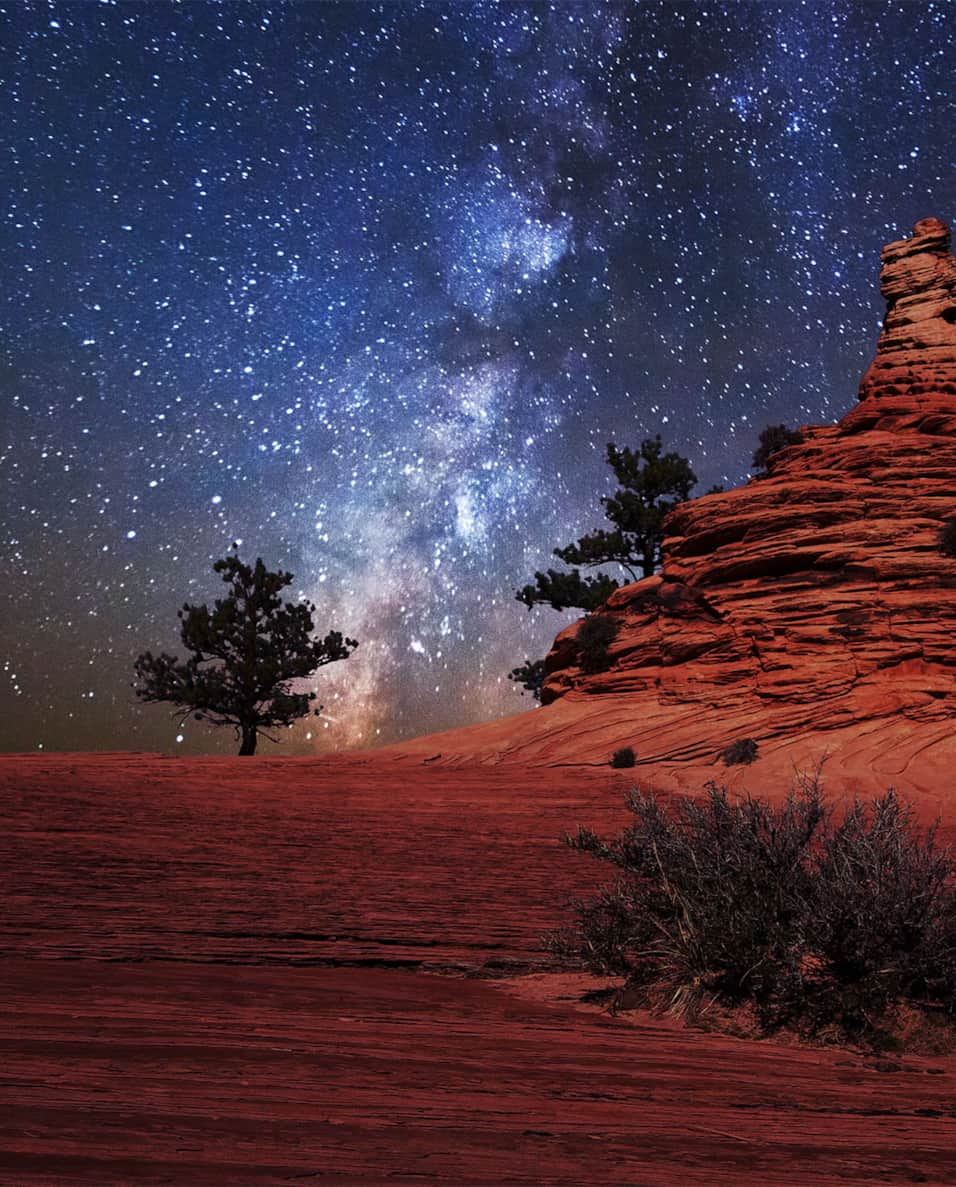 Hoodoos and Stars
Hoodoos and Stars takes advantage of the proximity of Zion, Bryce and Capitol Reef national parks to slow down and also experience some of the must-see southwestern Utah landscapes and experiences along the way.
Highlights
Zion National Park
Bryce Canyon National Park
All-American Road Scenic Byway 12
Capitol Reef Country
Kodachrome Basin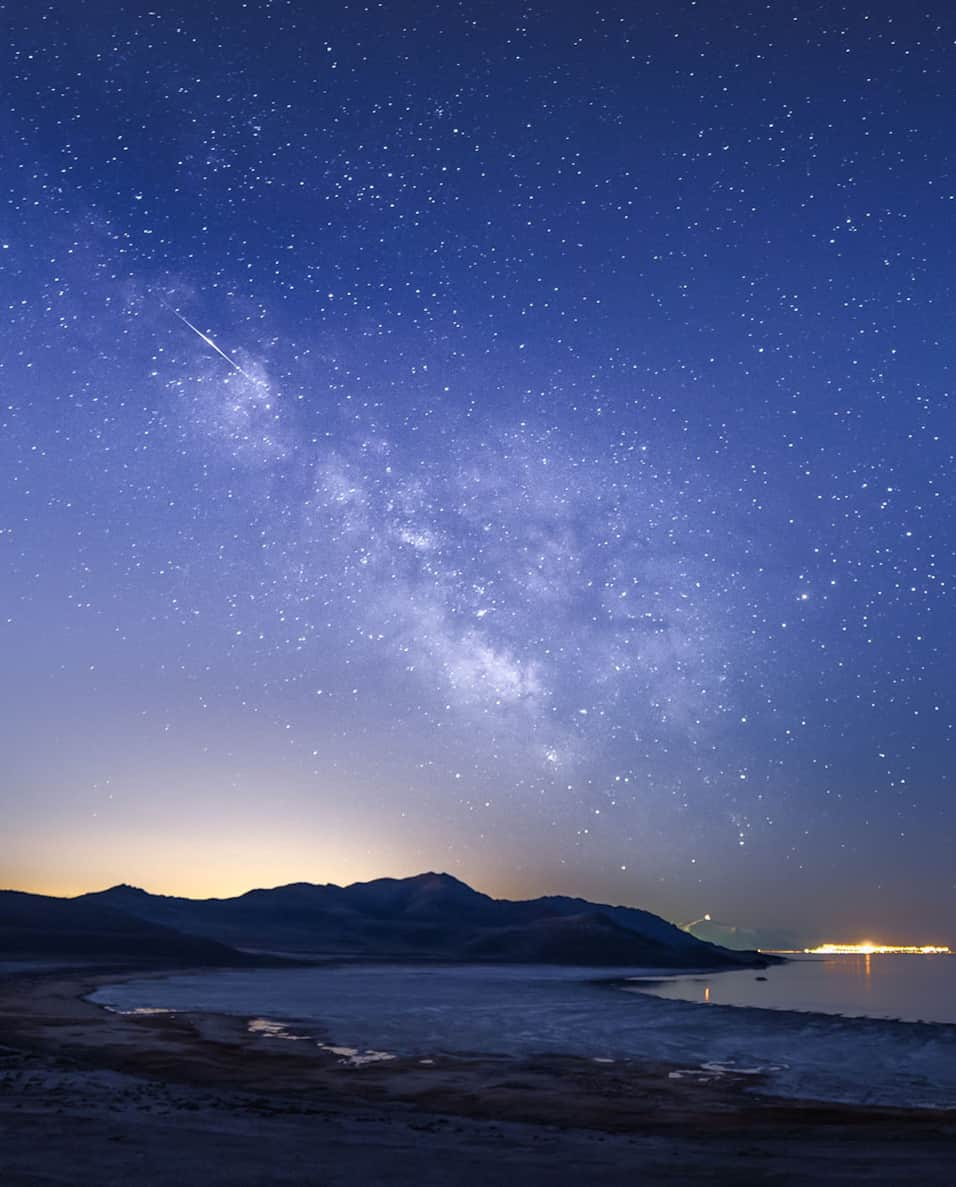 Stars by the City
Fill your days with adventure and your nights with stargazing by following this six-day itinerary from Salt Lake City through the International Dark Sky Places in Northern Utah.
Highlights
Timpanogos Cave National Monument 
East Canyon State Park 
Jordanelle State Park 
Rockport State Park 
Antelope Island State Park
North Fork Park
Helper