Flood Safety
Due to record snowpack and high amounts of spring runoff, please be advised of potential flooding that could impact travel plans.
Learn more
How to Stargaze in Utah
Tips on what to pack and when and where to go for one of Utah's favorite post-sunset activities, stargazing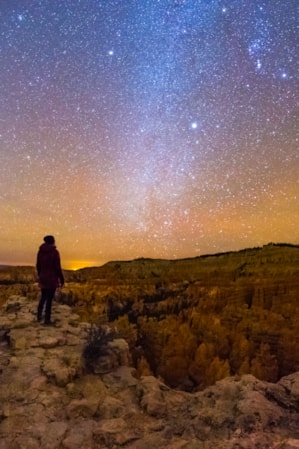 The Milky Way is like a giant spiral neighborhood, and Earth, our perfectly inhabitable home, resides along its outer spiral arm. The Milky Way's shape is referred to as a fried egg — flat with a bulge in the center — stretching 100,000 light years across with an estimated 100–400 billion stars. When we look into the dark skies with unaided eyes, nearly every star we see is within our galaxy.
Perhaps it's no wonder that so many of us are drawn to look toward the Milky Way, whether it's simply to soak in its beauty or be changed in a way that is truly transformative.
"The night sky connects us all in a way that is deeper than we understand," said Bettymaya Foott, a Moab, Utah, native and director of engagement with the International Dark-Sky Association. "We feel so tiny in comparison to the Milky Way, but we're also very much a part of it."
"The night sky connects us all in a way that is deeper than we understand."
When to Go Stargazing
The great advantage to astrotourism is that it doesn't depend on seasonality. You can see night or dark skies throughout the year. From our northern hemisphere viewpoint, the Milky Way core (or bulge) is always generally south on the horizon. However, the orientation of the galaxy differs throughout the year.
Of course, you'll want to take note of the weather and avoid nights where cloud cover is prevalent or potential storms are on the horizon.
Summer
We see more of the Milky Way, its center, and the highest concentration of stars combining for the most luminous of views during the summer. Looking low on the southern horizon is the constellation of Sagittarius, and its brightest stars make a teapot shape, noted Foott, with the Milky Way rising as steam from the spout.
Winter
In the winter months, we are looking toward the outside edge of the galaxy, with fewer stars that are less intense and more subtle. Winter is a wonderful time of year to experience stargazing in part because it's kinder to the non-nightowls. There are more hours of darkness as the sun goes down earlier in the day and Utah's typical dry winter air also allows for clearer viewing.
Viewing the Galactic Core
The central part of the Milky Way — the galactic core — shines nightly from March to November.
March–May: The galactic core will first become visible a few hours before sunrise.
June–August: View the Milky Way as soon as the sun sets for most of the night.
September–November: The Milky Way will be best seen in the early evening.
November–February: The galaxy core will not be visible in the northern hemisphere.
Time of Month
Plan your stargazing during a new moon or within three days before or three days after. A new moon occurs when it is located between Earth and the sun. The moon is thus not visible from Earth, resulting in dark skies that are ideal to see the Milky Way and the faintest of celestial objects and phenomenon (details in dustlines of the galaxy, fainter light against a dark background, etc.) Any light from the moon will wash out the night sky.
Time of Night
Foott said the Milky Way is most clearly seen during true night, after the sun is 18 degrees below the horizon — typically an hour to an hour-and-a-half after sunset. During the northern hemisphere's summer months, that's after 10 p.m. And the longer you stay up, the more intense the sky becomes with stars beaming as the night gets darker.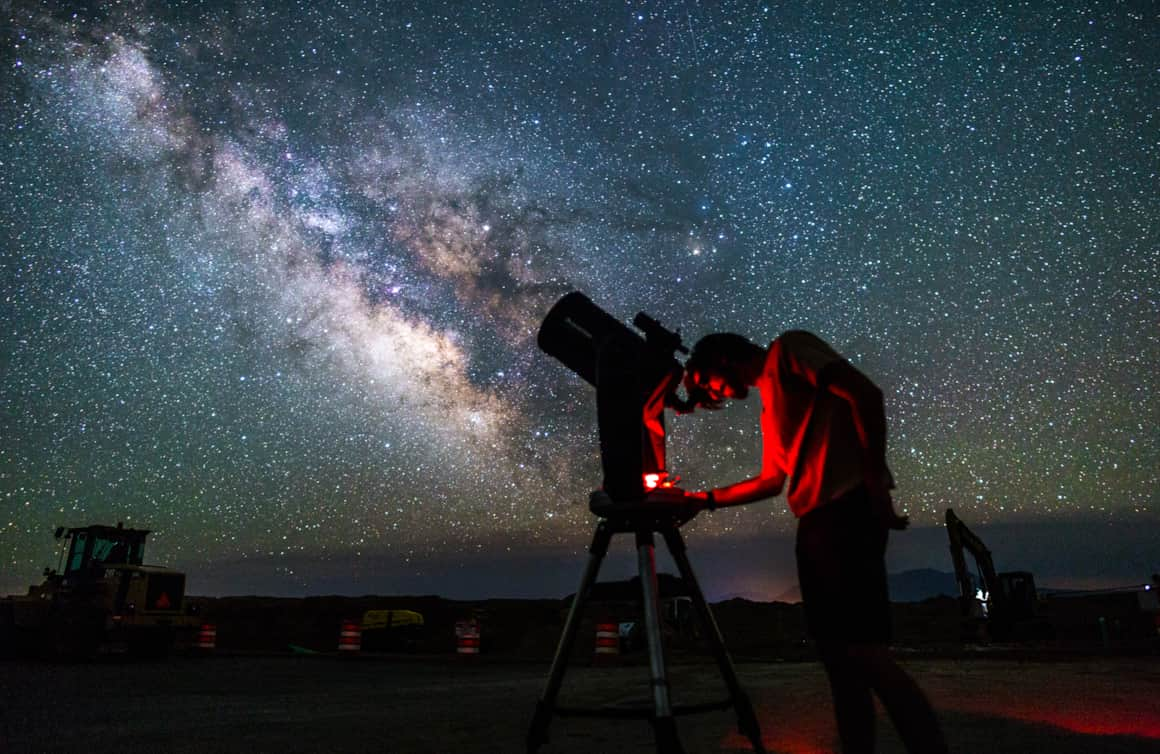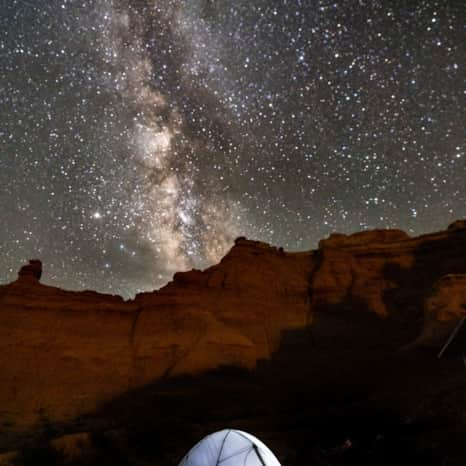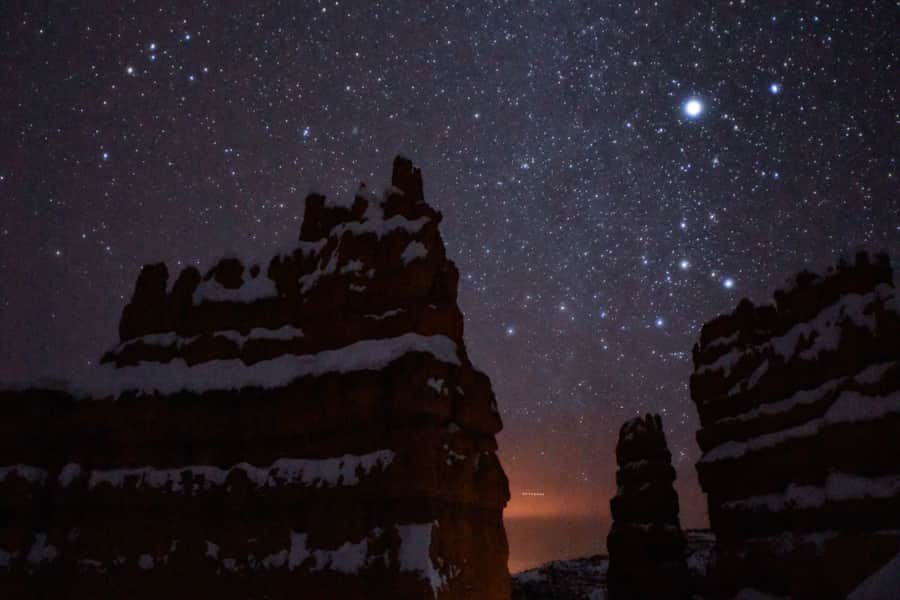 Fear of Darkness
There are numerous ways to experience stargazing, even if someone is unnerved or fearful of the dark.
"Going to view a dark sky is not saying there will be no light. It's about using the right types and amount of light pointed down toward the ground," Foott said. "We want people to be comfortable and don't want them to be scared and in the dark."
When viewing a dark sky, utilize flashlights or headlamps that have a red light for night vision, versus bright white lights, which will impede your eyes from adjusting to the night and greatly decrease your ability to see the stars and the Milky Way clearly.
You can also ease into the natural nighttime environment through a full-moon hike, offered by numerous state and national parks or local astronomy clubs.
Stargazing with Kids
Kids can make the best astrotourists — maybe because their imaginations seem unlimited. The night sky is a way to keep their curiosity front of mind by encouraging them to find the constellations, a planet, or even make up their own stories about what they see. Kids start digging into the solar system around 3rd grade or even sooner. You may be surprised at what they see and can point out to parents. They might get sleepy sooner than adults, so just make them comfortable, bring snacks and if they doze off, no problem.
Where to Stargaze
Ok, so now you know when to go stargazing, how to do it and what to bring. What about where to go?
Utah is at the heart of a dense cluster of certified parks called The Great Western Starry Way from New Mexico to Montana. The Beehive State boasts some of the finest dark skies in the world where viewing the billions of stars in the Milky Way is becoming an increasingly popular past-time for all ages (Read: Utah After Dark). In Utah alone, the International Dark-Sky Association (IDA) has certified 18 (and counting) locations, including communities, parks, and protected areas.
"More than anything, it's important to experience dark skies without light pollution. With that in mind, you can go and enjoy the night sky wherever you want," Foott said. That could be camping in Utah's deserts to a quick trip up the canyons of the Wasatch Back (Read: Seeking Starry Skies Near Salt Lake City). Of course, visiting designated International Dark Sky Places is always encouraged and you will not be disappointed.
If you want to go a bit deeper to learn mythology or point to constellations and view the deep sky through a powerful telescope, it may be necessary to attend a star party or guided program. Visit the websites for Utah's state and national parks to easily find upcoming free stargazing events, which typically include a ranger or interpretative-led talk. Numerous astrological societies and astronomy clubs across the state also host star parties as enthusiasts bring along their telescopes and amazing knowledge.
"As humans, we've been looking up in awe at the night sky as long as humans have been here. It's innate within us to lay out under the stars and enjoy ourselves and have a wonderful time — it can be life-changing."
See a full list of Utah's IDA-accredited Dark Sky Parks and Communities.
Tips for Astrophotography
Need tips on how to take pictures of stars? Utah is the perfect location to put tips from an award-winning photographer into action.