U.S. Federal Shutdown Information
All of Utah's Mighty 5 national parks will remain open.
Learn more.
Dark Skies in Capitol Reef National Park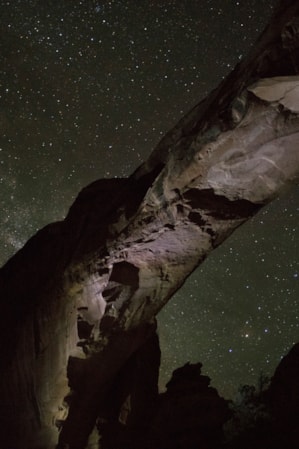 You may be exhausted after a slot canyon climb, complete with sore feet, a few scrapes, and several hundred pictures to download. Go ahead and crash at camp but set an alarm for 3 a.m. There is so much more you need to see in Capitol Reef when the sun goes down.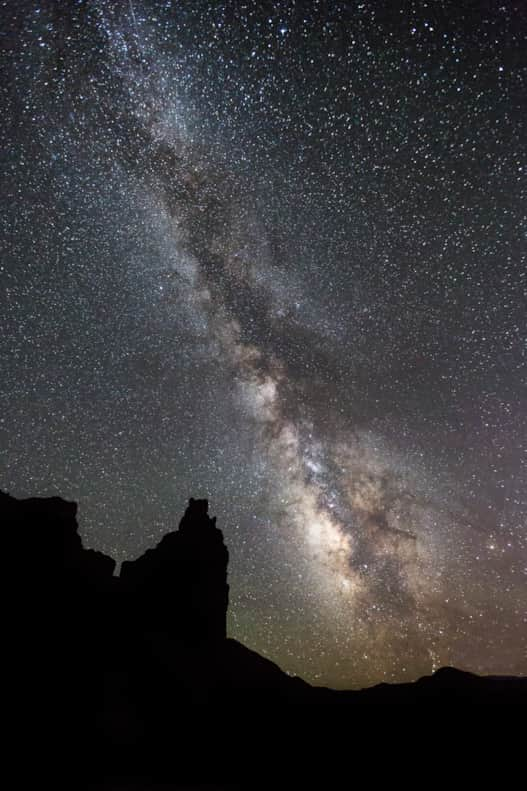 Red Rock and Clear Skies
The International Dark-Sky Association recognized Capitol Reef National Park as a Gold-tier International Dark Sky Park in 2015. Locals have always known that the park lights up with an amazing star show after dark. Astro-Tourism has been nurtured as another layer in the diverse tourism industry throughout the red rock region (Read: Utah After Dark). Most National Parks in Utah provide night-viewing programs, and Capitol Reef has offered an astronomy-themed programs since 2000. The park's visitors center serves as a hub of information for novice and professional stargazers alike. A partnership with the National Park Service Night Sky Team that started in 2010 has brought specialized, nighttime public programs to Capitol Reef.
Why Capitol Reef? It's far from metropolitan areas that provide constant light pollution, distorting our view of what lies overhead. Atmospheric extinction, or the reduction in a celestial object's apparent brightness when its light passes through the atmosphere, is uniquely low, due to dry, transparent air on the Colorado Plateau. This preserves the majestic appearance of the night sky for hundreds of years.
You know how striking the stars are while sitting outside a tent on top of a mountain? That bright, spectacular view is perfect here. You'll see the Milky Way in all its glory in both summer and winter. In both autumn and spring, the zodiacal light is easy to view with the naked eye. There is no offseason for stargazing here, but certainly, plan your nocturnal adventures during a new moon or you'll need to wait until the moon sets for ideal viewing conditions.
All types of stargazers will find something enjoyable here. Whether you're bringing a telescope that cost more than your first car, a crazy-complex DSLR camera able to catch a meteor shower, or just a couple of sleeping bags for backcountry viewing, you'll want to check Capitol Reef's sky chart to monitor sky conditions during your trip. Providing an astronomer's forecast, the chart will tell you if it will be clear or cloudy and a wealth of additional data you can geek out on as you search the sky for constellations and other celestial formations.
Where to Set Up for the Show
The 242,000-acre park features several campgrounds and is surrounded by public land that allows additional camping options with few restrictions. Check in with the visitor center or the local BLM for current conditions and brush up on backcountry regulations. Staff and volunteers collect Sky Quality Meter data from 12 points throughout the park. Several to consider for your after-hours viewing party: Cathedral Valley Campground, Panorama Point, Slickrock Divide, End of Scenic Drive, Capitol Reef Field Station (far SW corner), Burr Trail, and Halls Creek Overlook. Note that various parts of the park receive differing amounts of both precipitation and cloud cover because of the differences in elevation.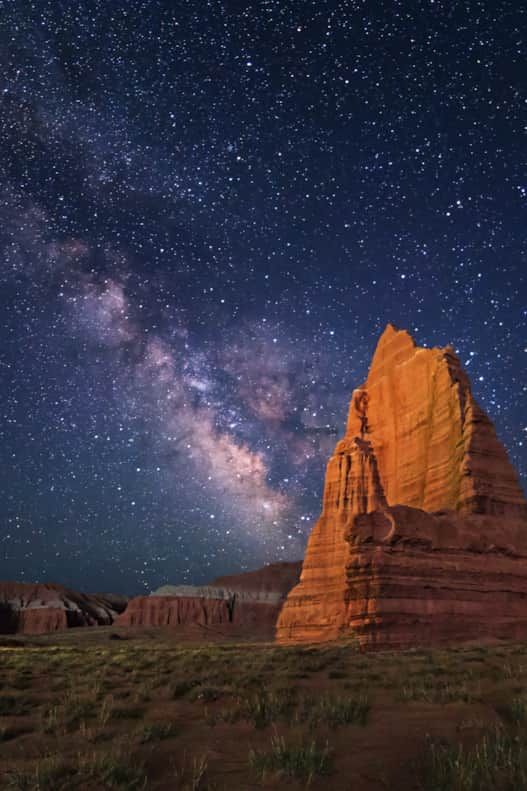 Festivals and Programs
Capitol Reef National Park has partnered with The Entrada Institute since 2013 to host the annual Heritage Starfest. This year the festival is September 30 and October 1st, with one night in the park and one night in nearby Torrey, Utah. Telescopes are set up, speakers are brought in, and exhibits expand on the dark skies initiatives. This event is very popular in the astronomy community.
The Ripple Rock Nature Center provides a daily Night Sky Explorer program from May to early September at 2 p.m. for kids. Astro VIPS and helpful interpretive park rangers provide weekly astronomy events both during the day and nighttime, mixing naked-eye and park telescope viewing. Monthly moon walks start at the Fruita Campground. Consult the park website or visitor center to see what's being offered and if visiting astronomers are on the calendar.
Do's and Don'ts
Safety and comfort are always the main issues for night activities. Due to the altitude, the nighttime temperature may be surprisingly cold. Bring layers. While headlamps and flashlights may safely guide you to a viewing location, remember to turn them off to allow everyone's eyes to adjust. If you must have a light, cover it in red cellophane and point it down.
Don't bring glow-in-the-dark anything.
Don't point car headlights at telescopes; approach a location with parking lights.
No fires. Stick to devices that can be switched off.
Politely wait your turn at a telescope. Don't be that guy.
Tell your guide if you don't see anything in a telescope or ask what you should be seeing.
Reign in the kids and dogs around other people's telescopes. Those things can run over $10,000.
One of the best stories about Dark Skies is by Michael T. Stevens, director at the Capitol Reef Field Station. He tells of a student with visual impairments who saw the stars unaided for the first time in her life here because of the park's clear, perfect conditions. It doesn't matter if you're a city kid who glimpses the moon on occasion, or a farm kid longing for the familiar celestial arc overhead, the night time experience at Capitol Reef will amaze you.
Contributed by RootsRated writer Melinda McMillan.
See a full list of Utah's IDA-accredited Dark Sky Parks and Communities or for a more detailed list of stargazing locations, read: Where to See the Milky Way this Year.
Learn what to pack and how to view dark skies.
Read these additional resources to learn how to travel thoughtfully and experience Utah most fully.