U.S. Federal Shutdown Information
At this time, all of Utah's national parks, monuments and recreation areas remain open.
Learn more.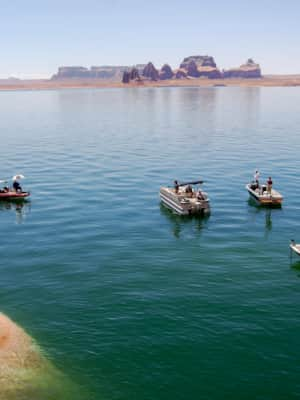 Angling Secrets: How and Where to catch fish on Lake Powell
Read expert advice on when and where in Lake Powell to get the prized fish you're chasing.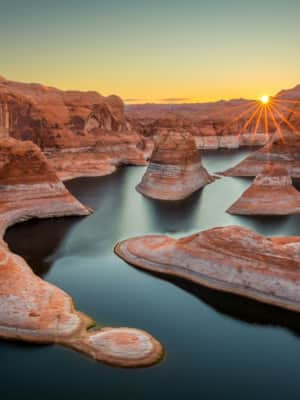 Lake Powell: Fishing (And Viewing) Nirvana
Lake Powell is a perfect blend of beautiful sandstone walls, blue waters and large fish. No matter what your fishing ability, you are almost guaranteed to catch something at this reservoir, maybe even the "big one."
Fishing Guide
Regulations
Limits (as of 2018):
Smallmouth bass:20
Largemouth bass: 5
Crappie: 10
Channel catfish: 25
No limits on the following:
Reciprocal permitting for Utah and Arizona:
To fish across the state line at Lake Powell, any person with a valid Utah fishing license — either resident or nonresident — may fish any portion of Lake Powell, including the Arizona portion, without any additional permits or licenses. A person with an Arizona license will still need to purchase and possess a valid Utah reciprocal permit to fish in the Utah waters of Lake Powell. Arizona residents may obtain a Utah reciprocal fishing permit at wildlife.utah.gov and from Division offices and license agents that sell Utah fishing licenses. As long as you are legally fishing the Utah portion of Lake Powell, you may use two fishing poles without any additional permits
Check the Division of Wildlife Resource's latest Fishing Guidebook for the latest regulations
Fees and Permits
Fees for day-use, boat launching and camping are collected at Lake Powell during March through November.
Planning Resources
Learn more about fishing in Utah
Lodging and Camping
Lodging is located at Wahweap and Bullfrog. Accommodations are available in Page. Trailer rentals are available at Halls Crossing and Hite. There is a National Park Service campground at Lees Ferry. Concessionaire-operated campgrounds are available in Wahweap, Bullfrog, and Halls Crossing on a first-come, first-served basis. RV campgrounds are available at Wahweap, Bullfrog and Halls Crossing.
Primitive camping is available at the following vehicle-accessible shoreline areas: Lone Rock, Stanton Creek, Bullfrog North and South (Bullfrog area), Hite, and Farley Canyon. These sites have no facilities except for pit toilets. Shoreline camping outside developed areas is possible lakewide (campers must have self-contained or portable toilets).
Other Activities
Aside from the camping, the lake and its marinas offers plenty more opportunities for adventure and exploration, such as SUP and kayak rentals, and houseboats. The park concessionaire offers numerous services, including lodging, boat tours, boat rental, equipment rental, etc. There are also plenty of hiking options on the lake.
Full-service Marinas:
Wahweap Marina

and the Glen Canyon Dam, located near Page, Arizona, on U.S. Highway 89. This south end of Powell is less fertile than the upper stretches. Striped bass are the most common catch.

Bullfrog Marina

is used by most Utahns. From Salt Lake, head south on Interstate 15 and southeast on U.S. Highway 6 to Interstate 70, then west to Highway 24 (exit 147) to Hanksville. Head south on Highway 95 from Hanksville and then Highway 276 to Bullfrog. Read more about Bullfrog Marina.

Hite Marina

was once the northernmost facility on the lake for getting boats on the water, but the ramp has been closed due to low lake levels.

Halls Crossing

is located across the main channel from Bullfrog and is reached by a vehicle ferry that operates year-round.
A midlake marina,

Dangling Rope

, provides gas and services for boaters traveling the lake. There is no shore-based access to Dangling Rope Marina.
Antelope Point Marina joined the list of marinas on the huge reservoir in the early 2000s and is found near Page, Arizona.
Groceries and supplies are available at all marinas, though selection is limited and prices are high. It is best to arrive at the reservoir with everything you will need.