The 4 Sickest Terrain Parks in Utah
If the word "terrain" conjures up mental images of pipes, rails, kickers, boxes and jibs, then we've got the landscape for you.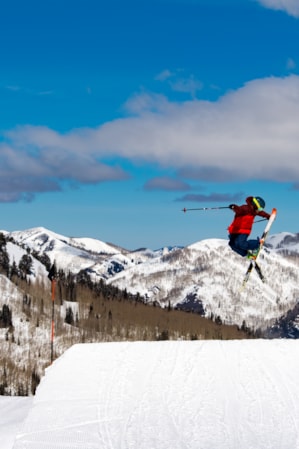 This might be where you'll find some of the driest, fluffiest powder in the states, but The Greatest Snow on Earth® or not, some days are just made for the park.
Utah has features for days, serving both pint-sized freestylers catching their first air to gold medal-winning aerialists. Utah's terrain parks and slopes are Olympic-tested and rider approved, and most resorts that offer orange oval options, seamlessly blended into Utah mountains' signature snow, typically offer multiple terrain parks for all manner of on-mountain performance art.
1. Every inch of Park City's terrain parks and Elwoods on the Canyons Village side
There's a reason Park City Mountain can't seem to stay off all kinds of "top terrain parks" lists from all over the world. They've got some of the most delightfully twisted minds in the industry setting up their features — the creativity here is constantly off the charts. Boasting a world-class 22-foot superpipe alongside six terrain parks, there are no limits to what can be done here. Each park is uniquely tailored to each skill level, so whether you're looking to try out your first rail or huck a cab 1260°, Park City tops the list.
"Park City's my home, and there's no place that gets me more stoked than King's Crown. Huge kickers, rails and boxes — it's perfect. "
– Sage Kotsenburg, Olympic Gold Medalist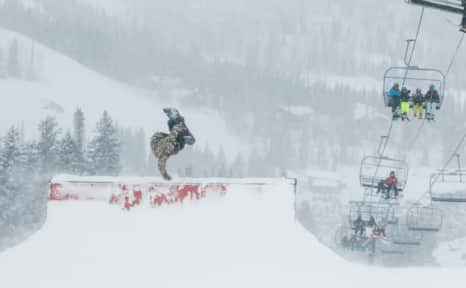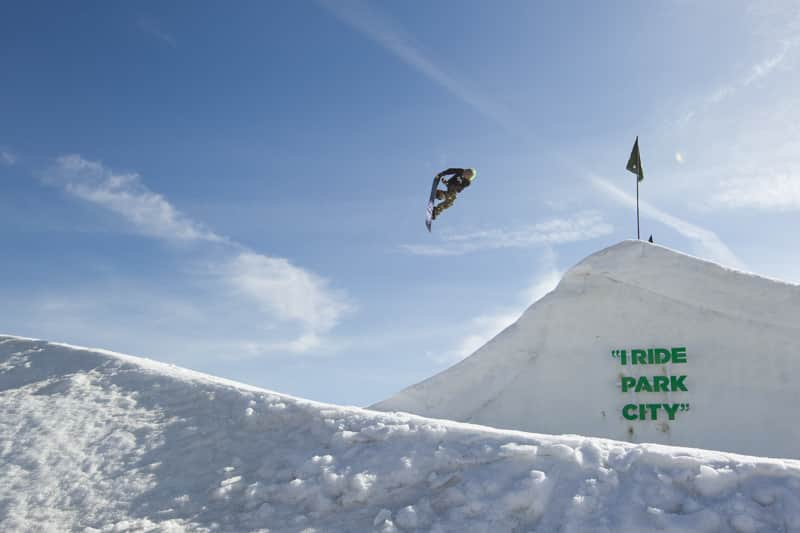 Just look at Neff Land, for example. They could have slacked on this smaller, progression-focused park, but what you get instead is a ticket to Candyland with wacky neon-colored features, including an insane double candy-cane jib, a snow cone bonk, ice cream and cupcakes, and a bunch of other features I'd be tempted to eat.
Then head over to Three Kings, which is engineered for long, perfect park laps, day or night. There are rails and boxes of all shapes and sizes scattered all over, along with some pretty hefty jumps, wall rides, and a brand new wrecking ball feature, affectionately being referred to as "Miley."
King's Crown has booters as huge as 80 feet from lip to knuckle, along with the legendary 22-foot Eagle Superpipe. While I'll probably scoot WAY off to the side and sit those out, I'll have my eyes peeled for some of the biggest names in freeskiing and snowboarding honing their tricks here — from Tom Wallisch and Alex Schlopy to Sage Kotsenburg and Torah Bright. This has been the chosen site for Olympic Qualifiers for the last few Olympics.
When Park City and Canyons resorts joined forces, Park City's legendary terrain parks got some friendly competition. The Canyons Village side was gaining notoriety for their Transitions Terrain Park — over a mile of stomach-dropping booters, creatively set-up rails and jibs, and a bunch of sick urban features. The Transitions Park accommodates beginning to advanced riders with over 50 features of boxes, rails and jumps, while Woodchuck Natural Zone features all-natural elements, including hips, tree jibs and gaps. I'm also a HUGE fan of the natural half pipes hidden throughout the resort, but from the end of Transitions to the base of Sun Peak you can tuck into the trees and try something completely different at Elwoods.
Elwoods hides tons of natural park features all packed into a slim little gully. It's like flying through the trees, only this time you're seriously flying and you're bonking a gong with your skis / snowboard on the way down. All the features in Elwoods are hand-built and include a bunch of hips, tree jibs, a wooden wall ride, big ol' gaps between trees, and of course, the aforementioned gong.
2. The Stephen Wade Auto Centers Training Grounds at Brian Head
At 9,800 feet elevation, Brian Head Resort's terrain park is Utah's highest launching point. The park features a myriad of sculpted jumps, over 30 rails and boxes, as well as a car jib, wall ride and a bag jump for those learning to master the air. The park even has a full-time staff to ensure it's up-to-snuff everyday.
There are four areas that span from the beginner-friendly Foundation park off the Pioneer lift to the more technical Bypass park, which has some big-kid jumps and a wide array of insanely creative features. I'm pretty sure I saw a minivan waiting to be jibbed somewhere at Brian Head once, so it's a sure thing that you won't be bored here, regardless of ability level.
The arsenal at Brian Head's going to include about 20 new features for the year, including a brand new wall ride and a stair set that's already up for grabs in the Bypass park. They've also got Utah's only bag jump, so feel free to huck some backflips without having to worry about cracking your spine in half. Here's to hoping they bring back the satellite dish!
3. Snowbasin's Pocket Parks
The rail game at Snowbasin Resort is strong — they've got over 65 to choose from, and they're constantly working to build more and swap out the ones they've got.
In addition to their three main terrain parks, they've got four extra, equally rad little "pocket parks" distributed around the mountain, creating a top-to-bottom terrain park experience that feels a lot more interesting and varied than your standard park lap. This means you've got features like the skate-style pocket park, some down rails, and a fun-looking tire to bonk while cruising down the mountain on your way to the Littlecat Park.
The Snowbasin park crew comes up with some super creative features, and they reset their parks frequently so it's always fresh and fun. Some of the wackier features there range from a picnic table setup, some S-rails, C-boxes, and rainbows, to a new wall ride and lots of artfully arranged lift tower jibs.
4. Krista's Park at Brighton
Brighton Ski Resort is known for how creative and well-planned their park features are. As one of the very first Utah resorts to set up a park, they've got the longest-running program in the state. Over the years, many a seasoned pro has served on their park crew, along with numerous professional skiers and riders weighing in on the design of their features. The resort features three interconnected parks — My-O-My, Candy Land and Majestic, all of which feature a slew of jibs, rails, and jumps for all skill levels.
Krista's Park isn't any different in that regard — it was designed with the help of Grete Eliassen, two-time X-Games gold medal winner and member of the US Olympic Ski Team — but it's the first park that's reserved just for girls. A huge win for lady boarders like me, who every once in a while might want to escape the tall-tees-and-testosterone zone commonly found at more crowded terrain parks during super-busy days. Or who just want to practice in super-secret, away from the menfolk, in a more progression-focused space.
Brighton doesn't hold back when it comes to their parks, so I'm looking forward to having a spot where I can hang with some like-minded girls, forget about the crazy tricks the guys in front of us are throwing, but still charge hard. Krista's Park is going to be placed right at the top of Majestic, smack-dab in the middle of Brighton's top-to-bottom four-park run. They'll be holding workshops and camps here, too, getting women and girls stoked on smaller park features before heading off to show up all the boys in parks like these.
The majority of this post was originally developed by Sarah Park/The Matador Network.