U.S. Federal Shutdown Information
At this time, all of Utah's national parks, monuments and recreation areas remain open.
Learn more.
Must-See Panoramic Views at Utah Ski Resorts
Ski and ride the greatest snow in some of the West's best scenery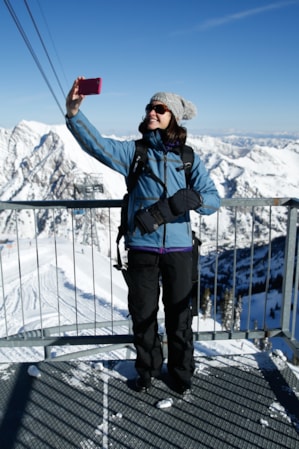 With snow-draped forests, tree-studded trails and high mountain peaks, Utah ski resorts can have breathtaking views beautiful enough to catch your eye while you're out catching some laps. Some views are worthwhile enough to take that extra tram ride or bootpack, even if it's out of the way, just as long as you can still get safely down the mountain. And those few moments of quiet enjoyment add to a fun day of skiing and riding in some of the American West's best scenery. Evan Thayer, Utah forecaster for OpenSnow.com has seen them all, and these are his favorite must-see panoramic views at the state's ski resorts. And before you travel to Utah to take in one of these incredible views, make sure to review these tips for responsible and sustainable travel.
Snowbird Ski and Summer Resort
It took Thayer about two seconds to call out his Number 1 favorite view: the top of the Aerial Tram at Snowbird's 11,000-foot Hidden Peak. "From here, there are stunning 360-degree views of the Wasatch Mountains," he says. "On a clear day, you can see the Great Salt Lake, Heber Valley, and Park City."
It's appropriate that at this intersection of three high-mountain drainages (Mineral Basin, Gad Valley, and Peruvian Gulch) Snowbird added The Summit in 2015 — home to two levels of dining in a building with floor to ceiling windows that have views of the surrounding Wasatch-Cache National Forest. The menu here features healthy dishes that combine French rotisserie with Rocky Mountain barbecue. You don't need to be a skier or rider to take the 10-minute tram ride and enjoy the views from Hidden Peak — the Aerial Tram is also open to passengers on foot with the appropriate ticket.
Plan your trip to Snowbird Ski and Summer Resort and learn about maximizing your trip to Ski City.
"It took Thayer about two seconds to call out his Number 1 favorite view: the top of the Aerial Tram at Snowbird's 11,000-foot Hidden Peak. "
Brian Head Resort
At Brian Head, visitors benefit from its close proximity to the snow-dusted red-rock hoodoos of Cedar Breaks National Monument, just 3 miles away. "It's a spectacular view unlike one at any other ski resort," says Thayer, with the iron oxides found in the rocks producing red, orange, and yellow colors (magnesium oxides account for the purple hues) that stand out from the blanket of white snow that's nearly everywhere else.
On Giant Steps Mountain, take either the Giant Steps Express from the lodge or The Dunes (chair number 7) if you're already on the mountain. When you get to the top, take a break to get a good, long look at the 2,000-foot-deep geologic amphitheater. On the way down, take any combination of intermediate or advanced trails — especially advanced skiers' checklist runs Engens and Georg's Rock Run — and ride right back up for more beautiful red-rock views at the top.
Watch the film "Skiing Utah's Red Rock" about Brian Head Resort.
Sundance Mountain Resort
Thayer considers the beautiful views at Sundance "underrated for aesthetics," and with its spot in 5,000 acres of protected wilderness at the base of 12,000-foot Mount Timpanogos, there are plenty of inspirational panoramas to take in during a visit.
Ride up Outlaw Express and then Red's Lift for a sweeping 360-degree view of Heber and Utah Valleys, the ridgeline of Mount Timpanogos and the surrounding Wasatch Mountains. While you're here, extend the visual enjoyment by taking a snack break at the Bearclaw Cabin, a log warming hut on Arrowhead Summit at 8,250 feet with a menu of tacos, burritos, nachos and drinks.
On the best days, a seat on the deck can't be beat, and while you may struggle to leave the views for the trip down the mountain, you can come right back up for spectacular scenery that takes your breath away. Consider it a great incentive to do laps.
Watch Utah's Sundance Resort as told by Robert Redford.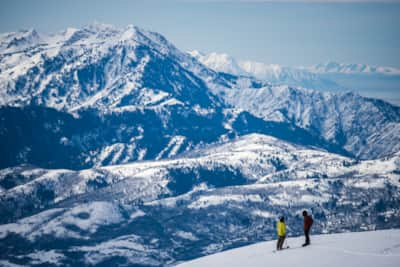 Powder Mountain Ski Resort
Another mountain lodge that's optimally located for choice views is Hidden Lake Lodge, perched at an elevation of 8,900 feet at Powder Mountain. Pick up lunch from the lodge's menu, featuring authentic Mexican fare including freshly made tortillas and homemade salsas (for vegetarians, jackfruit takes place of the chicken, pork, or beef tacos and burritos).
When it's a clear day, snag a spot where you can spy views of four states: Utah, Idaho, Wyoming and Nevada. Thayer also favors the top of 9,422-foot James Peak as a vantage spot — which is a challenging hike over Lightning Ridge from the closest lift, Sundown. This is at the top edge of Powder Mountain's cat-skiing territory, and after the hike (or cat ride), you deserve to take a breather and enjoy the hard-won views before heading down Carpe Diem, Shug'r Bowl, or Y Chute to Big Kash to do it all over again.
Learn more about Powder Mountain or plan your trip to Ogden: A Whole Other Utah.
"When it's a clear day at Powder Mountain, snag a spot where you can spy views of four states: Utah, Idaho, Wyoming and Nevada. "
Beaver Mountain
The Beav is a favorite of folks who love sunny morning skiing, as the slopes have northeastern exposure, but Thayer says "it always seems to be snowing when I'm there." For great views, take Harry's Dream lift to the absolute top of the resort, at 8,860 feet. From there, routes down the mountain are available for all levels of skier, from green Gentle Ben to blue D-Street to a handful of black runs. But before you find your favorite path, stop at the summit and look east to Bear Lake and west across Northern Utah. Considering that there are only four lifts at Beaver Mountain, you're likely to hit the top elevation a bunch of times during your visit here, so take advantage of the view every time — especially since it could easily be socked in and snowing, as with every one of Thayer's snowy trips to Ski the Beav.
Get to know Beaver Mountain.
Deer Valley and Park City
Skiers and riders at Deer Valley and Park City are used to the panoramic views from a number of spots across the two resorts, but Thayer's favorite lies at the very top of Park City's Ninety-Nine 90, at a conveniently memorable 9,990-foot elevation. This location along the Park City ridgeline is on the Wasatch Crest, one of Utah's premier mountain-biking trails. From your perch here, at the top limits of in-bound territory, you can peer right into Big Cottonwood Canyon to see ski conditions at Solitude Mountain Resort and Brighton Resort.
Even in summer, when the snow is long gone, the scenery is so spectacular it's no wonder that mountain bikers love the trail just as much as skiers. But you're here to ski, so after a long look, head down any of the double-black-diamond trails. Once you reach the Ninety-Nine 90 Express, go back up and do it again.
At Deer Valley, jump on Sterling or Wasatch Express to the top of Bald Mountain and turn left onto the cat track toward Stein's Way. Around the corner, the view to the East reveals the Jordanelle Reservoir below with the Uinta Mountains in the distance. This is the backdrop to your epic selfie (and holiday photo card).
Watch the Insider's Guide to Park City.