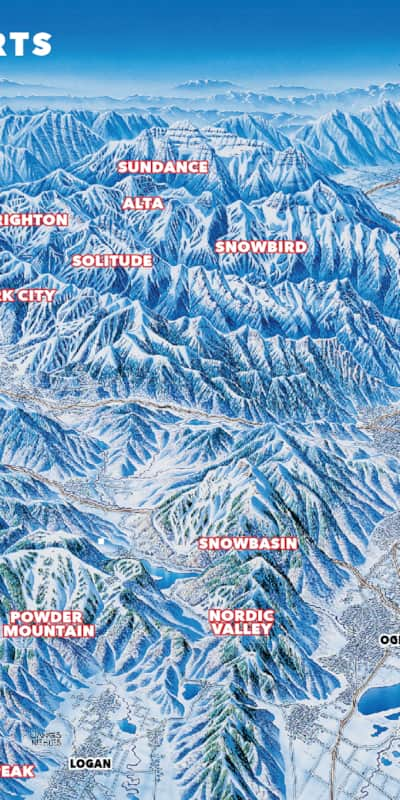 What is Flotation
Excellent flotation is defined by a formula that examines snow water content and conditions that cause lighter snow to fall on heavier snow.
When choosing the right gear for Utah's snow, Ski 'n' See's Ryan Larsen mentions that magical quality of flotation. It's happening in all the pictures and video you see of skiers and riders kicking up knee-deep Utah snow. Best of all, days of prime flotation are not an exception, but a rule.
Jim Steenburgh explains that flotation exists when light snow has enough body, or is "bottomless," to keep skis and snowboards on the upper layer of snow without scraping the base. To get this effect, snowstorms must be frequent and ample, yet not too profuse. He observes that it is possible to have too much of a good thing. Steenburgh calls the ideal frequency and strength of storms that produce quality deep-powder "Goldilocks storms," which is exactly what it sounds like: "just right" conditions. Steenburgh advises that occasionally Utah does experience different snow conditions, but things very often go right in Utah. In other words, the Wasatch Mountain Range is world-renowned for its skiing and riding due to the simple fact that we in Utah enjoy frequent and predictable Goldilocks storms. Just check out the five resorts in the top seven of SKI Magazine's reader survey for best snow in America to get an idea of Utah's good fortune.
Finding the Perfect Powder
If you want to educate yourself on what is and where to find the perfect powder, the full story on Utah snow can be found in Steenburgh's Secrets of the Greatest Snow on Earth: Weather, Climate Change, and Finding Deep Powder in Utah's Wasatch Mountains and around the World. It's essential reading for deep-powder enthusiasts. In addition, see Ski Utah's "Powder People" interview with Jim Steenburgh or, for more details, follow Steenburgh's latest observations at Wasatch Weather Weenies.