"Views from the high rims surrounding the various canyons look down into the mysterious and inviting depths while exploring the canyon floor can reveal a hidden world of defiant forests."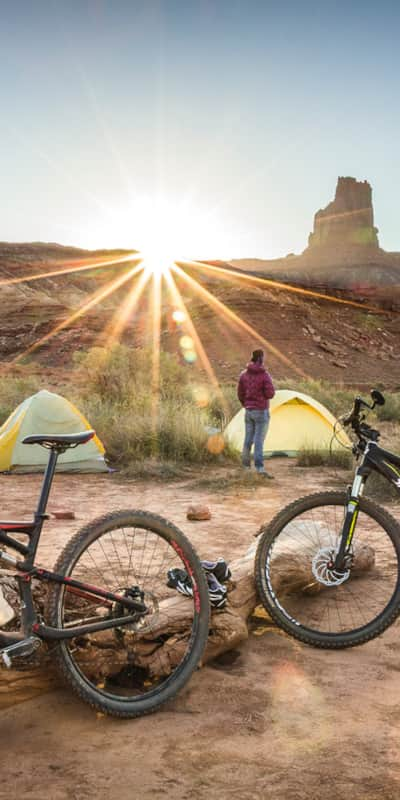 Backcountry Camping in Canyonlands
Backcountry camping is an elevated experience in Canyonlands, but please note that the area can be extremely difficult to navigate. Even experienced backpackers should be well-versed in desert navigation before setting out. Park rangers are extremely knowledgeable and can help you develop your itinerary.

Four districts comprise the backcountry zones: Island in the Sky, The Needles, The Maze and the rivers within the park boundaries. Permits are required for all overnight backcountry travel, with special permits for each mode of transportation. Permits should be acquired at least six months in advance for the more popular destinations, such as the amazing White Rim Campgrounds and Cataract Canyon. The National Park Service website has more details on permits. Fees vary depending on the location and modes of travel.
The best way to reach backcountry sites is by mountain bike, 4x4 vehicle, dirt bike, boat or horseback, though backpacking is also an option. Traveling by foot in Canyonlands is generally not beginner-friendly due to the lack of water sources, challenging navigation and hot climate. However, the adventure potential is nearly endless for those with established backpacking skills.
White Rim Trail and White Crack Campground
The White Rim Trail is an incredible way to experience the stunning deserts and beautifully-carved canyons of Canyonlands National Park. This 100-mile off-roading trail takes 2 to 3 days to complete and has many reservable campsites. The most popular of which is White Crack Campground, located near the trail's halfway point. This large campsite offers unmatched views of both The Needles and The Maze district of the park. White Crack Campground, and the others along the trail, are reservable up to 12 months in advance on recreation.gov.
Cataract Canyon Camping
This 47-mile-long canyon on the Colorado River is a popular rafting adventure. Within the canyon, rafters will experience 14 miles of raging rapids with difficulty ranging up to Class V. This river trip takes 2 to 3 days to complete and requires overnight camping. While rafting on the river requires a river permit, the 42 campsites along the shoreline are available on a first-come, first-served basis. Cataract Canyon is a stunning destination with towering red cliffs lining its fast-moving waters, but it is dangerous. The rapids are powerful and can easily capsize a raft. The river can be very cold, and hypothermia is a real danger. Adequate preparation, research, and training are essential before attempting a rafting expedition.
Devil's Kitchen
Devil's Kitchen is an iconic area near The Needles Campground, characterized by massive boulders, cliffs, and red rock formations surrounding its campsites. Devil's Kitchen requires an
overnight backcountry permit
for the Needles area and has four reservable campgrounds. The drive approaching this campsite is extremely challenging and requires a properly-outfitted 4x4 off-roading vehicle.