U.S. Federal Shutdown Information
At this time, all of Utah's national parks, monuments and recreation areas remain open.
Learn more.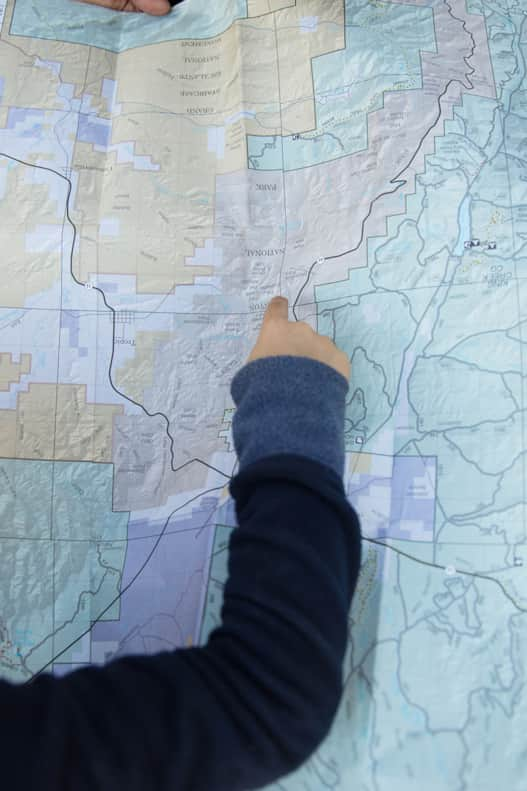 1. Know Before You Go
A little extra planning can expand your knowledge, reduce your impact and improve your adventure. Prepare to travel in Utah by researching your destinations, packing for a range of conditions and making backup plans just in case.
Before your trip, look up rules, regulations and possible reservation requirements for your specific destination.

Land management agencies such as the Bureau of Land Management, National Park Service, U.S. Forest Service, tribal lands, as well as state and local agencies all have different rules, regulations and permit or reservation requirements. Some destinations within these agencies may differ as well.

Following these regulations will help preserve the areas you visit and ensure a positive experience.

Prepare for changing weather and emergencies by packing layers, sun protection, food and plenty of water. Also check current conditions for things such as if roads are passable, trails are snowy/icy, water levels in canyons or the potential for flash floods. Being prepared for your adventure will protect our land, waters and wildlife and ensure you enjoy your trip.
Avoid crowds by arriving early or visiting at off times such as late in the day and on weekdays.

People travel from all over the world to explore Utah's outdoors. This means parking in popular areas fills up fast.

Utah has lots of hidden gems with fewer crowds so try visiting some of these destinations as well.
Have a backup destination planned out in case parking lots are full

. This will ensure you have a better experience, keep yourself and other visitors safe and prevent damages from vehicles such as vegetation loss and erosion.

Check to be sure the roads and trails are open to four-wheel-drive vehicles

before visiting with ATVs or OHVs.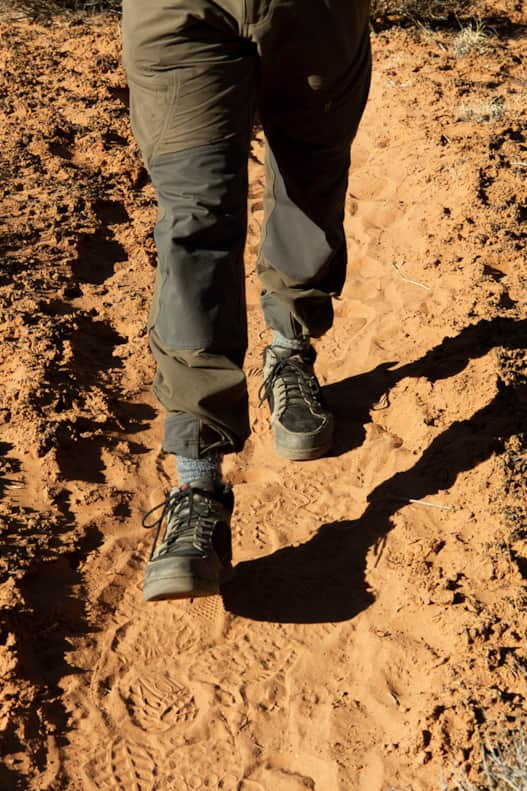 2. Stick to Trails and "Overnight Right"
From solitary hikes to group rides, there are trails for every traveler. Following signage, sticking to the path and using a little know-how will keep Utah's trails and campsites safe and open
Walk and ride on durable surfaces such as slick rock, deep snow, gravel, dirt and established trails and roads. This protects trailside vegetation, living biological soil crust, and even archaeological sites. If using trekking poles while hiking, use rubber walking tips to protect Utah's red rock.
Respect private property by sticking to designated trails and reading and following all signage.
Check vehicle requirements.

State rules and regulations may prohibit the use of certain types of motorized vehicles on designated trails. Be sure your vehicle meets width and weight requirements for the type of motorized trail. Utah's Department of Natural Resources is a great resource fo

r off-highway vehicle information. Additionally, learn more about how you can responsib

ly and safely enjoy the outdoors with motorized vehicles by visiting

treadlightly.org.

​​

Find durable surfaces or pull-offs to stop and take breaks.

Allowing trail users, non-motorized or motorized users, to use the trail to pass encourages others to stay on the trail and reduces conflict between user groups.

In backcountry and frontcounty areas, camp only in designated or existing campsites to avoid erosion and trampling vegetation. Ensure ample time to locate an appropriate site and have a backup plan.
3. Trash Your Trash
One person's trash can greatly impact a natural treasure. No matter where you go, have a garbage and bathroom plan ready (for you and your group) and know how to correctly dispose of all waste, which may mean packing everything out.
Pack out everything you pack in.

Trash, including food waste, can take years to decompose and is unhealthy for wildlife.

Be prepared to bring your trash home with you

in case trailhead trash cans are full or not available. This simple and easy action makes a big difference while land managers, tribal nations and Utah communities find solutions to increase trash services that meet the demands of the increasing number of people visiting the outdoors.

Whenever possible, use the bathroom before your outing. Not all trailheads have toilets, and some toilets are open only seasonally. Check local guidance and know how to dispose of your human waste in case nature calls. Some areas may allow catholes, while others may need you to pack out your waste using WAG (waste alleviation gel) or human waste disposal bags. These bags can be found in some visitor centers and at many outdoor gear shops.
Use a bag to pick up your pet's waste and pack it out to a trash can.

Pet waste carries diseases and pollutes water sources.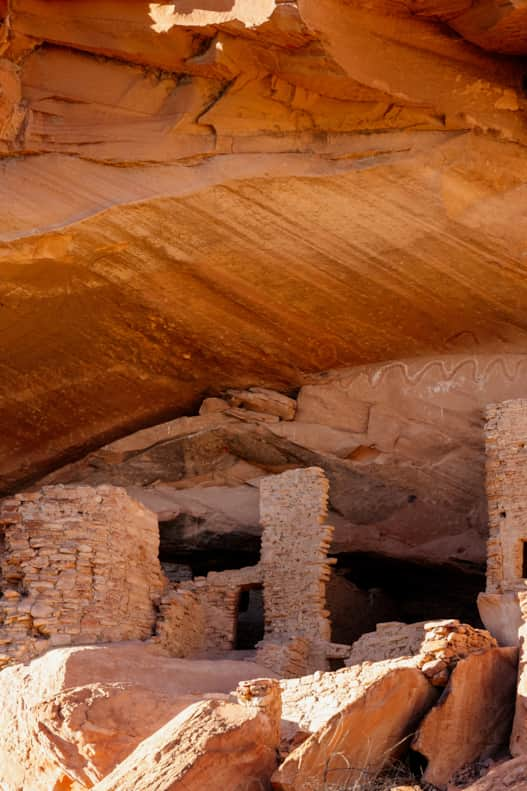 4. Protect Indigenous Cultural Heritage
Indigenous Peoples have contributed to the culture and natural landscape of modern-day Utah for thousands of years. Utah is home to approximately 60,000 Native Americans, representing more than 50 Tribal Nations, with eight being federally recognized. These tribes are Northwestern Band of Shoshone Nation, Confederated Tribes of Goshute, Skull Valley Band of Goshute, Ute Indian Tribe of the Uintah and Ouray Reservation, Ute Mountain Ute Tribe, San Juan Southern Paiute Tribe, Paiute Indian Tribe of Utah and Navajo Nation. Many more Tribes and Nations can trace their ancestry here as well.
Indigenous and other historical and cultural sites are everywhere in Utah and they are important to modern descendant communities and researchers. Protect these sites by observing and admiring structures, objects, rock imagery and historical inscriptions at a respectful distance.
Continue the ancient tradition of stewardship.

While enjoying the state's rivers, mountains and canyons, you are likely to come across objects such as structures, arrowheads, clay pots, old tin cans, and other evidence of past peoples.

Leave these items as you found them for future visitors to enjoy and protect the cultural or spiritual connections tied to these items and places.
Observe, but don't touch any rock imagery and historic inscriptions you may find.

Even a small amount of oil from your hands can alter the fragile chemistry of the rock, quicken the erosion of the rock surface and eventually remove the image entirely.

Help preserve these areas by not carving into rocks and leaving your own mark. The rich legacy of Indigenous rock art and historical inscriptions is not an invitation for any of us to leave our own marks.
Be aware that historical period sites are important to modern descendant communities and researchers, and please visit these sites with respect. Utah is home to thousands of archaeological sites from the historic period, representing the histories and traditions of numerous ethnic, cultural, religious, occupational and neighborhood communities.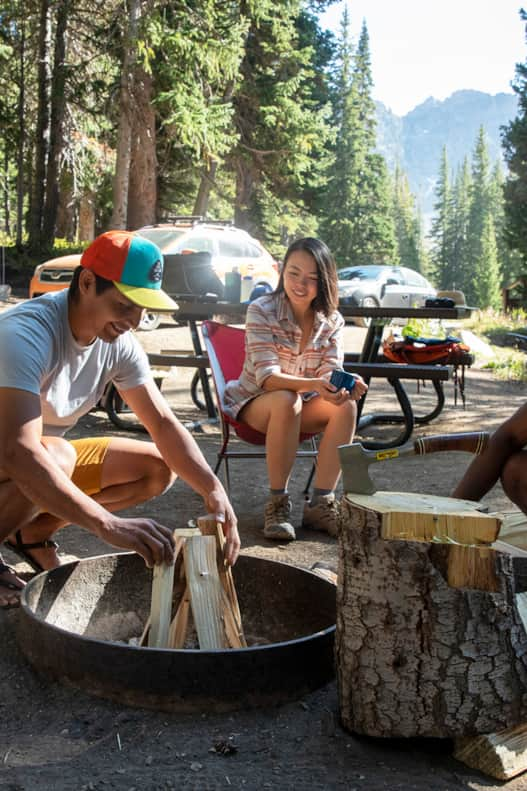 5. Minimize Campfire Impacts
There's nothing quite like cozying up to a campfire, but not all places and conditions are safe to have one. In areas where fires can be built, keep them small and in existing fire rings and be prepared to extinguish them completely.
Always check utahfireinfo.gov for local fire restrictions and check to be sure it is safe to have a campfire or open flame.

Utah has experienced many devastating wildfires and there may be fire restrictions throughout the year. Gusty winds and other weather can send sparks flying.

Even if campfires are allowed where you are camping, do not create one in these conditions.
Use a camp stove for cooking.

Camp stoves are faster and easier to use. They also help prevent impacts including attracting wildlife to your campsite.

If you can have a fire, make sure to follow safe fire practices.

This includes using an existing fire ring, keeping your fire small and using only wood that is dead, down and smaller than your wrist. If you buy firewood, do so locally to prevent the spread of harmful invasive insects like Bark Beetles and Oystershell scale.

When you're done, put your fire out by drowning the ashes with water until they are cool to the touch.

Prevent wildfires by being prepared with 3-4 gallons of water, a shovel and never leave your fire unattended.

Respect archaeological sites by avoiding them when making your fire.

Even if you find an old fire ring, if it's on an archaeological site do not use it. If you find firewood that appears to be cached or stacked, that may be evidence of an archaeological site as well and should be left in place.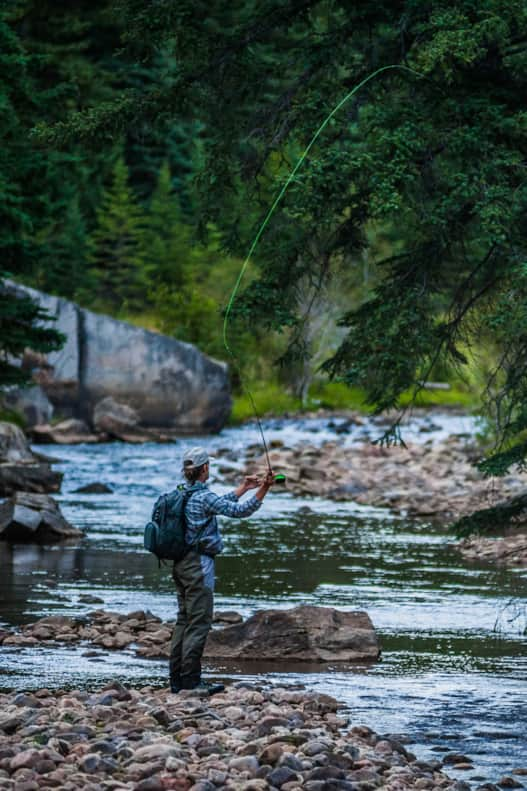 6. Keep Wildlife Wild
Being in Utah's outdoors means sharing them with wildlife, which may include bears. Respect their home by only observing from a distance. Save human food for humans, ensure pets are within your control and know local fishing, hunting and boating guidelines.
Keep yourself, pets and wildlife safe by observing them from a distance, controlling your pet and never following or approaching wild animals.
Never feed wildlife.

Human food is unhealthy for all wildlife and can cause them to become aggressive.

Always store your food and trash securely

so that wildlife cannot get access to it. In many areas, be bear aware by putting all food and smellables in bear lockers, canisters or a locked vehicle. Keep cooking areas clean and set them up away from your tent where possible.

Know local hunting, fishing and boating regulations for the area you plan to visit.

Anyone age 12 and older is required to have a license to fish in Utah. Hunting ages and guidelines vary by permit. Visit

wildlife.utah.gov

to learn more.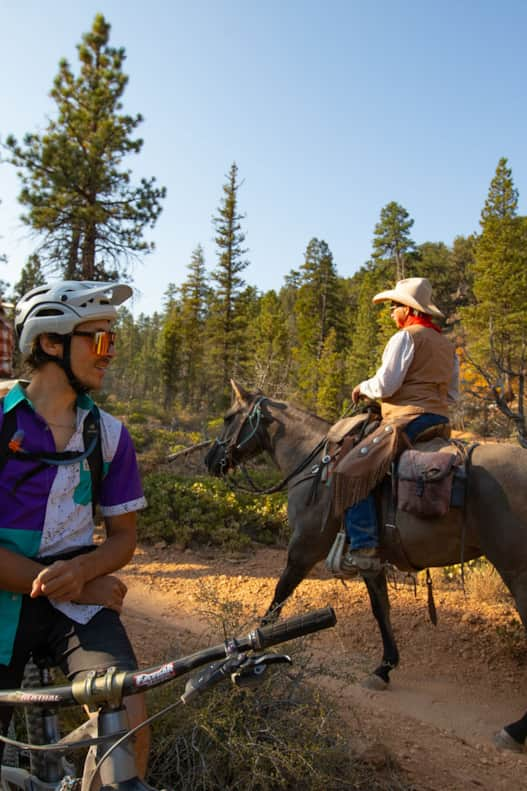 7. Share Our Parks, Trails and Roads
When traveling in Utah, you may find yourself part of a crowd. While there are many ways to enjoy the outdoors, we can help each other out by being patient, minimizing noise and reducing speed, whether in town or on the trail.
Be considerate of those you are sharing the outdoor space with.

Crowds are common in Utah's popular natural destinations. Remember that anytime you are in a crowd, you are the crowd. A little patience and understanding will go a long way.

Respect the experience of other visitors by being mindful of your group's noise levels

. Everyone enjoys the outdoors in different ways. While some visitors may go outside to be with friends and family, others may be looking for more solitude.

Reduce your vehicle's speed or stop and turn off your engine if passing non-motorized users

. This helps reduce dust in the air, keeps horses and cattle from being spooked and lets others enjoy a peaceful outdoor experience.

Be mindful of your vehicle's noise and speed in gateway communities. This consideration shows respect for local residents and maintains outdoor recreation access for all users.
When passing people on the trail, downhill hikers yield to other hikers coming uphill. Bikers yield to all hikers and all users yield to equestrians. Allow others to pass by taking breaks at appropriate spots off the trail.

©Leave No Trace