Tours
Utah distilleries may now apply for educational permits allowing tours of their facilities and up to 2.5 combined ounces of sampling on-site for a small fee. Additionally, many distilleries have package stores on site, making a distillery visit the perfect kind of "try before you buy" experience. Tours are also a unique opportunity to sample and purchase limited-release spirit bottlings that aren't available in state liquor stores. Please note that not all producers listed here offer tours and tastings.
Roundup of Utah's Distilleries
Salt Lake City Area
Salt Lake has the largest number of distilleries concentrated in one area of the state, with the bonus of being near some of the region's best restaurants and music venues. Come for the food, stay for the tour!
Beehive Distilling
beehivedistilling.com
Tours by appointment: tours@beehivedistilling.com
Since first released just a couple of years ago, Beehive Distilling's Jack Rabbit Gin made a big splash in the distilling world. The brand garnered international praise for the unusual floral and sage-forward aspects of their juniper spirit and design awards for the distinctive clean-lined label. Since their initial release, they've added a Barrel Reserve Gin aged in hand-charred French Oak and an exceptionally smooth organic vodka. As of this writing, lead distiller Chris Barlow had some great news, "We're making plans to relocate the distillery to the south Sugarhouse area, probably in late 2017." Until that move happens, visitors can contact Chris directly to schedule tours and tastings, and to get directions to their distilling facility near the SLC airport.
Black Feather Whiskey
The new brand Black Feather Whiskey is the result of lifelong friendships and a mutual love for bourbon. Nitro Circus franchise owners Jeremy Rawle and Travis Pastrana teamed up with investor and MTV star/producer Rob Dyrdek with the goal of creating in their words, "a blended whiskey workhorse." Says Rawle, the brand's CEO, "As whiskey lovers, we wanted to make a smooth ride of a whiskey you don't have to work to drink. It starts big with an 86-proof kick, then an easy-going, sugar-char finish." Distilled in Indiana, bottled in Texas and headquartered in Salt Lake City, the July 2017 launched whiskey weighs in at 86 proof and is a flexible and easy-going sipper neat or in cocktails. Currently, tours and tastings are not available.
Dented Brick Distillery
3100 S Washington St.
(801) 883-9837
dentedbrick.com
"Good water is the key," says head distiller Ethan Miller. "There are so many variables that play into the distilling process, but if the water doesn't have the correct pH, or has too many chemical additives or too few minerals, it can throw off everything from initial fermentation to bottle proofing." Built on land formerly owned by one of Utah's first distillers, Hugh Moon, the modern distillery utilizes Moon's original artesian well. Named after the many dented bricks salvaged from the old homestead on the property, the distillery was built around access to the original water source, which guests can see--and taste right from the spigot--in the distillery's shop. Visitors to Dented Brick can sample their gin, rum and vodka and take a gander at Dented Brick's glorious custom-made Vendome copper still.
Distillery 36
2374 S. Redwood Rd.
801-983-7303
distillery36.com
It's all about the rum, and only the rum, at this craft operation. Distillery 36 is named after Utah's deciding 36th vote to repeal Prohibition, and their Brigham Rum's moniker has a distinctly clever nod to one of the Beehive State's most famous emigrants. Distillery 36's handmade still built entirely on-site by lead distiller Creed Law pumps out small batches of a clean and bright agricole-style rum, fermented from pure sugar cane in equipment reclaimed from a nearby dairy. Visitors eager to experience a cane-to-glass tasting exercise will be over the moon talking with distillery co-owner Jon Gregersen, who loves nothing more than to geek out on the differences between molasses- and cane-based rums from all over the world. This passion has paid off with national and international awards for their Brigham Rum. Expected release for their first barrel-aged rum is late autumn 2017.
Kid Curry Spirits
2080 W. 2200 South
(801) 699-0435
kidcurryspirits.com
This father-son business offers tastings for only twenty-five cents. Really! It's a screaming deal. Their Saloon style package store brims with merchandise — hats, flasks, t-shirts, shot glasses — and contains a tasting room for guest to sample their gluten-free Kid Curry Vodka, silver rum, whiskey barrel-aged gold rum, and owner Jeff Beatty's favorite, "our amazing vanilla-caramel flavored vodka." They are typically open Mon-Fri from noon to 7 p.m., with larger groups (15+ people) and weekend tours available by appointment.
Outlaw Distillery
552 W. 8360 South, Midvale
(801) 706-1428
outlawdistillery.com
In true "outlaw" fashion, it takes a bit of effort and a couple of wrong turns before I found this gem of a distillery tucked away in an industrial office park. It was worth the time to locate lead distiller Kirk Sedgwick's hideaway in Midvale, where with his wife, son and father they distill and give tours by appointment Tuesday-Saturday 10 AM to 7 PM. A diesel mechanic by trade, Sedgwick built and modified most of the distilling equipment assembled on site, and is proud to offer spirits fermented, distilled and bottled on site. The package store is open Tuesday-Friday, 10 a.m. to 7 p.m. with tours by appointment, with the shop open to the public Saturdays (check website for tour times). Guests can sample Outlaw bourbon, white whiskey and unique aged, spiced and coffee rum variations. They also produce a retro "moonshine" style white corn-based whiskey.
Salt City Vodka
Best buds and co-owners Jesse Farrer and Aaron Lott are the brilliant and creative minds behind Salt City Vodka. The distinctive bottle featuring an Art Deco-ish stylized image of Salt Lake City's famous Wasatch Mountain range can be found at bars and restaurants all over town. Although they do not offer tours or tastings, the popular fellas from Salt City Vodka can often be found at festivals and events all over town, making, shaking and stirring up some of the city's favorite vodka cocktails.
Sugar House Distillery
2212 S. West Temple #14
(801) 726-0403
sugarhousedistillery.net
Lead distiller Eric Robinson's passion for creating unique and flavorful grain-to-glass — or in the case of SHD's grade A molasses-fermented rums, cane-to-glass — spirits have brought international recognition. This small but mighty distillery is based in South Salt Lake, on the west edge of the historic Sugar House neighborhood. One of the few distilleries nationally producing a truly original small-batch American malt whiskey, distillery owner James Fowler sources all of the grains used in their malt whiskey, bourbon, rye and vodka regionally. Stop by the distillery and package store Monday-Saturday, 11 a.m. to 7 p.m. for a walk-in sampling or tour (I.D. required). Purchase any of their award-winning products, flasks, glasses and a terrific selection of locally-made cocktail bitters, mixers and other ingredients to give your next cocktail party a little extra love, Utah style.
Waterpocket Distillery
2084 W. 2200 South
(385) 202-5725
waterpocket.co
One of the newest kids on the west Salt Lake distilling block, owners Julia and Alan Scott love spending time in Utah red rocks country, hence the name "Waterpocket" for one of their favorite geological features, Waterpocket Fold in Capitol Reef National Park. Their passion for artisan spirits has segued nicely with their love for researching long-lost liqueur and herbal spirits recipes. The distillery officially opens June 2017, with tours available by appointment via their website. Their motto, "Open Wild," reflects both the breadth and intensity of flavors they're producing, which are unlike anything else made currently in the state. Named for mythological characters and Utah landmarks, look forward to trying Oread botanical liqueur, Notom amaro, Robbers Roost light whiskey, Temple of the Moon gin and Snow Angel cream liqueur. Silver and aged rums and an aromatic coffee liqueur are also in the works.
North of Salt Lake City
Northern Utah hosts a small but mighty cadre of craft distillers, producing everything from locally-grown fruit brandies to the state's first agave spirits fermented, distilled and bottled right here in Eden.
The Hive Winery & Distillery, Layton
1220 West Jack D Drive, Layton
(801) 546-1997
thehivewinery.com
Owners Jay and Lori Yahne have been producing wine, hard cider and mead made from local fruit and honey for years, with up to fifty (yes, 50!) flavors available throughout the year depending on what's growing best that season. Head distiller Lori Yahne started brandy-distilling experiments with some of their surplus wines, albeit with petite portions resulting. She says of her distilling process using Utah fruit, "I'm running the smallest commercial distilling operation" in the state, with her one-woman-biochemistry-show running about 25 gallons of wine each day through her diminutive still, creating about four-and-a-half gallons on average of spirit. Blackberry brandy, pear eau de vie and cherry liqueur are just a fraction of the cornucopia of commodities available for sale at The Hive's package store in Layton.
Ogden's Own Distillery, Ogden
3075 Grant Ave, Ogden
(801) 458-1995
ogdensown.com
A perennial favorite of barstools all over Utah, Ogden's Own products are joyfully imbibed at festivals and open-air markets around the state. Ogden's Own Distillery has a stable of spirit offerings from vodka to herbal liqueur and a growing lineup of flavored whiskies. Most recently, Ogden's Own released Madam Pattrini gin, that spirit's naming keeping with their cheeky tradition of giving a solid goosing to the more staid aspects of Utah cultural history, with Five Wives Vodka their most well-known spirit. Although tours of the production facility are not currently available, guests can sample from their spirits line up Tuesday-Friday noon to 5 p.m., and Saturday 11 a.m. to 3 p.m.
New World Distillery, Eden
4795 E. 2600 North, Eden
(385) 244-0144
newworlddistillery.com
When traveling east of Ogden towards Snowbasin and other outdoor recreation meccas, a short detour to visit New World Distillery is a must-do. Owners Chris and Ashley Cross are taking their love for liquors as diverse as Amsterdam gin and south-of-the-border agave spirits (Mexican tequila is proprietary to recipe and region much like Champagne must come from the eponymous location in France) and adapting those older-style recipes to modern techniques and flavor profiles using an imported Dutch still. Look for small-run releases of specialized liqueurs and uniquely aged products (think gin rested in vermouth barrels – fantastic) to be sold only at the distillery's package store in limited runs through their Bower Spirits Project.
Park City
Affectionately called "The Independent Republic of Park City" by locals, the historic mining town-turned ski mecca is home to the first legal distillery in the state since Prohibition.
High West Saloon, Park City
703 Park Ave, Park City
(435) 649-8300
highwest.com/saloon
In 2006, Jane and David Perkins opened the first legal distillery in Utah since the late 19th century, right in the heart of Park City. High West Distillery quickly won national attention through fantastic branding, backed up with David Perkins's prescient analysis of whiskey blending trends. High West's crazy-like-a-fox spirits lines include offerings like Campfire Whiskey: a blend of bourbon, rye and imported Scotch. High West Saloon, Utah's first ski-in-ski-out-distillery pub, is the perfect spot to enjoy a great meal alongside that tasty High West cocktail. The saloon is open seven days a week for lunch and dinner, while the attached distillery store has spirits and High West swag for sale. Tours available daily at 1 p.m. and 2:30 p.m. and fill up fast; call the number below to make a reservation well in advance.
High West Distillery & Tasting Room, Wanship
27649 Old Lincoln Highway, Wanship
(435) 649-8300
highwest.com
A destination in-and-of-its own, a trip to High West Distillery's flagship production facility and tasting room is worth planning an afternoon around. Or a Sunday brunch, should you be so inclined. Since 2015 the beautifully-designed Wanship distillery site offers scheduled tours four times a day, full whiskey-flight tastings and light restaurant fare between 10 a.m. and 5 p.m. with local producers like Creminelli Fine Meats and Beehive Cheese featured on the menu, all framed with picture-perfect views of the stunning Wasatch Mountains from every vantage point. Distillery guides and the knowledgeable bartenders on staff enthusiastically discuss High West's various distilling, sourcing and blending strategies. Tours fill up fast, especially during Sundance and holiday weekends. Call the number below to reserve a spot well in advance. All ages are welcome on the tours and in The Refectory, as they call their lofty-beamed dining room. Scenic eye-candy and alcohol education combined in one gorgeous day spent in the Wasatch Mountains. A win-win for a nice excursion just 45 minutes from downtown SLC. Tours available Wednesday through Sunday, 11 a.m. to 3 p.m. on the hour. Reservations highly recommended.
Alpine Distilling
7132 North Silver Creek Rd., Park City
(435) 200-9537
alpinedistilling.com
Alpine Distilling combines two of owner Rob Sergent's passions: his family history in Kentucky and his love for Utah's high mountain spirit. These two geographical touch points reflect in the Alpine brand, which features the Utah sego lily as part of the company logo. Sergent has roots in Kentucky bourbon small batch farm-based agricultural distilling, but he's the first in his family to pursue mainstream production. Sergent's growing line of products show that this relatively new kid on the Summit County block has some serious distilling chops, with Alpine's Lafayette infused bourbon and spiced whiskey gaining international attention and awards the first year launched. So far, he's produced an American malt whiskey, an apricot and spice-infused bourbon, vodka and a truly original herbal spiced liqueur called "Preserve," a local and sure to be national favorite; look for it on cocktail menus all around Park City and beyond. All of Alpine's spirits are available for tasting at the Silver Creek area showroom just off I-80 between Kimball Junction and Wanship.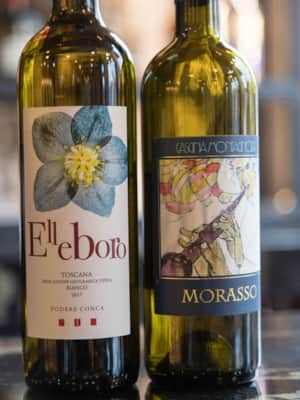 Want Wine? Utah has an App for that!
"It's like PokemonGo for wine lovers," I told my husband as he downloaded the app from Utah Department of Alcoholic Beverage Control (DABC). Introduced in 2019, the UT DABC App (yes, it needs a catchier name) for Apple or Android, allows customers to search for and locate any wine, beer or spirit in its entire statewide inventory.