Ski and Golf Same Day Utah
Just to say you did. Or take a few days to enjoy the proximity of Utah's mountains and metros.
Perhaps skiing and/or snowboarding and golfing in a single day isn't so unusual. Anywhere there's a fairway and a slope close by it's possible. Nowhere else in the country, and some suggest the world, however, do individuals have the choices they have here in Utah. It's possible to make literally hundreds of match-ups between ski/snowboard areas and golf courses. In many cases drive time between resort and course is measured in minutes.
There are 15 world-class ski areas in Utah. Most close in mid- to late-April, but one — Snowbird — typically remains open into May and often later. (Read: Top Ski Towns in Utah)
And there are roughly 85 public golf courses in Utah.
There are, for example, more than 40 public golf courses in less than an hour's drive of six ski areas — Snowbird, Alta, Brighton, Solitude, Deer Valley and Park City. Many of those courses are less than 30 minutes and some less than 10 minutes away from the slopes.
There are 10 public courses within 30 minutes of Snowbasin Resort near Ogden, Utah, and five near Sundance Mountain Resort, which is located in Provo Canyon between the diverse courses of the Heber Valley and Provo. And even though there are fewer opportunities for the other resorts, skiing and golfing on the same day is very possible.
"I don't know of another place in the country, and even in Canada, where people have such flexibility. We are unique in that we have the mountains so close to the valleys. When I talk with other people about the variety and convenience we have they're surprised,'' said Scott Whitaker, executive director of the Utah Section Professional Golf Association.
"A study we did showed Utah is the No. 1 state for public golf courses. We have more public (golf) venues proportionate the number of golfers than anywhere in the country, and the world for that matter.''
Bill Walker, executive director of the Utah Golf Association, notes that in his travels around the country, "Utah is considered the poster child of public golf. Golf in Utah on public courses is very good and very affordable."
Golfing fees on public courses In Utah are typically half those in other states. Most public-course fees range between $32 and $45 for 18 holes, golf cart included.
Utah's status in the world of skiing is unquestioned. Surveys consistently list Utah's resorts among the very best in North America. Over the past seven years Deer Valley has been listed No. 1 or No. 2 among more than 750 resorts in North America.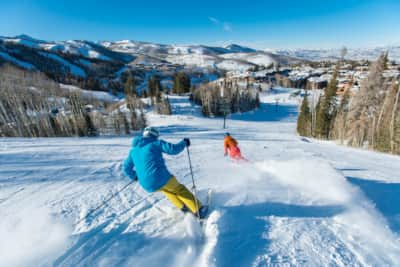 One area Utah consistently rates high among skier and snowboarders is convenience, and rightly so. In roughly a 30-minute drive from the Salt Lake City International Airport visitors can be at any one of the six canyon resorts. They can be landing and skiing or snowboarding before the resorts open. And, if they choose, golfing after lunch.
As far as scheduling, the recommended plan is to ski in the morning and golf in the afternoon — after lunch. Skiing conditions are typically best in the morning in the spring of the year.
Also, with today's high-speed ski lifts it's possible to get a reasonable number of ski runs in half a day. Another consideration is a snow condition called "corn snow.'' Many avid skiers compare good corn to skiing waist-deep powder.
Corn is created when freezing snow begins to thaw and turn into tiny granules of ice, which act like ball bearings under skis or snowboards.
Some resorts also offer half-day passes, which helps the budget.
Another reason to look to afternoon golf is that mornings can be busy at the more popular golf courses, but generally open up in the afternoons.
Ski resorts have also been exploring the idea of ski/golf packages in the spring.
The Utah PGA also offers a Happenings Book For Golf, which includes offers from 80 Utah courses. They include two-for-one rounds, discounts and free rounds with rentals of golf carts. The book sells for $75, with proceeds going to support Utah's junior golf program.
Plan your ski trip or learn more about Utah's public golfing.
The point made is that it's possible in the spring to greatly increase recreational opportunities, as well as participate in the unique opportunity to mix winter and summer.