U.S. Federal Shutdown Information
At this time, all of Utah's national parks, monuments and recreation areas remain open.
Learn more.
The Best Skiing in Utah
Here's where families, friend groups, experts, luxury-seekers and night owls find their groove at Utah's 15 ski resorts.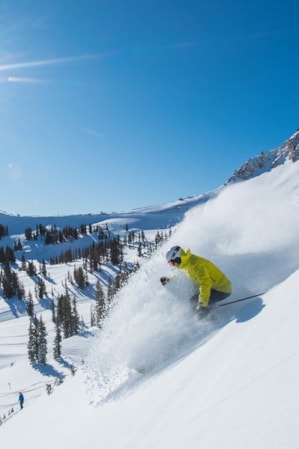 Much like the snowflakes that fall every winter, each Utah ski resort is truly unique. All skiers and riders find their home bases based on their favorite combination of terrain, amenities (dining, après ski and customer service) and accessibility.
Ask any Utah local and they'll tell you that Alta skiers differ from the Solitude crowd and Powder Mountain patrons vary from those who Ski the Beav. While the best skiing in Utah is in the eye of the beholder, all resorts have their shining stars of notable runs — from deep powder chutes and Olympic downhills to halfpipes and terrain parks.
Alta Ski Area
Rooted in Rustic Charm and Big-Mountain Boot Packs
Alta skiers (no snowboarders allowed here) pride themselves on classic mountaineering culture — steep vertical, long traverses, pocket bacon and that end-of-day cold beer at Goldminer's Saloon. As a backdrop for big-mountain skiing competitions, Mt. Baldy reigns superior for some of the best skiing in Alta. A short boot pack up either side of this bare-topped mountain opens up to tree-lined chutes and open powder fields. Just pick your line and go.
Beaver Mountain Resort
All-Around Value and Oldest Family-Owned Ski Resort in the U.S.
Beaver Mountain is the oldest family-owned ski resort in the United States and since its 1939 inception, Utah's northernmost resort (aka "the Beav") has delivered a quality resort experience without high prices and crowds. The best skiing in Beaver Mountain is said to be Beaver's Powder which starts at the top of Harry's Dream Lift. Take a right turn and follow the gentle fall line into wide-spaced pine trees and an open powder-filled bowl. You can weave tightly through a section of steep trees toward the end of the bowl, then cruise down the gully on Teddy's Frolic to the chairlift for another round.
Brian Head Resort
Highest Base Altitude and Only Place to Ski Alongside Hoodoos
Brian Head is the only Utah ski and snowboard resort where trails intersect snow-covered red-rock hoodoos that sprinkle in from Cedar Breaks National Monument and Bryce Canyon National Park. With a base elevation of 9,600 feet and the highest peak at 11,306 feet, this Southern Utah resort gets a surprising snowfall of about 400" a year. Fans say the best skiing in Brian Head is Giant Steps — the name of a mountain, the main chairlift and the most direct run from top to bottom. Skiers and riders enjoy this gentle slope due to its wide open expanse and easily accessible terrain.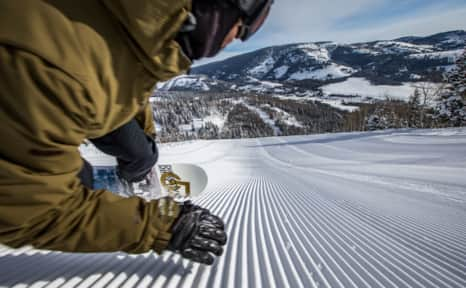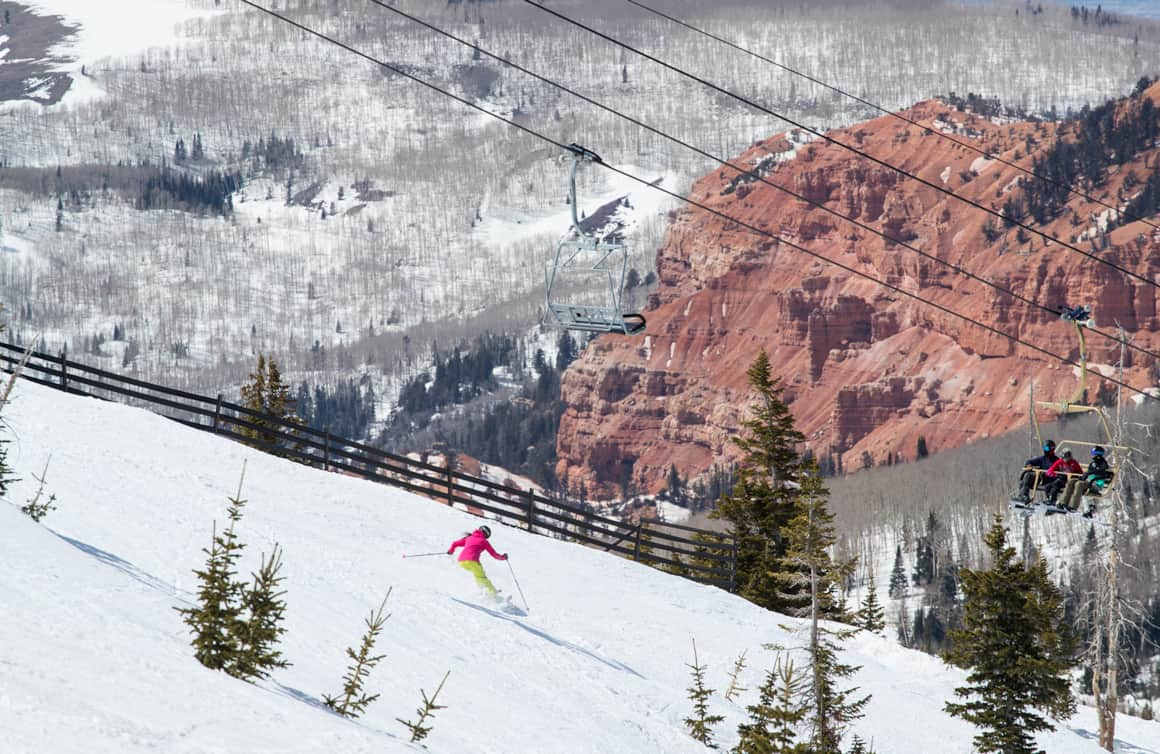 Brighton Resort
A Laid-Back Local Vibe
As one of the most affordable Utah ski resorts, many Utah locals get their start on Brighton's beginner runs. And due to its laid-back vibe, Brighton loyalists stick around as they excel to the expert trails and terrain parks. They'll tell you that some of the best skiing in Brighton can be found in Milly Bowl. In years past, Mt. Millicent started as slow 2-seater chairlift on a quiet slope that stayed untouched for days. Now as a high-speed quad, Milly continues to lack lift lines and delivers rippers to a playground of cliffs, chutes and groomers.
"Ask any Utah local and they'll tell you that Alta skiers differ from the Solitude crowd and Powder Mountain patrons vary from those who Ski the Beav."
Cherry Peak Resort
Cozy in Size and Big on Ski Savings
"First tracks" takes on added meaning when a new chairlift is installed at one of America's newer ski resorts. Inside its 400+ skiable acres just north of Logan, the best skiing in Cherry Peak can be found off the Summit Lift. The triple Summit Chair carries skiers and riders to 7,050 feet to access a couple hundred new acres of skiing in Cherry Creek Canyon. Like Nordic Valley, most runs light up at night to extend your skiing hours.
Deer Valley Resort
Famous for its Luxury Amenities and Smooth Groomers
Deer Valley is famous for its impeccable grooming and first-class service. This skiers-only locale encourages visitors to sit back, relax and enjoy. While many resorts tout an ungroomed run as their best, Deer Valley likes to showcase its best skiing on the groomed Jordanelle. This run is less adrenaline and more meditative and flowing. Cruise the ridgeline and take in the reservoir view as you glide through a trailside tour of ski-in/ski-out mansions.
Eagle Point Resort
Most Secluded and Worth the Drive From Salt Lake or Las Vegas
This central Utah boutique resort touts some of the steepest runs in the state. Though small compared to other state resorts with only 600+ skiable acres, Eagle Point rolls out good times and fresh lines. Eagle Point regulars agree that the 3.5-hour jaunt from either Salt Lake or Las Vegas is worth every mile to enjoy fresh, quiet tracks all day. They also say that some of the best skiing in Eagle Point is on Vertigo, a steep north-facing slope off the Lookout Lift where skiers feel a rush as they weave through the trees.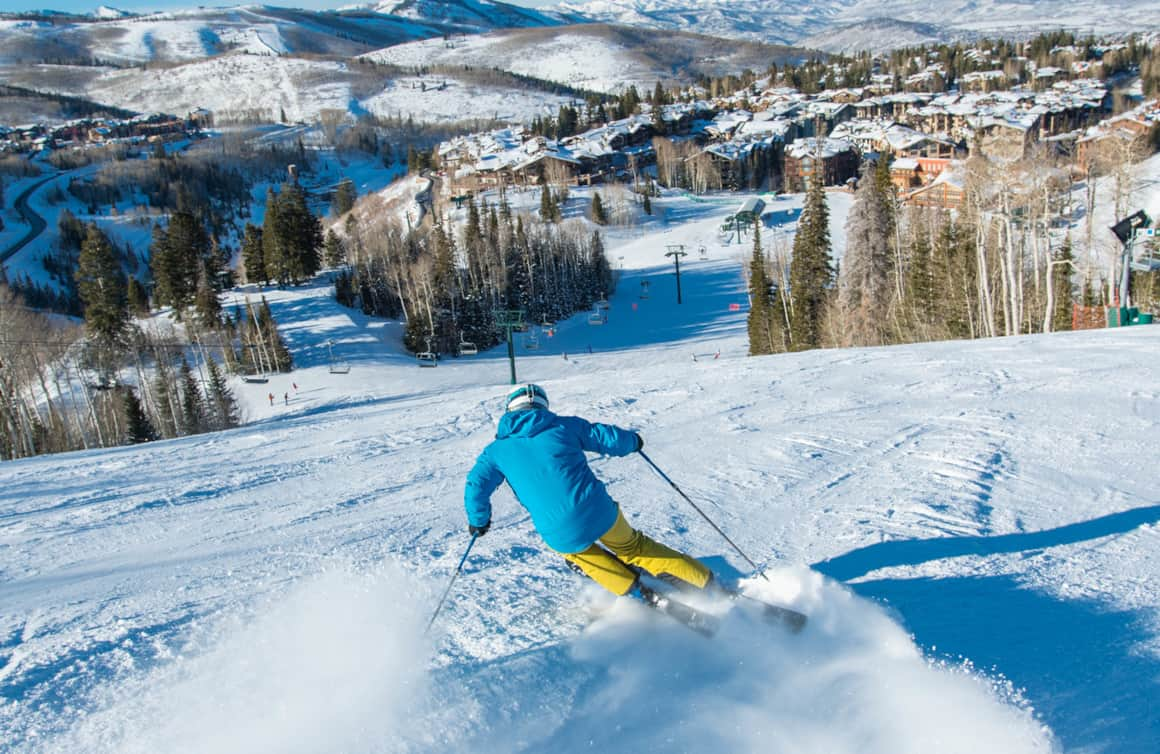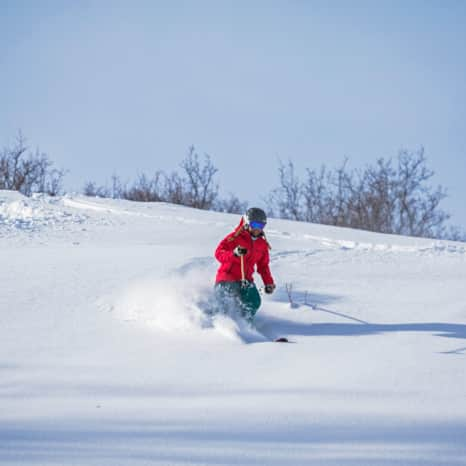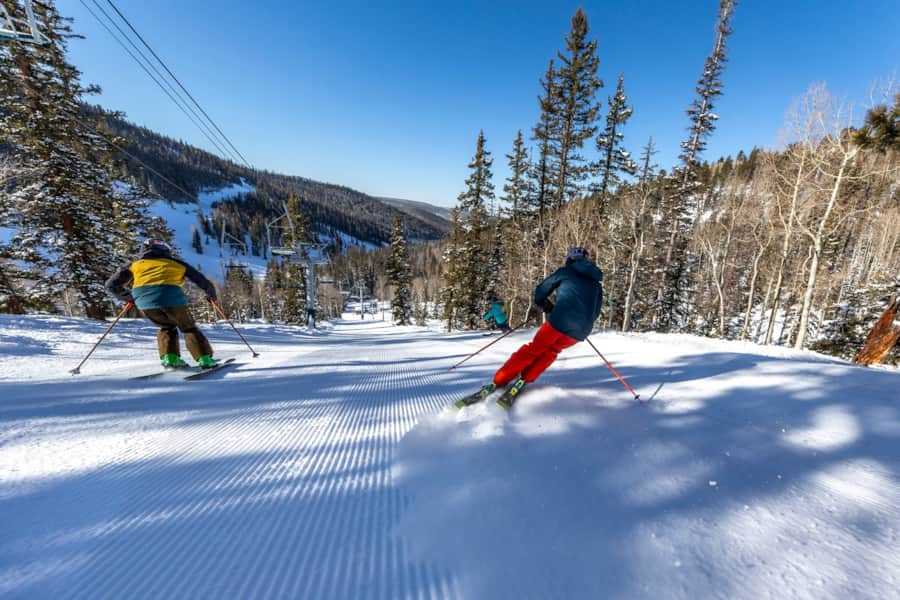 Nordic Valley Ski Resort
Known for Affordability, Night Skiing and Small-Resort Simplicity
Night skiing at Nordic Valley can turn any run at this charming resort into one of the most enjoyable outdoor adventures of your life. Sure, night temperatures bring on the chill, but skiing under the stars is a must-do — and easy if you're properly bundled. You'll have plenty to choose from because this resort in the Ogden area, just north of Salt Lake City, puts 80% of its terrain under lights — the most extensive in the state. Even better, a full-day pass here will get you 10 to 11 hours of skiing or riding for $20 to $60, while night skiing alone goes for $10 to $30.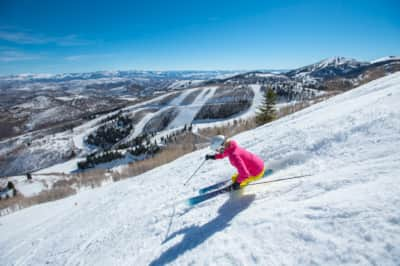 Park City Mountain Resort
Popular for Easy Ski-Town Accessibility
The city's namesake resort lives up to its reputation as the grand dame of Utah skiing. The historic mining town of Park City sits snuggly at the base of the resort making ski-town-to-mountain access undeniably easy. The resort might not seem steep from its base, but as you ride the Bonanza chairlift and approach mid-mountain, the steep peak and glorious glades of the double-black-diamond McConkey's reveals themselves. This high-speed 6-pack chairlift delivers you to a powder bowl of perfect pitch glades and makes for some of the best skiing in Park City. When you're ready to call it quits for the day, cruise Quittin' Time to hit up some of the best apres ski bars in the state.
Powder Mountain Resort
Celebrated for Unrivaled Acreage, Vertical and Powder
As North America´s largest ski area — with 8,484 acres of skiable terrain — this Ogden-area resort offers seclusion-seekers plenty of room to ski or ride free from crowds, along with Utah's steepest inclines of 3,346 vertical feet. In fact, for those wanting extra peace, the best skiing in Powder Mountain can be found after an 8-minute CAT ride drops you off at Lightning Ridge. During this ride, you can mentally prepare yourself for the 20-minute hike to James Peak upon arrival. The sweaty climb is worth the untracked paradise of open fields, chutes, rollers and trees.
Solitude Mountain Resort
Noted for Having a Run to Please Everyone in Your Group
Solitude is like a Swiss Army Knife of ski resorts. It's got something for everyone in your group, but over half the resort is labeled for intermediate skiers and boarders. These well-groomed runs wind through fun pockets of glades and connect numerous scenic rest stops. The experts, however, will tell you the best skiing in Solitude is in Honeycomb Canyon. Fantasy Ridge, in particular, is a thrill-seeker's destination with its knife-ridge boot pack leading you to steep chutes and euphoric adrenaline.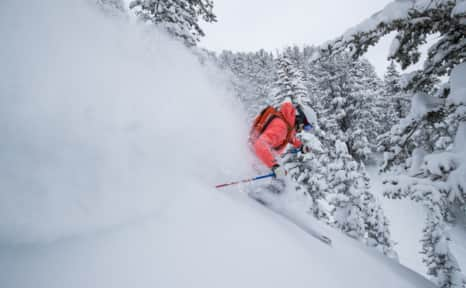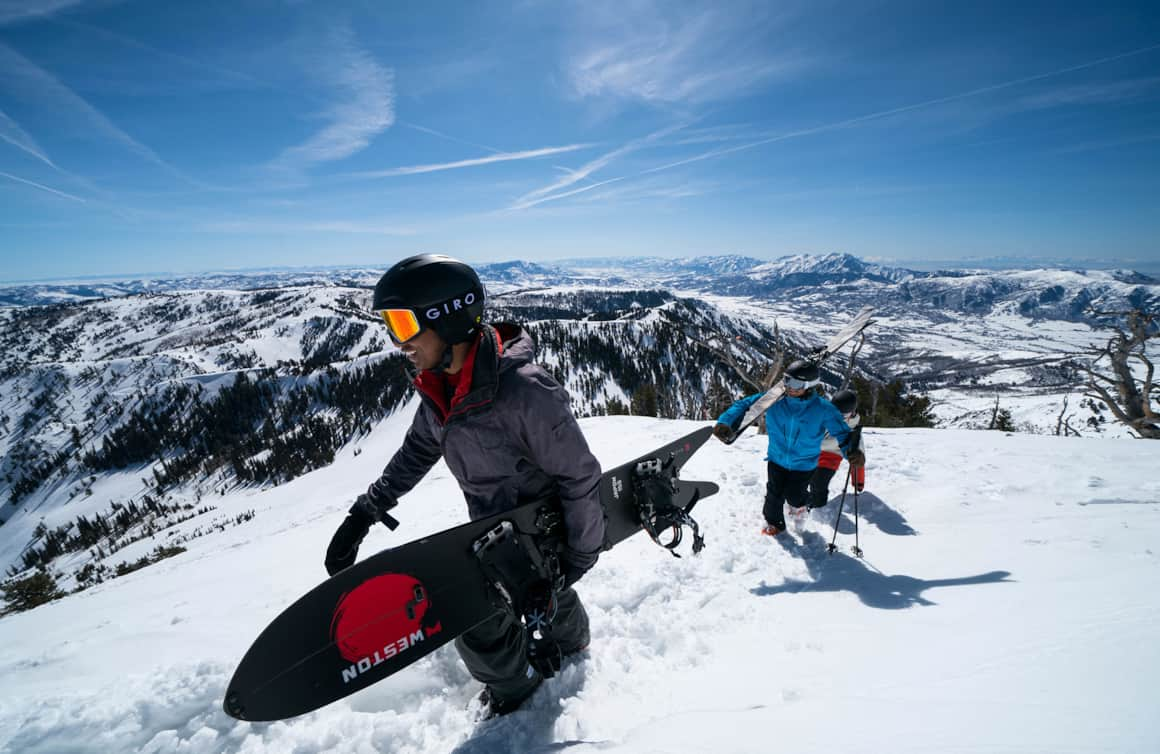 Snowbasin Resort
Prime Place to Live Out Your Fantasy of Being an Olympic Downhill Skier
Snowbasin has lived in the shadows of more famous Utah ski resorts for some time. But now that Ikon Pass holders can access this Ogden-area resort, they'll keep coming back for its long, steep runs, grand lodges and fine dining. The best skiing in Snowbasin is Grizzly Downhill, where Olympians sped down this run at over 80 mph back in 2002. Take the Allen Tram, admire the view of Ogden at the top, then stand at the start of the Men's Downhill while your skis overhang the 2,900 vertical feet back to the base area.
Snowbird Ski Resort
Expert Pick for Big Hits and High-Speed Skiing
Snowbird devotees opt for steep and deep when it comes to ski and snowboard runs. These diehards say some of the best skiing in Snowbird is off the Aerial Tram (upgraded in 2022) that transports skiers to 11,000 feet. The Cirque — Upper, Middle and Lower — is most famous at "the bird" due to its center-stage locale beneath the Tram, but Ski Magazine names Great Scott as one the steepest in-bounds runs in North America due to its 1,000-foot drop and 40-degree angle.
Sundance Mountain Resort
Most Hollywood Famous
Sundance sparkles with celebrity status. Once owned and operated by film star Robert Redford and, as such, the birthplace of the annual Sundance Film Festival, the resort casts an immediate spell on visitors with its famous name and high-class amenities. And yet, it's amazing how comfortable and laid-back Sundance feels, especially when hitting the slopes. The best skiing in Sundance can be found in the wide-open terrain of Bishop's Bowl, which also provides majestic 360-degree views of the Wasatch Mountains and the iconic Mt. Timpanogos.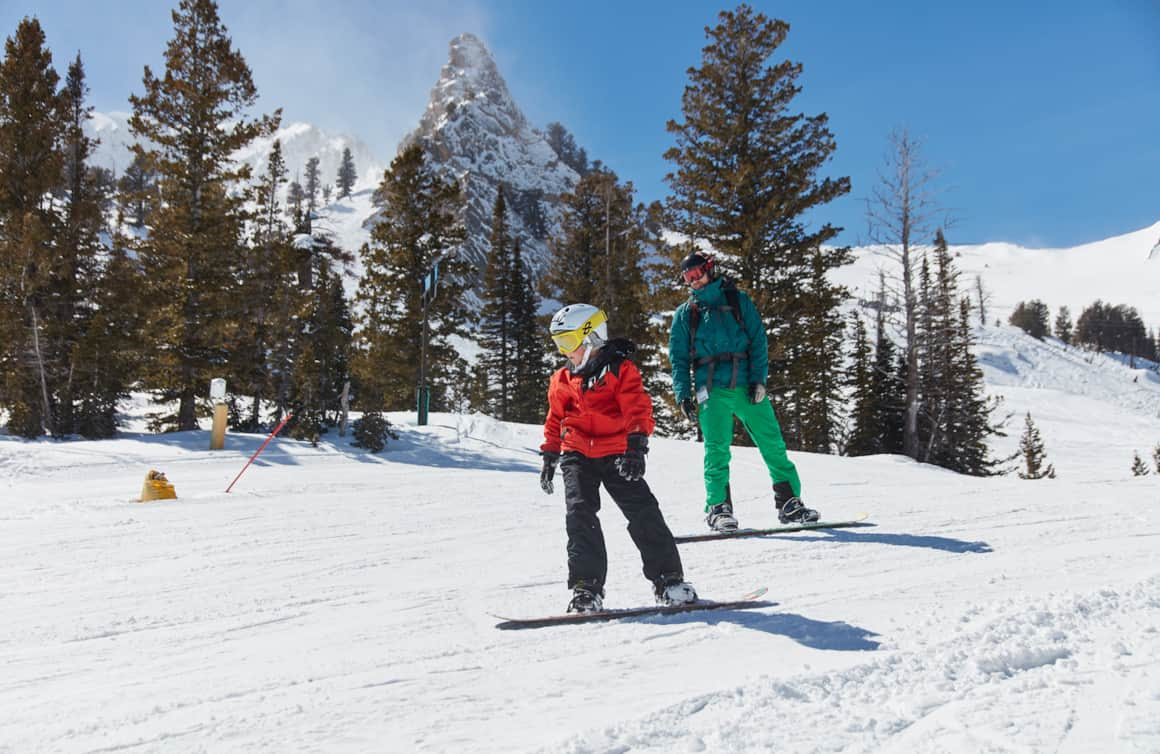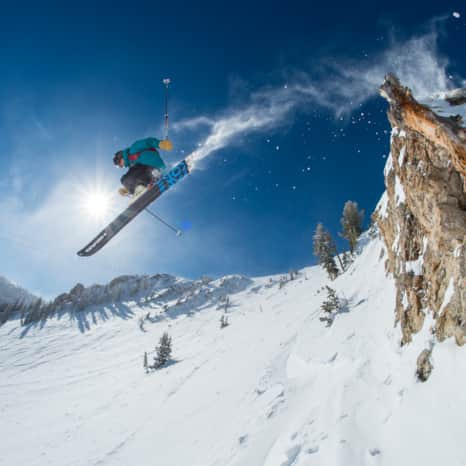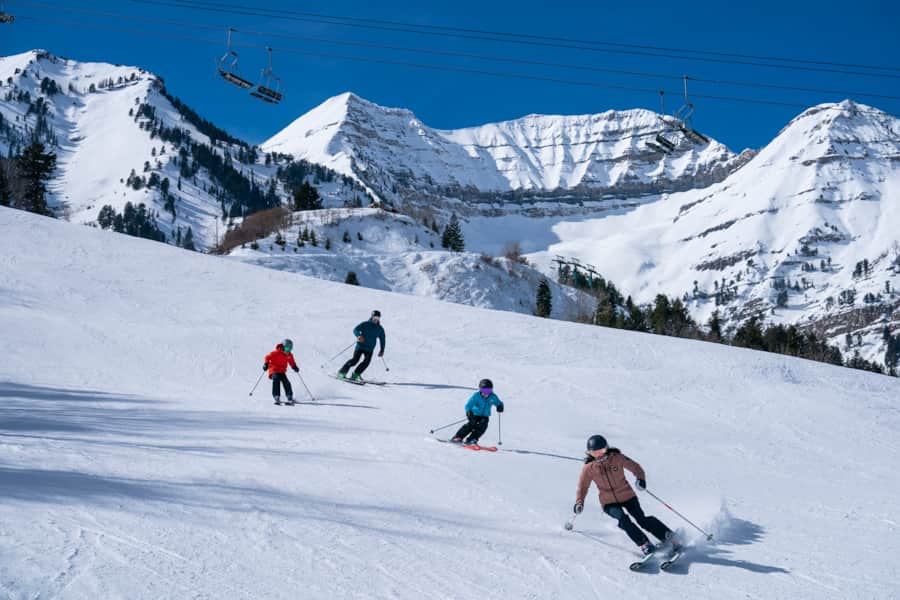 "While the best skiing in Utah is in the eye of the beholder, all resorts have their shining stars of notable runs — from deep powder chutes and Olympic downhills to halfpipes and terrain parks."
Woodward Park City
Top Choice for Freestyle Mountain Park Action
Woodward Park City boasts a flurry of indoor and outdoor year-round mountain activities. Winter-bound freestyle enthusiasts, in particular, can get big (or little) air on nine ski and snowboard terrain parks that feature bumps, jumps, berms, banks, wall rides and sliding rails and boxes. Two spots provide the best skiing and riding at Woodward Park City: Peace Park, a freestyle terrain park designed by the Olympic snowboarder Danny Davis, and Red's Backyard, a "rail garden" inspired by the Colorado backyard of the Olympic gold medalist Red Gerard.