Must-Ski Runs at Utah Ski Resorts
Looking for deep powder, Olympic downhill and halfpipes or precision-engineered terrain parks? There's a Utah ski resort for that.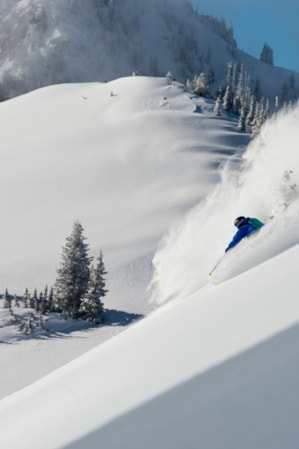 We lost count, but there are close to a thousand named ski runs spread across the mountain ranges of Utah. That quantity makes assembling a top list like this pretty tough. We asked the expert skiers, riders and writers of Matador Network to send back reviews of their favorite for this story.
Salt Lake City
Back in the good ol' years, Mt. Millicent was a forgotten side slope with a slow 2-seater that stayed untouched for days. Though now equipped with a high-speed quad, Milly still has no lines and opens a playground of options for spinning hot laps all day and sells cheap season passes and lift tickets, making this the perfect spot for quick ski getaways. Drop down the gut of Milly Bowl for glory faceshots that your friends can see from the chair, or play in the cliffs, chutes, or groomers that flank this often overlooked stash.
Towering high above Solitude Resort and Honeycomb Canyon, the majesty and intensity of Fantasy Ridge gets you going whether you're skiing it or not. Named the most intense inbound hike in North America by Outsider Magazine, a knife ridge boot pack leads you to chutes 1-26. Some are gnarly and require air, others are not, but the steep, fresh, and euphoric adrenaline factors are pretty much guaranteed every time you travel here.
Maybe more like the greatest ski run to watch crazy pro skiers like Carston Oliver fly down. A chute with 3 cliff drops that ejects at high speed into Snowbird's famous Cirque, this line is not for the fainthearted. Watch from below, get an up-close view while passing by on the tram, or strap in and feel the adrenaline bliss as you reach mach speed.
Serving as a backdrop for big-mountain skiing competitions, a short boot pack up either side of this bare-topped mountain of Alta Ski Area opens a world of possibilities. Join the pros as they thread through chutes, or enjoy the open powder fields and snowy trees. Beware of rocks and cliffs — ask a neighbor if you aren't sure — and smile as you rock the terrain on one of the most rewarding runs of your life.
""First tracks" takes on added meaning when a new chairlift is installed at America's newest ski resort."
Ogden Valley
OK, this isn't a "ski run" per se, but night skiing has the potential to turn any run at Nordic Valley into one of the most amazing of your life. And you'll have plenty to choose from, because this resort in the Ogden/Davis area, just north of Salt Lake City, puts 100% of its terrain under lights — the most extensive in the state. Even better is that a full day pass here will get you 10–11 hours of skiing or riding for $45, while a half-day (either day or night) goes for $30. (Hours vary by weekday and weekend.)
Powder Mountain's tagline is "7,000 plus acres of untouched pristine powder," and they're not lying. An 8-minute CAT ride drops you off at Fantasy Ridge. Hike another 20 minutes to James Peak, and…welcome to an untracked playground of open fields, chutes, rollers, trees, and unlimited happiness.
Olympians sped down this run at over 80mph in 2002, and now you can too (well, maybe 40mph, but that is still FAST). Take the Allen Tram and stand at the start of the Men's Downhill while your skis overhang the 2,900 vertical feet back to base area. Drop in, feel the rush, and throw your hands in the air when you cross the finish line.
"Powder Mountain's tagline is "7,000 plus acres of untouched pristine powder," and they're not lying."
Park City Area
Deer Valley is famous for their impeccable grooming (no joke — I hear they have their own corduroy pattern) and first-class service. Sit back, relax, and enjoy. Jordanelle is less adrenaline and more like meditation with flow. Cruise the ridgeline, breathe deep as you take in the view, and try to keep your eyes on the snow as you pass mid-mountain mansions with gold statues out front.
Park City might not seem steep from its base, but as you ride the Bonanza chairlift and approach mid-mountain, the steep peak and glorious glades of the double black-diamond McConkey's reveals itself. With a high-speed 6-pack that delivers you to the top, this makes for a sick powder lap bowl. Once the bowl is tracked, a ridgeline of perfect pitch glades flanks to skier's right and adds hours of fresh snow. When your legs have had enough, continue the cruise and take Quittin' Time to the front door of High West Distillery (Read: The Hills Are Alive with the Scent of Whiskey) for a saloon finish to your day.
Provo/Utah Valley
With a famous name and high-class amenities, it's amazing how comfortable and laid back Sundance feels. Take Arrowhead Lift to Bishop's Bowl and bask in the 360-degree glory that the Wasatch Mountains and the iconic Mt. Timpanogos provide. Then float down the wide-open terrain like you're in Alaska. Rumor has it this is Robert Redford's favorite run, watch the video.
Southern Utah
With a base elevation of 9,600 feet, this southern Utah resort gets a surprising snowfall of about 400" a year. Giant Steps is the name of a mountain, the main chairlift, and the most direct run from top to bottom at Brian Head. Wide open and free, it skis like a rolling glacier that gently delivers you to the front door of your slope-side condo.
Utah's centrally-located boutique resort also has some of the steepest runs in the state. (It's 3.5 hours from either Salt Lake City or Las Vegas). Though smallish by Utah standards at 600 skiable acres, Eagle Point doesn't skimp on good times and fresh lines. Vertigo is one of a series of steep tree-weaving north-facing slopes off the Lookout Lift. Feel the rush and the snow flying in your face. At a place like this, you get fresh tracks all day.
Northern Utah
From the top of Harry's Dream Lift (great name in my book), turn right and follow the gentle fall line into wide-spaced pine trees and an open bowl of bliss. Weave some tighter, steeper trees toward the end of the bowl, find the pow stashes, and then cruise down the gully on Teddy's Frolic to the chairlift for another round.
"First tracks" takes on added meaning when a new chairlift is installed at America's newest ski resort. The new triple Summit Chair carries skiers and riders to 7,050 to access a couple hundred new acres of skiing in Cherry Creek Canyon. Oh, and like Nordic Valley, pretty much the whole place lights up at night to extend your skiing hours.
This story originally appeared on Matador Network.