Flood Safety
Due to record snowpack and high amounts of spring runoff, please be advised of potential flooding that could impact travel plans.
Learn more
Discover the Breweries of the Wasatch Front
Over the past two decades, Salt Lake's breweries have grown into a culture all their own. Here's what you need to start planning a pub crawl with this collection of Salt Lake's most popular breweries.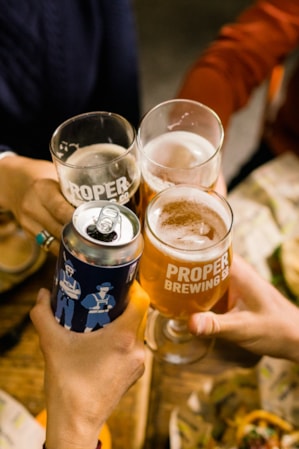 If you haven't been paying attention, the fact that Salt Lake City has one of the country's top craft beer scenes might surprise you. Yes, in the past, it was known for its strict liquor laws that hampered the establishment of a strong brewing community. Over the past two decades, that's changed.
Utah's capital has embraced the microbrewing trend, and you can now find more than a dozen establishments that produce award-winning beer, ale, cider and spirits. No matter your tastes, you can find a brewery in Salt Lake City that's creative and interesting. Go on a pub crawl to sample a wide variety or find that special place to relax for the afternoon.
Here are six options to introduce you to Salt Lake City's thriving brewing culture.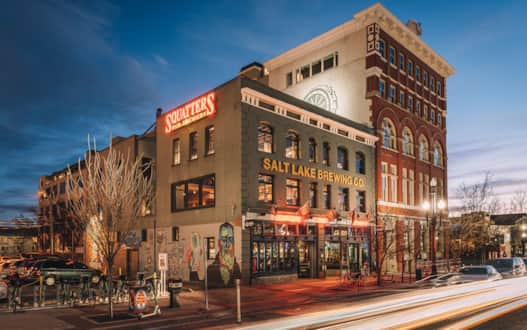 Bohemian Brewery
Established in 2001, Bohemian Brewery is located just south of Salt Lake City in Midvale, Utah. Step inside and you are instantly transported to a Bavarian Lodge, where you can enjoy great beer and a variety of classic German dishes in a cozy atmosphere. The brewery's late founder, Joe Petras, who was originally from Czechoslovakia, worked hard to create a place that brings old-world traditions to Utah. Their brewers follow a brewing technique that dates back centuries to Bohemia — modern-day Germany and the Czech Republic — where the modern pilsner was developed.
It's the type of brewery where pierogies and bratwurst are paired perfectly with a Viennese Amber Lager. You'll generally find more than a dozen choices on tap here, many seasonal, including favorites like the 1842 Czech Pilsner Lager, the Noble Hefeweizen and the dark Cherny Bock Schwarzbier.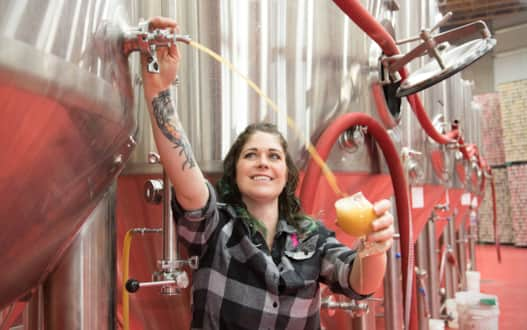 Roosters Brewing Company
Roosters took up residence in a historic building on 25th Street in 1995, and it has been an Ogden staple ever since. With the opening of its B Street Brewery taproom on the west side of the tracks (including a dedicated facility and canning line), it's safe to say Roosters is a well-established Utah favorite.
At the Ogden location, there are a few tables located right next to the sidewalk out front, allowing you to observe the charm of 25th Street while you eat. (A second restaurant is located in Layton.) At either place, you can't go wrong ordering the classic Bee's Knees Honey Wheat brew when you want something light and refreshing. In terms of food, you'll find more than typical pub fare, with sandwiches, salads, pizza, tacos, and pasta. Of course, you can also go with the beer battered fish and chips or a burger with the spot's signature Naughty Fries if you want to go for something more classic.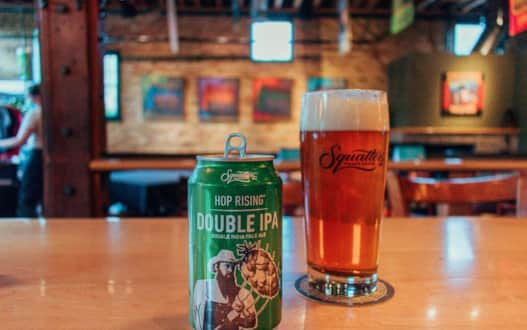 Utah Brewers Cooperative
The Utah Brewers Cooperative includes two breweries, Squatters Craft Beers and Wasatch Brewery. Both breweries have been around since the craft beer renaissance began in the 1980s, and both contribute to the richness of Utah's evolving beer scene. A few years back, the Cooperative was named Mid-Size Brewery of the Year by the Brewers Association.
When it comes to choosing a beer at either of these breweries, it really depends on which of your taste buds you are looking to appease, as both have a wide selection to choose from. Each of their beers is a stand out selection in their respective categories. The autumnal and velvety Wasatch Polygamy Porter is one of the city's best-best known offerings. If you crave something on the opposite end of the spectrum, the Squatters IPA is crisp and bright, perfect for hot summer days.
Both breweries feature several brewpubs in the Salt Lake City area, each with an extensive menu. Try the Bavarian Pretzel and/or the house burger at Wasatch, while Squatters is known for its killer street tacos — they have beef, fish, and veggies options. Both breweries have a location in Park City and Salt Lake City, as well as at the Salt Lake City International Airport.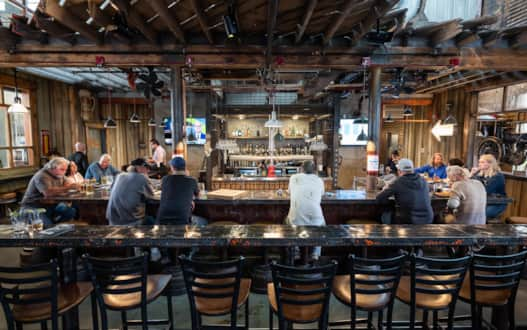 Strap Tank Brewery
Strap Tank in Springville is owned by the same man who started Legends Motorcycle Emporium (find out more at Riding Through History), which is located just across the street. It's no surprise to find the vintage motorcycle theme throughout the brewery. The architecture at Strap Tank is something to admire, with intricate brickwork and impressive faux-industrial details such as wooden ceilings with areas made to look as if a motorcycle had crashed through the roof.
Consider trying the Sgt. Holtz Dry Stout. This beer has a light body with all of the deep roasted flavor profiles that you want in a stout. The beer battered onion rings are crisp, golden and delicious, making an excellent choice to enjoy alongside any beer you prefer.
In addition to Springville, the brewery has a second location in Lehi as well.
"If you haven't been paying attention, the fact that Salt Lake City has one of the country's top craft beer scenes might surprise you. "
Uinta Brewing Company
Located in Salt Lake City, Uinta Brewing pays homage to Utah's environment. The space is designed with the local culture and outdoor recreation lovers in mind. You'll find plenty of outdoor seating during the warmer months, and a large indoor dining area where you can hang out with friends after a day on the slopes. Uinta's beer has a strong and well-established reputation in the microbrew industry and has made the list as one of the Top 50 Craft Brewing Companies in the country.
This brewery is a good spot for sampling, as there are lots of unique flavors to try. Its seasonal brews on tap, like the Grapefruit Hop Nosh, which, as you might suspect, is bright and refreshing with its citrus notes, pairs well with a savory bite. Uinta's menu changes seasonally with fresh ingredients on rotation, including an impressive list of plant-based offerings, such as the veggie pesto sando.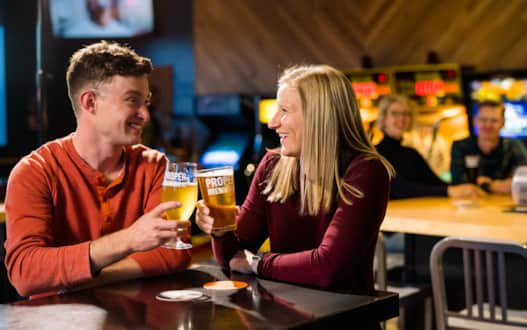 Proper Brewing Company
Proper Brewing offers a few locations where you can enjoy their beer. Grab a drink sans the grub at their bar and beer store in downtown Salt Lake City. Their signature Proper Beer is a classic golden ale that's well balanced, and easy-to-drink. If you're hungry, they have two restaurants — Avenues Proper and Proper Burger Co.— where you can grab their beer and a bite.
Avenues Proper has a bistro flare with a lot of local ingredients incorporated into the dishes. Try the confit duck pot pie, which is quite rich and very tasty. They also serve brunch, where you can enjoy entrees like frites with beer aioli, roasted tomato tartine or a farmers market hash. On your way out, grab some Proper beer to enjoy later that afternoon.
If you are looking for more of a laid-back place to hang out with friends, you can find it at Proper Burger Co. This spot is much more casual, and conveniently located right next to Proper's Bar. It features gourmet burgers and fries — even vegan and vegetarian-friendly options. You can take your burger next door to the bar area, which features classic arcade games and foosball tables.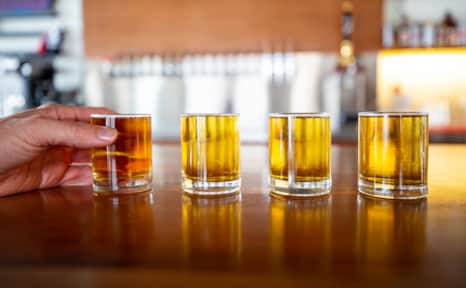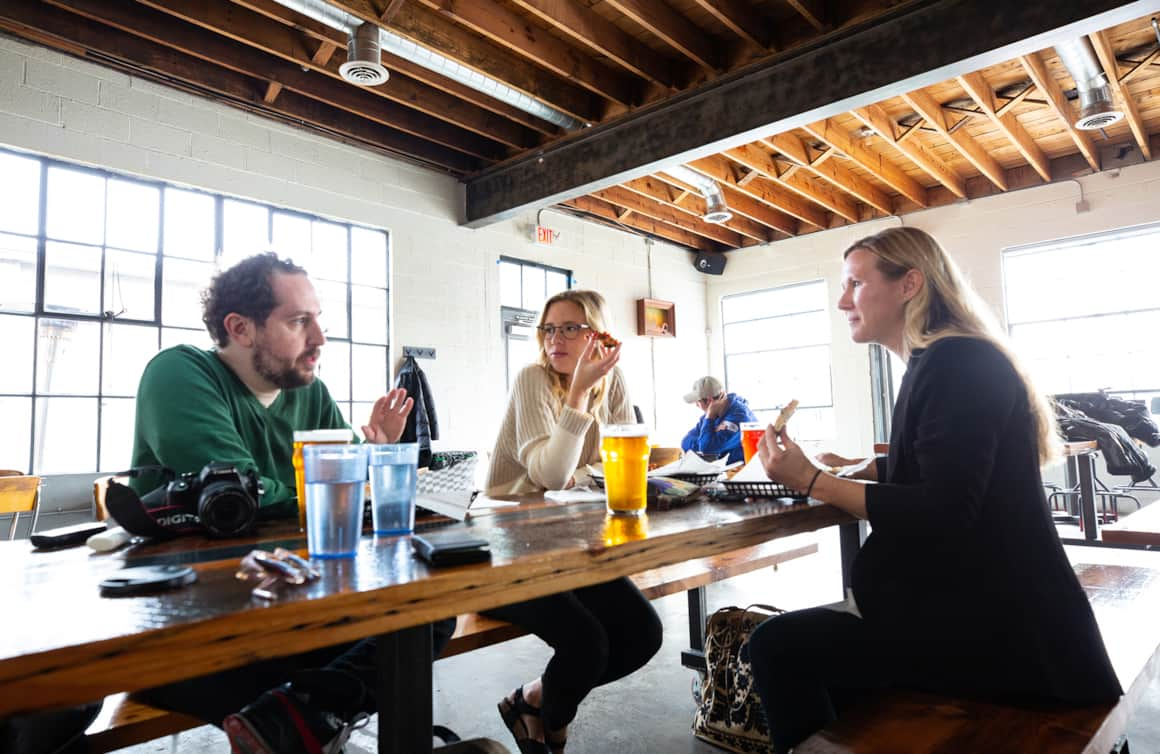 The Best of the Rest
It's hard to pare down the best Salt Lake City breweries to just a few, especially with new operations opening up regularly. Along with those listed above, the following are also worth a visit: