Something Luxe, Something New: Explore Utah's Winter Ski Lodging
Whether rustic, vintage, simple or luxurious, there's a place to stay that'll suit your tastes.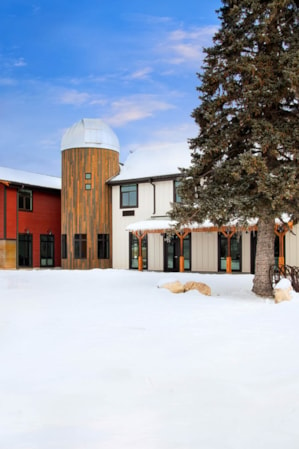 The primary reason for a ski vacation is the skiing, but it's also the ability to get away from your daily routine and relax in the mountains. Everyone may have their own definition of what it means to chill out — whether it's retreating to a remote resort or staying somewhere in the thick of the action — but that's why there are plenty of varied lodging options near Utah ski resorts.
New: Compass Rose Lodge, Ogden Valley
Opened in Huntsville in January 2019, the Compass Rose Lodge's upscale-farmhouse-meets-industrial style gives guests the feeling of being out in the country, but without having to sacrifice modern luxuries like free Wi-Fi, cozy beds and linens, complimentary breakfast and parking, and 4K television. Staying here is a boutique experience with only 15 beautifully appointed king and queen bedrooms, views of the Ogden Valley, easy access to the area's three ski resorts and the convenience of on-site coffee shop First Lift Coffee. For more hearty meals, grab a burger at the Shooting Star Saloon or wander over to Huntsville Square for barbecue at Ogden Valley Smokehouse.
One particularly special highlight of this property is its access to the Huntsville Astronomic and Lunar Observatory (HALO), with a 16-inch aperture Ritchey-Chretien style telescope designed with hyperbolic shaped mirrors like the Hubble Space Telescope. Nightly star tours here include the use of an 8-inch Meade LX200, which served for years as one of the telescopes at Weber State University. If you're a guest at the Compass Rose Lodge, you get tours at half price (read: SLC + Ogden Ski Itinerary).
Luxe: Snowpine Lodge, Alta
Another hotel that opened in January 2019 is the Snowpine Lodge at Alta Ski Area. This refined mountain property transformed from its original 1941 self (there are still stone walls dating back to the 1800s, as the oldest building at Alta), following a $50-million renovation. The Snowpine has several firsts for Alta: first luxury property with ski-in/ski-out access, first full-service spa, first fully stocked game room, and first hotel at the resort that's open all year long — so if you fall in love with it in the winter, come on back in the summer for access to great hiking and biking adventures.
The 68 accommodations include 54 rooms and suites, and 14 traditional dorm-style bunk rooms. All rooms have premium bedding, flat-screen TVs, complimentary Wi-Fi, slippers and robes, and more. Premium rooms include balconies with views of the surrounding canyon, and the bunk rooms may be the best dorm-style rooms you've ever occupied. Rounding out the reasons to stay here are complimentary ski lockers, slope-side heated pool, two outdoor hot tubs, 24-hour fitness center and yoga studio, oxygen bar, movie room, fire pits, and optimal mountain dining and beverages provided by Swen's Restaurant and The Gulch Pub.
Explore additional elevated experiences in our guide to high culture and high elevation in the one and only Ski City: Salt Lake City.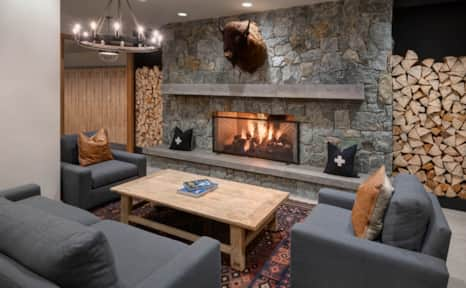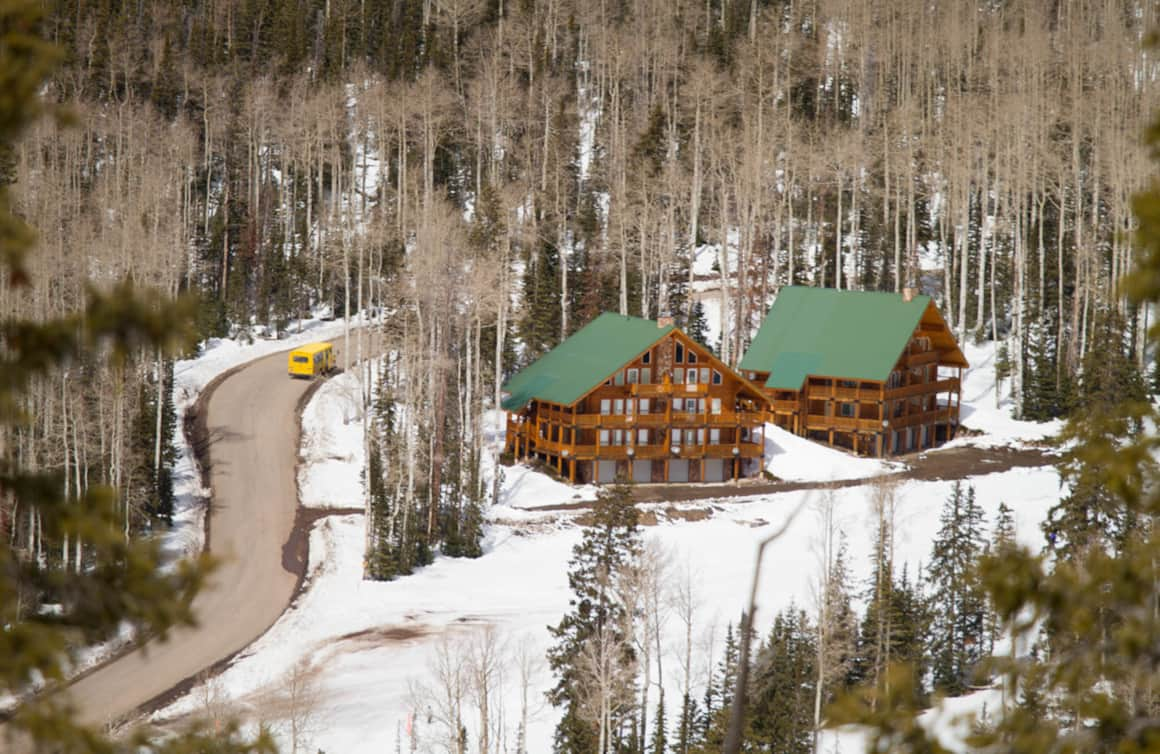 Budget: PowderWood, Park City
Sure, if you search for a deal with a chain motel or find a sweet Airbnb score, you might come in with a cheaper room, but the 1- and 2-bedroom condominium units at PowderWood have the feel of a vintage apartment and the price is right for a ski-season stay in Park City. It may bring to mind the ski house you once rented for the season and crammed it full of a bunch of your friends, except this time, you don't need to split the cost 18 ways.
In the Kimball Junction area, PowderWood is walking distance to the Outlets Park City, and just a free transit ride away (or car ride) from Utah Olympic Park, Main Street or skiing at Park City Resorts. Full kitchens give you the option to eat meals in house instead of eating out three times a day, and an in-home washer and dryer allows you to pack less, or merely clean your clothing when you need to instead of wondering if you can really wear that shirt four times without someone noticing (read: Insider's Guide to Park City).
Family: The Cliff Lodge, Snowbird
For families on vacation, ski lodging with a wealth of amenities are essential—not necessarily from a luxury standpoint, but to ensure that there's enough variety to keep everyone happy. The Cliff Lodge is not only comfortable for the entire family, but also packs in plenty of dining and activity options, as well. Ski-in/ski-out convenience is coupled with walking distance to Snowbird's pedestrian village, so you don't feel out there with few options.
But The Cliff Lodge has more than a few options itself. All rooms and suites have views, whether of the canyon or Snowbird's ski slopes. The on-site ski rental and repair shop, and complimentary ski lockers help families get ready for the day, and the rooftop pool, hot tubs, yoga studio, fitness center, steam room, and The Cliff Spa help boost après hours. Grab lunch at The Atrium, have a modern-American gastropub dinner together at The Aerie Restaurant and Lounge, or even get room service and celebrate a grand ski vacation together.
Remote: Vacation Homes and Village Condos, Eagle Point
Skiers love Eagle Point for its remote, away-from-it-all feeling in the Tushar Mountains of Southern Utah. It's also a great getaway from the more popular resorts, because you have plenty of space to ski. If you yearn for those old-school ski vacations where you get to focus on the people you're with and the fun you can have, this is the place for your ski retreat.
If you're traveling with a bunch of friends or a large family, Vacation Homes at Eagle Point give you multiple bedrooms, a fireplace and the space to spread out, almost like you get to do on the slopes. Each cabin is different, so it helps to plan in advance to find the one that serves your needs the best — whether with a fully stocked kitchen or easy access to nearby lodges. Another consideration is the collection of Village Condos at Eagle Point that range from 1–2 bedrooms. Some are ski-in/ski-out, some have fireplaces and they're configured to sleep between 4–11 guests. It's about 3.5 hours to Eagle Point from Salt Lake City. It's worth the drive for the seclusion and terrain, but with a little extra planning you can extend your winter in Southern Utah experience.
Of course, Utah's winter ski lodging options are endless with the proximity of the metropolitan Wasatch Front to its world-class ski resorts. Browse more and book at Ski Utah.