Top Ski Towns in Utah
Be it city or town, a complete Utah ski vacation starts here.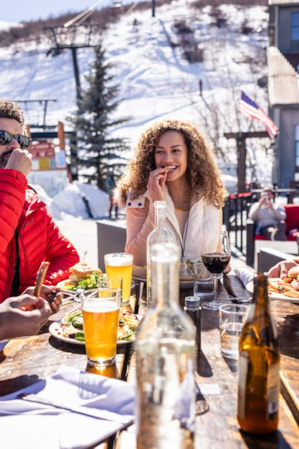 A flight into Salt Lake City International Airport grants a bird's-eye view of a fantastical landscape. No, we're not talking about the Great Salt Lake — that's another story, and one you should read. It's those mountains, a jagged and dramatic wall of snow-capped peaks without an end in sight. They're like something out of a storybook, and also a big reason Utah's "Why Winter Exists" tagline isn't mythologizing. You can't see from the air, but some of Utah's best ski resorts are in them thar mountains. And their proximity to our northern cities always surprises first-time visitors.
When you think "ski town in Utah," Park City might just come to mind. But don't stop there. Those mountains, called the Wasatch Range, are at the western edge of the mighty Rockies. They stand watch over the uninterrupted Wasatch Front corridor of Utah's urban core, which stretches 80 miles from Ogden to Salt Lake City to Provo, with Park City neatly tucked high up on the Wasatch Back. Some have said that impressive development fulfills a prophecy that the high-country desert would "blossom as the rose." Indeed: We're counting eleven such blossoms (aka "ski resorts") in the Wasatch Mountains. Looking for a popular ski town in Utah? We'll give you four or five.
The Northern Gem Utah Ski Town: Ogden
Don't let Ogden be an afterthought. This Northern Utah city has proudly stood atop the list of "America's best ski towns" and frankly still carries that crown with aplomb by maintaining high standards and meeting expectations on the slopes, yet keeping things chill downtown. One example: Snowbasin Resort. Despite hosting the 2002 Olympic Downhill, boasting 2,900 feet of vertical skiing across 3,000 acres and offering some of the state's finest restrooms, the Ikon Pass-participating Snowbasin does not offer on-mountain lodging.
You'll find plenty of lodging in Ogden and a few boutique options up the canyon in the Ogden Valley, where the three fingers of Pineview Reservoir spread out icily across the basin and the 450 acres of family-friendly Nordic Valley Resort peer out from the east face of the Wasatch. Ogden and Ogden Valley make up the Ogden ski town scene. And that's where we linger.
It has been written that small towns have "a sense of localism that's borne by community and some kind of we're-in-this-togetherism. Ski towns have that too, but they're a little different. They're transient." And that's where Ogden is different. Larger than a "town," sure, yet Ogdenites are proud and united in their community and have built something special out of a history of grit and notoriety. Its downtown bustles with restaurants, bars and shops, yet it's compact enough to feel like it could be picked up and tucked into a mountain canyon. Since it's only a 30-minute drive from downtown Ogden to three separate resorts, visitors can enjoy almost 12,000 acres of ski and snowboard terrain plus the amenities of a city with actual things to do outside of skiing. Off the mountain, discover this ski town's lively 25th Street (and adjacent neighborhoods), which boasts turn-of-the-century architecture. It's one of Utah's most famous streets and you'll be glad you saved energy to enjoy it. (Unless you diverted that energy to fat biking at Snowbasin, snowmobiling at Monte Cristo, Nordic skiing at North Fork Park and plenty more outdoor recreation options.)
But wait: almost 12,000 acres? Snowbasin is 3,000 and Nordic Valley is 450 so…yes: Powder Mountain's 8,464 skiable acres make it the largest* in North America. What's the asterisk here? Around 500 of those acres are accessed via skicats. So if you're a lift-only skier, you'll have to settle for 7,957 acres. That acreage plus snowcats, plus guided backcountry skiing, plus lessons, plus the 500 inches of annual snowfall supplying The Greatest Snow on Earth® from which the resort takes its name? Best be getting into serious ski shape.
"Ogden has proudly stood atop the list of America's best ski towns and frankly still carries that crown with aplomb by maintaining high standards and meeting expectations on the slopes, yet keeping things chill downtown."
Ideal Park City and the Idyllic Heber Valley
More than just the Best Town in America, Park City is arguably Utah's premier ski town. It is, finely put, where to ski in Utah.
While Ogden and Salt Lake, as we shall see, may bend the definition of "ski town" to accommodate a wider winter experience, Park City does that too, yet also embodies the textbook definition of "ski town." The chairlift called "Town Lift?" That's a direct connection between lower Main Street in historic Park City and Park City Mountain's 7,300 acres of skiable terrain. ("Historic" is not being thrown in lightly: Main Street is a true silver mining-era town with almost four dozen buildings on the National Register of Historic Places, making it distinctive from many of the prefabricated ski villages found in America's winter landscape.)
For those who love novelty on a ski trip, Park City Mountain's 341 runs alone could mean you never ski or ride the same run twice on your Utah ski vacation (Epic Pass-holders rejoice!). Not that you'd get bored on the 103 runs next door at the Ikon Pass-friendly Deer Valley, which adds more than 2,000 acres and another 3,000 feet of vertical to Park City's portfolio of lift-served skiable terrain (emphasis on skiable: Deer Valley is ski-only so, alas, not rideable; and another emphasis on lift-served, because nearby Park City Powder Cats opens up another 15,000 private ranch acres to backcountry touring). Speaking of novelty, sustainability-focused Park City is one of the only mountain towns that doesn't require a car to visit. Combine an airport shuttle with the town's free transit system and hotel shuttles and boom: You've just reduced your carbon footprint.
In another anthropomorphic turn, Park City views itself as "Winter's Favorite Town." Hard to disagree with its visible Olympic legacy (including the must-visit Utah Olympic Park) and comprehensive winter recreation options, a list that includes the hits such as cross-country skiing, snowmobiling, snow biking and snowshoeing. But it then one-ups other destinations with sleigh rides, dog sledding (See: Harnessing Passion: The Arctic Rescue Sled Dog Team) and Woodward Resort, [draws in a long breath] the nation's first all-in-one action sports and ski resort that is also part of the Park City-headquartered U.S. Ski & Snowboard team's network of training facilities. Mix in a first-class arts scene, top-rated spas, excellent shopping, some 150 restaurants, breweries, wineries and distilleries for après and, just, so much variety to be an ideal multigenerational family destination that, yep: perfect ski town.
Nearby Heber might seem like a newer ski town on the block, but something about the Alpine (as in Alps) landscapes attracted early Swiss settlers who quickly established some serious ski town vibes. It's a heritage that remains strong today in European-inspired architecture, dining and accommodations. A base camp in the Heber Valley means easy access to off-the-mountain winter recreation options including a tremendous amount of snowmobiling. There's just a lot of room out here. One way to take in the room and splendor of the valley is on the historic Heber Valley Railroad, perhaps best known for its family-favorite North Pole Express, which fills up quickly. As you're building your itinerary, also book early for the magical (sorry, there is no other word) Midway Ice Castles near Soldier Hollow Nordic Center and note the easy access to Deer Valley's Jordanelle Express Gondola, a somehow-secret-side of the mountain.
Bonus: Though you may never have skied there, Sundance Mountain Resort almost needs no introduction. Made famous by Robert Redford, the rustic beauty of the 500-acre resort welcomes more than just skiers and riders to the north fork of Provo Canyon: foodies, artists, filmmakers, anglers and other walks of life find plenty to love here. Sundance is equidistant between Heber on the Wasatch Back and Provo (where, make no mistake, there are plenty of things to do) on the Wasatch Front.
"More than just the Best Town in America, Park City is arguably Utah's premier ski town. It is, finely put, where to ski in Utah."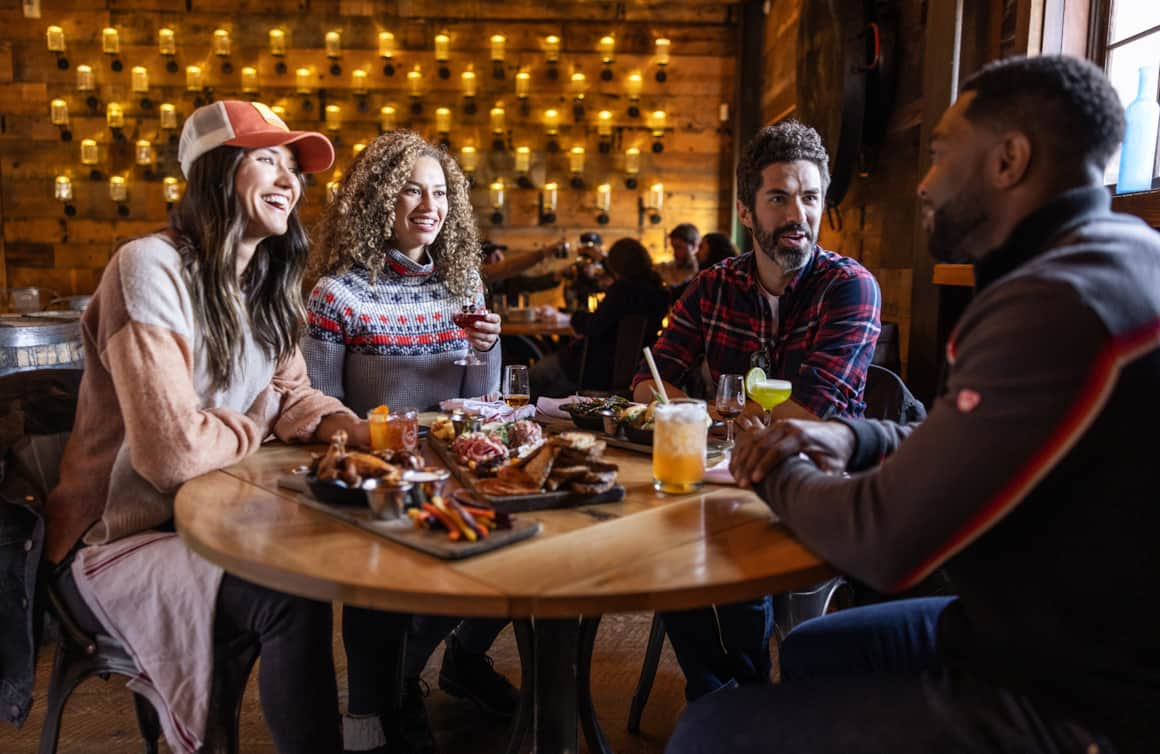 Utah Ski Capital: Salt Lake City
Is Salt Lake Utah's ski capital or just its capital city? Could be both given its four area ski resorts, Olympic legacy credentials and a diverse, welcoming and winter-loving population that makes for the state's largest city but without sacrificing small-town pleasantries or accessibility to the outdoors. Though a lot of locals grew up skiing (Read: A Mom's Take on Sharing Skiing With the Next Generation) or recreating in the snow (such as winter hiking and snowshoeing), it is often 10 to 15 degrees or more warmer in the city than in the canyons. That means skiing is far from the only thing going on here when daylight shortens and the temps cool.
But to give proper definition to Salt Lake as a ski town, we'll start with the downhill. Two canyons climb up from the south end of the valley, just off the Interstate "belt route" 215. From there it's only 15 miles to the top of either Little Cottonwood, home to Snowbird Ski Resort and the ski-only Alta Ski Area, or Big Cottonwood Canyon, home to Brighton Ski Resort and Solitude Mountain Resort. Is it helpful to add up all the mountain stats? Not sure, but it's a fun exercise: a combined 406 runs with 10,147 vertical feet spread across 7,364 acres. So it's more than just a collection of numbers, the blackout-free Salt Lake Ski Super Pass accesses all four resorts with discount lift tickets and rentals and the option to take public transportation for free. Holders of the Ikon Pass can also access all four resorts, with Brighton requiring lift reservations.
While every resort mentioned in this article has some combination of beginning ski runs and lessons for children and adults, it seems many locals learn to ski at Brighton, Utah's oldest resort and one of the oldest in the United States. While Brighton's laid-back environment continues to attract novice skiers and riders, each of the four resorts is unique in terms of lodging, dining and off-slope activities, and beginners are sure to find quality instruction, no matter their choice.
That leaves just a quick word on how the resorts and city work together to create a total winter vacation destination with an abundance of things to do in winter. Whether you're on a budget or splurging (or maybe some combination of the two), the proximity of Salt Lake to its resorts easily inspires a range of downhill + downtown itineraries. You can certainly have both by staying slopeside for part of the week then relocate downtown to catch the opera, symphony or ballet or maybe just grab a cocktail because: après. (Read: Destination Ski City: Culture Élevé)
"Whether you're on a budget or splurging (or maybe some combination of the two), the proximity of Salt Lake to its resorts easily inspires a range of downhill + downtown itineraries."
Additional Ski Destinations
Logan
Destination is the operative word for these resorts. Up near the top step of Utah in the Bear River Mountains sits two cozy resorts. On the northeast face you'll find the longest continuously run family-owned mountain resort in America: Beaver Mountain. It is a true locals' favorite but it's far from quaint: You'll be working with 828 acres and 1,700 vertical feet. On the other side of the range sits the youthful Cherry Peak. Also family run, the 400-acre resort is emerging as a complete winter recreation destination with tubing, night skiing and ice skating. Accordingly, the nearby city of Logan, a college town home to Utah State University, must receive an honorable mention here for most popular ski town in Utah.
Beaver
Heading south from Salt Lake, it's a three-hour drive to the lesser-known Eagle Point Resort near Beaver, whose 650 acres flow across Utah's third-highest mountain range, the Tushars (bonus points if you can name the first two). Also enjoy snowcats, night skiing, a terrain park and high-elevation, resort-based solitude. But note: Eagle Point is open Friday through Monday.
Brian Head
It's another half-hour south to the ski resort that combines Utah's two best-loved experiences — red rock landscapes and powder skiing! (see: Utah's standard issue license plates): Brian Head Resort. With Utah's highest resort base, things are just getting started at 9,600 feet. Explore 650 acres across two mountains and absorb those views into Cedar Breaks National Monument. The town of Brian Head is also three hours from Las Vegas or 90 minutes from St. George, and a mere 40 minutes up the mountain from Cedar City.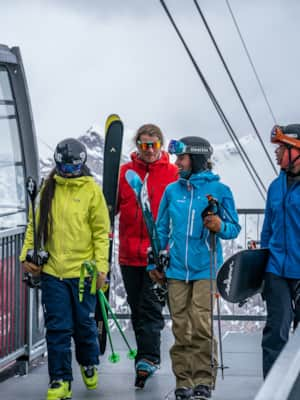 How to Prepare for a Utah Ski Trip
Follow these five simple tips to take full advantage of The Greatest Snow on Earth®.