Pass Go: Making the Most of the Ikon Pass
The Ikon Pass is tailor-made for a ski vacation in Utah. Although you can spend your entire trip at just one stellar ski resort, your Ikon Pass and the accessibility of the Salt Lake City/Park City metro area makes it possible to enjoy them ALL.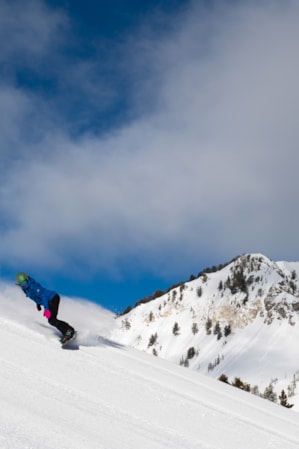 If you haven't visited before, then you'll be shocked at how easy it is to get around. Quick geography lesson: Salt Lake City International Airport (SLC) is only 10 minutes from downtown Salt Lake City, 40 minutes to the Cottonwood Canyon resorts and 45 minutes to Deer Valley. Although the area gets a lot of snow, it has a lot of snowplows to keep the roads as clear as possible. In fact, the airport with its sparkling and spacious new terminal has a top on-time record, and schools rarely close due to weather. That said, if you're a less-confident driver or or new to driving on snow and ice (in winter, Big and Little Cottonwood canyons require snow tires, all-wheel drive or chains), then take advantage of the surfeit of buses, shuttles, and ride shares, including, UberSki to get around the area.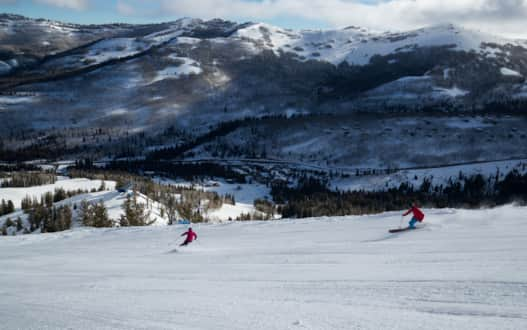 Honestly, the biggest decision an Ikon Pass holder will have is deciding where to ski. There are a lot of choices – Deer Valley Resort, Solitude Mountain Resort, Brighton, Alta Ski Area and Snowbird all accept the Ikon pass (heads up snowboarders — Alta and Deer Valley are ski only). So, the best strategy is to live like a local. Utah locals, even if they have a season pass to a single resort, will chase the powder. If they know a winter storm is coming, they don't go to Costco to stock up on water; they go to replenish their instant hand warmers, because they don't want to catch a chill when they're chin-deep in feather-light snow. Next, they'll check the snow report for ALL the resorts at Ski Utah. Because of geography — mountains, canyons, elevations and, of course, a giant lake — the weather varies among resorts. The explanation is pretty interesting, but you just want to ski. So, check the weather and chase the powder!
If it's pounding in Little Cottonwood Canyon (and it often is), then consider spending the night at Cliff Lodge at Snowbird or the swish Snowpine Lodge at Alta in order to be first on the lifts when they open.
The traffic in LCC has increased over the years. So, plan ahead. If you plan to ski on a powder day, and plan to drive up the canyon to Snowbird or Alta, plan to avoid the 8 a.m.-10 a.m. rush hour and, if at all possible, take the bus or carpool. If the Utah Department of Transportation is doing avalanche work on the road, it will typically only open the canyon to traffic after 8 a.m. Eager powderhounds will line up early, but it takes a while to clear the bottleneck. (Read: "How to Prepare for Your Utah Ski Vacation")

"Solitude is usually the least-crowded of these resorts, but Utahns will tell you that its Honeycomb Canyon is one of the best areas to ski on a powder day."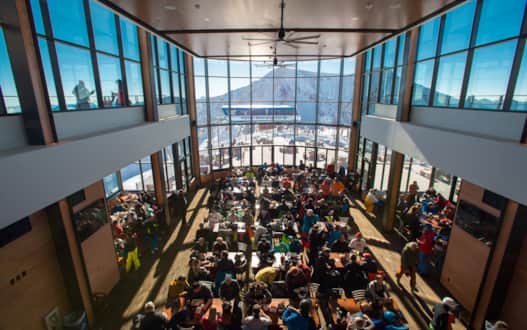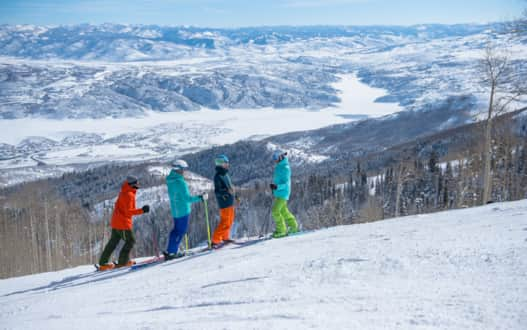 Locals' Tip: On a powder day, leave by 7 a.m., bring coffee, pastries and the Sunday Times at 8 a.m., or wait until 10 a.m. There will still be plenty of snow. If you're there later, be sure to check out the après-ski scene at the lodges or, for $50, grab a day pass to Cliff Spa and enjoy a steam, sauna or dip in the Instagramable rooftop hot tub and pool.
Big Cottonwood Canyon, typically, has a similar weather pattern to LCC, but the topography and vibe among the BCC and LCC resorts are quite different. They all provide world-class skiing though, and your Ikon Pass gets you to all of them. But first, breakfast! Silver Fork Lodge and Restaurant is just before Solitude and provides the hearty fuel beside a warm stone fireplace that you'll need to ski all day.
Locals' Tip: Solitude is usually the least-crowded of these resorts, but Utahns will tell you that its Honeycomb Canyon is one of the best areas to ski on a powder day.
Bonus Tip: When everything else is tracked out, traverse the sides of the canyon to find the freshies.
Next door is Brighton, full of rich tradition and rad terrain parks. If you have a snowboarder, then plan a day — or a night (night skiing available) — at Brighton. This is also the place to bring your sack lunches and drinks, or make friends with a local (not hard in preternaturally-friendly Utah) who has a portable grill for slopeside tailgating. As you're heading down the canyon, reserve dinner at Saola Restaurant, or stop in at Porcupine Pub & Grill for its microbrew and famed creamy chicken noodle soup.
Even if you're skiing and staying in Salt Lake City — which has budget to five-star accommodations that are a fraction of ski-in options — you should take advantage of all that Ikon Pass has to offer, including multiple ski days at upscale Deer Valley in Park City. You hear a lot about the great food and service, but Utah locals head here for the powder, especially in the springtime. The trees, bowls and chutes at Deer Valley are terrific. However, because the resort attracts a clientele that is often more concerned with food and service, the best powder stashes are often still untouched at lunchtime. That said, the turkey chili is pretty amazing, too.
Locals' Tip: Stuff snacks in your jacket and ski until 1:30. You'll avoid the lunch crush, and the runs are empty.
Bonus Tip: If you want to feel like a million bucks off the slopes, then take the free funicular to the Lounge (for families) or Bar (for adults) at the St. Regis next to the Snow Park Lodge and enjoy melted European hot chocolate and other après ski treats with panoramic views. Also, check out the Rossignol High Performance Test Center next to the Empire Canyon Lodge, where you can demo the latest lineup of Rossignol skis free for up to two hours.