COVID-19 Travel
Please adhere to local guidelines for safe and responsible travel, including following the statewide mask mandate.
Read more
Alpine, Après and Arches
Is Utah more famous for its skiing or for its desert red rocks? It's hard to say, and you needn't choose between the two on this trip. Timed perfectly for winter, this journey takes you to some of the finest mountain resorts in the world, then to the most spectacular vistas of the scarlet-hued desert.
There are two sides to Utah — the alpine mountains famous for their skiing, and the brilliant red rock expanses of the southern desert. This unforgettable trip offers a perfectly balanced snapshot of both. You can experience both mountains and desert by setting up a "base camp" for the first few days with ski access in northern Utah, then heading south to Moab to set up shop for the next couple of days and explore the desert.
First, base yourself in or around Salt Lake for a central outpost from which to explore the surrounding resorts — you can get to ten of them within a 60-minute drive or less. After three days of some of the best skiing on the planet, you'll be ready to head south to explore the desert's natural wonders in two of the most popular national parks in the west, during its quiet season when you can enjoy some real breathing room.
While the geography of these two areas could hardly be more strikingly different, there's not a large difference in winter temps between the Salt Lake area and the Moab-Canyonlands area, so many of the same winter layers you pack for skiing will serve in the south. Just pack sturdy hiking boots and plenty of layers (traction cleats may also come in handy depending on conditions). And use a good four-wheel-drive vehicle so the high canyons and mountain passes don't feel stressful; they're often snowy this time of year, but if you're prepared, you can embrace it.
Start: Salt Lake City
Finish: Moab
Hours of drive time: 13-16 depending on ski destinations chosen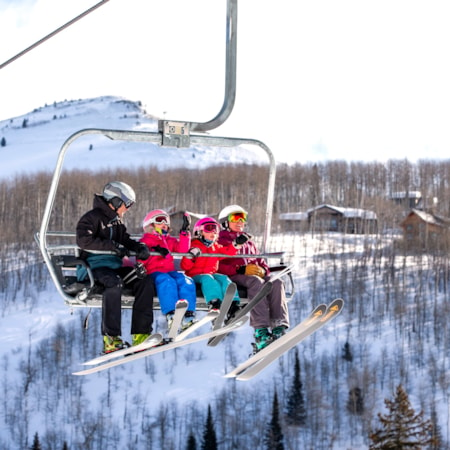 Get a taste of Utah's legendary powder in Salt Lake, Park City, and Ogden
50 Miles
Simply put, there's good reason Salt Lake is known as "Ski City": with five excellent resorts within 30 minutes of town and another five within a 60-minute drive, there's no better base camp for a ski trip. While your ski resort options are many, all are wonderful for different reasons.If you give yourself all three days, this is your big chance to explore the area and try a few resorts that appeal to you. Anything you can't visit on this trip just gives you an excuse to come back again soon to try.
Here, we'll give an incredibly brief rundown about each:
Big Cottonwood and Little Cottonwood resorts: approx 30-40 min from Salt Lake
Brighton is an unfussy, family-friendly mecca with a great ski school, laid-backvibe, and lots of cruiser beginner runs (in addition to some advanced terrain, too).

Solitude has a good balance of easy and advanced terrain and is known for having plenty of breathing room. Come for the skiing, stay for the waffles.

Snowbird offers plenty of steeps, 3,000 feet of vertical from top to bottom, and plenty of amenities like restaurants, lodging, a spa and non-ski activities.

Alta is popular with locals for its excellent variety of terrain, gorgeous scenery, and old-school vibe. The resort is skiers-only, so plan accordingly if you have any snowboarders in your crew.
Park City area resorts: approx. 45 minutes from Salt Lake
Park City with a vast amount of terrain and a little something for everyone, from kids to adults and beginners to experts — plus lots of fun après-ski options in town around Park City.
Deer Valley offers an upscale experience, impeccable groomers, rolling aspen glades, and downright glorious dining, all just five minutes from Main Street Park City.
Woodward is a small, extremely family-friendly park that includes a chairlift, several short runs (great for learners), terrain park features and jumps, plus a tubing hill for the non-skiing crowd.
Ogden area resorts: approx. 1.5-2 hours from Salt Lake
Snowbasin is a stunning mountain with a good variety of terrain choices. It offers glorious on-mountain dining and beautiful facilities built for the 2002 Salt Lake Winter Olympics.

Powder Mountain, or "Pow Mow" as the locals call it, is a powder wonderland far from the city crowds. Amenities are simple and straightforward, with views (and pow for days).

Nordic Valley, where many go to learn to ski is a smaller, boutique resort, but also offers Utah's largest night skiing with 100 percent of the mountain under lights.
Where to Stay
Salt Lake City, or one of the resort areas if you decide to spend your whole time at one.
Tips for Prepared Travel
While you're in Salt Lake, there's an excellent UTA Ski Bus system that spares you the snowy canyon drives to Brighton, Solitude, Snowbird, and Alta. Buses (and TRAX trains to bus stops) leave all day from many convenient points spread around the Salt Lake Valley. Fares are just $4.50 each way. Details here. For your days in the Park City and Deer Valley, the area's free shuttle service can get you there, or plan accordingly as at, Snowbasin and Powder Mountain resorts, where you'll want to have a car rental, preferably four-wheel-drive. (In certain conditions, the Cottonwood Canyons will require chains or certified snow tires.)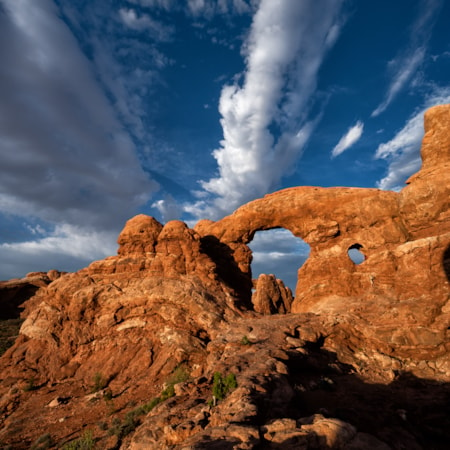 See Arches National Park in its winter finery
291 Miles
If you're starting from the Salt Lake City area initially, drive south to Green River the night before your itinerary begins to shave three hours of drive time off your first day. If you can't, no sweat — just plan an early departure from Salt Lake to make the most of your time in Arches and Moab. Arches National Park is world famous for good reason, which attracts quite the summer crowds. Now, mid-winter, you can truly take its wonders in with plenty of breathing room. Take a few short hikes: Delicate Arch is one of the most classic vistas in the state, so start there. Then add a walk through Devil's Garden if you can.
Wrap the day warming back up in a cozy Moab hotel and fuel up with tasty pub fare and a pint. If you're up for it, inquire at the Arches Visitor Center about ranger-led stargazing for the evening. Arches and Dead Horse Point State Park both have International Dark Sky Designations, which means you can experience unforgettable stargazing there, free of urban light pollution.
Where to Stay
Moab

Tips for Travel
The half-day drive from Salt Lake to Moab is a beautiful one as you journey from the mountain valleys of northern Utah to the high desert of southern Utah. Just keep in mind that portions of the route, such as Highway 6 from Spanish Fork Canyon to Price, can be challenging in snowy conditions. Bring or rent a four-wheel-drive car, and aim to make the drive during daylight hours (and before or after storms) as much as possible.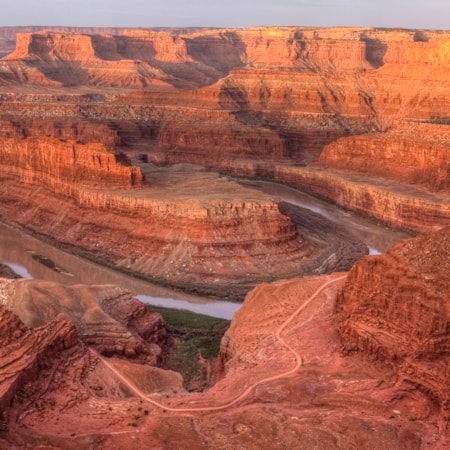 Shoot for the Island in the Sky
86 Miles
Start your Moab day with a proper fuel-up at Red Rock Bakery & Cafe or at Love Muffin Cafe, both a worthy stop for a good brew and tasty breakfast sandwich. Then, head up to Dead Horse Point State Park for sweeping views of the entire area, with a breathtaking look at the winding Colorado River below. Here, hike the Dead Horse Rim Loop Trail for a good taste of the park trails — or if the trails are dry and you're feeling up to it, pick up a rental bike in town and mountain bike the beginner-friendly Intrepid, Big Chief or Crossroads trails.

Next, head into Canyonlands National Park's Island in the Sky district. Their visitor center is highly informative and open just five days a week in the winter, so call ahead to sync up your visit if possible. This part of the park may be the easiest to access from Moab, but that doesn't make it any less spectacular. For a taste of the terrain, hike the White Rim Overlook, Grand View Point, or Upheaval Dome. Each of these hikes is short … and sweet.

Top off your day with a drive along the Colorado River west of town to visit Moonflower Canyon, where ancient petroglyphs sit right at the trailhead. Check them out, and walk the half-mile path along the creek bed to a little pool. (This should go without saying, but don't touch or scratch the rock art area; not only is it wrong to disturb an historic site, but it's also illegal.)
Where to Stay
Moab

Tips for Travel
As a desert, Moab is typically warmer than Salt Lake by a few degrees, but it's not exactly warm in the middle of winter. You'll want lots of warm layers for hiking and sight-seeing, plus some good sturdy walking shoes or hiking boots.