Alpine, Après and Arches
Is Utah more famous for its skiing or for its desert red rocks? It's hard to say, and you needn't choose between the two on this trip. Timed perfectly for winter, this journey takes you to some of the finest mountain resorts in the world, then to the most spectacular vistas of the scarlet-hued desert.
There are two sides to Utah — the alpine mountains famous for their skiing, and the brilliant red rock expanses of the southern desert. This unforgettable trip offers a perfectly balanced snapshot of both. You can experience both mountains and desert by setting up a "base camp" for the first few days with ski access in Northern Utah, then heading south to Moab for the next couple of days to explore the desert.
First, base yourself in or around Salt Lake City for an accessible hub from which to explore the surrounding ski resorts — there's 11 of them along the Wasatch Mountain Range. After three days of enjoying The Greatest Snow on EarthⓇ, you'll be ready to head south to explore the desert's natural wonders in two of the most popular national parks in the West — Arches and Canyonlands — during the quiet season when you can enjoy some real breathing room. (Read: "How To Visit Southern Utah in Winter")

While the geography of these two areas is strikingly different, winter temps in Salt Lake City and the Moab are often similar, so packing layers will prepare you for both areas (Read: "How to Pack for a Winter Trip"). To keep your feet warm and your footing sure, include insulated hiking boots and wool socks (traction cleats or crampons may also come in handy depending on conditions). Rent a four-wheel or all-wheel drive vehicle to navigate winter weather in Utah's canyons and summits (some roads require them). They are often snow-covered this time of year. So, know before you go, check weather and conditions and be prepared. (Read: "How to Prepare for Your Utah Ski Vacation")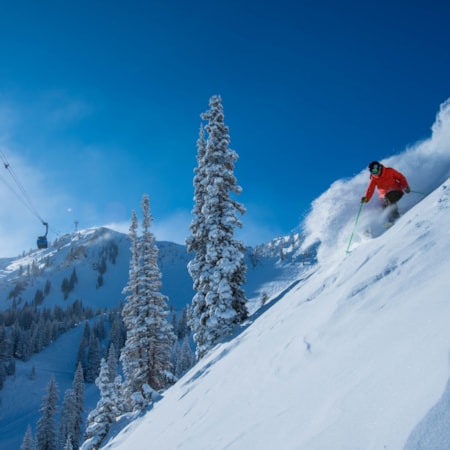 Get a taste of Utah's legendary powder near Salt Lake
50 Miles
Simply put, there's good reason Salt Lake City is known as "Ski City": with 11 resorts along the Wasatch Mountain Range there's no better base camp in terms of accessibility, affordability and abundance for a ski trip. While your ski resort options are many, each resort is unique in its features and vibes. If you give yourself three days, you can sample a few (or all; it's been done) and, when you discover how easy Utah travel is, you'll have already laid the groundwork for your next trip.
Here, we'll give an incredibly brief rundown about each:
Big Cottonwood Canyon (BCC) resorts: approx 30-45 min from Salt Lake City
Brighton is an unfussy, family-friendly mecca with a great ski school, laid-back vibe and lots of cruiser beginner runs (in addition to some advanced terrain, too).
Solitude has a good balance of easy and advanced terrain and is known for having plenty of breathing room. Come for the skiing, stay for the waffles.
Little Cottonwood Canyon (LCC) resorts: approx 30-45 min from Salt Lake City
Alta is popular with locals for its excellent variety of terrain, gorgeous scenery and old-school vibe. The resort is skiers-only, so plan accordingly if you have any snowboarders in your crew.
Snowbird offers plenty of steeps, 3,000 feet of vertical from top to bottom, and plenty of amenities like restaurants, lodging, a spa and non-ski activities.
Park City area resorts: approx. 45 minutes from Salt Lake City
Deer Valley offers an upscale experience, impeccable groomers, rolling aspen glades and downright glorious dining, all just five minutes from Main Street Park City.
Park City Mountain with a vast amount of terrain and a little something for everyone, from kids to adults and beginners to experts — plus lots of fun après-ski options in town around Park City.
Woodward Park City, visible from I-80, is actually the closest resort to Salt Lake City (25 minutes). It is an action sports park that includes lift-served skiing and snowboarding on several shorter runs (great for learners), terrain park features and jumps, tubing and an indoor adventure hub for the non-skiing crowd.
Provo resort: approx. one hour from Salt Lake City
Sundance Mountain Resort has a cozy, nestled quality, yet there's plenty of room. Its got 45 runs across more than 450 acres, and packs in 2,150 vertical feet.
Ogden area resorts: approx. 45 minutes to 1.5 hours from Salt Lake City
Powder Mountain, or "Pow Mow" as the locals call it, is a powder wonderland far from the city crowds. Amenities are simple and straightforward, with views (and pow for days).
Nordic Valley is a smaller, boutique resort, offering night skiing with 80 percent of the mountain under lights.
Snowbasin is a stunning mountain with a good variety of terrain choices. It offers superb on-mountain dining and beautiful lodge-style facilities built for the 2002 Winter Olympics.
Where to Stay: Salt Lake City — either downtown, in the suburbs at the base of BCC, LCC or Parley's Canyon (a more affordable alternative to staying in Park City) — or, if you must have ski-in/ski-out accommodations, at a resort.
Tips for Prepared Travel: While you're in Salt Lake City, UTA and its Ski Bus spares you the snowy canyon drives to Brighton, Solitude, Snowbird and Alta and helps keep our traffic and air clear. Connections are easy with its online trip planner, and fares are less than a tall latte. Buses (and light rail TRAX trains to bus stops) travel throughout the day from many convenient points around Salt Lake Valley, including the airport, details here. UTA also provides daily Ski Bus service from Ogden and Ogden Valley to Snowbasin and Powder Mountain.
For your days in the Park City and Deer Valley, the area's free all-electric bus service can get you from your condo to the base and just about anywhere else in Park City.
If you choose to rent a car, consider an all-wheel or four-wheel drive vehicle with snow-worthy tires or chains, which are required by law in winter on many Utah roads and passes, including the Cottonwood Canyons.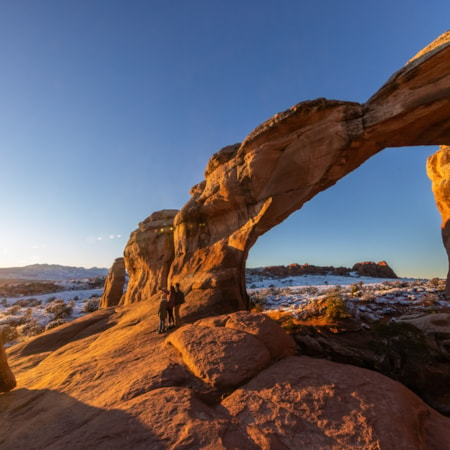 See Arches National Park in its winter finery
291 Miles
If you're starting from Salt Lake City, drive southeast to Green River via Price Canyon (a three-hour journey) the afternoon before your itinerary begins to rest and get ready for your first day. If you can't, no sweat — just plan an early departure from Salt Lake to make the most of your time in Arches National Park and Moab.
Arches is world famous and attracts visitors throughout the year, but midwinter offers a brief respite from summer's hordes when you can appreciate its wonders in relative calm (Read: "How to Visit Arches"). Take a few short hikes: Delicate Arch, a moderate 3-mile round-trip hike on sandstone with a climb of 480', features the most classic vista in the state, so start there. Then add a walk through Devil's Garden to Landscape Arch and Double O Arch as time and stamina permit..
Before you leave the park, inquire at the Arches Visitor Center about ranger-led stargazing for the evening. Arches and Dead Horse Point State Park both have International Dark Sky Designations, which means you can experience unforgettable stargazing there, free of urban light pollution. Wrap the day warming up in a cozy Moab hotel, and fuel up with tasty pub fare and a pint at one of the many restaurants along Main Street.
Where to Stay: Moab
Tips for Travel: The half-day drive from Salt Lake to Moab is a beautiful one as you journey from the mountain valleys of Northern Utah to the high desert of Southern Utah. Just keep in mind that portions of the route, such as Highway 6 from Spanish Fork Canyon to Price, can be challenging in snowy conditions. Bring or rent a four-wheel drive or all-wheel drive car with snow-rated tires or chains, and aim to make the drive during daylight hours (and before or after storms) as much as possible. Always check the weather where you are and where you plan to go.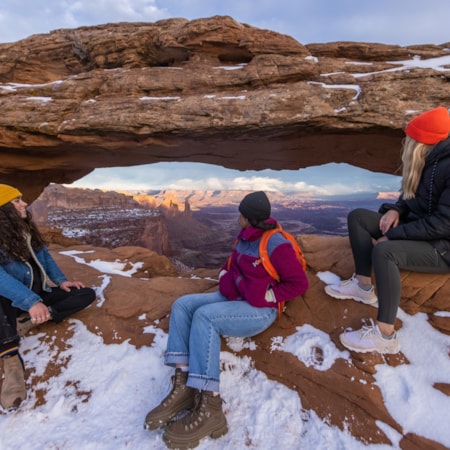 Shoot for the Island in the Sky
86 Miles
Start your Moab day with a proper fuel-up at Red Rock Bakery & Cafe or at Love Muffin Cafe, both a worthy stop for a good brew and tasty breakfast sandwich. Then, head up to Dead Horse Point State Park for sweeping views of the entire area, with a breathtaking viewpoint at the end of the road overlooking the horseshoe bend in the Colorado River below. If it seems familiar, it's where Thelma and Louise launched into cinematic history in the eponymous movie. Afterward, head back to the Visitor Center to hike the Dead Horse Rim Loop Trail for more vistas and interpretive placards on well-marked trails. If it's dry and you're feeling up to it, rent a mountain bike in town before heading out the to park and ride some of Moab's famed beginner-friendly trails: Intrepid, Big Chief or Crossroads. (Read: "Winter Mountain Biking in Southern Utah")
On the way back toward town, turn into Canyonlands National Park's Island in the Sky district. Their visitor center is highly informative but open just five days a week in the winter. This part of the park is the nearest to Moab (the Needles entrance is 75 miles south of town), and offers some of its most popular trails and viewpoints, including: White Rim Overlook, Grand View Point and Upheaval Dome. Each of these hikes is short and very sweet.
Top off your day with a drive west on Highway 279 along the Colorado River to visit Moonflower Canyon, where ancient petroglyphs are visible near the trailhead. Check them out, and walk the half-mile path along the creek bed to a little pool.
Pro Tip: Take photographs but nothing else (Read: "A Photographer's Guide to Mindful Travel"). It's illegal to touch or scratch the rock art and violates Moab's "protect and preserve" culture to disturb or destroy any natural element or artifact, including the area's microbiotic soil. Don't bust the crust.
Where to Stay: Moab
Tips for Travel: As a desert, Moab is typically warmer than Salt Lake by a few degrees, but it's not exactly warm in the middle of winter. Dress in layers for hiking and sight-seeing, and wear sturdy walking shoes or hiking boots.