Flood Safety
Due to record snowpack and high amounts of spring runoff, please be advised of potential flooding that could impact travel plans.
Learn more
11 More Utah Winter Experiences Outside the Ski Resorts
No matter your level of adventure, you will find good reason to save some time for a day away from the resort.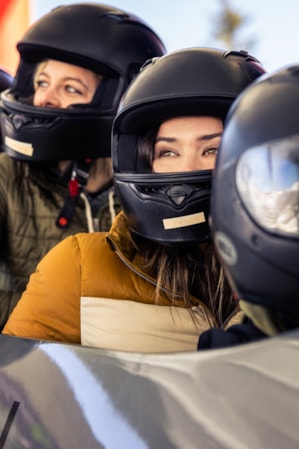 Utah may be home to 15 ski resorts — but you can still find time for other winter activities. That's the beauty of the Beehive State, its easy access means more time to do it all.
The very same access that makes skiing in Utah so extraordinary also applies to the array of off-the-slopes activities that round out Utah's complete outdoor winter adventure package.
What do we mean by access? It means not having to pack up the whole family and all your gear and drive for two or three hours just to reach the mountains. Beyond backyard skiing, Utah's Wasatch Mountain Range offers near-instant gratification for ice climbers, snowshoers and cross-country skiers, snowmobilers and Olympic athletes and enthusiasts. In other words, no matter your level of adventure, you will find good reason to save some time for a day away from the resort.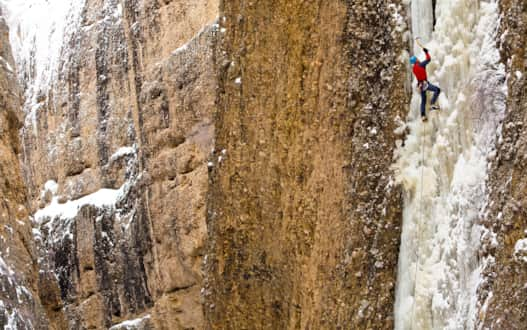 1. Scale a frozen waterfall.
It shouldn't surprise anybody that the state with The Greatest Snow on Earth® also has some of the best ice around. Ice climbing season in Utah generally runs from December to February and has become so popular that there are several tour guides and clinics operating throughout the season for beginners, which is a lot better than the simple YouTube lessons most aspiring climbers are left with in less icy states.
Provo Canyon, south of Salt Lake City, is covered in ice on both sides. Thanks to its easy proximity to a variety of different routes, including many easier approaches for newbie climbers, it's one of the most popular climbing destinations in Utah. Stairway to Heaven, the tallest climb in the area, is a multi-pitch behemoth that can reach heights of 800 feet — more approachable climbs include Miller's Thriller, Picture Window and Bridal Veil Falls.
Utah Mountain Adventures can help you with the scariest part of your climb — the cost of all the equipment. They've put together a short list of rental shops in the area, which includes notes on what you want to make sure you have with you.
Bonus points if you make the journey to Maple Canyon in Sanpete County, one of the state's best ice climbing areas. Just a heads up, the canyon road closes in winter so climbers should be prepared to hike in.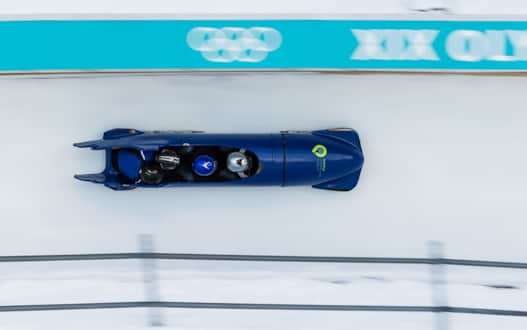 2. Channel your inner athlete at the Olympic Park.
The bobsledding kind, I mean. At Utah's Olympic Park, near Park City, visitors can hop in a bobsled while a pro pilot takes them down the entire length of the actual 2002 Olympic track. That's 15 full-throttle turns, notable g-forces, and speeds of about 60 m.p.h. But it's more than just fun and games. This isn't some rejuvenating, casual-afternoon break from skiing or snowboarding — careening down the track in a tin can is, unsurprisingly, hard work, even when your primary duty is just to sit up and hold on for dear life.
The Olympic Park also has a shorter, slower skeleton sled option (just a harmless 50 m.p.h., head-first), ziplines that shoot you over the edge of the K120 nordic ski jump, plus the ever-popular sit-and-watch-the-actual-Olympians-train attraction (that one's free). (Read: "The Fly Girls of Park City")
"At Utah's Olympic Park, near Park City, visitors can hop in a bobsled while a pro pilot takes them down the entire length of the actual 2002 Olympic track. That's 15 full-throttle turns, notable g-forces and speeds of about 60 m.p.h."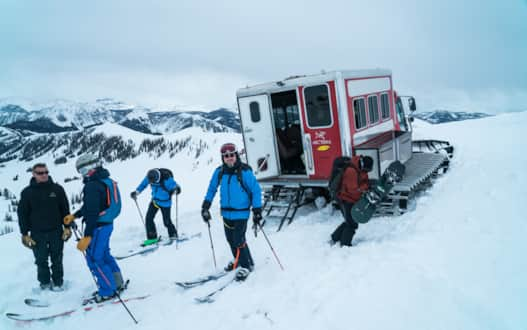 3. Get airlifted to the slopes.
Want a real thrill? Wasatch Powderbird Guides runs heli-ski (or snowboard) tours directly from Snowbird or Park City resorts, which means you can hop in a helicopter as soon as the resorts get tracked out to be shuttled to another few thousand square miles of never-been-touched dry Utah pow. WPG tours average about 30,000 vertical feet per day, rarely repeating a line for seven hours straight, and has permits to air-drop you at the best spots (they choose terrain based on your personal ability levels and whims) in the Wasatch and Uintas.
For the non-ballers out there, cat-skiing is usually less than half the price, but is just as convenient, feels almost as fancy, and still gives you all kinds of bragging rights to your friends back home. Park City Powder Cats operates out of Thousand Peaks Ranch, where they've cordoned off their own "private ski resort" that's bigger than Whistler, Vail, Mammoth and Snowbird combined. They cover their 43,000 acres of terrain in fancy, heated, 10-seat snowcats, where you can thaw out and grab some snacks between runs. In 2016, this powder paradise expanded thanks to new roads leading to new 2,000 vertical runs. A snack-wagon to powder-filled bowls, epic tree runs through the aspens and steep lines of unbroken powder? Absolutely worth doing at least once in your life.
4. Experience yurt life in the Uinta Mountains.
This fun adventure begins at the trailhead, 10.5 miles up the Mirror Lake Highway from Kamas — which is about 20 minutes east of Park City (Read: "Fresh Tracks in Kamas – Utah's Snowcountry"). The TUNA yurt is just about three trail miles away in Norway Flats, making it amenable to novice yurt-ists and overpackers. While The Utah Nordic Alliance (TUNA) keeps the yurt stocked with firewood and some cooking supplies, you're still going to have to pack-in/pack-out all your food, gear and supplies, making accessibility a bonus. Dragging your load behind you on a sled or hauling it on your back might be hard work, but once you're out in the isolated wilderness under the aspens and pines, you'll be reminded why you bothered to come out to this point in the first place.
The yurt is surrounded by powder stashes in every direction for ski touring, snowshoeing and glade skiing, but there's no shame in just sitting outside with a couple brews or a hot cup of tea in front of the 8,600 feet view for hours at a time. An extended stay in a wilderness yurt is an exercise in single-tasking, and it's easy to fall into a comfortable routine completely isolated from your non-yurt life. Wake with the sun, go outside and explore, eat, drink, dry the wet stuff by the stove, repeat.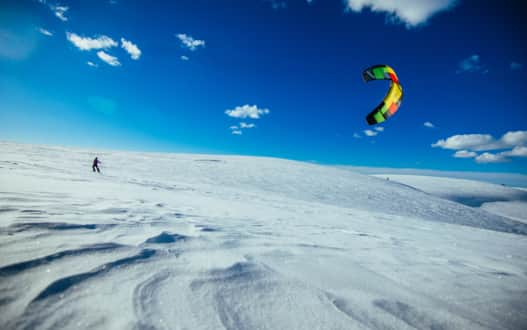 5. Ski or snowboard uphill while attached to a kite.
Who needs lift tickets (or even a downhill slope) when you can propel yourself through waist-deep powder, powered by Mother Nature herself?
At 10,000′ elevation, Skyline Drive in Sanpete County is hands-down the most popular place for kite skiing in the state. "Popular," in this case, means that you might see the same 15-or-so hardcore devotees' colorful kites somewhere out there on the massive horizon. The terrain off Skyline Drive includes miles and miles of ridgelines, cornices, wind lips and even a few manmade terrain park features, mixed in with vast expanses of flat, gently sloped terrain. The high elevation, abundant snowfall and windy weather combine to make this region the only spot around where the ambitious can cover 100 miles on skis or a snowboard in a single day without a chairlift interrupting the ride or having to burn up a tank of gas to do it.
Take I-15 south out of Salt Lake City to Highway 89 and continue south to Fairview (mandatory stop at Home Plate Cafe to fuel up on biscuits and gravy), then jump on 31 going east to mile marker 14, where you'll see a plowed out parking lot and launch area. Hook up there with Utah Snowkite Center for lesson packages that allow you to hone your skills and get an intro to the equipment. You laugh now (who needs kite-flying lessons?), but when you get lifted 10 feet off the ground, you'll see just how powerful even these little training kites can be. There's certainly an art to effortlessly gliding on (and above) the Greatest Snow on Earth.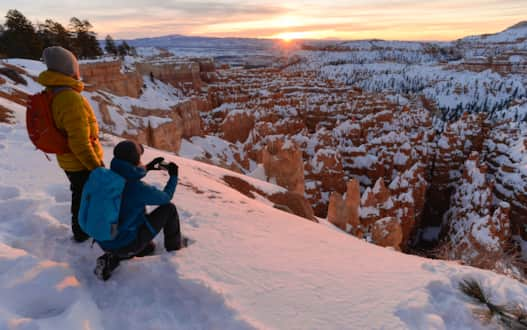 6. Snowshoe in a national park.
I didn't always understand the appeal of snowshoeing. But one day trip out on those giant, unwieldy contraptions and I'm a convert. Once you get snowshoes on your feet, you're adventure-ready and able to access terrain, peaks, and views you could never otherwise reach without sinking up to your bellybutton in snow.
Combine that with Bryce Canyon National Park during a full moon for a lift-ticket-free adventure that can't be recreated anywhere in the world. Guides take you down into the snowy canyon (no flashlights allowed), where you can wander around in the shadows of the hoodoos and other iconic Utah rock formations. The guided 1-2 mile hikes are completely free (even the snowshoes and poles are included) and begin just before dusk, so you can watch all the colors change in the canyon, and get all teary-eyed about the majestic-ness of it all.
"Guides take you down into the snowy canyon (no flashlights allowed), where you can wander around in the shadows of the hoodoos and other iconic Utah rock formations."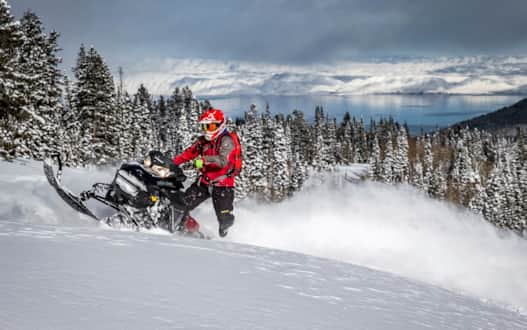 7. Snowmobile at Scofield/Skyline Drive
Admit it — when you see a glittery patch of untouched snow, you just want to get in there and mess it all up. The Scofield/Skyline Drive Snowmobile Complex in the Manti-La Sal Mountains of central Utah has over 120 miles of groomed trails for cruising, and access to plenty of snowdrifts and open meadows for thrashing.
Sledding through the backcountry gets you a lot closer to nature than riding a chairlift. Even while clinging to the handlebars of a gas-powered machine, there's a big-hearted appreciation for your physical surroundings that's contagious the second you hit the throttle, whether it's to cruise down a groomed track between the trees or to tear through some fresh Utah powder in a wide-open bowl with your mouth smiling so wide the fronts of your teeth get cold. Just remember — anytime you enter Utah's snowy backcountry, be sure to check with the Utah Avalanche Center for current risks and conditions.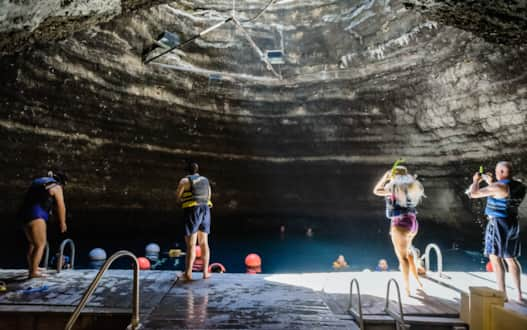 8. Soak in a geothermal cave.
It's up for debate whether or not the minerals in geothermal waters have health benefits or if they're just fancy dirt, but the environment at Homestead Crater in Midway sounds just mystical enough to suspend disbelief for the day. When you walk into the cavern and start heading deeper toward the crater, it feels and looks a lot like you're tunneling into the center of the Earth.
The geothermal pool is deep in a 55 foot-tall beehive-ish rock with a little hole at the top that lets sunshine in and hot breath out. The 90-96 degree mineral water inside is crystal clear and super deep, making it one of the coolest places (actually, it's the only warm water scuba spot in the continental United States) for year-round scuba diving in the U.S. If you're not into diving down into the depths of the Earth, you can stay near the surface with a snorkel, where the sun that pours in from the opening at the top of the rock hits the mineral water and creates a sapphire blue effect. They also have a sectioned-off soaking area and occasionally host stand-up paddle board yoga sessions. Though the warm waters feel perfect during the winter, these geothermal pools have no seasonal limits.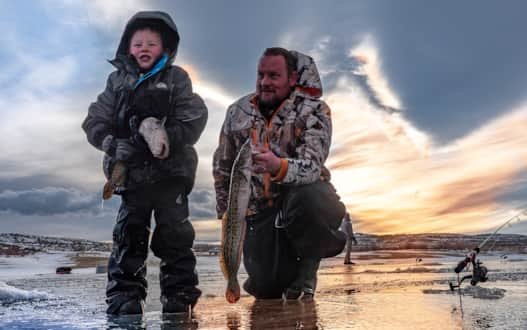 9. Sit atop a frozen lake.
Ice fishing is one of the quietest and least cell-service-friendly adventures you can find during a Utah winter that you can still rationalize as being "productive." Utah's frozen waters yield a fish-market-like variety of quality (read: delicious) fish and often (if you drill wisely) at a rapid-fire pace that's a lot more exciting than lazy summer days by the lake. So while everyone else is raiding their meat freezers or hunkering down in front of some sad winter veggies, you get to ski home with the freshest fish in town.
In the Uintas, you can pick from a number of different lakes to snowmobile, XC-ski, or snowshoe to, most of which will be all yours once you've settled in. Fishing up near the Wyoming/Utah border is a whole different story, with monster-sized fish like burbot, kokanee salmon and some big ol' lake trout lurking under the ice. Flaming Gorge holds a Burbot Bash every winter, where you can win prizes for helping to control the non-native species before they eat everything in the reservoir.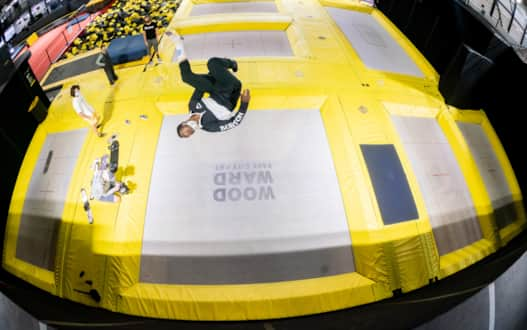 10. Practice tricks without rupturing your spleen.
It might feel weird to drive to Park City and not be on your way to a ski resort, but when you walk in the doors at Woodward, a world class, year-round action sports destination with state of the art equipment, you'll be stoked to save your lift ticket cash for when you're actually ready to land one of the tricks you're about to learn.
Woodward has seven trampolines that'll fling you high enough into the air for you to safely practice crazy moves like double corks and get you feeling more comfortable upside-down in the air. There are also a couple of foam pits, a concrete park, an acro zone, mini ramps, a pump track and a parkour zone. During the winter, you can enjoy snow tubing and practice skiing on various levels of terrain and tools.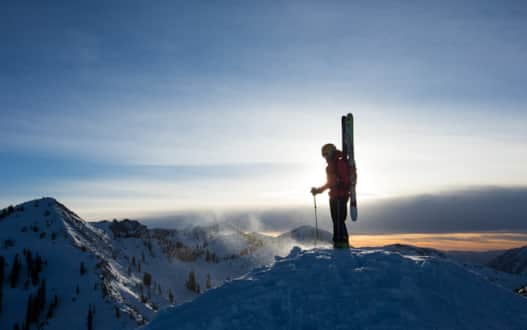 11. Hit the backcountry.
There's no need for a lift ticket if you're willing to earn your turns and have the know-how. The mountains in Utah don't end at resort boundaries. (Read: "Why You Should Hire a Backcountry Skiing Guide")
Little Cottonwood Canyon, home of Snowbird and Alta, has insanely easy access to some of the best backcountry in the state. There are several trailheads to choose from, but the easiest to find is White Pine, just down the road from the resorts on Highway 210. Once you start skinning or hiking up the old 4-wheel-drive road, White Pine Gulch branches off to several other routes — all of which are rewarded with satisfying, well-earned pow.
There's a parking lot at the White Pine trailhead where you can plan your route, double check your equipment and do some stretches as you muster the courage for the ascent. Head up White Pine Gulch until you hit the fork in the trail. Turn right for Red Pine (the Pink Pine Ridge is epic for trees), or stay on the main trail to the left toward White Baldy.
Warning: This isn't just a way to cheap out on the cost of a lift ticket. Utah's backcountry will destroy you if you don't know what you're doing. Take an avalanche safety course and make sure you have all the right equipment, which at the very least means a (working) beacon, shovel, probe and a friend who likes you enough to try to save your life in an emergency situation. And you'd better be willing and prepared to do the same in return. In short, Know Before You Go.
---
This story originally appeared on Matador Network.