Two for the Price of One: Exploring the Snowmobile Trails of Northern Utah
Snowmobiling is one of the most popular winter sports in Northern Utah, thanks to an abundance of snow, trails, and easy access. Here are the details on local pros who can help get you the gear or guide your adventure.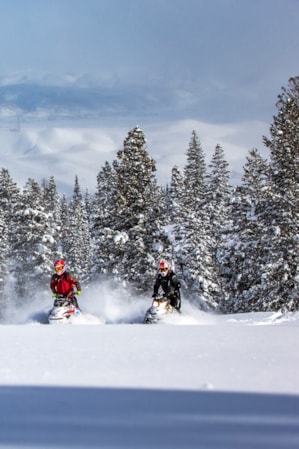 Venture off the path and into the epic landscapes of Northern Utah, exploring backcountry snowmobile terrain that climbs to 9,000 feet above sea level, winds through forested canyons and opens up into powder-filled meadows that snowmobilers dream about. As you rev your engine and switchback up to epic overlooks of Cache Valley and neighboring mountains, you'll almost forget that these remote landscapes are just 10 minutes to an hour from bustling Logan, Utah.
Experiences like this are surprisingly easy to find in Northern Utah, where snowmobiling reigns supreme in the winter sports world thanks to ample snowfall, abundant trails and easy access. When venturing into the Beehive State's northern wilds for your own winter adventure, look no further than the following three trail networks for an epic snowmobiling day. Need a sled, gear or a guide? We've got you covered with details on local pros who can help.
The Trails
Hardware Ranch Snowmobile Complex
See wintering elk herds (at a safe distance) while snowmobiling at this winter wonderland near Logan. At Hardware Ranch Wildlife Management Area you'll ride groomed trails through the Wasatch-Cache National Forest like the beginner-friendly Amazon Trail or the tough, twisty-turning Garden City Trail. Take a warm-up break at the visitor center to learn about the elk and use heated restrooms.
Going north from the Hardware Ranch, find one of the complex's best uncrowded rides on the Peter Sinks Trail. It's a local favorite and features playful riding with wide-open fields, rolling hills and plenty of climbing through the forest. However, some of the coldest temperatures in the nation have been recorded in the sinkholes in the area — so dress appropriately. Thankfully, a warming hut is available at the Elk Valley Guard Station. (Read: Beyond the Lake to follow a rider to Peter Sinks.)
Logan Canyon Snowmobile Complex
Find 180 miles of well-groomed snowmobile trails in this top-rated riding area in the Wasatch-Cache National Forest. Climb up a winding canyon to an alpine lake on the Tony Grove Trail, or venture up the Beaver Creek Trail for instant access to dozens of trails. If you rent snowmobiles at Beaver Creek Lodge you can walk out the door of your room and jump on your sled without hauling anything anywhere. They also have total outdoor winter gear for rent so you won't freeze if you come from warmer temps. The Temple Canyon Trail is a moderately difficult trail that is groomed weekly, but doesn't see much traffic. Expect deep powder pockets plus wildlife viewing opportunities.
Follow the 63-mile Curtis Creek/Ant Flat Trail loop of flat, groomed riding with spectacular valley views. Find open meadows to explore and enough trees to keep it interesting — with just a few switchbacks along the way.
"In Northern Utah, snowmobiling reigns supreme in the winter sports world thanks to ample snowfall, abundant trails and easy access."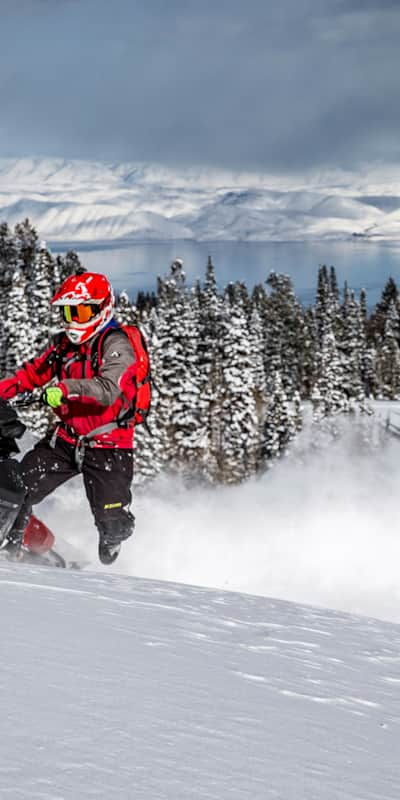 How to Register Your Ride
That's right, your snowmobile must be registered in Utah — even if you're visiting from out of state. For a non-resident permit, you'll need your out-of-state driver's license and snowmobile title or bill of sale. Registration costs $22 for Utahns or $30 for non-residents. Permits must be purchased online through the Utah Division of Outdoor Recreation.
Where to Rent
Snowmobile rental options are widely available in Northern Utah, so no worries if you don't own a machine or aren't bringing yours along. Visit these reliable retailers for everything from machine rentals to guided tours on local trails.
Beaver Creek Lodge
When venturing up Logan Canyon, rent your ride at Beaver Creek Lodge, a snowmobiling resort with hundreds of miles of trails to explore. Offering everything from guided beginner terrain trails to open advanced exploration, this basecamp is an excellent place for on-snow exploration.
Club Rec
Club Rec offers onsite snowmobile rental at the Monte Cristo Snowmobile Complex — just 17 miles east of Huntsville. Whether you just need a machine or want a full guided tour, Club Rec delivers. Find the latest in snowmobile technology and gear at this convenient location. Make a reservation so you're ready to ride when you arrive.
Recreate Responsibly
An inherent risk accompanies backcountry use, so it's crucial that you are prepared with the right gear and knowledge for the trip. Learn more about winter backcountry recreation and become an advocate for keeping Utah's backcountry Forever Mighty.