Why Backcountry Snowmobiling Is an Unforgettable Way to Experience the Uinta Mountains
Launch from Heber and Kamas in the west and Vernal in the east.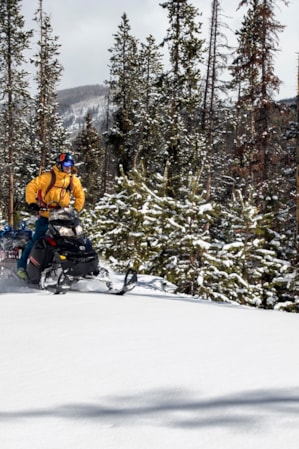 It's impossible to overstate the beauty of northeastern Utah. It's gorgeous enough year round, but there's something especially breathtaking about the Uinta Mountains, the highest range in Utah, when they're blanketed in snow. There are all kinds of recreational opportunities in the Uintas (Read: "Fresh Tracks in Kamas – Utah's Snowcountry"), but one of the local favorites is snowmobiling, and it's not hard to see why.
The Uinta Mountains are about 100 miles east of Salt Lake City and just a few minutes from Vernal in the eastern part of the state, and there are advantages to choosing either as your launch point. The range reaches elevations of more than 13,000 feet, including Kings Peak, the tallest point in the state. You'll also find a number of peaks in the 11,000-foot range, which means there's tons of rugged riding to be had. But that shouldn't deter newcomers, as there's also mellower riding for those who aren't quite ready to take on all the challenges the range has to offer.
Riding in the Uintas
With so much snow in the Uintas, it's hard to know where to begin. It also doesn't hurt that the riding season generally stretches from November through May. If a guided tour sounds like the right way to get your bearings and learn more about all the range has to offer, you're in luck; several outfitters offer rentals and tours of the area. Depending on where you're coming from, check out Uinta Recreation Snowmobiling or Daniels Summit Lodge in Heber City or Park City Peaks in Park City, all of which provide a range of tours and amenities.
On the other hand, if you're feeling adventurous and want to strike out on your own, the U.S. Forest Service is a good starting point. Six ranger districts in the Uinta-Wasatch-Cache National Forest have designated snowmobiling areas, which makes for a dizzying number of trail miles and possibilities — some of the best fall in the Heber-Kamas district of Utah's Uintas mountains. For the most remote experience in pursuit of the greatest solitude, consider a base camp in Vernal, eastern Utah's adventure outpost in the heart of Dinosaurland — with great access to the two ranger districts of the Ashley National Forest and the eastern Uintas. While the city is 3.5 hours east of Salt Lake, once you're there, it's only minutes to the trails. Many of those trails lead into backcountry areas where there's no cell service, so you should have a handle on fixing your machine if something goes wrong and there's no way to signal for help.
Where to Ride
The Uinta Basin Snowmobile Complex is one of the best ways to get high into the Uintas. With more than 75 miles of groomed trail, the backcountry access is quick and easy from a base camp in Vernal, and this also means there's plenty of terrain for beginners to get a lay of the land before heading into more challenging territory. The complex is also just a stone's throw away from Flaming Gorge National Recreation Area, which boasts incredible views in the winter and hosts one of the west's most unusual ice fishing tournaments.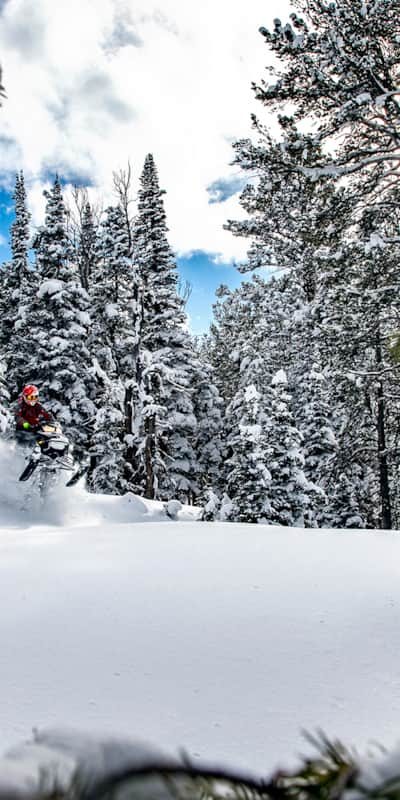 "With so much snow in the Uintas, it's hard to know where to begin. It also doesn't hurt that the riding season generally stretches from November through May."
The complex is home to the Don Hatch Trail, which spans 22 miles and offers access to a ton of off-trail play areas, and the Red Cloud Loop, whose views earn it a designation as a scenic backway. Bassett Springs provides access to the play areas on the northern end of the complex, while Taylor Mountain, though snow-free in dry years, is a great way to get at the higher-elevation stomping grounds. You can check on the status of the snow and the grooming via the Utah Snowmobile Association website.
Another option is the Mirror Lake Complex, which traverses the Uinta Range. The area, along with the Mill Hollow and Strawberry complexes, offers more than 250 miles of trail that's reachable from eight trailheads scattered around the range. Mirror Lake on its own encompasses 150 of those miles, including the 35-mile Mirror Lake Highway. This trail takes riders to the Bald Mountain Overlook at 10,600 feet, as well as advanced terrain off-trail — much of which is on frozen lakes. Hill climbers should head to Wolf Creek, a little more than 10 miles of which are groomed and which accesses a high-quality area for climbing at its namesake pass.
Avalanche Awareness
If you're headed into areas where there's avalanche danger — and if you plan to ride off groomed trails or anywhere you'll be climbing hills, you likely are — you should always add checking the avalanche forecast to your to-do list before hitting the trail. (Read: 4 Tips to Prepare for Utah's Winter Backcountry)
The Utah Avalanche Center posts regular advisories throughout the season for the Uintas, and riders should always avoid avalanche terrain on days with high danger. It's also crucial to carry proper rescue equipment (including beacon, probe and shovel for every member of your party), and everyone should know how to use it. You should also know the information for search and rescue, and bring a spot device. Learn more about how you can support Utah's local search and rescue teams with a Utah Search and Rescue Assistance card.
Regulations
One of the best parts about riding in a national forest is that there are fewer restrictions on motorized travel than in many other land-management areas. But this also comes with a set of responsibilities in order to keep access open for other riders for years to come. The U.S. Forest Service has a set of winter etiquette rules that sledders should use to dictate their behavior while riding in the Uintas. For the most part, if you stick to areas where snowmobiling is explicitly allowed and wait until there's enough coverage on the ground before revving your engine, you're good to go.