U.S. Federal Shutdown Information
All of Utah's Mighty 5 national parks will remain open.
Learn more.
Dinosaurland Top 5
Vernal, Utah, is an adventure base camp to the best of eastern Utah. Uintah County around Vernal — called Dinosaurland — is home to diverse outdoor recreation and natural history at three state parks, Dinosaur National Monument and countless trailheads to the Ashley National Forest.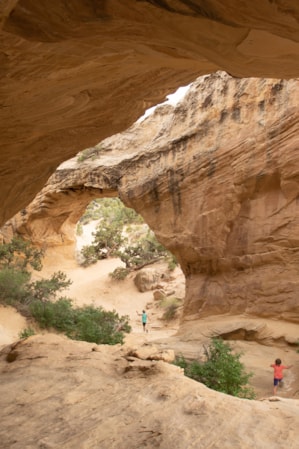 Utah's Dinosaurland in the Uinta Basin of eastern Utah is a scenic blend of red rock landscapes and mountain vistas crisscrossed with trails, dotted with tranquil reservoirs and streams and rich in geologic history. Dinosaurland as we know it began its journey roughly 150 million years ago. The forces of nature that led to the end of the age of dinosaurs and the steady procession of geologic time culminated in the eventual unearthing of the bones of Dinosaur National Monument more than a century ago. (Read: A Deep Dig into Utah's Deep Time)
When you first enter the monument's Quarry Exhibit Hall and look at the 1,500 displayed fossils, you can't help but ask yourself: Did paleontologists really discover the bones as they are presented, or did someone artfully place them here for effect? The answer is that paleontologists discovered the bones just where you see them today. Everything in the quarry is real. The bones are just as nature arranged them more than 150 million years ago, deposited by an ancient stream.
Dinosaurs are not the only attraction that Dinosaurland has to offer. The eastern corner of Utah offers camping, hiking, biking, boating, swimming, Blue Ribbon fishing, rafting and exploring petroglyphs and museums. It's just over three hours from Salt Lake City to Vernal, a city which can serve as a base camp to the Uinta basin (among many campgrounds and dispersed camping options). You'll want to pack for a few days, and an array of activities. Here are five top adventures to get you started.
1. Dinosaurland by Bike
Want to experience spring thaws, summer splendor and fall colors? There are plenty of trails to choose from in Dinosaurland. Through mountain meadows, across high desert canyons, or through alpine forests, getting around on two wheels has never been so fun. Vernal is home to world-class bike paths and is a favorite destination for bikers from all over the world. Ride singletrack and slickrock that overlook some of the prettiest country in Utah. For mountain bikers, consider starting things off at McCoy Flats. Cyclists can take to the roads of Dinosaur National Monument.
2. Bones and Backcountry at Dinosaur National Monument
More than 149 million years in the making, Dinosaur National Monument is home to 1,500 dinosaur bones still left in the mountain where they were discovered. This is the only place on earth to see and touch this many bones from so many different species in one place. What many don't realize that is beyond the Quarry, Dinosaur National Monument encompasses 210,000 acres of wilderness perfect for hiking, camping, rafting, and exploring. The scenery will leave you speechless and will instantly become a family favorite destination.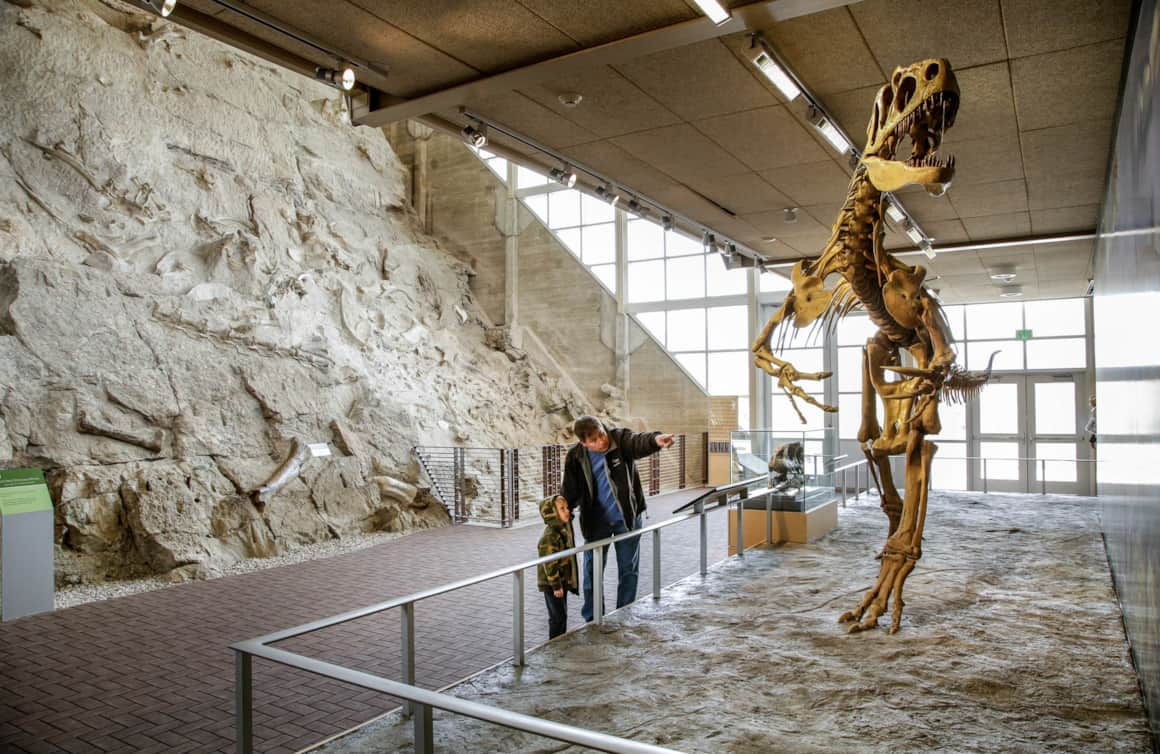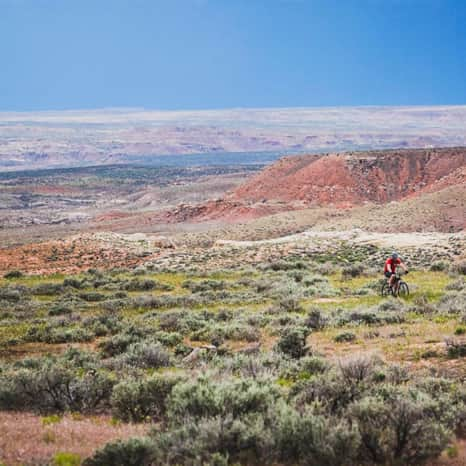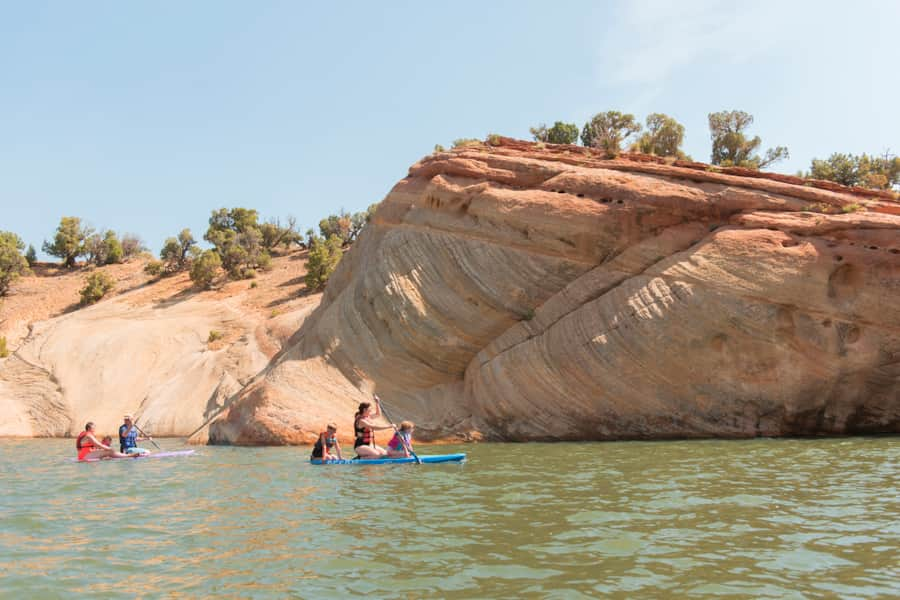 3. River Rafting or Fishing
Have a mild or a wild whitewater rafting adventure. The Green river runs through Dinosaur National Monument between the Gates of Lodore and Split Mountain and is home to extremely intense class III and class IV rapids, the most incredible scenery found in the Western United States, great camping, and amazing hiking trails along the river. You'll paddle furiously, you'll scream with excitement, and you'll never forget the breath taking views and pure exhilaration of rafting in Dinosaurland. Or, settle in for the tranquility of floating the calmer sections, angling for trophy trout. Watch a video of a mom and her three kids on their Gates of Lodore rafting trip.
4. Bones, Beaches and Boarding
Dinosaurland is home to three Utah State Parks. Red Fleet State Park has spectacular sandstone cliffs, secluded sandy beaches, paddle boarding, kayaking, canoeing, and endless hours of water entertainment. Fishing, camping, and hiking to the dinosaur track way will keep you entertained for a few hours or an entire day.
Steinaker State Park is home to the Vernal Beach. Miles of sandy beaches and blue water are great for swimming, boating, fishing, or simply floating on your back while basking in the sun. Rent a cabin, ride your ATV, or enjoy sleeping under the stars.
The Utah Field House of Natural History State Park Museum and Dinosaur Gardens is a paleontology lover's dream. Discover the Prehistoric World, Dig for Fossils, Explore the Dinosaur Gardens, and watch as real Dinosaur Bones are removed from rock in the paleontology lab.
5. 1.3 Million Acres of National Forest
Fish the lakes and rivers; explore the deep canyons and high peaks; marvel at the ancient geology of Ashley National Forest. Over 1 million people enjoy hiking, hunting, fishing, camping, ATVing, horse riding, cross-country skiing, snowmobiling, and simply observing wildlife. Drive the Flaming Gorge–Uintas National Scenic Byway, explore over 1.3 million acres, camp in one of 1,156 developed campsites, or hike through the Uinta Mountains. The Uinta Mountains, besides being unusually oriented east to west, are Utah's highest mountain range and home both to Utah's tallest peak (Kings Peak, elevation 13,528') and more than a dozen other thirteeners. Must of the High Uintas Range, however, is designated wilderness area, which requires of hikers extra skill and the Leave No Trace travel ethic.