The Story of Monument Valley Navajo Tribal Park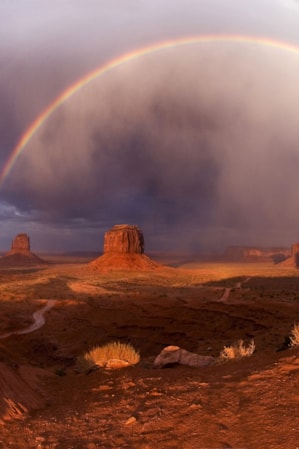 Monument Valley Navajo Tribal Park, known by the Navajo as Tse'Bii'Ndzisgaii, is said to be one of the most photographed places on earth. The valley is host to towering sandstone rock formations that have been sculpted over time and soar 400 to 1,000 feet above the valley floor. Combined with the surrounding mesas, buttes, and desert environment, it truly is one of the natural wonders of the world. Set aside by the Navajo Tribal Council in 1958, the park covers almost 92,000 acres in northern Arizona and southern Utah and lies within the Navajo Nation reservation.
How did these incredible sandstone towers form? Like Arches and Canyonlands national parks to the north, Monument Valley showcases eons of nature's erosive power, yet has distinctive formations unlike anywhere else in the world. For millions of years, layers upon layers of sediments settled and cemented in the basin. The basin lifted up and became a plateau; then the natural forces of water and wind slowly removed the softer materials and exposed what we see before us today. The spires, buttes, and other formations are still slowly chipping away but will be around long after we are gone.
The formations in Monument Valley have achieved some Hollywood fame as the backdrop of many movies and television shows, beginning with several John Wayne films including Stagecoach in 1939. The visitor center offers museums, souvenirs, restrooms, a restaurant, a lodge, and much more. Guided tours of the park are available by vehicle and by horseback.
The Navajo Parks and Recreation Department, which manages the park, shares this message with visitors: "The Navajo people have a custom that has endured. Whenever visitors come they are always treated as honored guests. They are offered shelter, warmth and nourishment so they can continue on with their journey. The same hospitality we offer to you, and we hope that you have a safe and pleasant visit to our land."
Here's another way to look at it: Monument Valley is like a national park, but it falls within the jurisdiction of the Navajo Nation's 27,425-square-mile (71,000 square kilometers) territory in the Four Corners region of the United States. Of that 17 million acres, more than 91,000 acres are set aside as Monument Valley Tribal Park — a space larger than Arches National Park.
This iconic symbol of the American West is internationally recognizable, having appeared in countless movies. Both the park headquarters and visitor center offer information on the area and exhibit Navajo archaeology, arts and crafts. A self-guided scenic drive leads to overlooks of the park's famous formations, while further exploration is offered via guided tour.