Swingin' Steak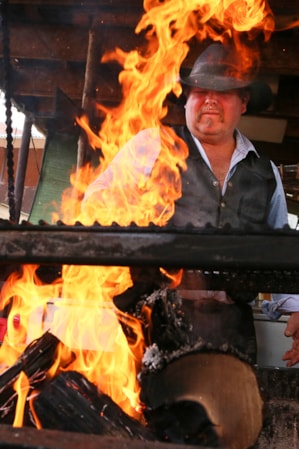 After a long day of outdoor adventure, sometimes nothing satisfies a raging appetite like a big hunk of meat. And outdoorsy types who find themselves in the breathtaking landscapes of southeastern Utah will find just that in the down-home and delightfully quirky Swingin' Steak restaurant, part of the equally unique Mexican Hat Lodge.

Just 22 miles north of Monument Valley on the banks of the San Juan River, the Mexican Hat Lodge is famous not necessarily for its lodging, but for its lip-smacking steaks and atmosphere, with a notable influence from the cowboys that once called this place home. These days, it's popular with travelers and outdoor enthusiasts who explore such nearby attractions as the Valley of the Gods and Gooseneck State Park.
First, head to the outdoor beer garden that has a roaring fire to keep you warm. Grab a cold one while you peruse the menu and make decisions about your meal. If you're looking for a steak to sate that adventurer's appetite in you, you've come to the right place.

Local range-fed beef is what's for dinner: Choose from New York strip, sirloin, ribeye, or a good, old-fashioned hamburger. And as the restaurant's name promises, a unique swinging grill keeps juices in the meat, which is unseasoned since the local juniper (cedar) wood does its job in an open fire with its unique aroma. Pinto beans, a must-do side, are equally notable, dry farmed from Dove Creek, CO, and are served "soupy," quiet, and nutritious, proprietors say. Salads receive the house-seasoned oil and vinegar, with sides of thick, garlic-buttered Texas toast—also grilled, of course.

After dinner, enjoy a nightcap while you soak up tunes from the in-house family band and other local entertainers. Or head outside to the patio, where you can share stories with fellow guests under a star-dotted desert sky.
Plan Your Trip
The Swingin' Steak is open March through October weather permitting. No reservations are taken and hours can vary.

For adventurers who are looking to linger a bit longer, the lodge includes 10 rustic but comfortable non-smoking rooms, each with its own unique décor and private bath, and some even have outdoor decks. There are an additional four units of varying sizes and accommodations (some, in fact, are trailers with kitchenettes that can accommodate larger groups and families).
Other amenities include an indoor pool, in-room coffee and mini-fridges, and WiFi, which comes in handy for you to post all your stunning shots of adventures in the southern Utah high desert. And be sure to leave Fido at home, as no pets are allowed.

To get there, just take Highway 163 north from the tiny town of Monument Valley. If you're coming from Bluff, some 24 miles to the northeast, you'll take Highway 191, which eventually turns into Highway 163.

GPS Coordinates: 37.148757,-109.859234