U.S. Federal Shutdown Information
All of Utah's Mighty 5 national parks will remain open.
Learn more.
Guided Tours
First and foremost, you must be a part of a ticketed tour to see the inside of the cave, so be sure to make reservations. While it's possible to get tickets on a first-come, first-serve basis if there are slots available, the tour is extremely popular and often sells out. Tours are offered daily and last for about three hours. They include 3.1 total miles of hiking to and from the cave and a 55-minute cave tour. Rates for guided tour tickets are as follows:
Ages 12 and older: $12
Ages 2 to 11: $7
Children under 2: $2
Senior/Access Pass 50% off
Introduction to Caving Tour $22.00
The cave is typically open May-October, but can close due to weather and trail conditions.
Hiking Trail Overview
Trail Length: 1.5 miles one way
Difficulty: Moderate-Difficult
Elevation Gain: 1,092 feet
Pets: No pets are allowed on the cave trail or in the cave unless it is a service animal
Directions To The Visitor Center: The visitor center and trailhead are in American Fork Canyon, accessed east of I-15 on State Route 92. From I-15, take Exit 284 (Alpine-Highland), turn east towards the mountains on state Route 92, and proceed 10 miles to the monument. By summer, when conditions permit, S.R. 92, the Alpine Loop, re-opens and passes Sundance Mountain Resort before completing the circle around Mount Timpanogos and connecting with U.S. 189 in Provo Canyon.
GPS Coordinates: 40.440556, -111.709444
Timpanogos Cave Trail Hiking and Cave Information
In order to reach the caves, hikers must first undertake a 1.5-mile walk along a paved trail. This path gains 1,092 vertical feet up to 6,730 feet and it can be scorchingly hot in the summer. Bring plenty of water and don't be surprised if you feel the effects of the higher altitude by huffing and puffing along the way. Many people come just to take in the views and get a good workout without taking the cave tour.
One cool thing of note: Near the entrance to the cave, you can run your hand over tiny fossilized shells and coral embedded in the smooth Deseret limestone cliff. It's hard to imagine that at 6,730 feet above sea level, you're standing on an ancient shoreline.
Once you head into the cave, you'll walk through dark passages that link well-lit chambers filled with jagged rock pillars and pylons, many encrusted with the yellow and white runoff of damp particles left behind by dripping trickles of water. The largest rooms are decorated with fangs of niter-encrusted rocks and knobby, gnarly walls. Bats and other critters call the cave home, though many will be peacefully resting during visiting hours. Tour guides are there to answer your questions and explain the geological history of the ancient passageways.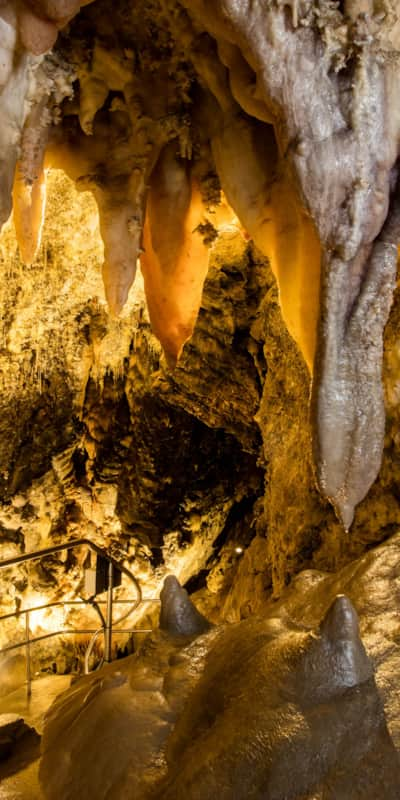 Where to Stay
While there is no Timpanogos Cave camping, the national monument's location in American Fork Canyon on the Alpine Loop means campers have access to both developed campgrounds and primitive camping on the Pleasant Grove Ranger District of the Uinta-Wasatch-Cache National Forest. Only minutes away, the cities of Lehi, Orem, and Provo in the Utah Valley abound with hotel and lodging accommodations as well as dining options.
More Things to Know
Wear appropriate footwear and carry water, especially in summer. The park recommends at least one liter of water per person as temperatures reach over 100 degrees on the cave trail in the summer. The inside of the cave is a cool 45 degrees so a light jacket is also recommended for this adventure.
Due to the trail's steepness, no strollers or wheelchairs or anything else with wheels is allowed on the trail.
No food or drink is allowed in the cave so be sure to fuel up and rehydrate before you enter. It will be just under an hour before you will have the opportunity to do so again.
In addition to the cave tour, there are also two picnic areas, a short nature walk, exhibits, and ranger programs you can enjoy within Timpanogos Cave National Monument.