Riding Through History
Legends offers a place for motorcycle enthusiasts to get an up-close look at some of the rarest motorcycles in the world.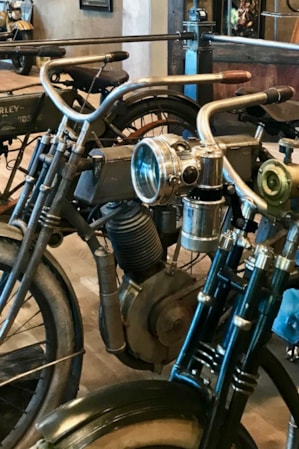 "I never thought I would ever get to see some of these things in person," my husband Mike said as he leaned in closer to read the date on a small tag attached to one of the motorcycle handlebars. "This is stuff you only see online."
I was pleasantly surprised by the vast number of motorcycles in the museum. Seeing Mike's reaction, though, it was easy to gather that he was not only impressed with the number, but also the significance and uniqueness of many of them.
This was just on the first floor within the first five minutes of our visit.
Then I looked up and saw that there were not only one but two floors filled with these classic bikes. The space is huge and it's open and airy with an industrial aesthetic and light pouring in through multi-paned windows. We were lucky enough to also encounter an employee who was happy to give us more information about the bikes on display.
Mike and I hadn't known exactly what to expect on our first visit to Legends Motorcycle Emporium in Springville, an artsy community south of Provo, Utah. Given the collection and significance of the pre-World War I and World War II motorcycles on display, "Legends" barely does the place justice.
Vintage Integrity
One of the first things I noticed was that some of the motorcycles had been refurbished, sporting shiny coats of paint, while most of the others looked as if they had just been pulled out of a garage for the first time in decades. According to our volunteer tour guide, this is intentional. Legends keeps the bikes in the condition they buy them most of the time, because it maintains some of the vintage integrity and allure of the items. He also told us that most of the bikes, regardless of their exterior condition, can actually still start.
"Surrounded by David Uhl paintings, which could easily be described as part steampunk, part love letter to the American motorcycle, sit three vintage "Strap Tank" Harley Davidsons."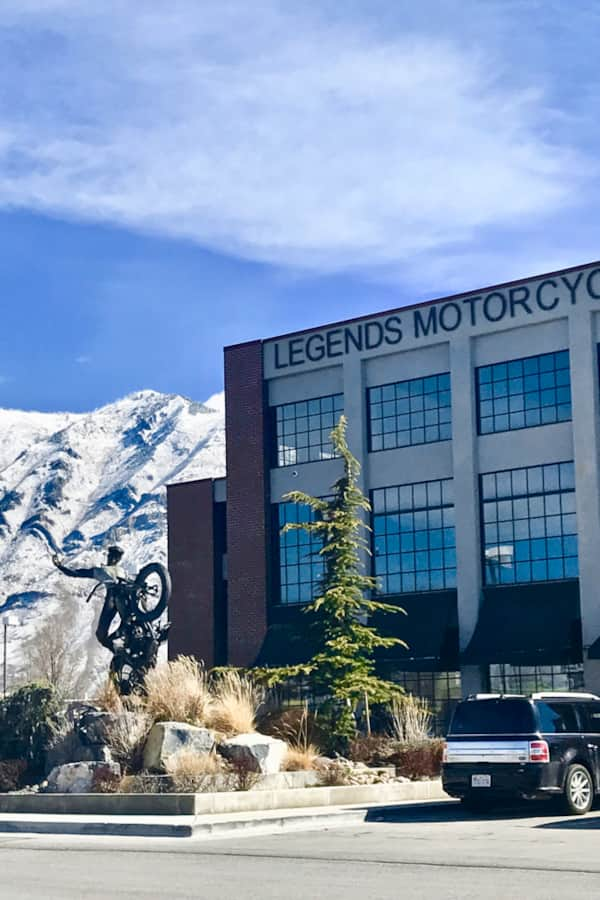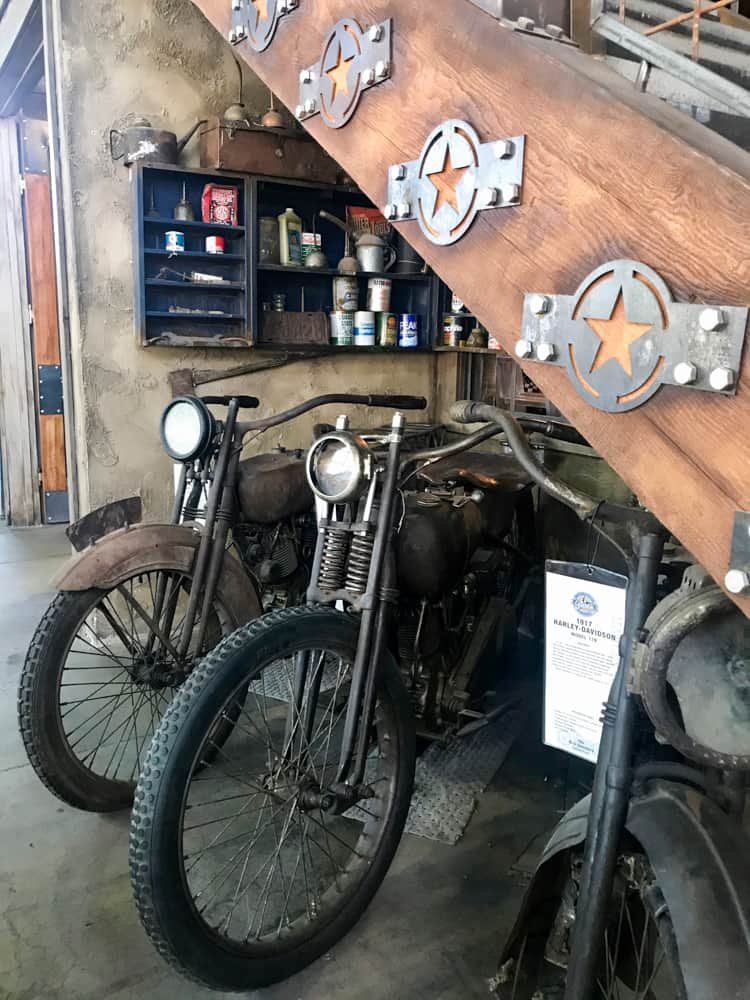 He then takes us into one of the back shops to show us the bikes they are getting ready for this year's Transcontinental Cannonball Run. Every year, a few guys from the Legends team participate in the annual event, riding together from Portland, Maine to Portland, Oregon on pre-WWII motorcycles.
Turns out Legends is not only a museum; they also provide routine and custom work on Harley-Davidsons. Paired with the large display of vintage motorcycles, as well as an onsite cafe that serves Strap Tank beers, a shop selling Legends swag and a barber shop, this is a really unique place that easily occupied half of a day.
Back in the museum, my attention is drawn to a row of motorcycles that look a lot like the road bicycle I have at home. They are Indian Camelbacks. Our guide explains to me that Indian was originally a bicycle maker. One of the Camelbacks on display was built in 1903, making it the oldest motorcycle in the Legend's collection. The other two come in close, having been built in 1906 and 1908. Nearby, a 1933 Indian Motoplane with original paint stands out in stark contrast with a much more modern looking bulky body. It was impressive to look back and forth between the two, seeing the progression that took place within a thirty year period when these motorcycles were first becoming popular.
The Namesakes
As we move to the upstairs portion of the museum, we approach another group of very old motorcycles. These, we soon see, are the highlight of the collection. Surrounded by David Uhl paintings, which could easily be described as part steampunk, part love letter to the American motorcycle, sit three vintage Harley Davidsons. These Harleys are Strap Tanks, the namesake of the nearby brewery, which, along with Legends, is owned by Rick Salisbury.
These impressive motorcycles are called "Strap Tanks," fans will immediately know, because the tank is literally strapped onto the bike's frame. They are arguably the rarest Harley's in the world. One is a 1907 Strap Tank, of which there are said to be only three left in existence. The one owned by Legends is thought to be the most valuable because it has all of its original parts — all still intact and in place. You can't see anything like it anywhere else in the world. The other two are just as fascinating, including a 1905 Strap Tank, and a 1909 police department edition Strap Tank, which is known to be the oldest Harley police bike of that style still in existence.
Salisbury, the man behind Legends and Strap Tank has been a motorcycle enthusiast since his teenage years and has been collecting bikes for more than three decades. The motorcycles here are his own private collection. "Rick likes to hang out here," says our guide as he points him out, sitting at the bar chatting up a regular. "It's really why he built the place, so people could just come and hang out and enjoy his collection as much as he does."
Visiting Legends and Strap Tank Brewery
The museum is free and open to the public during business hours:
Tuesday–Friday 9 a.m. to 6 p.m. and until 5 p.m. on Saturday. Closed Sunday and Monday.
801.489.0889
(Toll-Free) 855-5-Legends
1715 West 500 South
Springville, UT 84663