When Is The Best Time To Ski In Utah?
With so many activities on and off the mountain all year long, you'll wonder whether there's a bad time to come to Utah (no, there isn't). November to May, Utah resorts have guests dress up and slide down, enjoy moonlight and Sundance, eat chocolate and drink whiskey and, yes, ski some of The Greatest Snow on Earth®.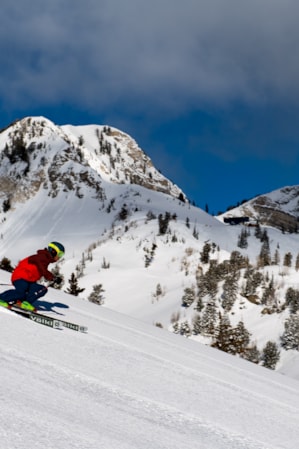 From Thanksgiving to Memorial Day, travelers come to Utah to enjoy all is has to offer, but when is it the best time to visit? The answer is: OFTEN! Utah resorts provide so much variety on and off the slopes (yes, we do more than just ski here, and we have to keep the snowboarders busy when the lifts close), you'll want to return again and again. There is never a bad time to visit Utah, in fact, it's all about how you make the most of your Utah ski trip.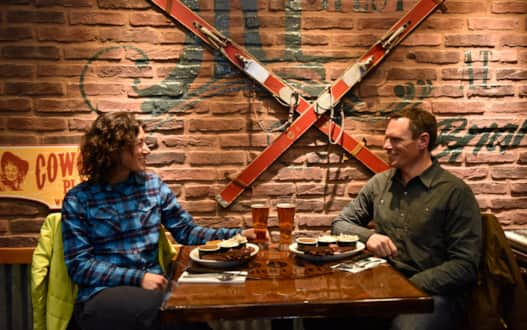 November — Thanksgiving is considered early season but, assuming we all did our Snow Salsa, Powder Popping or Mountain Mambo dances, Brighton typically starts running its lifts by mid-November with the rest opening thereafter over the next several weeks. This is typically the best time to find great ski and lodging deals — even last-minute deals — with fewer Christmas crowds making it a hit with families who want to learn to ski or snowboard and parents who don't want to cook (I convinced my family that Snowbird is the best Thanksgiving staycation and, I promise, it has nothing to do with its rooftop spa). You can, also, escape the kitchen on Saturdays at Brian Head, where the Southern Utah resort hosts weekly BBQs and live music at the Last Chair Saloon.
December — Christmas and New Year's in Utah are famed for bright days and night lights. It is hard not to get into the holiday spirit on a ski vacation especially when accompanied on a lift by Santa or Mrs. Claus, The Grinch or Buddy the Elf. Now, imagine hundreds of them. No, it's not a convention. It's Utah, where resorts encourage young and old to celebrate the season. Costume contests awarding free lift tickets are common, and huge smiles are ubiquitous (check individual websites for details). As the sun goes down, resorts throughout the state host nighttime skiing, where skiers and snowboarders can explore the illuminated slopes. People who enjoy a classic winter experience will tell you that the end of the year is the best time to ski in Utah. Then, head to downtown Salt Lake City for the stunning light display at historic Temple Square.
January — The powder is typically dumping in January keeping resorts busy and visitors happy through the Martin Luther King holiday weekend. However, the real buzz in The Beehive State occurs during the last half of the month when the Sundance Film Festival takes over Park City streets and theaters throughout the mountain and metropolitan areas. If you arrive after opening weekend, you can likely still score same-day movie tickets and celebrity sightings (my hubby has accepted that a selfie with Jon Hamm on a Tuesday morning is nothing he should worry about), but the real discovery is that the ski slopes are just about empty during Sundance (Also read: Sundance, Full Circle: When visiting the Sundance Film Festival in Utah, movies are only part of the experience). If you prefer to see real stars or feel entire galaxies envelop you, then head to some of the darkest skies on the planet in Southern Utah or in northern Ogden Valley.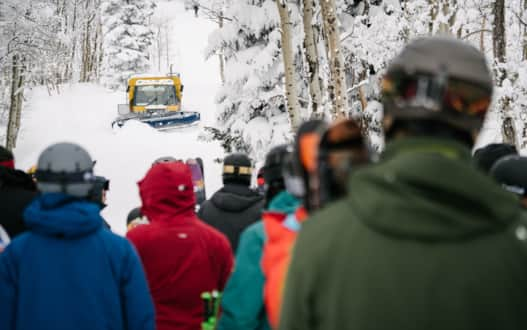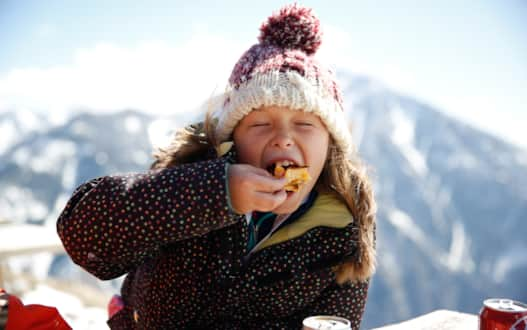 February and Spring Skiing
February — Love is in the thin air of Utah this month. With a solid snowy base and storms refilling Utah's ideal powdery base regularly (the word for it is "flotation"; to geek out, read The Science Behind Utah's Snow), this is a great time to experience all this State has to offer and what draws people back each year.
Ask locals or the "lifties" at the resorts where the best runs and powder stashes are each day (Utahns are famous for their hospitality and are happy to share snow tips because, frankly, we get months and months of this stuff and are happy to spread the stoke). With the adrenaline rush of snorkeling through The Pow or cruising down your first groomer, you'll feel excited and exhausted at the same time. To bring you back down and give you an opportunity to brag (because, like a fishing trip, it is perfectly acceptable to embellish a bit), enjoy a five-star aprés ski at St. Regis with hot cocoa made from melted European chocolate or its signature 7452' Mary (the number represents the elevation and how many levels this cocktail stands above the traditional bloody fare).
Then, if it is early February, join thousands of fans below to watch Olympic hopefuls fly, twist and descend at Deer Valley Resort or over the Wasatch at Solitude Mountain for the FIS World Cup Championship. This amped-up event is like a Springsteen concert for thrill seekers and, after skiing those runs earlier that day, you'll feel like one of them.
March — Spring fever hits Utah resorts in a variety of ways. One annual tradition is the 16-day Spring Gruv at Park City or Beaver Bash at Beaver Mountain (think: pond skimming … on skis; you really have to see it to believe it). However, if you just want to wring out every last bit of winter, take your skiing and snowboarding skills to the next level (especially, if that's from blue to black runs) and end with a bang, then spend the day skiing in the tracks of Olympians. Utah has a lot of them! It also produces an inordinate amount of artisan chocolate (although locals joke that what the state lacks in alcohol it makes up for in chocolate, there's plenty of the former here, too).
April — The temperatures are warm, but there is typically one last powder storm before the arrival of "corn skiing," a completely different texture of snow which is a lot of fun to ski on and is particularly forgiving. If you enjoy warm weather and smaller crowds, spring may be the best time to ski in Utah. If that is not enough reason to visit then, like early season, the ski-and-lodging deals should convince you to sneak out here one last time. Most resorts close by month's end with celebrations that rival opening day (like the live music and parking lot party at Alta's closing day).
May — Yes, Snowbird is still open and, weather permitting, will remain so through Memorial Day Weekend and (with crossed-fingers and more dancing) beyond. If you're around, then this is a terrific time to pick up your season pass and discount gear for next year. With the best prices and extra perks, you'll save enough to come back OFTEN! throughout the season.