COVID-19 Travel
Please adhere to local guidelines for safe and responsible travel, including following the statewide mask mandate.
Read more
Get to Know Echo Reservoir: Utah's Newest State Park
Situated at 5,560 feet above sea level, just north of Park City, Echo Reservoir is Utah's newest state park. Watersports are king here, and whether you kayak, paddleboard, or boat, it's a perfect place to get out on the water.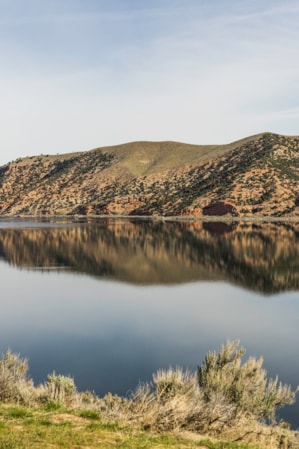 Nestled in the Wasatch Range near the old mining town of Coalville lies Utah's newest state park, Echo State Park. It's just a 45-minute drive from Salt Lake City and even closer to Ogden, making it a great spot for an afternoon of kayaking on sparkling waters.
My friend and I arrived at its sandy shores after the easy drive from SLC. Our plan was to enjoy an afternoon of kayaking on its serene, glasslike waters, but we were dismayed to see a locked entrance gate when we initially arrived. Not ready to give up, we investigated and learned (thankfully) that walk-ins are welcome even when motorized boating access is closed.
Parking on the water side of Echo Dam Road, we unloaded our kayak and carried it down a well-worn path to a sandy spot along the shore. A few families and groups were picnicking along the beach, but we mostly had the place to ourselves.
Tall trees stood in the shallow water near the shore, providing the perfect spot to hang a hammock, and as soon as the sun streamed through the clouds, we took our cue to launch. Our paddles sliced through the glassy water as we kayaked northward toward the dam. We paddled until our arms were sore, but never saw another craft, and had the colorful cliff views and wide open waters all to ourselves.
If you visit on a day when there are more motorized boats, you'll have no trouble finding peace and solitude on this vast body of water, which covers 1,450 acres. If you visit in the evening just before sunset, it's also especially peaceful.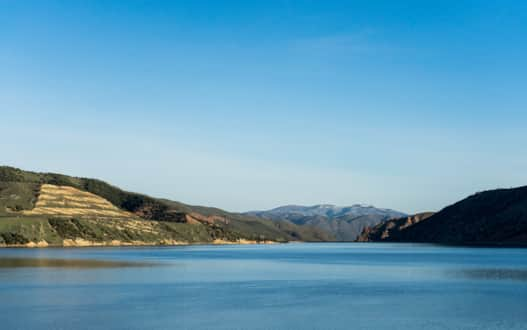 Becoming a State Park
Following a 15-year drought when no state parks were established in Utah, Echo Reservoir is ready for its introduction. A byproduct of a Great Depression-era earthen dam, the reservoir has long been popular with boaters, water skiers, anglers and campers, but new facilities will be added and current facilities will be upgraded due to the new state park status.
Situated in the town of Coalville at 5,560 feet above sea level, just north of Park City, the reservoir dam has been owned by the Bureau of Reclamation since its construction in 1931. But, private entities have managed the dam and concession area for many years. That all changed in November 2017 when the Bureau of Reclamation approached Utah State Parks about assuming management. A deal was soon inked and a resolution passed to make Echo Utah's newest state park in the spring of 2018.
Boater Benefits
For boaters, this adds an additional option and an alternative destination from popular Jordanelle and Rockport reservoirs and brings an enhanced experience to Echo. The reservoir hugs Interstate 80, making it easily accessible, and you can drive to the reservoir almost as quickly as you can drive to Rockport. Plus, the park has a tree-filled, grassy marina that's a pleasant place to launch and lounge on the shoreline. You'll also find a boat ramp, camping, restrooms and a convenience store, and more improvements are on the way.
State park status means new fees will be assessed for visiting, but the Utah State Parks Division is using that money to invest $2 million to upgrade restrooms, boat ramps and the marina, with bigger changes planned for the future. In fact, a new campground near the center entrance is underway. The Bureau of Reclamation is going big, too, by promising to match upgrade spending. Additions could range from air-conditioned cabins to new put-ins for boats, kayaks and paddleboards, but nothing is set in stone right now.
"We had the colorful cliff views and wide open waters all to ourselves."
How to Explore by Kayak and Paddleboard
While boat rentals are possible in the future, this reservoir is currently B.Y.O.Boat, and there are numerous access points that require just a bit of effort to get on the water. Carry your kayak or stand-up paddleboard in from the road, or use the accessible boat launch come summer. Stick closer to the shore on busy days to avoid big wakes. Make it an overnight trip and camp at sites along the lake's south side where shady trees, fire pits and nearby toilets provide all the amenities you need.
Go Fishing
Anglers venture to Echo for stocked rainbow and brown trout in the deeper waters, along with walleye and smallmouth bass. The best fishing months are May and June, but winter draws ice fishermen who love Echo's thick, stable ice.
Ride or Run the Historic Union Pacific Rail Trail
Looking for a unique way to reach Echo State Park? Start in Park City and follow the non-motorized trail built along an old mining railroad line 28 miles to Echo Reservoir. Bike, run, walk or ride your horse out there, passing the towns of Wanship and Coalville, historic sites, and traveling through epic mountain scenery along the way.