U.S. Federal Shutdown Information
All of Utah's Mighty 5 national parks will remain open.
Learn more.
Make St. George Your Zion National Park Basecamp
St. George isn't just the biggest city in Greater Zion, it's a great basecamp for Zion National Park, as well as four state parks.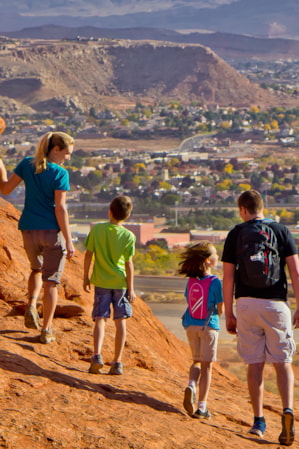 Travelers come from across the world to experience a Zion National Park road trip. The surprisingly verdant red rock canyons, flowing waters and popular hikes make this Southern Utah's most-visited national park. Though, too often travelers skip the surrounding region — known as Greater Zion — because they aren't aware of its lure and why many locals choose it as their forever home.
The Utah/Nevada border is a classic road trip route for many on their way to California or those looking to experience the West. I'm a California native, and I moved from Las Vegas to Utah in 2016. About six weeks ago, I moved from a tiny rural town in Southern Utah to St. George, which aside from nearby Zion National Park and ahem, Costco, I admittedly hadn't seen much.
St. George is the largest city in Greater Zion, and after a little, okay, a lot of digging into the area, it's hard to know why anyone would treat this city as a gas station stop. The St. George area is a worthwhile destination in its own right and one that you'll want to spend at least two to four days in to experience fully.
If you're traveling to the Zion National Park region, consider St. George as your basecamp for a few days (Read: The Complete Zion Itinerary). What makes it an excellent alternative to Springdale or Las Vegas? Its rich history, pioneer heritage, red rock formations, family-friendly offerings, a plethora of hiking and biking trails and engaged locals who are deeply immersed in the gorgeous natural landscape.
Getting to Know Greater Zion
Greater Zion sits in the southwest corner of Utah where the Colorado Plateau, the Great Basin, and the Mohave Desert converge. The biggest attraction is Zion National Park, but the park is only the tip of the iceberg.
"Hit the national park, but also check out the state parks or a unique hike. Do your favorite hobby or adventure and find a new one," adding, "Arts, adventure, etc. abound when you stay in St. George," says Sara Otto, a tourism expert for Greater Zion Convention & Tourism Office.
Some of the area's big draws include:
18 wilderness areas
Zion National Park
Abundance of dining
ATV/OHV destination
Year-round recreation, entertainment, and adventure (300+ days of fun in the sun!)
Two volcanic fields, including Santa Clara and Kolob
Petroglyphs in a slot canyon at Snow Canyon State Park
In addition, each year, thousands of people flock to St. George to attend events like IRONMAN, the Huntsman World Senior Games, the Tri-State ATV Jamboree, the St. George Art Festival, the Parade of Homes, and the Arts to Zion/Art and Studio TOUR. These events showcase the vibrant and active community nestled in this beautiful desert.
Seek Solace Outside the National Parks
Part of what makes St. George so great is its easy access not only to Zion National Park, but to four Utah state parks (Snow Canyon, Sand Hollow, Quail Creek, Gunlock), and the Red Cliffs Desert Reserve, all distinctly rare places that have to be seen with your own eyes because they can't be captured with words. During your stay, take a deep breath, lay your eyes across the vast landscape, and let your heart and mind go places they've never been, and will never forget.
The area is also surrounded by Dixie National Forest, and one of the best places to escape is Holmstead Ranch Resort, a mere 25-minute drive from St. George. The ranch sits on 160 acres surrounded by national forests. The ranch's accommodations include deluxe cabins, luxury cottages, a glamping village, a lodge for larger groups and traditional campsites. The ranch offers an array of fun activities for the entire family, including swimming, hiking, skeet shooting, paintball, horseshoes, archery, ping pong, golf carts, "an animal experience" and paddle boarding.
Luxury Accommodations in Downtown St. George
If it's a luxury hotel experience in the heart of historic downtown St. George you're after, you can't go wrong with The Advenire Hotel, one of Marriott's Autograph Collection Hotels, which are "hotels exactly like nothing else," as described by Marriott.
The Advenire is Southern Utah's first luxury four-star, full-service boutique hotel. Providing world-class amenities, service and dining in a modern "pioneer-chic" setting, The Advenire caters to outdoor enthusiasts and leisure travelers, while having offerings for the local community.
The Advenire features 60 luxurious guest rooms, each with majestic vistas of Southern Utah's red rock mountains — something you'll get used to in St. George's red rock valley. Design elements include locally-curated art, craftsman furniture, and colorful tapestries resembling handmade rugs used by early settlers.
After checking in, take a stroll and visit the shops on Main Street and Ancestor Square, grab a meal created by Chef Shon Foster, such as fresh biscuits or pasta made from scratch daily, the filet, or a fresh fish dish (dock to door within 24 hours) at the hotel's restaurant, wood.ash.rye, then delight your senses with one of the hotel's signature cocktails, such as the w.a.r. valley tan at the hotel's bar and cocktail lounge.
Dining with a View
I don't know about you, but I'm a huge sucker for views and the ones at this next spot took my breath away. Located just above St. George Boulevard sits the beautifully renovated Inn on the Cliff and Cliffside Restaurant, perfect for soaking up the scenic views of St. George Valley at sunset.
Cliffside Restaurant's contemporary American-style cuisine features bold flavors with an elegant touch by award-winning Chef Eric Gburski, whose specials you'll want to try. Some of the popular menu selections include the coconut-crusted shrimp, kale and farro salad, chili-glazed salmon and grilled filet mignon, as well as vegetarian and vegan options.
See more places to eat and drink in St. George
"Part of what makes St. George so great is its easy access not only to Zion National Park, but to four Utah state parks and the Red Cliffs Desert Reserve, all distinctly rare places that have to be seen with your own eyes because they can't be captured with words."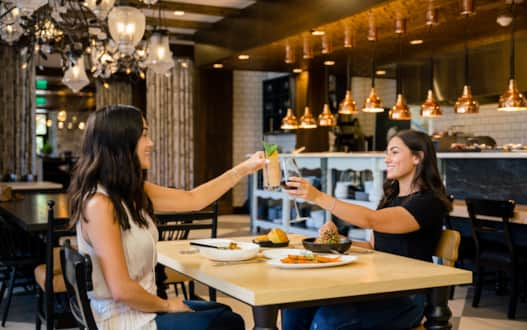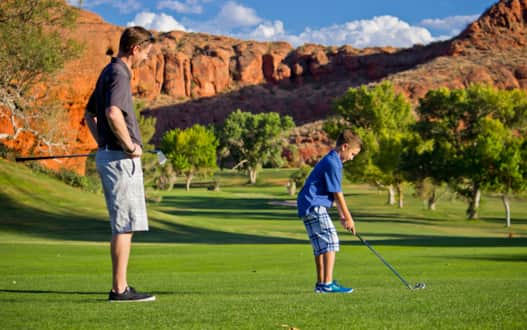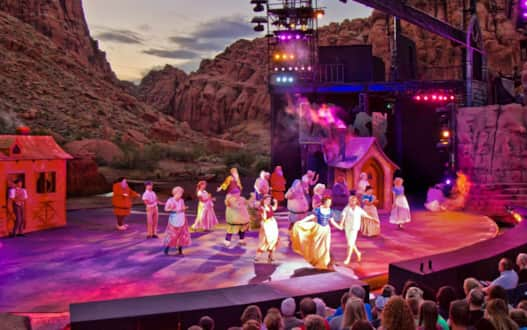 One-of-Kind Coffee Experiences
If you like the sound of gourmet coffee infused with love and chaos, you have to check out Affogato West in the West Village, the best coffee experience in St. George. Affogato started as a coffee truck, but it got so much support from the local community, they opened a storefront location in 2018.
Deeply passionate about their community, Affogato West is proud to support local farmers and populations in need, including the homeless. They are also big on featuring local artists and musicians. Check out their live music calendar and local artist section while indulging in one of their signature gourmet drinks like a Snickerdoggle or Golden Milk Turmeric Latte, or a traditional coffee beverage, such as an Americano. It's all about feeling the love and supporting humankind when you walk through Affogato West's doors.
During your stay in Greater Zion, you'll want to make your way over to River Rock Roasting Company located in La Verkin, 20 miles from St. George and just on the outskirts of Springdale and Zion National Park. Situated on top of a cliff, River Rock Roasting Company has the most incredible views of the Virgin River and Confluence Park, something you won't get back home.
Enjoy espresso, tea or Italian soda, and try something from their menu, such as Aunt Becky's bodacious (cinnamon) buns house-made from scratch, or a burger or pizza while you sit on the patio and soak up the breathtaking river views below. Their signature coffee can also be purchased at Red Rock Bicycle Co in St. George and Sol Foods Supermarket in Springdale.
Golf at Sunrise or Sunset
St. George visitors have their pick of 13 golf courses, seven of which are municipal. Fan favorites include Dixie Red Hills Golf Course, Entrada at Snow Canyon Golf Course, The Ledges Golf Club and Sunbrook Golf Club.
If you're a golf fanatic or aspiring to be, visit Copper Rock Golf Course, but try to schedule it close to sunrise or sunset when the views of the red rocks are stunning. Copper Rock Golf Course is the beginning of a brand-new development in Southern Utah. It's host to the LPGA Symetra Tour (April 2021), and features an 18-hole championship course, Par 72, 6,823 yards designed and built by Dale Beddo, a clubhouse and café with beer and liquor.
Copper Rock Golf Course combines innovative design with nature's best work. Nestled in the colorful cliffs of Hurricane Valley, it neighbors Sand Hollow State Park and offers views of Pine Valley Mountain, Zion National Park, Kolob Fingers and the red Dixie Cliffs.
Copper Rock is more than a golf course; it has homesites available, featuring golf-side luxury housing from some of Utah's finest builders and craftsmen. Nightly rental options are in development with a hotel resort and restaurants to follow in the future.
Copper Rock offers a world-class golf and resort experience, as well as a cozy community for golf and nature enthusiasts.
Broadway in the Desert
Seeing "Broadway in the desert" at the Tuacahn Center for the Arts is one of St. George's most iconic experiences. The indoor and outdoor theatres are a 20-minute scenic drive from the I-15 Bluff exit. The outdoor amphitheater is nestled next to Snow Canyon State Park. As the sun sets against the backdrop of the red rocks, the live orchestra starts to play, and the stage comes to life, awakening the senses. (Read: How to Experience the Thriving Arts & Culture of St. George)
Tuacahn's traditional Broadway season runs mid-May through October. They have two indoor Broadway shows, one that runs July-August and one that runs November-December. They also have two concert seasons that run in the spring and fall. The Tuacahn provides "Christmas in the Canyon" every year in November and December, which includes 250,000 lights, Santa Claus and train rides.
The Canyon Suites at Tuacahn have one to four-bedroom suites. The featured amenities include a heated pool, spa, and fitness center. Suites are available to rent to the public during the off-season (January through March).