Public Golf Courses
The city of St. George offers a variety of municipal golf courses for any level. While they're often the most affordable option, these public courses also offer spectacular views and playability. They are also more relaxed when it comes to things like dress code, changing shoes in the parking lot, cell phones (except if it disturbs your partner or holds up play) and even music playing from a portable speaker in your cart. If casual is the name of your game, try out these local favorites.
Sand Hollow Golf Club
Many golfers put Sand Hollow Golf Club at the top of their list of public courses in the St. George area (technically, it's located in Hurricane, just 25 minutes from downtown St. George). It's no surprise considering its something-for-everyone offerings: a Championship Course (ranked as a Golfweek favorite), a Links Course (play with hickory clubs like Scottish golfers did in the 1900s) and a Wee Course (Southern Utah's only par-3 course). Tee times are open to both members and the public.
SunRiver Golf Club
The Virgin River Valley plays host to the SunRiver Golf Club and the SunRiver neighborhood, a 55-and-over residential community. Tee times are open to both residents and the public. The 18-hole course flaunts smooth greens and the only bent-grass tees in Southern Utah. Fuel up before or after your round at Chef Hog's Oyster Bar & Grill, located just on the edge of the golf course.
Dixie Red Hills Golf Course
The founders of Dixie Red Hills Golf Course had the right idea when they opened in the mid-1960s. They laid claim to the first golf course in St. George, thus transforming the sleepy gas-station stop into the tourist destination that it is today. This nine-hole course — touted by Forbes as one of "Eight Immensely Enjoyable Golf Courses for the Casual Golfer" — is affordable and fun, all the while owning the same exquisite red-rock views as the luxury resorts.
St. George Golf Club
The St. George Golf Club is steeped in city history. For 30 years, this municipal course has satisfied golfers with its traditional layout and challenging par-73 course, yet even the average player can feel like a pro on the course's straightforward greens and putts. Like walking? This course is just for you, as it's easily traversed while enjoying the desert landscape. The club offers golf carts along with a full-service golf shop.
Sunbrook Golf Course
Similar to the St. George Golf Club, the
Sunbrook Golf Course
is a gem among the public courses.
Its three nine-hole courses feel like a local secret, boasting elevation changes, small lava flows, water features and views of red-rock cliffs for golfers at every skill level. Player reviews highlight well-groomed fairways and greens at an affordable price point.
Private Golf Courses
Did someone say perks? For golfers wanting to up their game (practice makes perfect, right?), private golf clubs in St. George lend a hand. With easy access to professional instruction, optimal tee times, unwavering hospitality, demanding course design, social events and gourmet cuisine, these members-only courses own the most exclusive fairways.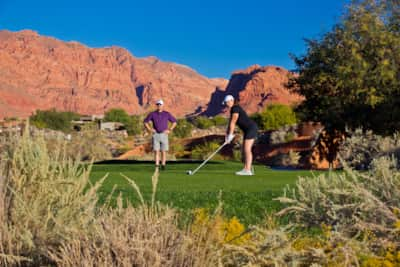 Entrada at Snow Canyon
Worth the splurge for golf aficionados, Entrada at Snow Canyon is a luxury private club. Johnny Miller designed the course back in 1996 to wind through a southwest-inspired residential community — but the course recently underwent a multimillion dollar renovation. The course challenges short game accuracy and ball placement of members and guests (only ones that stay at the club's four-star hotel, The Inn at Entrada) with its massive lava flows and sensational water hazards.
Bloomington Country Club
Families and retirees alike enjoy the newly-renovated, members-only Bloomington Country Club. When visitors aren't reveling in the pool or dining at the full-service restaurant, they're playing the 18-hole golf course that sits between the Red Cliffs of Bloomington and the Virgin River. It boasts 7,000+ yards of immaculately-maintained fairways and flawless greens, in addition to a large practice putting green, a chipping green with a challenging sand trap and a full-size driving range. Guests of the nearby Bloomington Villas Resort also have access to country club facilities and course.
The Ledges of St. George
The Ledges of St. George
claims fame as a world-class golf destination due to its high-caliber, innovative layout and immaculately-designed greens. To boot, the property now boasts newly-built accommodations for the perfect stay-and-play golf adventure. Enjoy impressive red rock backdrops, sensational views of
Snow Canyon State Park
, instruction from the Billy Casper Golf Academy and fine cuisine from the Fish Rock Grill.
Golf Etiquette
Golf rules and regulations are par for the course — avoid slow play, show up more than 15 minutes before your tee time, fill in divots and rake those ball marks in the sand trap. Buried in roots of regal tradition, it's no surprise that golf owns a lengthy list of etiquette for attire, speed of play and where you can and cannot drive your cart.
Golfing in St. George, however, adds a few items to that list. In the name of protecting the landscape that oftentimes skirts national and state parks, golfers are asked to adhere to responsible travel in Utah by following Leave No Trace principles. Fortunately, the guidelines — plan ahead and prepare, dispose of waste properly, leave what you found and respect wildlife — are quite simple to follow as you enjoy your day on the greens.