U.S. Federal Shutdown Information
All of Utah's Mighty 5 national parks will remain open.
Learn more.
How to Experience the Thriving Arts & Culture of St. George
St. George, Utah has transformed from gateway town to booming art hub. And whether you visit for theater amidst the red rocks or the galleries of Kayenta, you'll find a big-city scene coupled with small-town charm.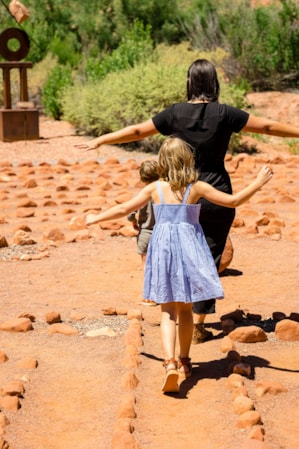 Arriving near sunset, my partner and I take our seats facing the 1,500-foot red rock cliffs at Southern Utah's Tuacahn Amphitheater, the rocks glowing in the magic hour light. We've just driven in from Salt Lake City, but the bustling energy of the city quickly fades, and we find ourselves enchanted as a tale as old as time unfolds on stage. The classic story of Beauty and the Beast comes to life as actors dressed as candlesticks and clocks sing and dance to "Be Our Guest," their voices echoing against the canyon walls.
One of three Broadway-caliber live shows that Tuacahn hosts each year, the dramatic desert setting breathes new magic into this old fairytale. Cinderella, Matilda and the Prince of Egypt will soon grace this stage, and no performance disappoints in this spectacular space.
From the freeway, it's easy to mistake this hamlet for another gateway town, but visitors discover that St. George, Utah, boasts a flourishing art and culture scene that beckons exploration. From theater to galleries to a thriving music scene, this red rock utopia is more alive than ever.
And the secret is out. St. George's booming population has made it the fastest-growing metro area in the nation, with retirees and young adventurers alike relocating to this desert paradise that's a short drive from Zion National Park, vast red rock wilderness and conservation areas and a cluster of Utah's best state parks. But you don't have to move here to get in on the action. St. George's spectacular landscapes, small town charm and big city amenities make it an incredible place for an artistic escape.
Broadway in the Desert: Tuacahn Center for the Arts
Built in the shadow of tall red rock sandstone cliffs, Tuacahn puts on Broadway productions in a dramatic outdoor amphitheater near Snow Canyon State Park. The word "Tuacahn" means "Canyon of the Gods," and its stunning rugged backdrop enhances any production. Catch musical performances by leading local and national acts on the outdoor stage through October. (Read: Discover an Outdoor Stage in Utah's Canyon of the Gods)
Return to Tuacahn on Saturday mornings for a weekly market featuring local art, crafts, food and free live entertainment. An ever-changing set of painters and artisans sell their wares alongside Tuacahn Canyon, and musical acts play until afternoon.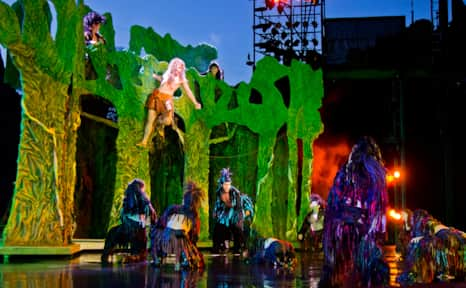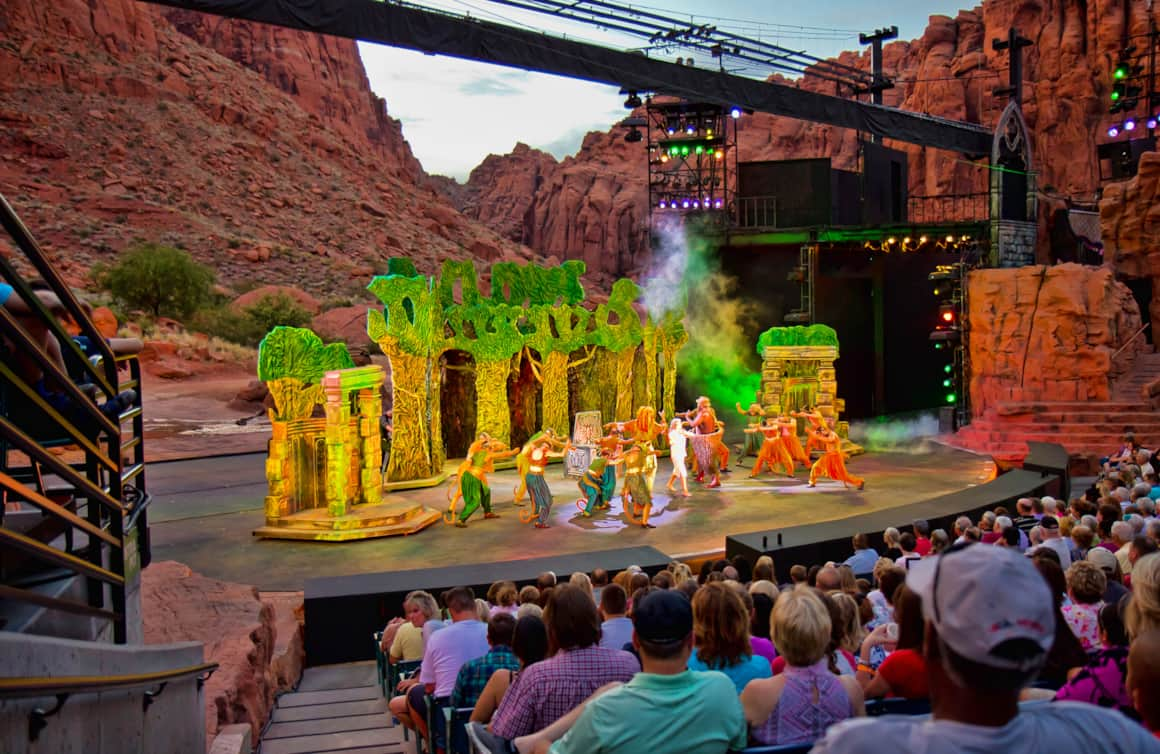 Art Enclave: Kayenta and Coyote Gulch Art Village
To discover the essence of St. George's authentic art scene, make a beeline for the artist enclave of Kayenta. Creative types have long touted the inspirational benefits of living amidst these soaring cliffs and dazzling panoramas, illustrated by Kayenta's popularity. Built against stunning varicolored rock walls just seven miles from St. George, Kayenta and its Coyote Gulch Art Village bustle with galleries, studios, festivals, retail shops, gourmet food, a yoga studio and even a spa — just in case you need a vacation from your vacation.
Venture into Juniper Sky Fine Art Gallery to see wind sculptures and Mystic Canyon Light Gallery for outdoor landscape photography. Find impressive ceramic works at Zia Pottery Studio then throw your own pot to take home in a two-hour private lesson.
Refuel and caffeinate amidst a xeriscaped desert (one that needs very little irrigation) at Xetava Gardens Café, a Kayenta coffee shop and kitchen surrounded by lava fields. Then catch a brilliant sunset in the sculpture garden or stroll around the meditative Desert Rose Labyrinth built by Kayenta locals. (Read: Utah's Unexpected Pit Stops)
Art Events: Center for the Arts and Festivals
Catch performances by musicians, comedians, artists and actors at Kayenta's Center for the Arts. Completed in 2017, the spacious center encompasses 11,000 square feet along with an outdoor plaza.
If you're visiting in the spring or fall, check out one of the region's signature art festivals and gallery walks. Cooler temperatures make art strolling season a reason to visit during April (St. George Art Festival and Street Painting Festival) and October (Art in Kayenta Festival).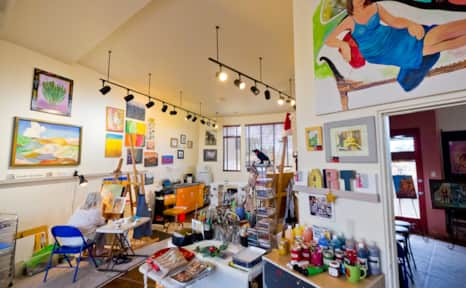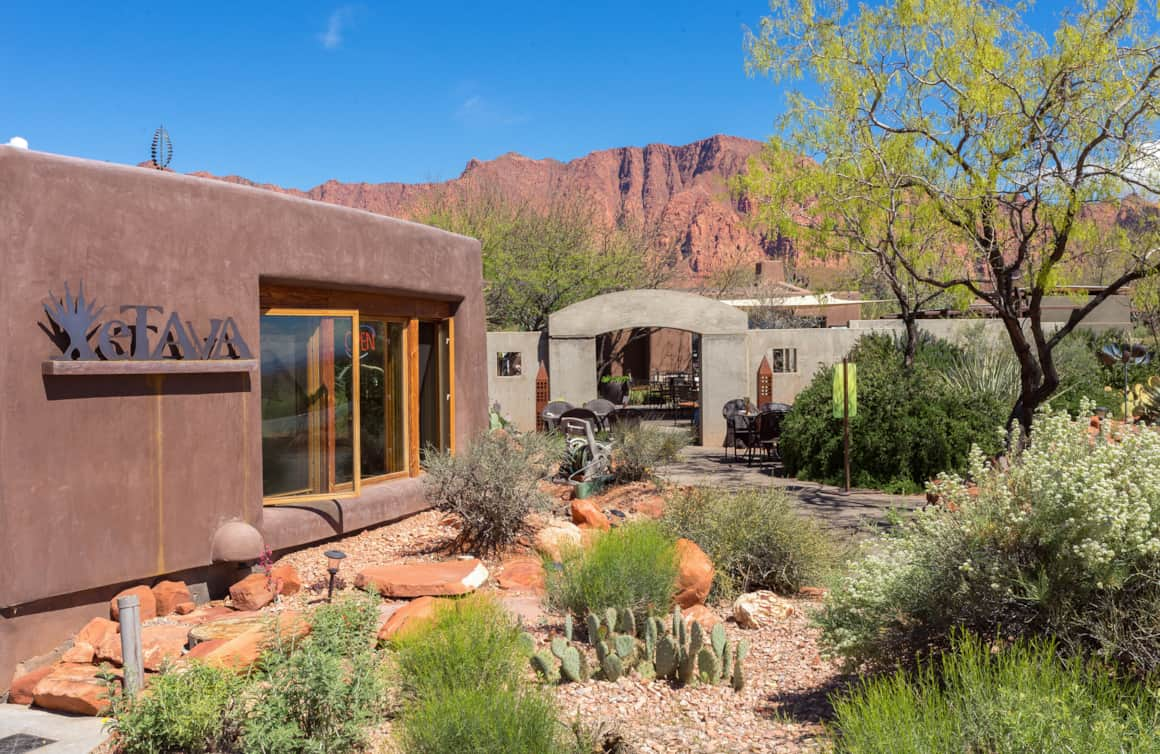 Classic & Contemporary Art: St. George Art Museum and Sears Art Museum Gallery
St. George is home to many museums and galleries, and one of its best served as a sugar beet seed storage facility before being transformed into an art museum. Through the work of the community, St. George Art Museum was transformed and opened in 1997. Today, the museum boasts a collection of regional and local art exhibits as well as rotating collections and events like date nights and book clubs. Admittance by donation.
For relaxation amidst classic and contemporary art, visit Utah Tech University's Sears Art Museum. The museum features six exhibits each year and an outdoor sculpture garden where you can meditate and meander among reflecting pools and bronze sculptures. Admission is free.
Outdoor Tunes: Concerts in the Park
Casual and free is the name of the game at this outdoor music series that takes place on the second Monday of each month from April to September. Make it a long weekend and pack a picnic for these family-friendly Concerts in the Park located in St. George's Vernon Worthen Park. Pick up dinner to go from George's Corner Restaurant & Pub, then lounge on a blanket and soak up jazz, rock and roll and R&B under the stars.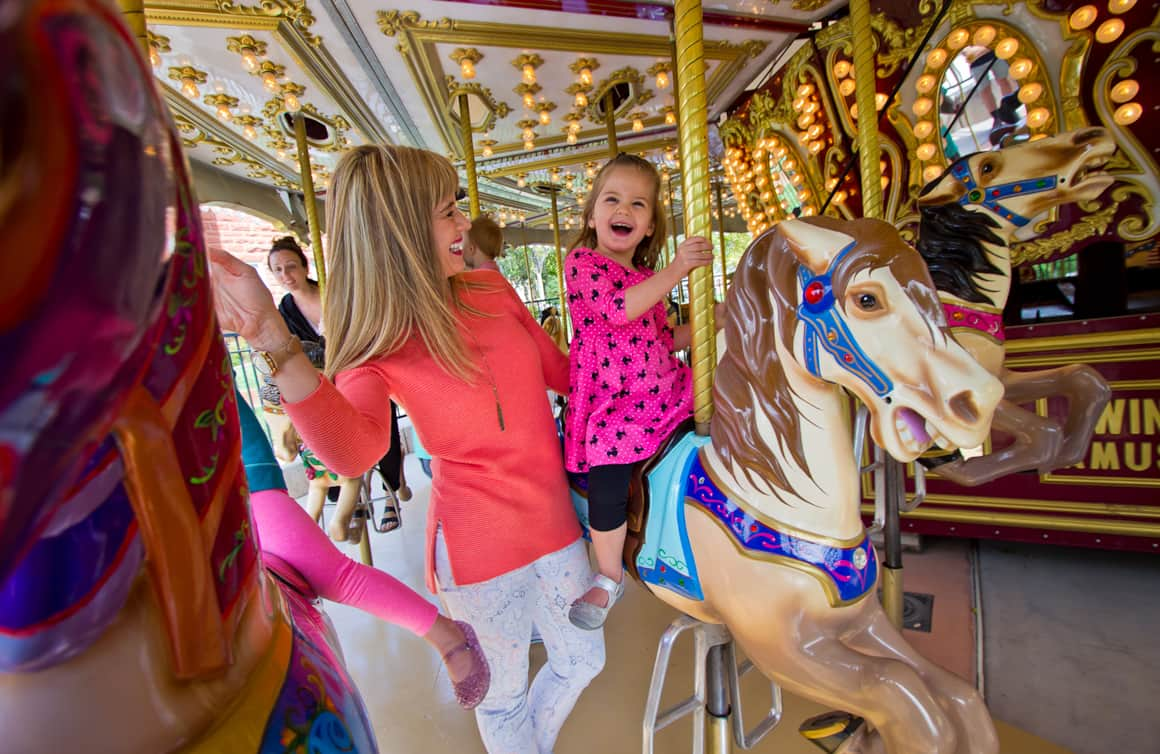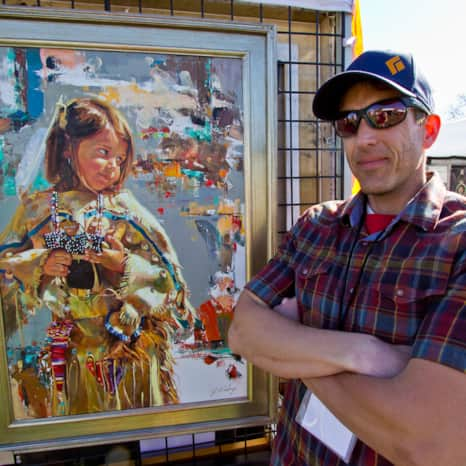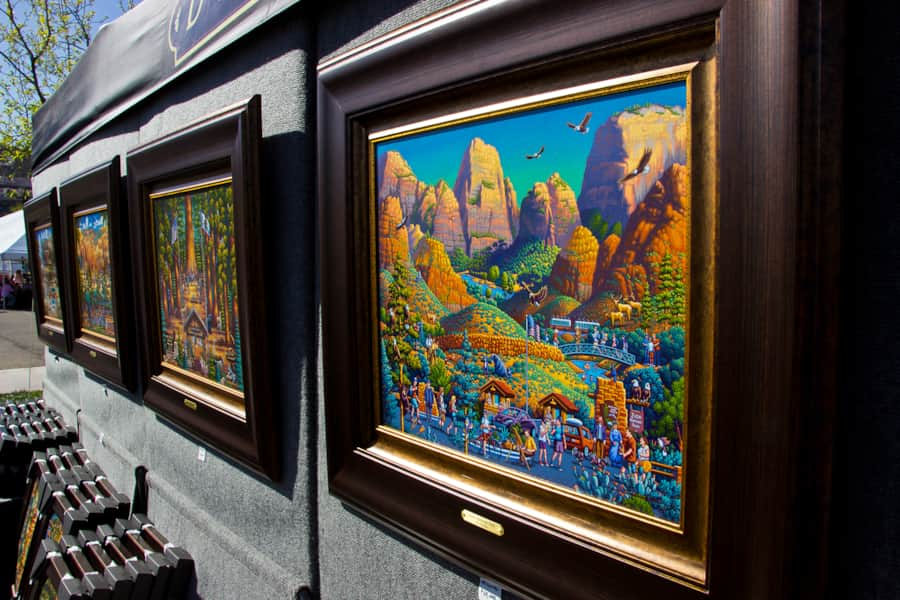 Show Tunes: St. George Musical Theater
Beyond the red rocks of Tuacahn, find the St. George Musical Theater at the Historic Opera House on Main Street. See classics like My Fair Lady, Footloose and 42nd Street performed here by talented singing and dancing casts.
Classic Sounds: Southwest Symphony Orchestra
Hear the sounds of Handel's "Messiah" and masters like Beethoven and Brahms at performances by the Southwest Symphony. This 70+ member orchestra performs at the M.K. Cox Performing Arts Center at Utah Tech University, and is celebrating more than 40 years of inspiring performances.
Whether you come to St. George for the professional theater, dazzling landscapes, or abundant art galleries, this booming Southern Utah destination just four hours from Salt Lake City makes the perfect place for a cultural getaway.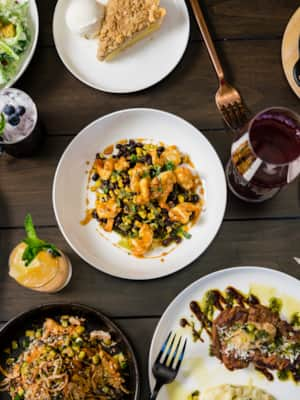 Where to Eat and Drink in St. George
As you explore St. George and Greater Zion seeking excellent food, coffee and drinks, you'll want to add these top restaurants to your list.