Utah Is Your Easy Winter Vacation Destination (and We All Could Use Easy)
Whether you're looking for a break, vacation or quest for fun this winter, Utah is the place for adventure — wherever the trail takes you along the way.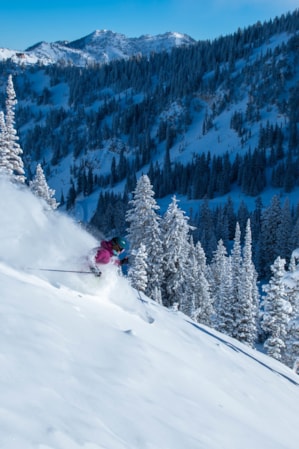 We all need a break, but how and where? For our communities, we distance; for our friends and families, we cling together — rekindling bonds and traditions, forging new ones and reminding each other that while we are forgoing some things, we are rediscovering many others, surprisingly, through travel.
To make your winter travel plans easy, affordable and adaptable, choose Utah. We know these things mean more to you now, and we want you to feel confident that Utah — the place that welcomed the world for the 2002 Winter Olympic Games just four months after 9/11 — stayed largely open by implementing safeguards throughout 2020, allowing visitors to rediscover nature and reconnect with one another. (Learn more about planning a Utah ski trip during the COVID-19 pandemic.)
"A vacation is what you take when you can no longer take what you've been taking. "
– Earl Wilson
Holiday Road
Throughout the year, people from across the United States visit Utah to experience its breathtaking landscapes and outdoor adventures. Stretching from The Rockies to The Great Basin and featuring five national parks, 44 state parks, mountains, hot and cold deserts, over one million acres of water and over 500 inches of annual snowfall, Utah represents a convergence of climates, cultures and possibilities for the curious as well as the cooped up.
Some swap their international plans for a place that sounds remote but still feels close to home. Others tell the kids after another curbside grocery pickup, "This is no longer a vacation...it's a quest. It's a quest for fun," and just kept driving until the stars are brighter than the street lights. Indeed, every dad over 40 has recited Clark Griswold's mantra and dreamed of just going and going until they reach Arches National Park, which, unlike WallyWorld, never closes.
Speaking of roads, in an effort to keep Utah's canyon highways and panoramic views clear, consider carpooling and public transportation whenever possible. The Park City electric bus system provides free transportation throughout town getting you from most hotels and condos to both Park City Mountain and Deer Valley. If you're skiing the Cottonwood Canyons' resorts, UTA offers the Ski Bus and numerous private shuttle options. Better yet, save the rental car cash and stay slopeside.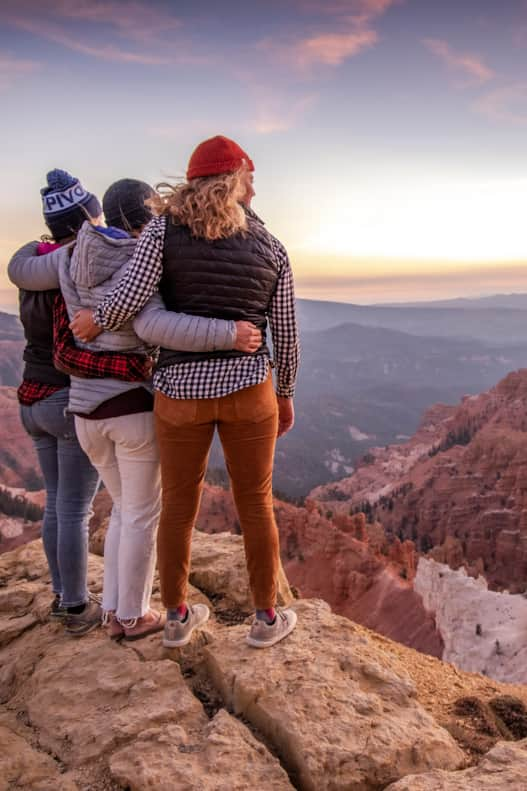 Utah's Winter Playground
Winter in Utah provides even more places to play. With 15 ski resorts scattered throughout the state, beginners and experts, powderhounds and parents, budget-conscious or big spenders can find a place to enjoy Life ElevatedⓇ.
Utah's resorts and wintertime landscapes are the polar opposite of visiting a theme park: the latter is a highly-staged production that is the same every time you visit. Do you want to do exactly what everyone else has done, written about and posted online? Regale about that great log flume ride where you waited two hours in line? Instead, imagine describing the sounds and Instagrammable visions of making fresh tracks all morning on Powder Mountain's Lightning Ridge or the exhilaration of doing laps in a catski to the backcountry where you are waist-deep in fresh powder under sun-drenched skies.
Even better, a looped song won't worm its way into your head, because Utah's gelid venues are accompanied by an ever-changing cacophony of nature's best. Skiing Mineral Basin at Snowbird, snowshoeing at Eagle Point or snowmobiling in the Uintas provides a dynamic sensory experience every day, week, month, season and year. The weather can be warmer, the snow can be deeper, the trail can have a different path or profile than before. It looks, feels and even smells new, preparing us to live boldly in the moment.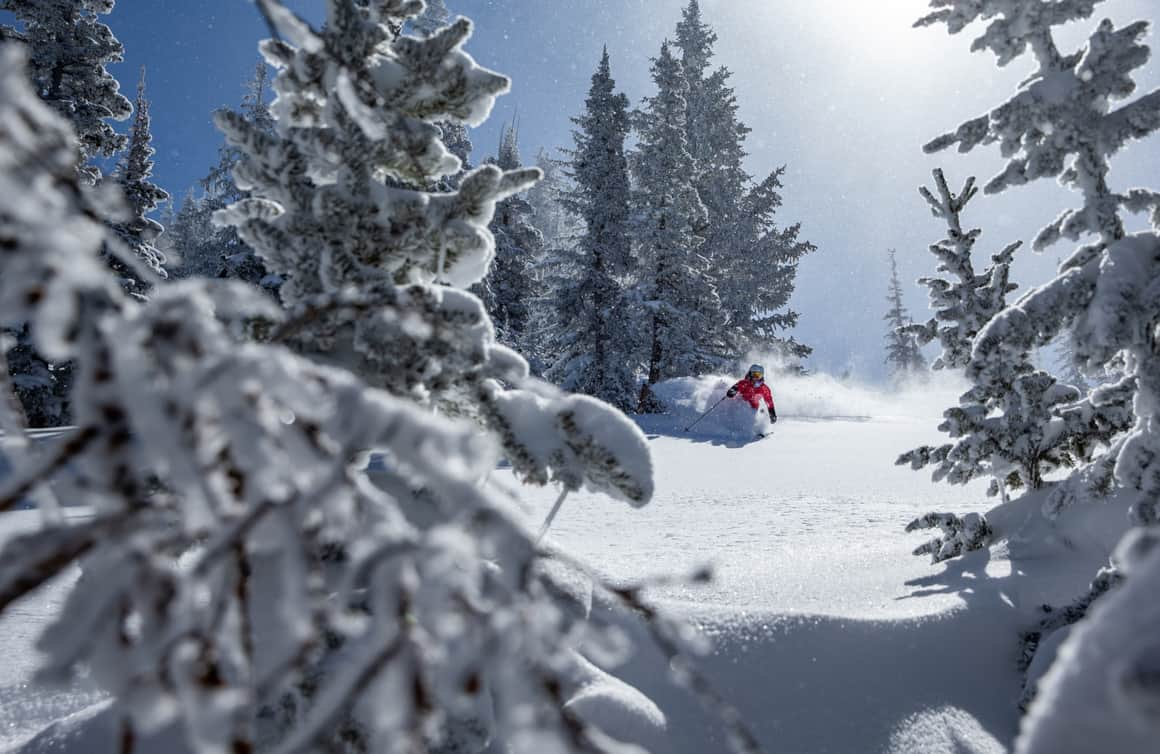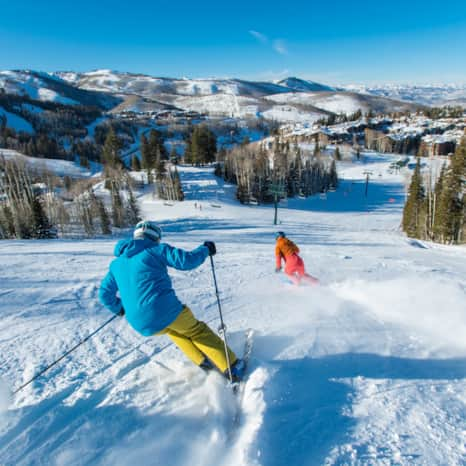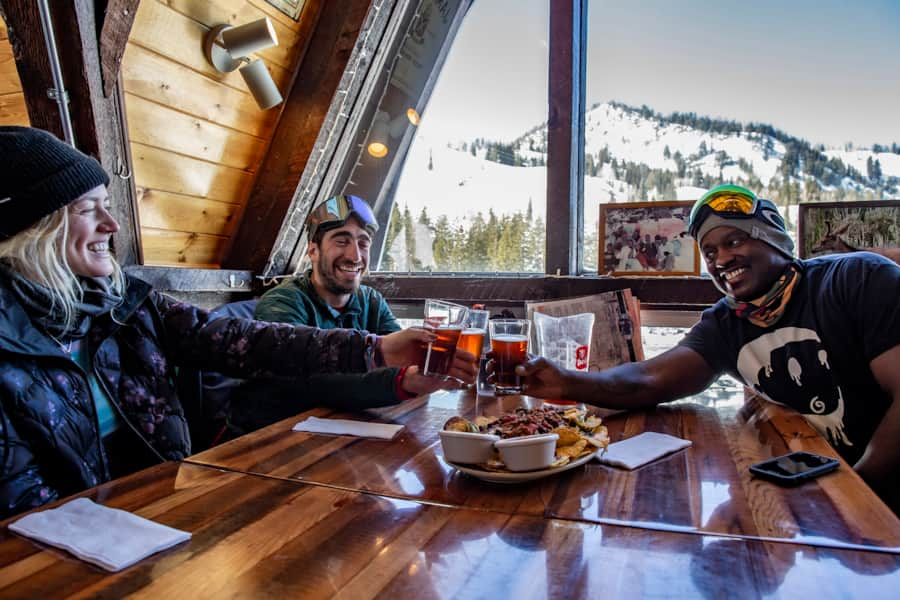 Seeking What is Real, Not What's on Reels
More than ever, people are taking more pleasure in "small" moments. Cheering a toddler (or especially a grown-up) as she glides down the bunny hill for the first time melts the most-jaded soul, and spotting animal tracks while hiking an otherwise pristine snowy trail will replace cynicism with a mix of wonder and wariness every time. These aren't the adrenaline-filled images captured on most brochures or web pages, but they are the ones we carry with us and recall first when asked, "How was your vacation?"
Whether you're sailing off Solitude's Fantasy Ridge or sipping Italian hot chocolate slopeside at Alta's Baldy Brews (yes, Utah is the capital of craft chocolate), you feel on fire and want to share it with everyone around you. However, more surprising, it's a feeling that's as thrilling with the kids as it was your first time. It's like watching the viral video of two teens hearing Phil Collin's "In the Air Tonight" for the first time, a song recorded decades before they were born. Anticipating their reaction (or your kids' or grandkids' squirming beside you), as you patiently wait until Collins drops his most famous drum break, and then relive the wonder from that almost-forgotten segue. It's about sharing a moment, the present one or from years ago.
We are all a bit nostalgic these days. Heck, we're baking bread and sowing seeds, for goodness sake! We're also camping, touring national parks, cycling and doing a lot of things — especially outdoors — we did or wanted to do in a different time.
What's funny is that while some perceive Utah as a place from a different time (inside secret: It's how we keep it to ourselves in the offseason), people who live and play here not only do all of these things regularly but take them to the next level making them fresh and exciting with each iteration, especially in winter. We ski and kite ski, sled and bobsled, ice skate and ice climb, snowshoe and snow bike. What this means is that, not only is there a lot to do, there is always something to do off the slopes, as well. In these challenging times (or just between seasons), Utah continues to adapt.
"Cheering a toddler (or especially a grown-up) as she glides down the bunny hill for the first time melts the most-jaded soul."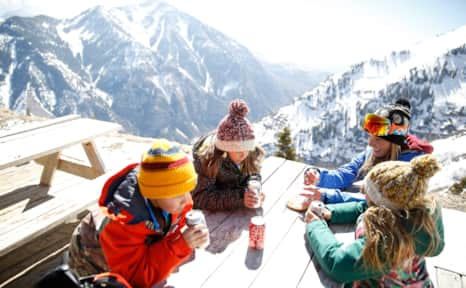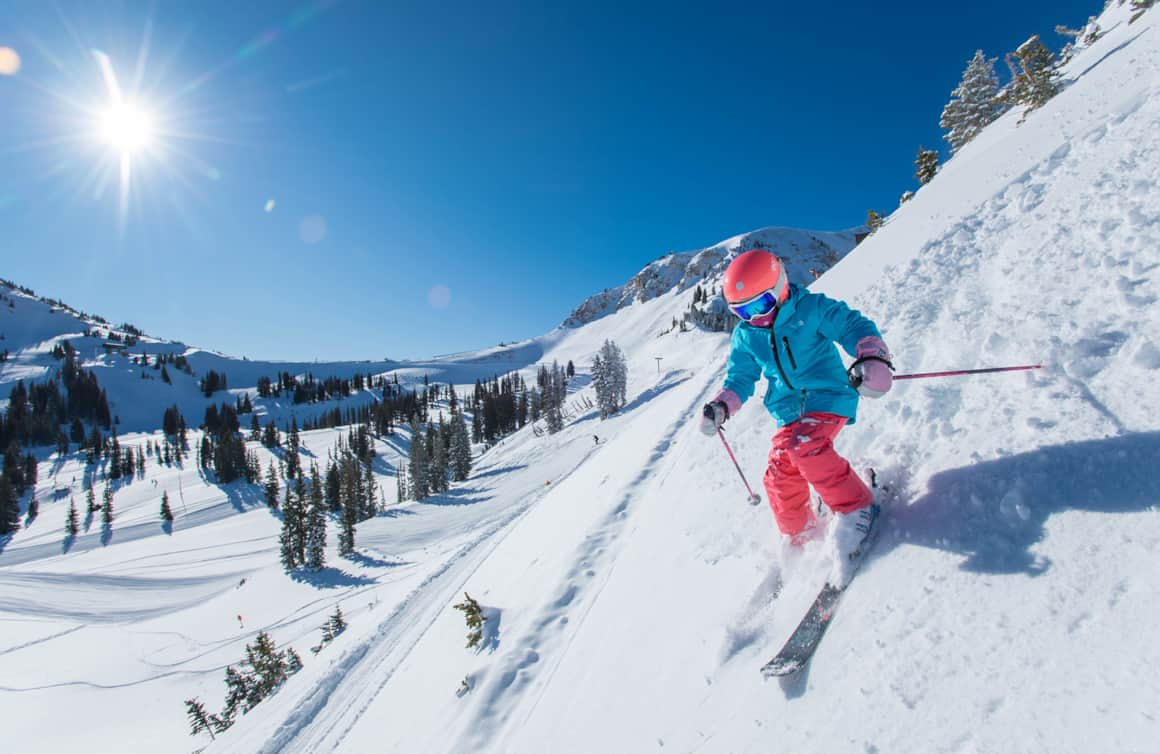 Plan B is Just the Road Less Traveled
Vacation travel in Utah is being reimagined by replacing or complementing an itinerary with a guide, something that suggests what not to miss along the way and, especially now, encourages you to wander and embrace the unexpected. Visit Utah is your guide to the undiscovered or at a time when 'plan' can become another four-letter word: What do we do when WallyWorld is closed?
If you take a trip that ends up requiring activating a "Plan B," that doesn't mean the trip was a bust; it means it was an adventure and reminds us that the unexpected is often the best part, the part that made the trip memorable. Swap your ski boots for hiking boots. Add some crampons, because frankly, it sounds pretty cool to say, "Crampons!"
"When you see someone putting on his Big Boots, you can be pretty sure that an Adventure is going to happen."
– A.A. Milne, Winnie-the-Pooh
If you're concerned about planning a winter escape, don't fret! There are two reasons why you should feel confident in your Utah vacation. First, Utah resorts are making every effort to stay open and stay safe this winter, spring and in the case of Snowbird, summer. Masks? Yes, always. We love masks (which prevent chapped lips, if anything), goggles, gaiters and balaclavas! Utah winter fashion has always been about function, beard icicles notwithstanding, and locals know that staying warm means skiing more powder.
Last season, during the height of Covid, Utah resorts remained open. They did this by responding to the situation, as necessary. The way ski lifts and trams were loaded was the biggest change visitors experienced: numbers were limited per chair. However, this was typically only noticed at the base and during busy holidays and powder days. Some resorts did what Deer Valley and Powder Mountain have done for years, capped the number of skiers or implemented a reservation system. Although this sounds @#$%, many visitors already purchased lift tickets or season passes in advance, and capping numbers reduced lift lines and traffic. Finally, dining was adapted much like what you're saw at local restaurants, but online reservations and curbside takeaway were ubiquitous throughout the State.
Pro tip: Live like a local and enjoy a tailgate lunch or, better yet, ski through an otherwise empty noon hour and hit the hot tub early. (Yes, we enjoy a ridiculous lifestyle here)
Hopefully, the changes were temporary, but Utah resorts remain committed to acting promptly and responsibly in any situation. So, check Visit Utah and the individual resorts for updated information throughout the season.
However, if it all goes sideways, then here's another reason why Utah is a great winter destination: There is so much to do in Utah even when you're not resort skiing. Backcountry and cross-country skiing are both available without a lift ticket. Rent some snowshoes or those cool crampons for a walk or trail run in the woods that will transport you from Park City's Main Street directly to Narnia. Fat tire biking, another example of Utahn's ability to adapt, has become one of the state's fastest-growing activities year-round. With five-inch wide knobby tires (and even fatty ebikes available to rent at many bike shops and resorts), people of any age or ability can ride the growing number of groomed or tamped trails along the Wasatch Range. Again, no lift ticket required. These are just a few examples. Visit Utah is your guide to Life ElevatedⓇ providing plenty of other winter activity ideas all over the state.
Whether you're looking for a break, vacation or quest for fun this winter, Utah is the place, as always, for adventure — whatever you plan to do or wherever the trail takes you along the way. Let Visit Utah be your guide to help make it easy, as well.