COVID-19 Travel
Please adhere to local guidelines for safe and responsible travel, including following the statewide mask mandate.
Read more
Locals Know Why Ski School is Cool
Ski School just doesn't sound cool. There, I said it!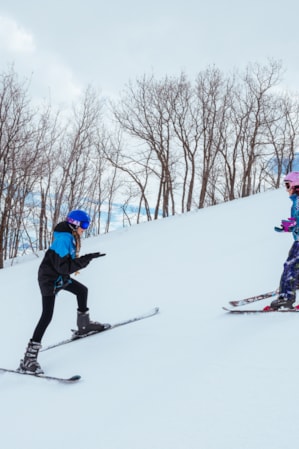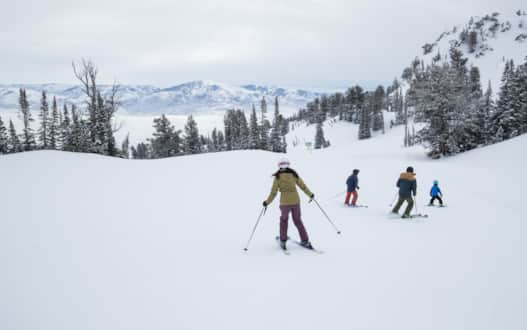 Flight School definitely sounds adventurous (Tom Cruise in Top Gun flashed before you, admit it) and, even Culinary School sounds exotic (Anthony Bourdain definitely helped there). It's not the ski-part of it. We love to ski! It conjures images ranging from the adrenaline-seeking to the stylish (or, in Lindsey Vonn's case, both). But suggest going to Ski School, and folks will look at you like you just sentenced them to three days of Driver's Ed. Come on! Ski school is not remedial or punitive — just the opposite. It is designed to take you to the next level: to get you on more-challenging runs or, especially in Utah, into the powder or backcountry. Now, that sounds pretty cool. Here are a few things Utah locals teach and preach about ski school.
Lesson #1: Ski School is Not Just for Beginners, but it's Really Good for Beginners
Although first-timers are highly encouraged to take some lessons (because you wouldn't try to drive without some advice), ski school is more than magic carpets and bunny hills. In fact, the overwhelming majority of people enrolled in Utah ski school have skied or snowboarded before. So, whether you need to get off that bunny hill or want to conquer a blue, black or double-black diamond run, then take advantage of all the great instruction at Utah resorts. That said, if you are a first-timer, there's never been a better or more affordable time to learn.
Every Utah ski resort has a beginner ski program for kids and adults, and most, like Powder Mountain, offer discounts throughout the season on gear, lessons and lift tickets. Brian Head Resort, in particular, not only has a great deal ($299 for 3 lessons, lift tickets and rentals) but a guarantee — "Learn in 3 or it's free!."
Just waiting for the right time? That might be January, which is Learn to Ski and Snowboard Month. Nearly every Utah ski resort offers a lesson, lift ticket and rentals for around $50 in January and Alta Ski Area even has a $10 lift ticket to the beginner lift after 3 p.m.
"Lessons can address issues or unlock fears that open up incredible new experiences ... You're skiing some of the world's best terrain in Utah. Learn to ski all of it!"
Lesson #2: You'll Get More Skiing In with Ski School
Some grouse they don't want to spend their limited vacation time in ski school. "If you spend a hundred bucks on lift tickets each day, you want to get your money's worth," said Maggie Loring, Director of Snowbird Mountain School. She explained, however, that those instructional hours give you the most bang for those big bucks. Similarly, many guests lament that, despite skiing since they were young, they can't ski like they used to and threaten to give up the sport entirely.
Well, there's no age limit to skiing.
Check out the viral videos of 100+-year-old George at Snowbird or ask members of The Wild Old Bunch (they stop briefly to refuel around noon at Alf's Restaurant) at Alta Ski Area, where senior passes are only available to those over 80. Before retiring your poles, there might be a simple fix. Loring explained that instructors routinely fine-tune guests' positioning or equipment helping them to ski longer and better than ever before. My father-in-law experienced this first-hand last season when the instructor adjusted his stance immediately taking pressure off his quads allowing him to ski more hours and more days throughout the season.
(Here's your locals' super-insider tip: we ALL sign up for Utah ski school on a powder day in order to go to the front of the lift lines and do laps all day long.)
Lesson #3: Better Skiers Have Even More Options
Just because you can cook an omelet, doesn't mean you can make a souffle, and it is a whole lot easier, and you're more likely to do it again if someone shows you how. The same applies to ski school.
So many skiers and snowboarders get stuck at a certain level. They spend years of spring breaks heading down the same blue runs. They tell themselves it is because they like those runs but, often, there's a worry that they'll look down a particular slope and think, "It is too steep or too narrow, has too many trees or too many moguls or...Why in the world is that big rock there?"
Lessons can address issues or unlock fears that open up incredible new experiences (no, your otherwise-wonderful boyfriend or spouse cannot teach you, and lessons are cheaper than the resulting couples therapy). Look for specialty clinics available at Utah resorts grouped by: (1) type, such as: skiers, snowboarders, telemark, women, men, teens, special needs, seniors, experts, lapsed; or (2) terrain, including: moguls, trees, backcountry, sidecountry. At the top of Utah,
Cherry Peak Resort
has offered evening skills clinics focusing on improving particular skills, and Deer Valley Resort offers the
"Steeps & Stashes"
3-day clinic for strong intermediate-to-expert skiers who want to ski off-piste (locals know this resort has so much more than just its famed corduroy) (Update: Due to COVID-19 restrictions and precautions, this clinic will not be offered during 2020-21 season). You're skiing some of the world's best terrain in Utah. Learn to ski all of it!
Lesson #4: The More, The Merrier and The Mightier
Private lessons are amazing, but they are also more expensive than group lessons, clinics or meetups. Moreover, a full-day private lesson your first day on the mountain can be exhausting, especially if you just traveled from Houston (50 feet above sea level) to Park City (7,000 feet). Consider joining a group to get you started. Utah ski schools typically keep group lessons and clinics as small as possible (4-5 max is common, but feel free to ask). The upside is that you: (1) get to watch others succeed and fail (groups laugh and cheer for both; it's like having coaches and cheerleaders with you), (2) hear more questions and answers (those small insights and, often, hysterical comments stay with you), (3) get a chance to rest and HYDRATE which, counterintuitively, will keep you on the slopes longer, and (4) meet some amazing people who, also, love the outdoors.
Snowbird's new Adult Mountain Experience is a 5-hour workshop (and a deal at $195) offered daily for advanced and expert skiers and snowboarders who want to explore terrain, hone skills and refine tactics (and, yes, cut the line on a power day) on some of the most challenging terrain in the region.
Lesson #5: The Other Time to Hit Ski School
There are times when the snow or the weather is … less than optimal. That is because Utah is not an amusement park. It's real nature-stuff, it changes and no one ever knows what it will do next. Sadly, not every day is a powder day, but one of the best group lessons I've ever had was on a crummy one that taught me how to ski crud and side slip down a nasty hillside. That lesson transformed my skiing, because learning how to do that now allows me to exit sidecountry gates, glide through some trees and roll over a little log to the opening of a powder-filled bowl that people pass all the time (no, I'm not telling you where). So, if the conditions are, shall we say, less than optimal, then sign up for a lesson or clinic and feel like a cool kid on the mountain.
Need to do a little more reading before booking? Read visitutah.com's What to Know for Ski School: Tips from a full-time certified ski instructor.