Sundance, Full Circle
When visiting the Sundance Film Festival in Utah, movies are only part of the experience
I'm walking eastbound on Broadway in downtown Salt Lake City and I can only see my breath if I really try. The sun shines between intermittent clouds as I approach the Rose Wagner Performing Arts Center — a three-venue arts complex — on a dry but snow-lined sidewalk. I feel a twinge of nostalgic excitement on this Sunday afternoon. I've been here before. As a film student, it was coffee-fueled, late-night screenings. Later, as a journalist, it was sitting on the floor of the heated press tent, writing a review of the film I just saw while waiting to be herded into the next one. Thanks to a little planning, this year would be different.
In front of the Rose Wagner, I introduce myself to my new companions visiting from out of state, all bent toward one goal: Sundancing in style.
Our first film of the Sundance Film Festival leaves us breathing a collective "yikes" in the theater lobby. It was stunning, unexpectedly violent, frankly disturbing and quite good. This is classic Sundance. See any film available, and be up for surprises; discover new genres and get caught up in the joy of experiencing the occasional film that falls squarely out of the norm.
We have an hour to kill before dinner reservations at HSL in Salt Lake, so we wash the fluster off with a round of negronis at Copper Common. A few walkable blocks away at HSL, we settle into our booth in the back and order half the menu. Each dish that arrives — General Tso's style cauliflower, wild mushroom toast, apple butter pork shank — is passed around with cries of "you gotta try this!" until the plates are clean and we're too stuffed for any more wine.
This Sundance is off to a good start.
"Each dish that arrives is passed around with cries of "you gotta try this!" until the plates are clean and we're too stuffed for any more wine."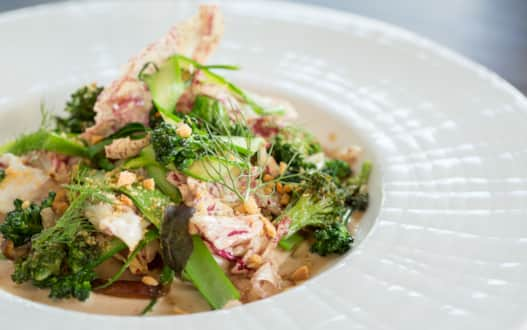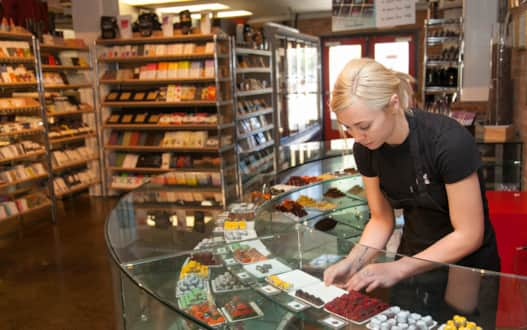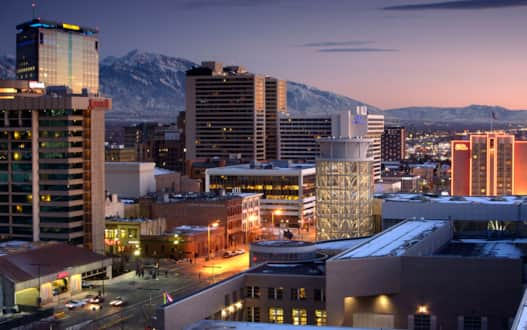 We start Monday morning in Salt Lake City again, this time with a quick stop at The Rose Establishment where I wolf down a galette and a cappuccino. If your schedule permits, save time for their relaxed brunch— but we have a chocolate and cheese tasting lined up around the corner at Caputo's Market & Deli. At Caputo's, we sample locally produced chocolates and learn that Utah is the craft chocolate capital of the United States. Then, at the cheese counter, we are greeted by the adjacent cheese cave's pleasant funk and we taste a dozen wildly different cheeses — a soft-ripened, pungent Harbison and the sweet, crystallized, house-aged cheddar top the list.
As we leave Salt Lake and traverse the stark white and gray beauty of a wintertime Parley's Canyon towards Park City, I feel buzzed from all the chocolate and drunk from all the cheese. Ask a cheesemonger — "cheese-drunk" is a real thing. To avoid opening weekend traffic, we hail a ride to be dropped off at the Eccles Center theater, where we join a large crowd. This was no regular screening, but a world premiere called "Patty Cake$," so we stand in the overflow line and collect quarter-sized snowflakes on our shoulders. The film had the packed house rocking with genuine laughter and gasping with anticipation. I left the theater feeling hopeful for the future of well-crafted, heartfelt film.
After the film my associates go to Canyons Village at Park City Mountain to check in at the Waldorf Astoria so I decide to wander Historic Main Street in pursuit of a little virtual reality.
I find the New Frontier building (Sundance's center for the interactive convergence of film, multimedia and technology) and quickly become lost in a labyrinth of full-room installations and performance art pieces. I find a couple virtual reality (VR) stations and soon I'm flying through space, steering my invisible body with a turn of my head, blasting alien robots with lasers. It's one of the weirdest experiences I've ever had, and I tell my companions about it over beers when we meet up at the No Name Saloon. While I was getting lost and flying through space, they were watching a film at the Egyptian Theatre a stone's throw away. The town is legitimately buzzing with activity, combining the great films that Sundance is known for and the multi-faceted Park City attractions — things I regret overlooking on my previous visits.
Reconvened and hungry, we roast marshmallows for complimentary s'mores in front of the Waldorf Astoria, where we also have plans for a four-course dinner. The meal is thoughtful and delicious. It's as good as the film we saw earlier today — we're convinced that the film will win one of the festival's top awards.
Tuesday is sort of a free-for-all as far as my companions and I are concerned. Some of us spent the morning trying to cross-country ski, but we split up afterward and now I'm heading back to Park City's Main Street knowing I'll find even more Park City attractions and things to do at Sundance. I spot a sidewalk sign, dwarfed by a four-foot-tall mound of last night's freshly plowed snow. The sign reads "COFFEE" and points into a clothing boutique. I follow the path upstairs and enter the tiny Pink Elephant Coffee. It's a week into the film festival, but the dogged baristas still serve up a cortado that hits the spot. I look up the schedules for nearby screenings in my Sundance pamphlet — I'm too stubborn to download the Sundance Film Festival app but many visitors will appreciate its convenience — and see that an animated short film collection is playing at the Park City Library's theater in an hour. I decide to risk it and get on the waitlist in-person instead of hopping on the app's eWaitlist. Turns out I'm in luck: There are only about a dozen people waiting around for the screening.
The sun is setting when I walk out of the library and head back up Park Avenue to meet the group for dinner at Tupelo on Main Street. I'm the first one at the restaurant. The navy blue sky is clear and it's not too cold, so I wait outside and take in my surroundings. The festival's frantic opening weekend crowd has since flown back to their respective coasts and the remaining passersby, lit from above by multicolored string lights crisscrossing the narrow street, seem calmly festive in the twilight. I'm determined not to look like a tourist, but I'm compelled to snap a few photos of the scene with my phone anyway. Inside Tupelo, I see a $30 Manhattan, available only during Sundance, on the cocktail menu. I order it just so that I can say I drank a $30 Manhattan, and it is exquisite — so is the Utah trout, which follows.
"The film had the packed house rocking with genuine laughter and gasping with anticipation. I left the theater feeling hopeful for the future of well-crafted, heartfelt film."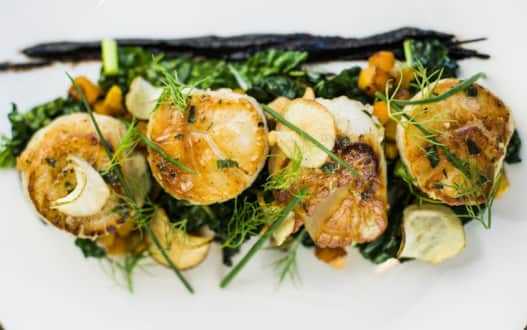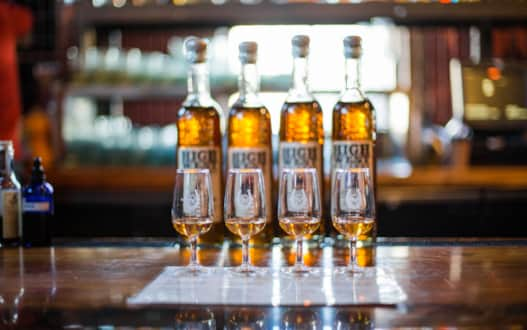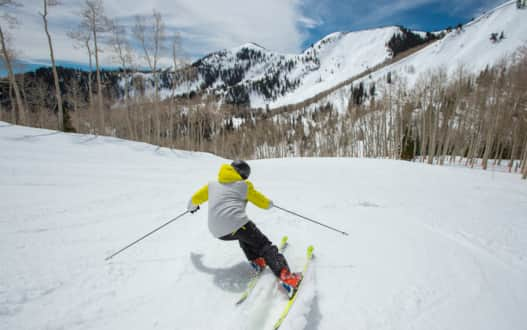 We've got a lot of things on our agenda for Wednesday, so I meet my group at the Waldorf Astoria early in the morning. To avoid parking, I turn my salt-covered Ford Focus over to the valet, who is stationed in front of the hotel between two brand-new Lamborghinis. I don't notice if he appreciates the juxtaposition as much as I do. I meet with the team and we hop on one of the free Park City shuttles bound for Main Street.
Our first stop is the Utah Film Commission headquarters where we listen to a filmmaker panel about race in film. We had planned a tour of High West Distillery at Blue Sky Ranch in nearby Wanship, but last night's heavy snowfall closed the private road leading there. I make a note to return at a later date.
Instead, we head to High West's Saloon on Park City's Main Street just minutes away. The lunch is satisfying, and for dessert I order a custom whiskey flight. I mention our sob story about the snowed-in distillery tour and our server, who happens to be a manager, offers to give us a quick tour of their on-site test distillery. In the basement under the High West building that was once a livery stable, our guide tells us how whiskey is made as we sip various samples of wash, or pre-distillation "distiller's beer." It's getting close to movie time so we go our separate ways to catch some film screenings before dinner. I board a shuttle bound for the Park Avenue Theatre.
After the film I get off the shuttle at the top of Main Street for a cup of coffee at The Eating Establishment. I check my festival pamphlet for the performance schedule at the Sundance ASCAP Music Café. I don't recognize any of the artists but I walk to the bottom of the hill and check out the venue anyway. A bearded man is playing alt-country music and I stand in the back for a couple songs before walking back up Main Street to meet my group for dinner at Riverhorse on Main. We're seated on the enclosed second-floor patio and the tableside view of the town is as picturesque as last night in front of Tupelo. It's a refined, relaxed meal. I savor my quinoa succotash and chardonnay and I laugh to myself as I remember my meals at Sundance in years past: sitting on the floor of the press tent, washing a Luna Bar down with water as another journalist on the other side of the tent eats barbecue ribs out of tinfoil.
By Thursday morning, some of my colleagues are preparing to fly back home but a couple of us are sticking around for one more day. We feel obligated to take advantage of the multiple feet of fresh snow that has accumulated the last few days.
Two of my colleagues are taking downhill ski lessons at the Canyons Village side of Park City Mountain. I ride the Canyons Cabriolet gondola up with them but then opt to ride solo with the full snowboard setup I borrowed from my brother. It has been a few years since I have had a snowboard strapped to my feet but as soon as I skate off the Orange Bubble Express, my feet remember what to do.
Alone, I traverse the mountains toward the Park City side and back again, the familiar thrill of weaving through pines in knee-deep powder and cutting through frigid wind down steep groomed runs is welcomed equally to silent contemplation in the solitude of an ascending chairlift. I realize that this activity mirrors the act of watching a compelling piece of cinema in a theater — a shared emotional experience with strangers and a deeply personal internal experience. Maybe the solitude and altitude is making me sentimental, but I feel how I feel. This year's Sundance Film Festival is now officially complete.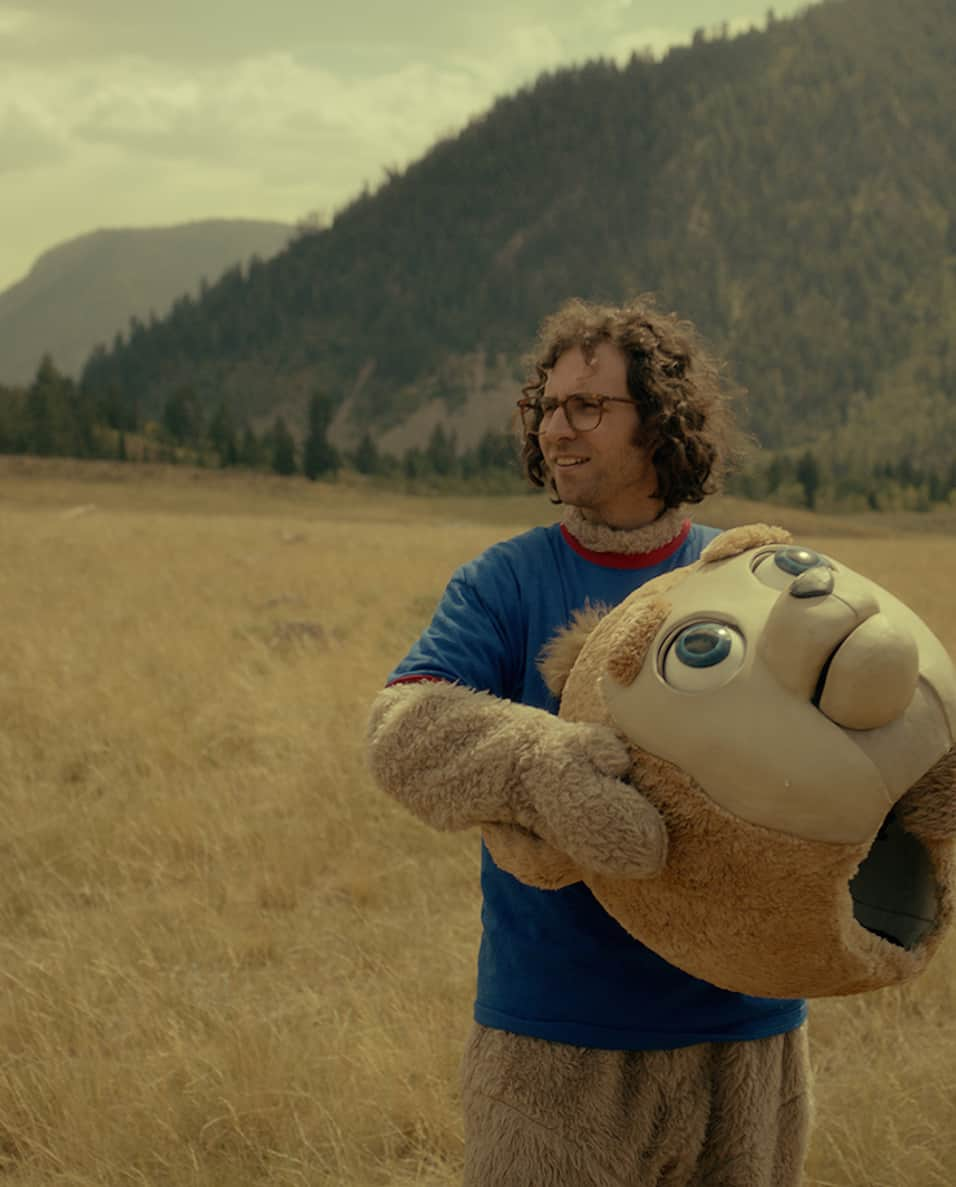 Filmed in Utah: Explore the Settings of Sundance Movies
It's a film buff's dream — a three-day northern Utah road trip through the mountains, desert flats and cityscapes featured in Sundance standouts such as "Brigsby Bear," "SLC Punk!," "Nine Days," "Hereditary" and "Frozen."
Highlights
"Hereditary" film location in Park City
"Deidra & Laney Rob a Train" film location in Heber
"Brigsby Bear" film location in Uintas
A grand film tour of Salt Lake: "SLC Punk!," "Hereditary," "Nine Days"
"Wind River" film locations at Weber Canyon and Coalville
"Frozen" film location at Snowbasin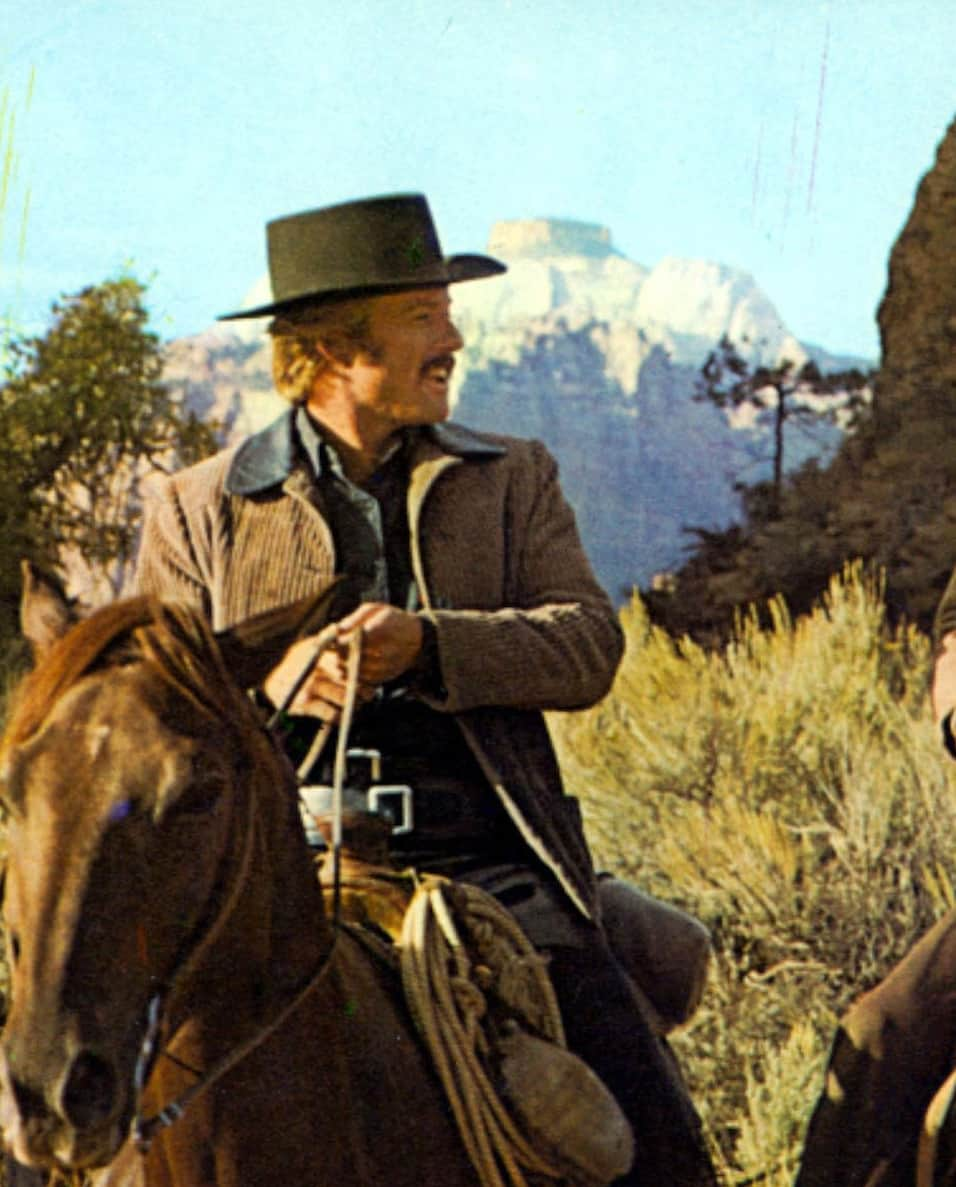 Robert Redford's Sundance Scenes
Journey through some of Utah's most striking mountain and desert filming locations to experience the awe of the all-American frontier immortalized in Robert Redford's "Butch Cassidy and the Sundance Kid," "Jeremiah Johnson," and "The Electric Horseman."
Highlights
"Jeremiah Johnson" film location at Sundance Resort
Kolob Canyon film location of "Butch Cassidy and the Sundance Kid"
Zion National Park film location of "Butch Cassidy and the Sundance Kid"
Snow Canyon film location of "Butch Cassidy and the Sundance Kid" and of "The Electric Horseman"
Stroll Historic St. George