5 Utah Music Festivals Adding a Soundtrack to Your Road Trip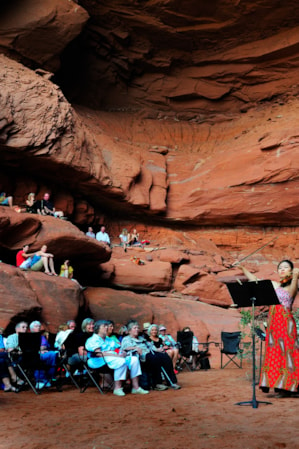 Music is deeply entrenched in Utah's cultural lifestyle. For example, read about Utah's capital, Salt Lake City, and you'll soon discover it's one of a handful of cities its size that is home to a professional ballet, symphony and opera, alongside multiple theater companies, dance companies, America's choir and so much more. We just love our music. Indoor, outdoor. Twilight, after dark. In the mountains, in the red rock.
Music is as much a part of Utah's landscape as our iconic mountains and arches. With a little advance planning, a summer music festivals in Utah might fit into your vacation, whether you're spending a night or two in Salt Lake City or Park City, hitting the road for Arches and Canyonlands national parks or traveling the Yellowstone Loop through Northern Utah. This compilation is jam-packed with notes on local events, community concerts and annual festivals that will treat your inner music aficionado.
Utah Festival Opera & Musical Theatre | Logan
When attendees come to Utah Festival Opera & Musical Theatre, they are rarely arriving for just another night out.
The Utah Festival Opera & Musical Theatre, with its rich 25-year history, offers a multi-faceted experience — one that gives patrons more than exceptional performances on the stage.
As you prepare for your ennobling outings, you might just sing an aria of delight. That's because during the course of the company's six-week run, there is much to be excited about: outstanding operas, memorable musicals, engrossing educational talks, meet-and-greets with the talent, and barnstorming backstage tours. Indeed, music in the mountains never sounded so good.
The season typically runs from July to August.
Red Butte Garden | Salt Lake City
The University of Utah's Red Butte Garden is a non-profit organization that features more than 100 acres including display and natural gardens, walking paths and natural areas with hiking trails. To be clear, Red Butte Garden is the largest botanical garden in the Intermountain West. But then folks at Red Butte turned their once-quaint auditorium into a major concert venue complete with assigned seating and general admission lawn seating where people gather on the foothills of the mountains with picnic baskets filled with the finer things to enjoy during the show.
Red Butte began in the early 2000s with about 10 shows and have grown the program to some three dozen headliners. Artists include Santana, Lyle Lovett, the Decembrists, Sheryl Crow, the Lumineers, Willie Nelson, Wilco, Alabama Shakes, Steve Martin & The Steep Canyon Rangers, Norah Jones, Crosby, Stills & Nash; many of whom return year after year. With good reason, tickets sell out fast. Season runs May through mid-September. Tickets and venue information
Deer Valley Music Festival | Park City
Already renowned for the very best in customer service and world-class downhill skiing, Deer Valley Resort discovered that if they built it — a stage — people would come. The Deer Valley Music Festival is the summer home of the Utah Symphony | Utah Opera and blends world classics (Tchaikovsky, Mozart, Gershwin, Vivaldi) with the modern classics, where the symphony accompanies tribute performances to the likes of Prince and Ella Fitzgerald or influential contemporary artists like Ben Folds enjoys perhaps the greatest backup band possible. And when the Utah Symphony isn't playing the Park City Institute's St. Regis Big Stars, Bright Nights series at Deer Valley Resort hosts top touring artists like Aloe Blacc, Melissa Etheridge, the San Francisco Gay Men's Chorus and more. For tickets and venue information, contact ecclescenter.org and deervalleymusicfestival.org.
Moab Music Festival | Moab
No matter how many times you visit Moab's otherworldly red rock landscape, it will take your breath away. The magnificent cliffs that radiate warmth and tower over the sparse sage-scented atmosphere are a sight to see. And so, to Moab Music Festival founders Michael Barrett and Leslie Tomkins, it made perfect sense to start a music festival with this backdrop, amplifying its power with rich acoustic performances.

A quarter-century years after the festival's inception, the sound waves are still going strong, and it's definitely worth a trip for both out-of-towners and Utah locals alike. There are multiple concerts during the two weeks, in venues dotting the area's landscape.

The venues are unconventional to say the least — three concerts are held in a secret rock grotto that guests are jet-boated to (a surreal place that you can't get to otherwise), another show is held on the less-esoteric lawn of Moab's town park, and yet another is at the lovely Red Cliffs Lodge. The festival culminates in a multi-day musical rafting trip down Cataract Canyon, a must-do if you can fit it into your schedule and budget. The festival organizers and musicians partner with a local rafting company to pull it all off. This is a big win for concert-goers because all your food and camping equipment are supplied, so all you need to bring is your own personal belongings.
Moab Music Festival typically runs from the end of August to mid-September.
Twilight Concert Series | Salt Lake City & Ogden
There's a real magic to twilight. Given. But a twilight concert? Even better. As the sun sets on Salt Lake City, the western faces the skyscrapers catch the golden light. The shadows of the trees in the city's Pioneer Park stretch across the grass. People begin to gather prior to showtime. Food trucks and vendors set up. Roadies prepare the stage. More people flow in. There's nothing quite like an outdoor concert. But this isn't your typical intimate setting or outdoor amphitheater. The buzz around this event is different. It's bigger. If you're passing through Salt Lake City on a Thursday in July or August, the Salt Lake Twilight Concert Series at Pioneer Park is where you'll want to be.
This weekly summer shindig features world-class musicians playing in a downtown outdoor park venue at a very attractive price: The concerts — which cost only $5 in advance and $10 day of show for general admission tickets — are a high point of the hottest season and the place where teens, hipsters, families, and audiophiles of all walks of life congregate to enjoy some tunes. In fact, the series, now more than 30 years old, attracts more than 10,000 people to the outdoor venue for a can't-miss urban vibe.
And north of Salt Lake City, Ogden Twilight also brings world-class acts to an outdoor setting. The Ogden Amphitheater and enthusiastic crowds make for an incredible experience in one of the Wasatch Front's most walkable downtowns. Better still, visitors in Salt Lake can use their ticket to board the FrontRunner Commuter Rail, which carries concertgoers to within three blocks of the venue.
Just up the canyon in the nearby Ogden Valley, Sunday from early June to late September (noon to 5:30 p.m.), the lawn and patio outside Earl's Lodge at Snowbasin Resort converts into a vibrant festival-like atmosphere with free music from nationally touring artists, incredible BBQ food and ice cold beverages at the appropriately titled Blues, Brews and BBQ.
Once you find a Utah music festival, local event, community concert or series to your liking make a note to add the dates to your vacation itinerary!