Required Listening
Crucialfest weaves metal and indie rock into the fabric of Salt Lake City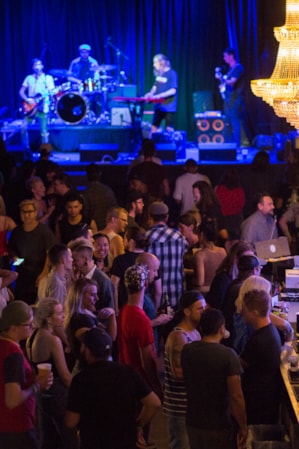 Editor's Note: Crucialfest 8 will be held September 28–29, 2018, at the Utah State Fairpark in Salt Lake City. Though the venue has moved, the objectives and audience of the signature music festival will be very similar. Lineup, details, and tickets available at crucialfest.com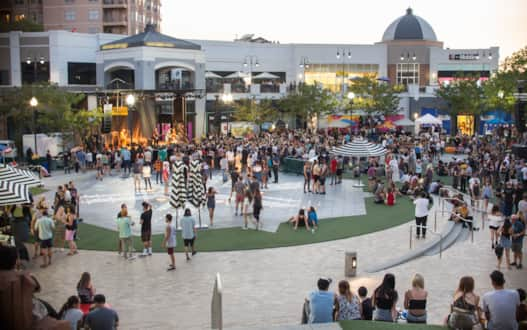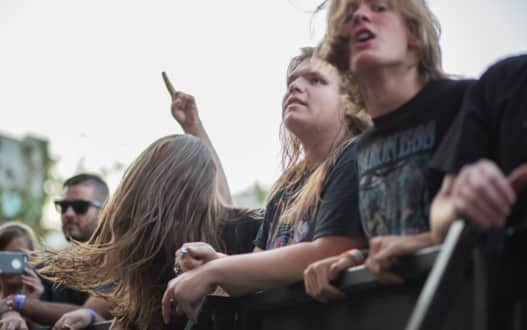 Under a bright September sun in Salt Lake City, shoppers at The Gateway stop in their tracks and look on in confusion at the hordes of bodies shuffling down stairs, slowly filling the walkways and some repurposed storefronts, overtaken by these intruders.
A frightening, booming voice reverberates off the storefronts of Barnes & Noble, Urban Outfitters and the historic Union Pacific Depot.
"Rocket Fizz: Soda Pop and Candy Shop."
Playfully reading the name of a sweets shop positioned opposite the stage, American surf punk band The Frights are sound testing, getting ready to play their set. In a mall.
The Gateway is an outdoor shopping complex and entertainment district spanning two city blocks on the western edge of downtown Salt Lake City. But today it's serving a decidedly different purpose. Within the mall, a circular common area called the Olympic Legacy Plaza that typically acts as a designated leisure space for patrons is fenced off for a special event — the seventh iteration of Crucialfest, an annual music festival in Utah's capital city.
It's a weird scene. Where you'd expect to see shoppers sporting Abercrombie & Fitch, you see rockers, hipsters and metalheads sauntering around, Bud Light in hand.
Most recently, the festival spanned four days and boasted an impressive lineup of 70 national and local musical acts featuring such talent as:
Minus the Bear
SubRosa
The Growlers
Lazerfang
P.O.S.
Pinback
Crucialfest divided the shows among three locations, with The Gateway acting as the gravitational center, and Salt Lake City concert venues Metro Music Hall and The Urban Lounge orbiting at the western and eastern fringes of downtown. This city was crawling with music on a wide genre spectrum.
"It's a weird scene. Where you'd expect to see shoppers sporting Abercrombie & Fitch, you see rockers, hipsters and metalheads sauntering around, Bud Light in hand."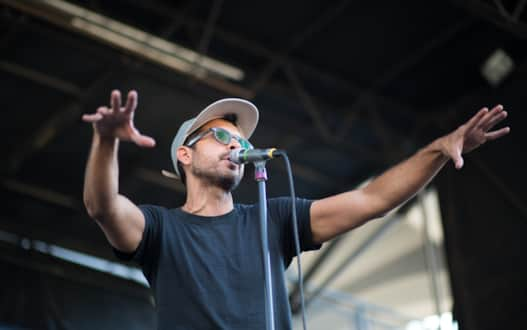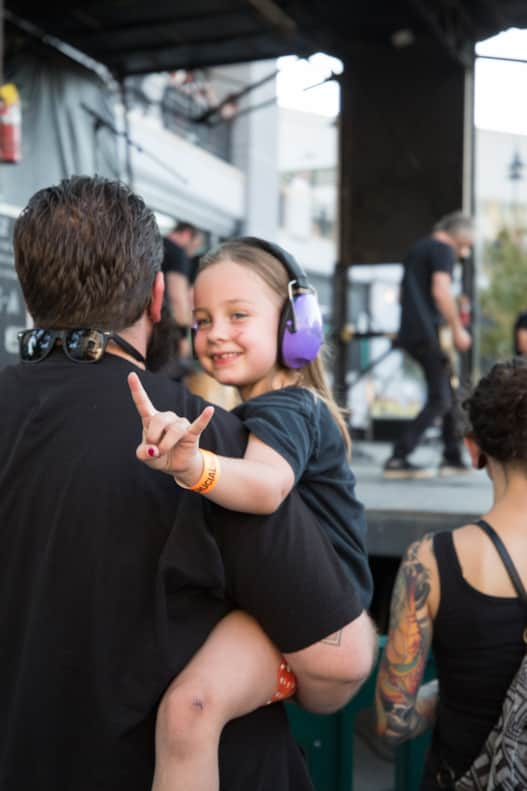 The unusual festival space filled with people and the music started.
The steady, continuous thump-thump-thump of a kick drum announces the beginning of the show. The crowd moves toward the stage with arms outstretched, slapping their hands together. A small army of percussionists. The volume of their claps slowly rising to match the volume of the drum, giving the mall a heartbeat.
But it didn't start out this way.
We can trace Crucialfest's humble beginnings back to a husband and wife's aspirations in 2010.
***
Tiffany and Jarom Bischoff are the founders of Crucialfest, originally a metal-themed festival dating to 2010 with the ambitious goal to become a nationally recognized name-brand festival with deep local roots.
Over the next six years the couple experimented with different structures for the event, refining their approach. I spoke with the Salt Lake City-grown, now international band, SubRosa's lead singer Rebecca Vernon on the topic. Including today, SubRosa has played several Crucialfests.
"It changes every year because Tiffany and Jarom are trying to find the perfect formula. And I think this year they really dialed it in … I feel like this is the best setup so far."
The X factor in this new formula? Salt Lake music scene's renaissance men Will Sartain and Lance Saunders.
Sartain and Saunders have long been an influential force in helping shape and develop Salt Lake City's distinct music culture. Owners of the booking and promoting company S&S Presents, they also own and run three prominent venues in the city, Metro Music Hall, Kilby Court and The Urban Lounge, each offering its own distinct flavor.
The history of their first venue, Kilby Court, acts as a handy analog for illustrating Sartain and Saunders' spirit and ethic, which draws from and feeds the city's broader music community. Though the venue has been under their care for 10 years, they weren't the original owners. In fact, growing up, they had played shows and worked at Kilby.
During year eight of the venue's life, the now former owner of Kilby approached Sartain and Saunders about buying the venue. He didn't trust anyone else to run it. If they declined, the venue would be shut down.
Both in their early 20s, the two faced a difficult choice. Saunders said, "It wasn't a money-making operation, [but] we didn't want the demise of Kilby on our hands." They took the plunge. "It was [and still is] a labor of love."
"It can be like Dawn of the Dead where you have the whole mall to do whatever you want."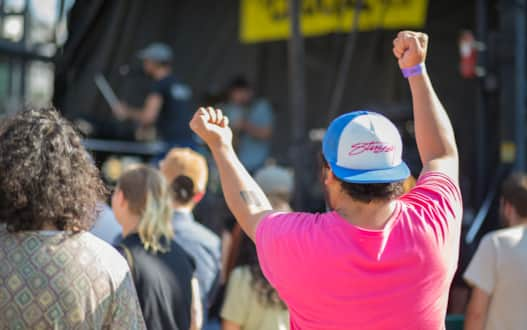 As time went on, the duo found commercial success with Urban Lounge and, more recently, Metro Music Hall, booking national as well as local music acts. Their dedication and support weave the common but crucial fabric that makes up this city's tight-knit music community.
Earlier this year, the Bischoffs approached Sartain and Saunders and pitched the idea to team up.
Sartain suggested that they "pump up the bands and make it huge and not … just a metal festival."
As the new team brainstormed, someone floated the idea to make The Gateway the main event hub.
Initially, Sartain was skeptical. "I was like, 'nah that's cheesy,' and then we surveyed the area and I'm like, 'this is amazing. It can be like Dawn of the Dead where you have the whole mall to do whatever you want.'"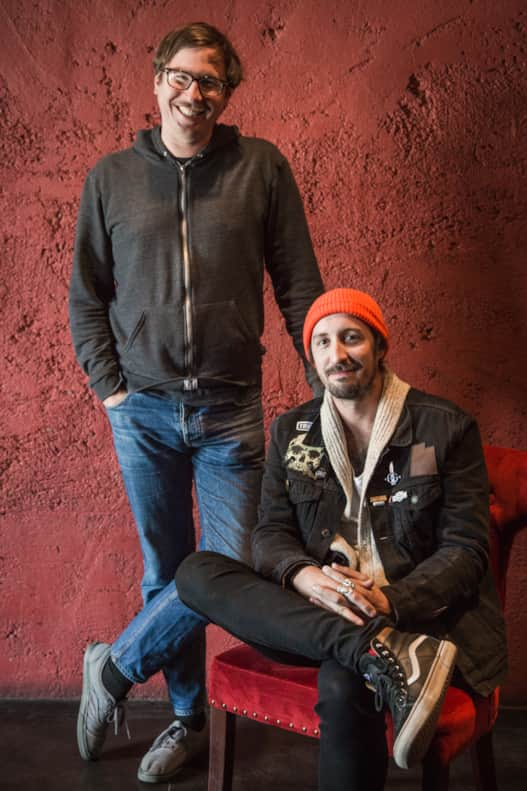 Back at The Gateway, I stand between two imposing stages a hundred yards apart. Around the perimeter Graywhale (a local and independent movie, music and gaming store) sells posters, merch and records alongside street short rib tacos and pork belly bowls from the local restaurant, RYE, also owned by S&S Presents. I see a young couple sitting on a bench in front of a cardboard cutout booth with the sign "Hand Drawn Photo Booth." Naturally my photographer companion and I get our "photos" drawn.
Inside an air-conditioned former department store, I find a bar and order a cold cocktail, then walk outside to the second-story balcony, taking in the panoramic view of the concert grounds. From my vantage point I watch three piece psych-rock outfit Radio Moscow down below on the S&S Presents stage, complete with waist-long hair, shirtless drummer and lead vocalist growling over mean guitar riffs. The surrounding stores create a circular enclosure that provides for powerful acoustics.
I head back downstairs to join the crowd for synth-poppers, STRFKR. As warm bodies groove to interstellar beats, a giant inflatable astronaut sitting astride a swan surfs across the sea of jubilant cosmonauts. Through some strange intimacy, I feel connected to my fellow concert-goers — a community of fungi, acting as collective.
To my right I see a young family, the dad holding his six year old daughter who's donning a pair of big purple noise cancelling headphones. Initially I'm struck with the adorableness of the scene, but then recall something Lance Saunders shared with me during our interview. "We have a lot of friends that have grown up and have been married and had kids. We're trying to get them [and their friends] into music and Kilby."
The legacy lives on.