Boulder Community Market and Escalante Canyons Art Festival
Nothing brings a community together quite like food and regional arts events. Explore Boulder, Utah's weekly summer community market and the Escalante Canyons Art Festival in September.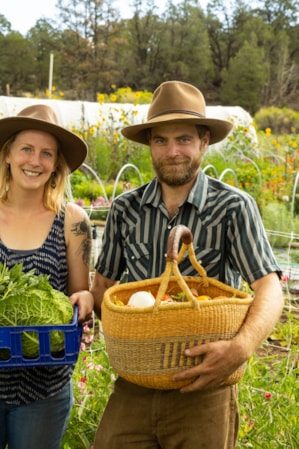 The joys of travel come from seeing things you can't see in your own hometown. This includes national parks and scenic beauty, but also the one-of-a-kind shops, guided experiences, galleries and eateries that are unique to a specific community and locally-run and cared for. And supporting local communities during your travels can have a profound impact.
Boulder Community Farmers Market
Nothing brings a community together quite like food, and a farmers market is the ideal hub — a melting pot of local growers and producers meeting, greeting and selling their delightfully fresh and delicious products to their neighbors. Additionally, it's a great place to pick up unique art and crafts while the kids have a blast running around in the sunshine. Indeed, towns big and small come alive on Saturdays during the growing season.
The Boulder Community Farmers Market is a charming market along the All-American Road, Scenic Byway 12, by the Anasazi State Park Museum
and all are welcome to energize their journey with a little high-elevation positive community vibe. It's not uncommon to see Boulder townsfolk giving hiking advice to happy tourists while grocery shopping. Stop by May through October on Saturdays from 9 a.m. to noon to pick up provisions for the road, and get a real sense for that magical Boulder Mountain vibe. You'll find fresh garden vegetables, tubers, flowers, and prepared goods to make your drive to Bryce Canyon or Capitol Reef national parks a tastier experience.
Escalante Canyons Art Festival
About 28 miles down the scenic byway sits Escalante, home to the annual Escalante Canyons Art Festival/Everett Ruess Days, usually held in September at various venues around the city.
The festival's namesake, Everett Ruess, is a legend in many artistic and Utah historic circles. Despite his young age, the 20-year-old artist rubbed shoulders with painter Maynard Dixon, and well-known photographers Ansel Adams, Edward Weston and Dorothea Lange. In November of 1934, Ruess mysteriously disappeared in a rugged canyon near Escalante. His love for the red rock country, his poetic musings of his wanderings, the mystery of his death and the art he left behind have inspired many.
The non-profit organizations Envision Escalante and Escalante Canyons Group for Arts and Humanities present the annual Escalante Canyons Art Festival as a working art festival. Their goal is to celebrate the varied fine art that draws from the majestic Escalante country and to welcome people to learn some of the area's rich history.
At the festival, there are many events throughout the week. Some of the highlights include workshops, demonstrations, open studios, speakers, exhibits, galleries, musicians and more.
One of the best things about this festival is if you need a break from the art (or when you want to see all the beauty first hand), you can venture out into nearby canyon country and explore for an afternoon or overnight before coming back and indulging some more in the creative art experience. Everett Ruess would have wanted it this way.
GPS Coordinates:
Boulder Community Farmers Market: 39.3219869,-112.8415131
Escalante Canyons Art Festival (Escalante town center): 37.770410, -111.601824