U.S. Federal Shutdown Information
All of Utah's Mighty 5 national parks will remain open.
Learn more.
Boomer Travel: 76 Hours in Moab
Three days exploring Moab's softer side — with options to take on bigger adventures.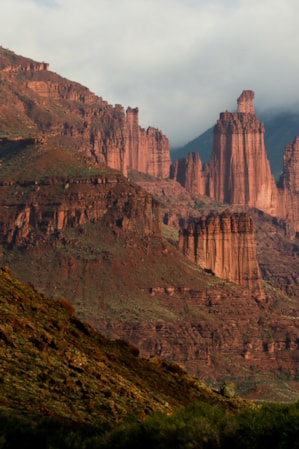 You may know Moab for its national parks and world-renowned mountain biking. But along with hiking shoes, sun screen and water bottle, it helps to take along a vivid imagination and a real sense of adventure when heading for Moab, Utah. Moab is, after all, not your typical retreat. From Arches National Park to slickrock mountain biking, Moab is a true adventure land. But you need not be an adrenaline seeker to enjoy Moab getaways.
Set the stage: imagine being on a movie set with John Wayne or in a boat drifting along with John Wesley Powell or riding alongside Butch Cassidy or following the footprints of a dinosaur. Cycling, hiking, rafting, touring or star gazing are among the options, depending on your level of adventure. Also, climbing near-vertical cliffs in a Hummer, riding the empty backroads in a Polaris ATV, pedaling a bike over huge beds of solid rock, paddling a surfboard down the mighty Colorado or trying as you may to read what stories ancient artists tried to tell on rock walls.
Welcome to Moab. Your adventure epicenter, no matter your age. Take a look at our sample itinerary below — designed just for Baby Boomers — for must-see destinations, travel tips and more. Whether you stay for a week or a weekend, you'll find the adventure of your dreams here (Read: "The Best Time to Visit Moab").
Distance: 234 miles Salt Lake to Moab (~4 hours) | Area Driving per day: 1 to 3 hours | Most Driving: Spoke trips to Canyonlands or the La Sal Loop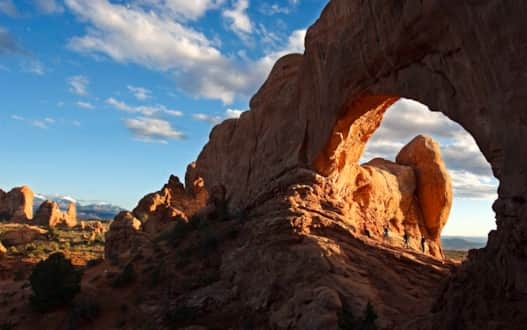 Day 1
Adventure Highlights
It's about four hours from Salt Lake City to Moab.
Depending on your start time, you may plan on a full afternoon or evening in Arches National Park or grab a quick hike on BLM land alongside the beautiful state Route 128 or Kane Creek.
Scenic Route: Upper Colorado River
Miles: 70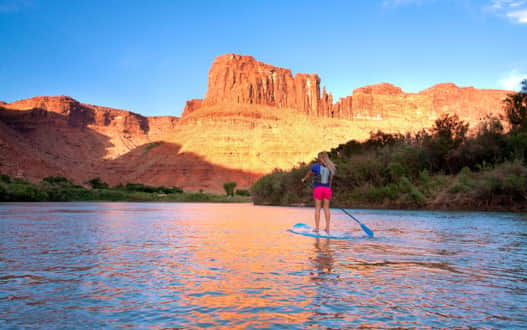 Day 2
Adventure Highlights
Nine holes, quick auto tour of Arches, stand up paddleboarding on the Colorado, Hummer sunset cruise.
Scenic Route: Arches National Park
Miles: 10–30, mostly around town or to nearby Arches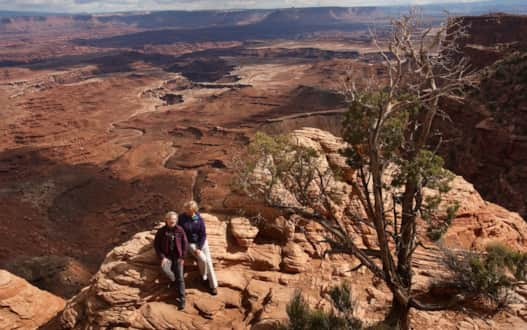 Day 4
Adventure Highlights
Horseback riding, scenic drives, jet boat tours, melons aplenty and the return drive home.
Scenic Route: Upper Colorado, La Sal Scenic Loop
Miles: ~60 plus return trip.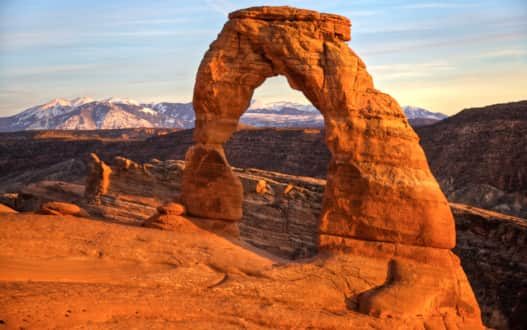 In Detail
Day 1
10 a.m. — I-15 south from Salt Lake City is a comfortable drive. It's roughly 45 minutes to the Manti/Price exit onto US-6 East through Spanish Fork Canyon. It's a pretty canyon route to the summit, then into Price. Two hours drive time to Price and another hour into Green River, a sleepy little town well known for its melons, Ray's Tavern, connection with the Green River and the John Wesley Powell River History Museum. The burgers at Ray's are worth exiting I-70. Many folks do. Utah has a rich history in river running, dating back to John Wesley Powell's historic trip down the Green and Colorado Rivers in 1869. The museum features a river-runner's Hall of Fame and replicas of early boats, including the boat Powell sat atop on his first voyage.
2:00 p.m. — Consider a late afternoon hike on Bureau of Land Management terrain off Kane Creek Road or state Route 128, or a dip into Arches National Park for a stroll down Park Avenue. It's tough to visit Moab and leave Arches on the table, whether it's your first visit or your annual trek to this adventure epicenter. If your camp site is established or reservations made, you might choose to linger in Arches for a romantic sunset hike to see the stunning red rock of Arches during magic hour. Pack water and a headlamp. This would also be a good time to hit Delicate Arch if you never have. It's a rather strenuous 3-mile hike, but an effort that does not go unrewarded. Save some extra time and pack in a picnic if you're considering visiting Delicate Arch. A walk around Balancing Rock is less than half a mile and a walk up Devils Garden Trailhead leads to several arches, including the spectacular Landscape Arch, by some accounts the longest in the world.
6:30 p.m. or later — There is no shortage of rooms or restaurants in Moab. Reservations, however, are recommended. Consider the Red Cliff Lodge, 14 miles East of Moab along the road paralleling the Colorado River on state Route 128. The lodge is comfortable, has a real western flavor and overlooks the easy flowing Colorado River. More than that, however, it is home of the Moab Movie Museum and the actual site of many of John Wayne's movies. In all, more than 50 movies have been filmed in the Moab area since 1949 and countless additional commercials. There's a special sense of history trying to match movie scenes with the actual landscape. Fans of HBO's Westworld series will recognize the many backdrops of the show along S.R. 128.
8 p.m. — Dinner at the Red Cliff Lodge includes a salad, vegetables, delicious roll and wild Alaskan salmon, grilled ranch steak and outlaw red chicken and prime rib prepared to the liking. The spread is served on the deck overlooking the quietly moving Colorado River.
"There's a special sense of history trying to match movie scenes with the actual landscape."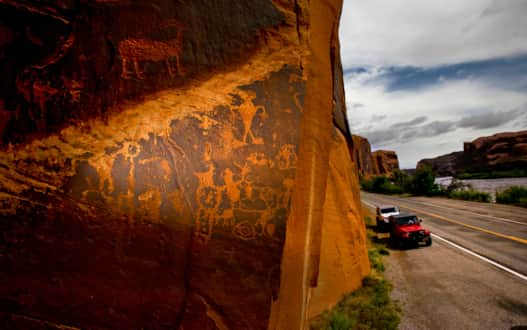 Day 2
7:30 a.m. — Well known for its biking and rugged dirt roads, Moab is less recognized for its golf, yet the Moab Golf Club layout is one of the most spectacular anywhere with the rich green grass accented by the backdrop of rugged red cliffs. The best part is because it gets less attention, good tee times are always open.
9:30 a.m. — Several locals recommended a stop at the Moab Diner on Main Street for breakfast. The menu started at $5.75 for the standard eggs, hash browns and toast, and ran up to $9.99 for steak and eggs. This stop proved to be a great decision. Also recommended was the Red Rock Bakery which is said to have great coffee and fresh-baked bread.
10:00 a.m. — Since there are more than 2,000 natural arches in the Arches, we've set aside a little extra time to pop back in, this time for roaming the park via the Arches National park scenic drive. The Windows area is the most popular section because its accessible and offers views of several arches. It's possible to drive the entire Windows loop or stop and take several short hikes on relatively flat ground.
11:30 a.m. — Back in town, the perfect quick lunch stop was Milt's Stop and Eat southeast of town. It is the oldest restaurant in Moab, dating back to 1954, and is best recognized for its burgers. A cheeseburger and fries comes to $4.50 and is well worth the price. Also on the menu are chicken burgers, hot dog and fish burger.
Noon — There are half-day raft trips and sport boat tours on the Colorado, but the newest craze is stand up paddleboards and sit-on-top kayaks available through Adrift Adventures near the center of Moab. Two sections of calm water, each taking about four hours to navigate are perfect for the boards and the kayaks are designed to run the 12-mile section that hold six Class 2 rapids. There's also the popular "ducky,'' a 12-foot long inflatables made for one or two persons that is perfect for the river run. Shuttle service is available at the rental shop.
6 p.m. — The perfect choice for an energy-enhanced meal is Zax Restaurant offering all-you-can-eat pizza, soup and salad. There is always a selection of a half-dozen or more pizzas sitting on the warming shelf with every imaginable combination of toppings, along with two different soups and a well-stocked salad bar. There are also individual selections of sandwiches, burgers and pastas.
"Sitting atop a rocky sandstone ridge, watching the sun slowly fall into the western landscape it truly inspiring. Unfortunately there's not a rewind and play again button."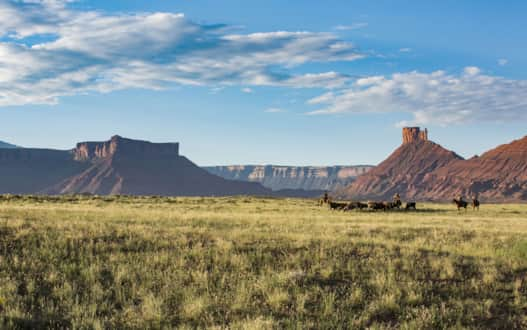 7 p.m. — Consensus is the summer sunsets viewed from atop "Hell's Revenge'' are breathtaking and getting there in an open-air Hummer adds to the experience. Sitting atop a rocky sandstone ridge, watching the sun slowly fall into the western landscape is truly inspiring. Unfortunately there's not a rewind and play again button. Lands seen as evening falls and seen again by the headlights of the Hummer are quite different. Unfortunately the two hour tour ends all too quickly. There are several Hummer operators in town.
9:30 p.m. — The drive back along the River Road to Red Cliff may be interrupted occasionally by roadside campers and river travelers packing up for the day, which speaks to the popularity. There are several camping areas both inside the parks and outside to those wanting to rough it, and plenty of shops in town offer gear rentals. At this point the luxury of a shower and comfortable bed will be welcome amenities to some.
Day 3
8 a.m. — We mentioned Moab is probably best known for its biking, so a visit wouldn't be complete without a two-wheel trip. There are a limitless number of riding options at every skill level, but for many the choice is simple — downhill. One of the newer rides is the 13.5-mile Gemini Bridge Trail that begins off S.R. 313 en route to Dead Horse Point State Park. It is a dirt road that's all downhill to U.S. 191. Here, there are two options: 1. take the shuttle or vehicle back to town; 2. continue on an easy ride another 10 miles on a paved path back into town. There are a number of rental shops and shuttle services in town to facilitate this ride.
11:30 a.m. — At this point, if something of a little slower pace is welcome, consider the Museum of Moab on Center Street. The Moab area has a rich history founded in geology, archeology and people, beginning, of course, with dinosaurs, including the skeleton of the locally discovered Gastonia burgei. There are also stories and artifacts of early residents, the Anasazi, Fremont and Ute Native Americans. Mining also played a major role in getting Moab its early recognition. An alternative option is the amazing new Moab Giants Dinosaur Museum and Paleosafari.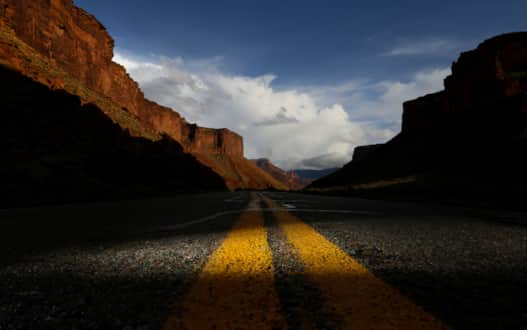 12:30 p.m. — The report on the Peace Tree on Main Street is it uses all natural and local ingredients when possible. The roasted turkey bagel with bacon, jalapeno-cranberry sauce and spring mix is $9 and the hummus wrap with house-made red pepper hummus, sprouts, carrots and tomatoes is $10. Also on the menu is a Peace burger, Thai wrap and peanut butter wrap.
1:30 p.m. — The ride to the Gemini Trail triggered interest in Dead Horse Point State Park, given the driver's tale that a long time ago horses were corralled on a point 2,000 feet above the Colorado River, then forgotten and eventually died. An early newspaper report, however, suggested some horses broke their legs on the point and were shot, thus the name. The park is 22 miles from Moab. Entrance fee is $10. The visitor center is impressive, but the 2,000 foot overlook on the furthermost tip is spectacular, especially the view of the Goose Neck, a point where the Colorado River loops around and nearly reconnects with itself.
2:30 p.m. — A few miles down the road is the Island in the Sky entrance to Canyonlands National Park. It's one of three sections to the park, the other two being the Needles District and the Maze. A short drive into the park is an overlook to the Shafer Trail. Had time allowed, the 18.2-mile loop from the park down to the base of Dead Horse Point and Potash sounded intriguing. Travel time for this drive, however, is around two hours. The well-maintained dirt road leads to well marked Indian petroglyphs, natural stone arches, steep switchbacks and a different look at the land. Entrance fee to the park is $25. The scenic drive through Canyonlands accesses multiple trailheads to sweeping overlooks of Utah's Canyon Country, including the Green River Overlook, a panoramic view of the confluence of the Colorado and Green, a showcase in geology and a quick lesson in the erosive power of water.
3:30 p.m. — So much to do and time a factor, a hike is a good choice. But which one? Many of Canyonlands' best are several hours — or days. And hikes abound. Staying in Canyonlands, fit hikers can get a quick sense of the park's dramatic geology by hiking Gooseberry, which drops down some really nifty switchbacks 1,400 feet off the mesa to a wash that leads up the White Rim Trail. Be warned, the hike back up is plenty strenuous, but this 5.4 mile hike is a spectacular one.
6:30 p.m. — The Broken Oar Restaurant located just off Main Street offers a tantalizing menu for a fine meal. Off the smoker is a hand rubbed and smoked barbecue beef brisket for $18 or baby back ribs, hand rubbed and smoked, for $20. Natural chicken breast, marinated in fresh herbs, is $18. Bacon wrapped shrimp for a starter is $13. Alternatively, the Elk Tataki at Shabu Sushi is a great regional starter to a fine sushi menu.
8 p.m. — The light you see, points out Alexander Ludwig, is coming to you from 35 million light years away, and to see it as it is today means returning in 35 million years. Time travel? Probably as close a one can get looking into space. Ludwig, owner of Red Rock Astronomy, explores the galaxies, but not in traditional fashion. That is, looking through a telescope at Venus, Mars and Jupiter. Instead his on-site class discovers the Wild Duck Cluster (3,000 light years away), the Hercules Cluster (36,000 light years away) with roughly four million stars, the Andromeda Galaxy (2.5 million light years away) and a cluster so far away it's impossible to even imagine. His narrative includes time, dates and history few would even know — but him.
Day 4 (Optional)
8 a.m. — The country you see from the back of a horse is, with few exceptions, exactly as seen by John Wayne when he arrived to make the first of many movies on land that is now the Red Cliff Lodge. He walk the land, rode the trails and relaxed alongside the ever-flowing Colorado River. He's one of a long list of movie giants to stand before cameras here, so there's a certain sense of history that was captured on film. Horses, of course, played a major role in many movies, so a ride out of Red Cliff was warranted. The Moab Movie Museum catalogs many of the movies. The lodge offers gentle horses, tackle and guides.
11 a.m. — If staying up S.R. 128, take your time on the return trip to Moab by hitting the La Sal Mountain Loop. Few roads can compete with this loop when it comes to variety of scenery. It starts with the sculptured red rock country in Castle Valley, climbs into the pines, aspens and high mountain lakes, then drops back into Moab's red rock. The paved loop covers 60 miles and, depending on scenic stops, and there are many, it can take anywhere from 90 minutes to 3 hours. The La Sal range is the second highest in Utah, with some peaks reaching 13,000 feet elevation.
12:30 p.m. — There's a real western flavor for lunch at Susie's Branding Iron. The menu includes a sizzlin' steak salad, Navajo Taco and, my favorite, a roast beef French dip. Other meals include the chicken bowl, chili burger and lady burger. All meals come with all-you-can-eat fries and fried bread.
1 p.m. — What was needed here was something cool and refreshing and, it turns out, fast. Available on the Colorado River are one hour to full day jet boat tours that take passengers to sites including a look at Dead Horse Point from ground level and the Goose Neck. This day required the shorter one-hour trip that opened new country, spectacular scenery and an opportunity to view wildlife — eagles, deer, beaver and desert bighorn sheep.
3 p.m. — Ending all too soon the trip back to Salt Lake City, roughly 235 miles, includes a stop in Green River for the delicious canary and Israeli melons and on into Price for dinner and a careful drive down Spanish Fork Canyon to I-15 North and home...with fond memories locked in and a story to tell.
"Few roads can compete with this loop when it comes to variety of scenery."