3 Best Rafting Trips on the Colorado River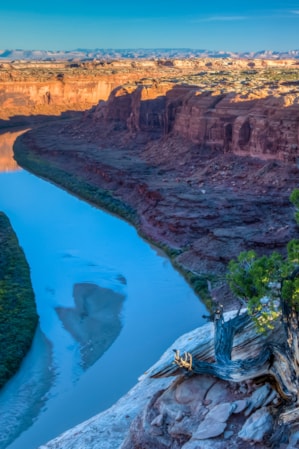 With rocky walls towering above and the sound of roaring water rising, Captain Matt Thorne readies to row through Westwater Canyon's infamous Skull Rapids. It's one of the canyon's least-forgiving rapids, with the reputation for sucking your boat into the Room of Doom — a rock alcove with a current powerful enough to flip and destroy rafts.
Fortunately, Thorne is a veteran guide, and he paddles hard and fast, maneuvering around the boat-eating hole and through the Skull's circling pools and relentless waves. Icy water slams our faces as our six-person crew emerges from the eddy laughing, smiling and soaked — glad to have taken the advice to wear wetsuits on this 90-degree day. Skull is the trip's last big rapid, and after making it through unscathed, we dry off under sunny skies and float through calmer waters toward Cisco, Utah. This ghost town takeout is the last port of call on our two-day journey through this wildly remote place.
Westwater Canyon is just one of many epic rafting trips on the grand Colorado River as it flows through Utah, and its combination of raging waves, historical sites and isolated camping make it my favorite. But for those looking to chart these untamed waters by raft, the three trips below offer incredible experiences like those had by explorers of yesteryear — with much better equipment, of course.
1. Westwater Canyon
Time Commitment: Day trip or overnighter
With its combination of colorful stone walls and serious whitewater, Westwater Canyon is often compared to the Grand Canyon, and it should be at the top of every rafter's bucket list. Access to this 17-mile section through narrow Black Granite Gorge is limited to protect the river and maintain solitude for rafters amid its ancient sandstone spires. But it gets loud and rowdy when you reach the 11 named rapids, featuring Class III-IV doozies like Funnel Falls, Sock-It-To-Me and Last Chance.
Between the rapids you can enjoy floating through calm water and resting as you watch for the bald eagles and blue herons that call Westwater home. But the powerful rapids and soaring birds aren't the only sights on this isolated, wild river. You can tie up the boat and hike to an old gold miner's cabin or outlaw cave. As you're exploring, be sure to look for Indian petroglyphs left behind on the canyon walls.
Go Guided: Due to this river's difficulty, it's best to go with an outfitter such as Adrift Adventures or Moab Adventure Center, unless your crew includes expert oarsmen. When you book, you'll have the option of one- or two-day trips. And while you can paddle Westwater in a day, why would you want to? Overnighting gives you more time to explore the canyon's many mysteries. Camp at private sites on the water's edge and hike to overlooks before enjoying a Dutch oven dinner made by your guides. This is what river time is all about.
Fly Solo: Westwater is a coveted canyon to paddle, but scoring a private permit isn't impossible. Request one by phone two months in advance of your planned launch date and the odds are in your favor. If overnighting, a campsite will be assigned to your group. Spring runoff permits can be harder to nab as only five privates are given out per day. At any water level, Westwater is challenging and should be undertaken only by experts.
"For those looking to chart these untamed waters by raft, all three trips offer incredible experiences like those had by explorers of yesteryear — but with much better equipment."
2. Moab Daily
Time Commitment: Half or full day
Not everyone is stoked to spend multiple nights camped on a riverbank far from civilization and Wi-Fi. But that doesn't mean you can't adventure on the Colorado River. One of its most popular stretches is done in a day and begins just upriver from the town of Moab near the majestic Fisher Towers. Expect splish-splashy Class I and II rapids like Onion Creek, Cloudburst and Rocky on a trip suitable for children and newbies alike — as long as they don't mind getting wet.
Go Guided: Choose a guide service such as Adrift Adventures, Moab Adventure Center or Mild to Wild Rafting and Jeep Tours to lead you past 14 miles of red Martian landscapes on a river-carved canyon filled with fun but easily navigable whitewater rapids. Choose a morning, afternoon, or full-day float on an inflatable raft or kayak. This relaxing, daylong journey offers time for swimming and a mid-day break at a riverside lunch buffet. River running season here is typically May to October. (Read: "The Best Time to Visit Moab")
Fly Solo: If you're comfortable paddling and navigating smaller rapids, this section of the Colorado is ideal for honing your skills. Rent the equipment and enjoy a day of rafting or kayaking at your own pace. Just be sure to follow all safety rules, and bring snacks and sunscreen.
3. Cataract Canyon
Time Commitment: Three days (guided) to five days (unguided)
Boasting North America's biggest whitewater in spring runoff season, Cataract Canyon is a veritable whitewater rollercoaster with 14 miles of intense rapids with scary names like Big Drop, Little Niagara and Satan's Gut awaiting on this wet and wild journey.
Cataract's the granddaddy of Colorado River trips, and the fun begins at "The Confluence," a place where the Green and Colorado Rivers meet just south of Moab. These powerful waters combine to create thrilling Class III-V whitewater rapids through a 100-mile chasm in Canyonlands National Park. The majestic stretch showcases stunning red rock formations and remote sandy beach campsites. Stops along the way provide access to hiking trails and long-lost sacred sites of the Ancestral Puebloans who once inhabited this land. And Canyonland's dark skies mean you'll see incredible views of the stars and Milky Way on clear nights.
Go Guided: This is typically a five- to six-day paddle, and if you go with a guide service such as Adrift Adventures, Mild to Wild Rafting and Jeep Tours or Sheri Griffith Expeditions, you can shorten the journey and skip right to the thrills. Tours begin with jet boat rides down the upper Colorado before transferring to boats at the Confluence for the rapids — no endless rowing on flatwater is required. For multi-day trips, guides take the guesswork of packing and meal prep by including gear, all your food and access to a clean groover (river guide speak for a toilet).
Fly Solo: Know your way around the river and planning a DIY trip down Cataract? There's no lottery for permits on this stretch, and they're available first-come, first-served at the backcountry reservation office in Moab or any Canyonlands National Park Visitor Center. This challenging canyon is unforgiving for rookie paddlers and should not be attempted unless you and your crew are very experienced. Still in? Pick up your permit no more than four months in advance and no less than two days prior to launch.
Whether you paddle the Colorado River's mild Moab section or battle the wild rapids of Westwater and Cataract canyons, these three can't-miss trips should top your Utah whitewater rafting bucket list.
To start planning, follow the author's suggested outfitters above or browse additional guides and outfitters.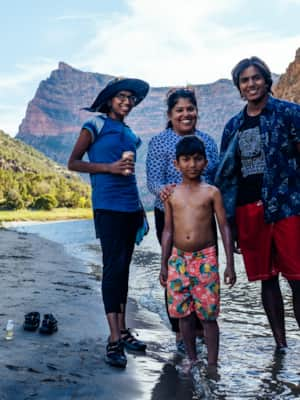 What to Wear on a River Rafting Trip
There are a variety of Utah river trips to be had, from rafting the Green River's whitewater, to leisurely floating the Colorado. Here's your packing list.