Fishing Between The Mighty 5
Anglers overlook Southern Utah as a fishing destination inappropriately assuming red rock country and fish don't get along. Big mistake. It's easy to fish on your way, or in between visits, to Utah's national parks and monuments!
As the second driest state in the country, Utah sure has a lot of fishing opportunities. Many anglers overlook Southern Utah as a fishing destination inappropriately assuming red rock country and fish don't get along. Big mistake. Reservoirs created for water storage make great fisheries and the streams coming out dams provide excellent tailwater fishing.
From colorful varieties of trout in unexpected high mountain lakes to state record bass in low country reservoirs, visitors with a penchant for fishing can wet their lines in a variety of scenic locations.
Fishing on your way, or in between visits, to Utah's national parks is easy. Make a quick stop for an hour of casting or spend a couple of days at a Utah State Park campground or a resort near the lake.
You don't need to be an expert or have expensive gear to enjoy fishing on the Road to the Mighty Five. But you do need a fishing license. Visit the Utah Division of Wildlife Resources website for information about purchasing a license.
Fishing with bait is allowed at most Utah fisheries, but there are some special regulations to note in certain locations; make sure to check for special regulations on waters you plan to fish during a trip.
---
Native Utahn Brett Prettyman grew up exploring the natural wonders of the state and shared them public as an outdoor writer and columnist with the state's largest newspaper, The Salt Lake Tribune, for 25 years. Brett Prettyman is the author of "Fishing Utah," "Best Easy Day Hikes Capitol Reef Reef National Parks" and is the Intermountain Communications Director for Trout Unlimited. When not covering stories, and sometimes while doing it, he can be found discovering new Utah adventures with family and friends. He also has his own Utah Bucket List. @BrettPrettyman on Twitter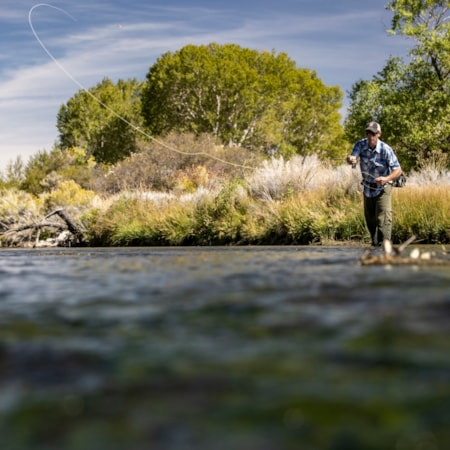 Minersville to Kolob
130 Miles
If you are looking for a full day adventure off the beaten path, but also the closest reliable fishery to a national park, Kolob Reservoir is your place. Most people access Kolob by driving through a seldom-visited portion of Zion National Park by taking the Kolob Reservoir Road 23 miles north out of the town of Virgin. Big cutthroat and rainbow trout are the catch. Camping in Zion National Park is available at the Lava Point Campground east of the reservoir. There are six primitive campgrounds with a first-come, first-serve policy. There is no fee to camp and no drinkable water available. The road to Kolob Reservoir is not plowed in the winter months. Vehicle access is generally from mid-April to December, but varies on seasonal weather conditions.
If something a little easier to reach is on the agenda, consider rambling over to Minersville Reservoir in Beaver County — also known as Ramblers (Read: "Ramble On: An Insider's Guide to Beaver County"). The productive reservoir is 15 miles west of Beaver and it grows large trout and bass. Shore fishing works well here. A campground at the reservoir is managed by the county.
Quail Creek and Sand Hollow state parks are both set on reservoirs near Hurricane — on the way to Zion National Park — and easily accessible. Some of the largest bass in the state comes from these two reservoirs. Fishing from shore does work, but most anglers use a boat to move around and find the fish. Camping is available at both state parks, or reserve lodging at towns along S.R. 9 or in nearby St. George or Cedar City. Visit the Utah State Parks website for more information.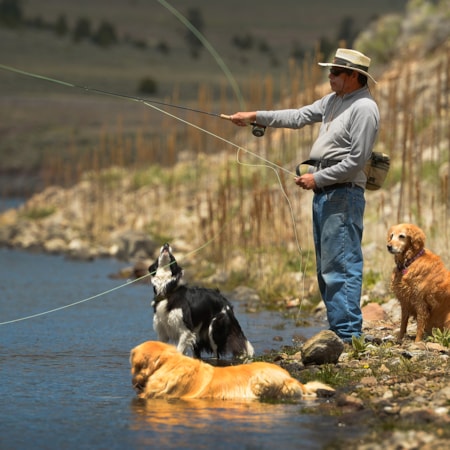 Panguitch Lake and the Markagunt Plateau
90 Miles
Legend has it the local Paiute Tribe named Panguitch Lake, which roughly translates into "Big Fish". While not all the trout caught at Panguitch live up to the namesake, chances are better here than at many other destinations the fish will be worthy of pictures. This is a popular destination for Utah residents, but people from Las Vegas and Southern California with summer cabins in the area around Panguitch Lake often outnumber people from the Beehive state. There are several commercial resorts located around Panguitch lake.
If Panguitch is crowded or the fishing is slow consider a trip to Navajo Lake, Duck Creek Pond or Aspen Mirror Lake just off of State Road 14 out of Cedar City. These lakes are not as large as Panguitch, but the fishing can be a little faster, although for typically smaller fish. Be prepared for a trophy though, particularly at Navajo.
Fly fishers visiting Bryce Canyon National Park should pack a rod and find time to sneak away to the East Fork of the Sevier River in Black Canyon. This 20-mile stretch of the East Fork is a designated Blue Ribbon fishery for brown trout, cutthroat trout and rainbow trout. The East Fork below Otter Creek Reservoir is used to serve irrigation needs downstream and the controlled flows can hamper fishing. If the water is high and off-color consider fishing the upper portion of the East Fork of the Sevier above Tropic Reservoir. Lodging and camping options are available inside Bryce Canyon National Park and outside the park at Ruby's Inn or other area hotels.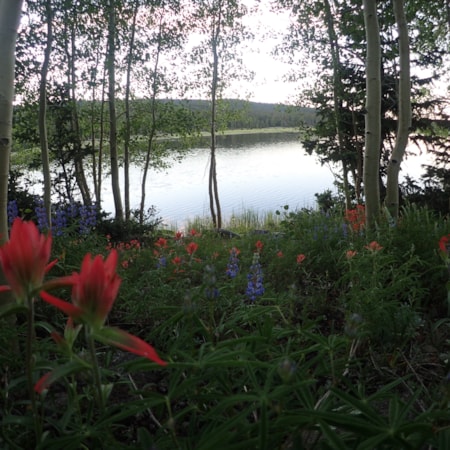 Boulder Mountain to Fish Lake
100 Miles
Those people who believe southern Utah is nothing but desert and red rock will find quite the opposite is the case on Boulder Mountain. This high mountain plateau feels like the rain forest of the Pacific Northwest in some places. Countless lakes, ponds and streams can be found on the range most people cross when traveling between Bryce Canyon and Capitol Reef national parks. The state record brook trout was landed on Boulder Mountain and many lakes still have trophy-size brookies. Tiger trout are another popular target for anglers seeking large fish. Native Colorado River cutthroat trout also inhabit certain lakes and streams on the Boulder. Lodging is available along Highway 12. The Boulder Mountain Lodge is a popular place to spend a night or two and even better known for an excellent menu. Developed campgrounds are scattered on Boulder and dispersed camping is also available.
Otter Creek State Park provides camping and boating amenities to anglers in the Bryce Canyon area. Otter Creek produces hefty catches of four varities of trout (rainbow, brown, cutthroat and tiger) as well as smallmouth bass.
Fish Lake is widely regarded as one of the most scenic places to drown a worm in Utah, particularly in the fall when the leafs on the vast stands of quaking aspens surrounding the lake turn gold and red. Fish Lake has traditionally been recognized as a trophy lake trout destination. The big lakers are still around, but the lake is also a popular place to fill 5-gallon buckets with tasty yellow perch. Splake and rainbow trout can also be targeted at Fish Lake. Kokanee salmon were recently introduced by state fisheries officials and should provide another opportunity for anglers in the coming years. Toothy tiger muskies have found their way in the lake from surrounding waters. Fishing is typically best with a boat at Fish Lake, but there are some places where fishing from shore can be productive. Cabins and boat rentals, among other things, can be obtained through Fish Lake Resorts.