Campgrounds in Zion
Lava Point Campground

Typically open May through September (as weather allows), Lava Point Campground is a remote car camping destination about a 45-minute drive on Kolob Terrace Road from the town of Virgin (or an hour and 20 minutes from the south entrance). At 7,890 feet above sea-level, it's one of the highest points in the park and services some of the more remote adventures in Zion. There are 6 first-come, first-served primitive campsites that are best-suited for tents (vehicles over 19 feet aren't allowed on the road). There are pit toilets and trash cans.

South Campground

Open mid-March through October, South Campground is a half-mile into Zion from the south entrance. South Campground has no electric hookups, though generators are allowed. There are 117 total sites (114 regular, 3 wheelchair) and each site has a fire ring and a picnic table. Individual campsites are $20 per night and group sites are $50. There are toilets, potable water sources, waste dumps for RVs and access to the waters of the Virgin River. Like Watchman, however, there is not a lot of shade. It is recommended to make reservations six months in advance as sites are almost always filled to capacity in prime season.

Watchman Campground

Open year-round, Watchman Campground is a mere quarter-mile from the south entrance of Zion. There are 203 total sites (190 regular, 7 wheelchair, 6 large group), including standard sites without electric hook-ups, suitable for tents, RVs or trailers ($20 per night) and electric hook-ups for RVs and trailers ($30 per night). Reservations are highly recommended from March through November — though there are 18 first-come, first-served tent-only sites available. It is recommended to make reservations six months in advance as sites are almost always filled to capacity in prime season. Group sites can accommodate up to 40 people and range from $50 to $130 per night. All sites have fire rings and access to clean drinking water and toilets. A few lucky sites offer shade, but be sure to bring along shade tents/shelters as summer daytime temperatures rarely drop below 90 degrees Fahrenheit. Also, note that generators are not allowed in Watchman.
"Year-round camping at Zion National Park will keep adventurers as close to the action as possible. "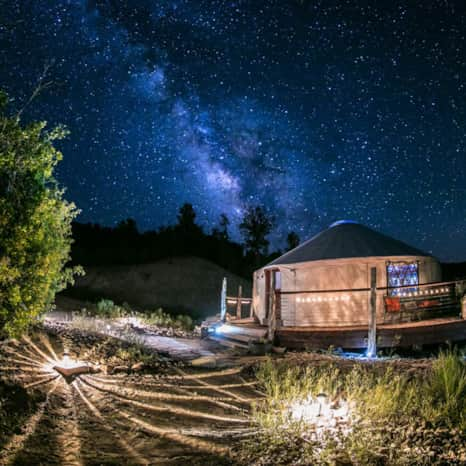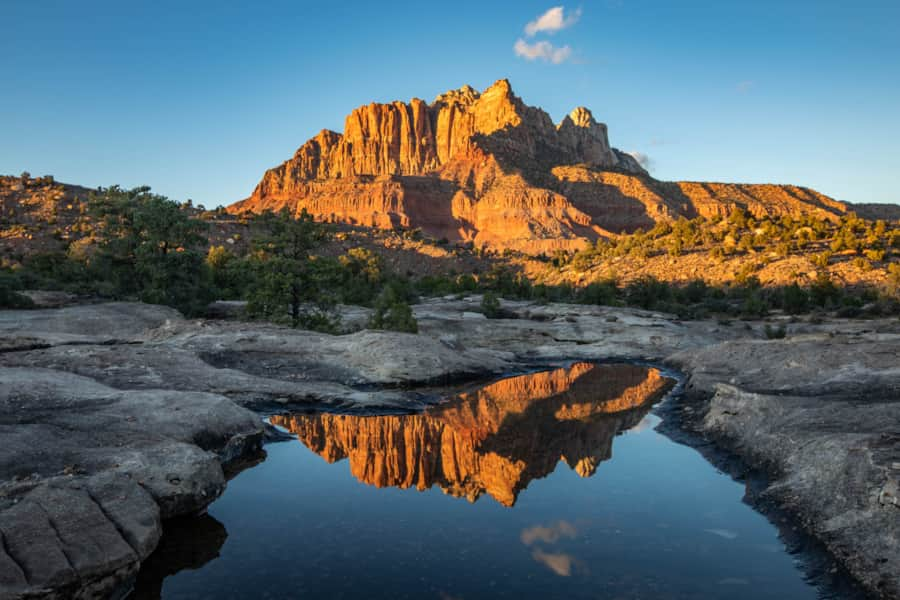 Backcountry and BLM Camping
Backcountry camping is allowed in Zion National Park with a permit. There are dozens of established backcountry sites throughout the 90 miles of trails in the park. For more information on permits, trailhead access and backcountry maps, visit the National Park Service website.
Backcountry permits become available roughly three months in advance, so get in early to secure the sites where you want to stay. As of 2020, fees are $15 for 1-2 people, $20 for 3-7 people and $25 for 8-12 people.
Dispersed camping is allowed on nearby Bureau of Land Management (BLM) land, contact the St. George Field Office for more details.
Indoor Lodging and RV Camping
In addition to camping, the area around Zion offers a variety of indoor lodging options, including Zion National Park Lodge, the only in-park lodging. In nearby Springdale, East Zion and St.George, you'll find an abundance of resorts, hotels and inns. Visitors may also opt for overnight accommodations in or near the less-trafficked parts of Zion: Cedar City is an excellent gateway to the Kolob Canyons section while Kanab, along U.S. Route 89, is about 30 miles from the East Entrance.
Beyond Watchman and South campgrounds, there are RV options just outside of the park as well. Consider Zion Crest Campground or Zion River Resort for nearby RV facilities (Read: "Wheeling It: An RV Primer for Utah Family Trips"). And glamping abounds at East Zion Resort in nearby Orderville, just be sure to book early.