Highlights
Red Sand Beaches – Relax on the shores of the reservior.
Fishing – Cast from the shore or from a boat and you might catch a bluegill, crappie, bass or catfish.
ATV and OHV Trails – Ride 62,000 acres (2,428 hectares) of technical trails and sand dunes. ATV and OHV rentals are available on-site.
Watersports – Warm water, scenic views, and plenty of ways to take advantage of the reservoir. Boats, jet skis and other watercraft are available for rental on-site.
Things To Do
Sand Hollow State Park has mellow family-friendly activities like picnicking and exciting hard-charging technical challenges for adrenaline junkies. Popular activities include:
Watersports (wakeboarding, paddleboarding, kayaking)
ATV and OHV riding
Fishing
Golfing
Camping
Picnicking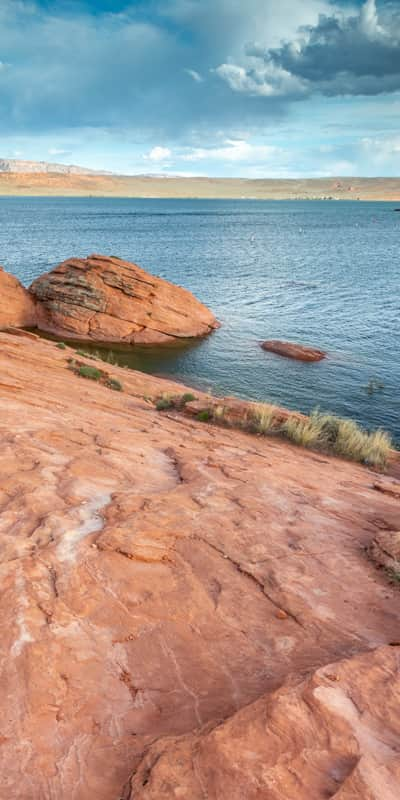 Things To Know
The park is open year round, but hours vary by season. From April through September, the park is open from 6 a.m. to 10 p.m. From October through March, the park is open from 7 a.m. to 9 p.m.
Sand Hollow State Park is 13 miles east of St. George and nine miles southwest of Hurricane.
A day-use entry fee is required, purchase in-person or online. The Annual Utah State Park Pass is accepted for park entry. Advance camping reservations are recommended.
All plants, animals and natural features and structures are protected. It is illegal to mutilate, deface, alter, destroy or remove them.
You can download a PDF park brochure here.
Pets are permitted in outdoor areas but must be kept on a maximum 6-foot leash.
Some people may experience Swimmer's Itch from getting in the water. There are free-swimming microscopic parasites in the reservoir.
All out-of-state boats are inspected before launching. All ski/wave boats must have drained and dry tanks/bags.
Check the Utah State Parks website for up to date information on fire restrictions.
Use of firearms is restricted.
Sand Hollow Reservoir
The reservoir is relatively warm, usually water temperatures hover around 86-81 degrees F from May through September. The reservoir is great for all kinds of boating activities from wakeboarding to paddleboarding. There's plenty of space to lounge on the red sandy beaches at the reservoir or cast a fishing line from shore. There are also designated picnic and camping areas.
Sand Dunes
A favorite destination among OHV (off-highway vehicles) and ATV (all-terrain vehicles) riders, Sand Hollow State Park features 15,000 acres of pristine ready-to-ride sand dunes. Keep your eyes peeled for lizards, rabbits, roadrunners, quail and snakes.
Sand Hollow State Park Recommended OHV Trails
Sand Hollow Reservior OHV Trail
Easy (12 miles/19 kilometers)
This is a point-to-point trail with an elevation gain of 1,696 feet (517 meters) that is primarily used for off-road driving and is good for all skill levels.


Milt's Mile Extended OHV Loop
Moderate (4.6 miles/7.4 kilometers)
This loop trail has an elevation gain of 639 feet (195 meters) and is primarily used for off-road driving and requires some technical driving.


The Maze OHV Trail
Hard (11.5 miles/18.50 kilometers)
This out-and-back trail has an elevation gain of 1,453 feet (443 meters) and is primarily used for off-road driving and requires a high level of technical skill. It has steep ascents and descents and some cliff exposure.
Where To Stay
Campground reservations can be made online. There are 71 campsites available for reservations at the Sand Pit and Westside Campgrounds. Camping fees range from $25-$100 per site, per night during peak season. Individual campsites are available for reservation on a four-month rolling basis. Group sites are available for reservation on an 11-month basis. You can book a maximum of 13 days beyond the last date of the reservation window.
Camping and Resorts
Sand Pit Campgrounds has 23 campsites. 17 standard; 6 standard-partial hookup.
West Campground has 43 campsites. 42 standard-full hoockup; 1 camper trailer.
Sand Hollow Resort has many options for vacation lodging including resort rooms and suites, vacation condominiums and vacation villas.
Nearby Places to Stay
Hurricane and La Verkin are the closest towns to Sand Hollow State Park. There are hotels, restuaraunts and gas stations, as well as coffee shops and grocery stores. St. George is the closest city to Sand Hollow State Park and offers many hotels, restaurants, shops, coffee shops, family-friendly activities and grocery stores.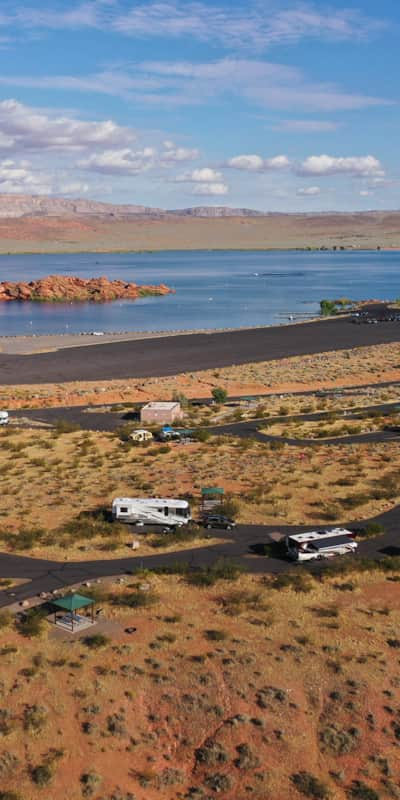 Weather
It's not uncommon for temperatures to rise above 100 degrees F during July and August. Sand temperatures have reached 165 degrees F. It's important to be careful and watch out for other people and pets when temperatures soar. Heat exhaustion and heat stroke can happen to anyone. Experts recommend one gallon of water per person per day during hot days. December and January tend to be the coldest months at the park with average daily highs of 55 degrees F and lows of 28 degrees F.